Window treatment automation is a convenient and practical way to gain more control over your home's lighting and privacy. With motorized window treatments, you can control your shades or blinds with the touch of a remote. Many homeowners are now seeing the many benefits of window treatment automation, including:
Added privacy
Increased home security
Safety for children and pets (no dangling strings or cords)
Added value to your home
Saving energy costs
Efficient management of summer heat with added sun sensors
Convenience
Aesthetic appeal
Potential for smart home integration
A fun way to enjoy your window treatments
If you want to learn more about these amazing benefits, continue reading on! Or, if you are ready to get your own window treatments automated or would like to learn which options are best for you, contact the experts at Graham's & Son! We offer FREE in-home consultations to help you discover the perfect blinds, shades, shutters, or drapes for your home and budget.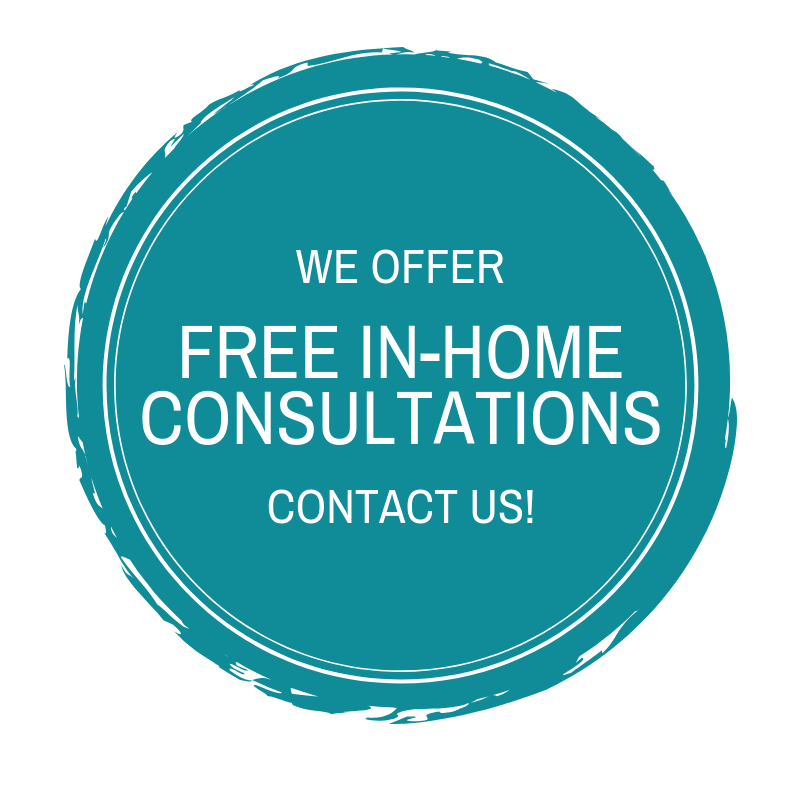 10 Benefits of Window Treatment Automation
As we mentioned above, there are many benefits for you and your home when you choose window treatment automation. Learn about each benefit in more detail to help you decide if window treatment automation is the right choice for your home!
1. Window Treatment Automation Adds Privacy To Your Home
When your lights are on but it's dark outside, neighbours can easily see into your home!
Of course, all window treatments add privacy to your home – that is one of the main reasons why we install them to begin with! However, motorized blinds can help add even more privacy than the average window treatment option. How? Well, because you can control your automated window treatments with a remote, you can close your windows before you even enter a room.
Often, when we get home in the dark or go into a room (such as the bathroom) for the first time since the sun has set, we haven't realized our blinds are still open. As soon as you walk into the room and turn on the lights, your whole neighbourhood may see you as you shuffle towards your blinds to get them closed! With automated window treatments, you can simply hit a button and close all of your blinds once the sun sets or whenever you need more privacy – before you even enter a room.
2. Helps Protect Your Home
Window treatment automation not only helps keep those you love safer while inside the home, but they can also help protect your house when no is home. Many automated blinds and coverings come with a variety of options, including the option to set your blinds on a timer.
Keeping your blinds on a timer helps make it look like you are home if you go away for a vacation or even leave for a weekend trip. This can help deter burglars from choosing your home – burglars are usually opportunistic, and if there's a chance someone is home, they most likely won't take the chance.
3. Automated Window Treatments Are Safer For Children & Pets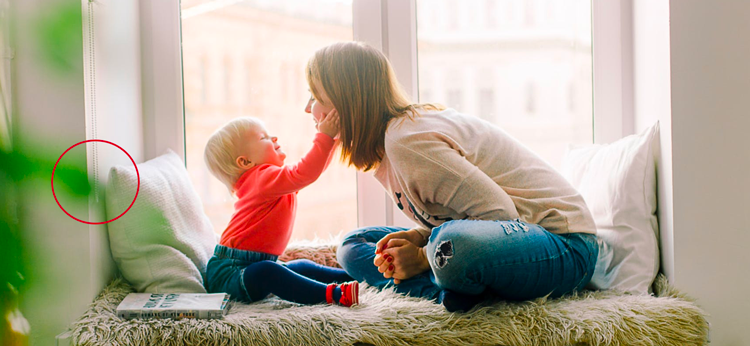 Blinds cords may seem harmless, but they can pose a major threat to young children
Did you know that blind cord accidents, injuries, and deaths still occur at an alarming rate? A study outlined in a 2017 USA Today article found that every day, two children are sent to the emergency room due to blind cord injuries. Unfortunately, many people don't realize just how dangerous blind cords can be.
"Many parents believe that they can keep their children from harm if they watch them carefully, but many blind related injuries
happen within minutes, Gary Smith, MD, senior author of the study and director of the Center for Injury Research and Policy
at Nationwide Children's Hospital said in a statement."
– Mary Bowerman, USA Today
If blinds with cords or strings are left in a child's room or any room where a child may be unattended for even a few minutes, it can pose a serious safety risk. With automated window treatments, you won't have to worry about cords or strings that children (or even pets) can become tangled in. Even blinds, which traditionally have cords, no longer need any strings or dangling pieces once motorized. This makes automated blinds and other window treatments the ideal solution for childrens' bedrooms and for homes with kids.
4. Increases The Value Of Your Home
Every home needs some form of window coverings – have you ever visited a home that didn't have anything over their windows? When looking for a home, many potential buyers will take a look at everything, including the window treatments. Old, cheap blinds or drapes can turn off potential buyers who may like almost everything else. The way you present your home is important – especially in the age of staging.
Adding automated window treatments is great for while you live in your home, but most people eventually sell and upgrade or downsize. Because of this, it's always important to keep your home's value in the back of your mind, even if you don't plan to sell for a while. Motorized blinds show potential buyers that you care about your home – and if you care enough to put effort into your blinds, they will most likely realize that you have cared for the rest of your home just as much!
5. Helps Reduce Your Energy Bill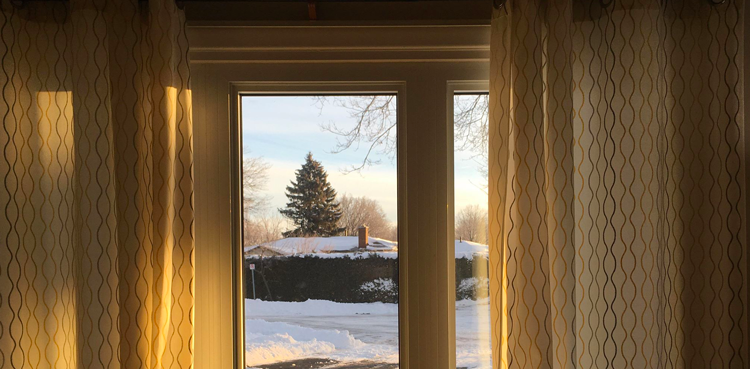 Strategically opening and closing your blinds can help keep heat in/out and provide energy savings
Although you probably love coming home to warm sun shining into your kitchen or living room, leaving your blinds wide open all day during the summer heat can negatively impact your energy bill. Or, you may forget to open your blinds during a cold winter morning – and then you won't benefit from the natural warmth of the sun heating your home! This can also impact your energy bill.
We often forget how much natural warmth can impact our home. However, proper window treatments (and strategically opening and closing them) can make a big difference. According to Energy.gov:
"About 30% of a home's heating energy is lost through windows. In cooling seasons, about 76% of sunlight that falls on
standard double-pane windows enters to become heat."
– Energy.gov
Fortunately, automated window treatments help you take control of this natural heating. During hot summer days, schedule your blinds to remain closed during the day while you work, or while no one is home. You can set the timer to open them a few minutes before you arrive home so that you are still welcomed into a sunny home!
During the winter, keep your blinds open during the day to ensure as much natural heating as possible. If you are worried about privacy while you're away, you can keep your blinds partially open, which will still allow in light while retaining some privacy.
6. Helps To Manage Heat With Additional Sun Sensors
Above we talked about scheduling your blinds for added energy savings, But did you know that some automated blinds actually have sensors that react to sunlight? This means you won't have to worry about constantly checking the weather and scheduling your blinds – they'll take care of that for you!
Managing your home's heat manually is a great way to control your energy use, but adding sun sensors can reduce this extra responsibility! This is an ideal addition for homes that have very large windows, as that can greatly impact the amount of heat entering (or not entering) your home.
7. Convenient and Practical For Any Room In Your Home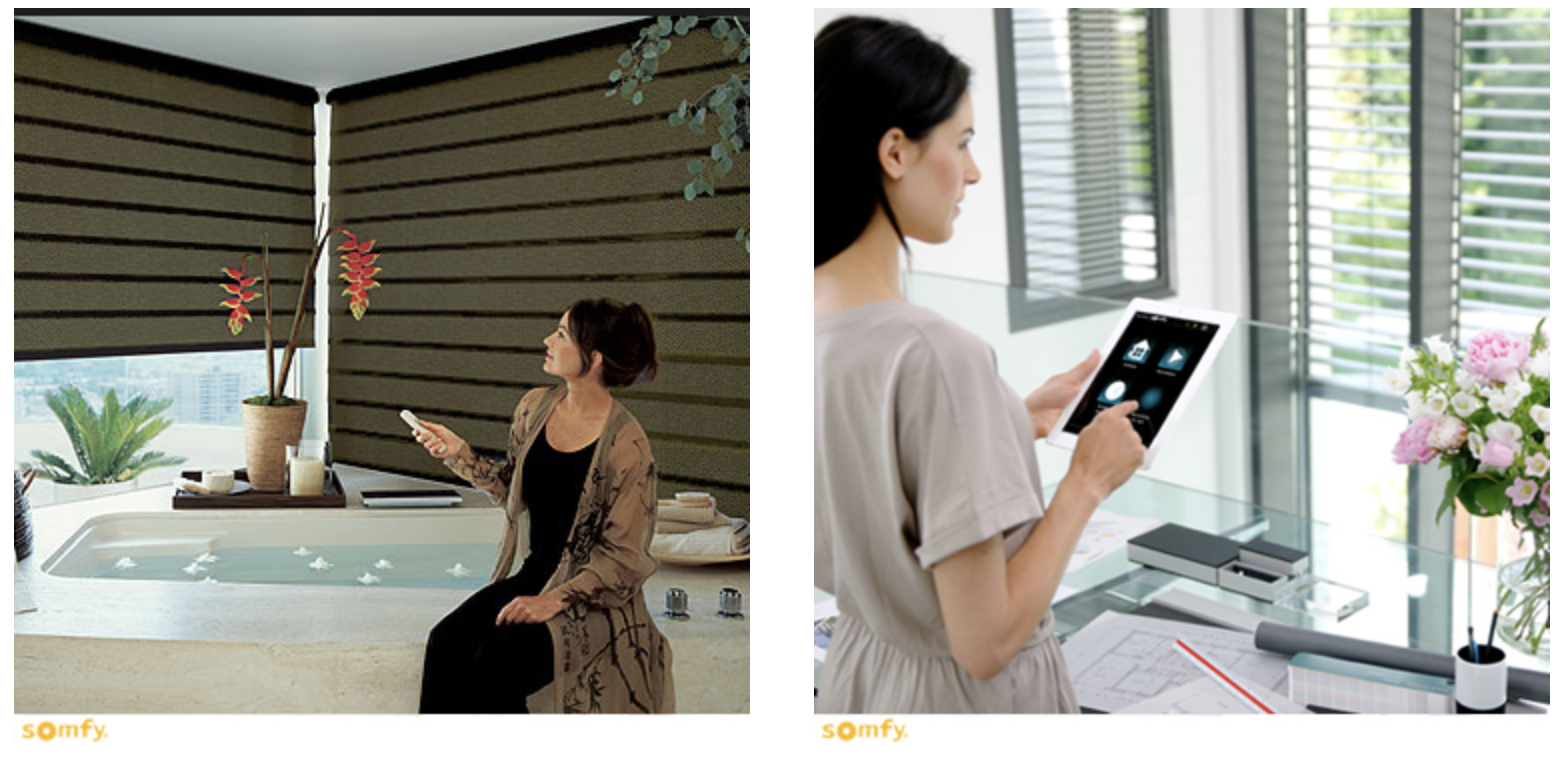 Motorized blinds work perfectly for any room of the house!
Some types of window treatments are ideal for certain rooms of the house and may not fare well in others. For example, long drapes may not be the best choice for your bathroom as they tend to require more regular cleaning and don't do well with lots of moisture. However, with motorized window treatments, you have so many options available that you will be sure to find one that suits your every need.
Whether you need window treatments for your small basement windows, large sliding doors, or mid-sized kitchen and bathroom windows, there are automated window treatment options that will work perfectly for all of your needs and in any room of the house! Of course, they are also a highly convenient option!
Don't feel like getting out of bed to open your blinds? Simply hit a button and the sun will shine through. Need to dim the lights for your evening movie? No problem – click that button and you've got perfect movie theatre lighting!
8. Adds Aesthetic Appeal
Blinds and window treatments are often an afterthought when decorating the home. However, old blinds can really make a room look dated, even if everything else is brand new. If you are considering redecorating or adding new window treatments, a great up-to-date option is adding automated blinds.
When people think of 'automated' they often think about practicality over fashion. However, many beautiful window treatments can be automated. Drapes, for instance, are considered one of the most attractive and customizable window treatment options – but can you automate them? Although they are not as common, yes, you can even automate curtains and drapes!
Nowadays, there are so many options out there – and you don't have to sacrifice looks for convenience. Automated options also look great – those dangling cords and strings can take away from the overall look of your window treatments. With automated treatments, you won't have to worry about any of that!
9. Potential For Smart Home Integration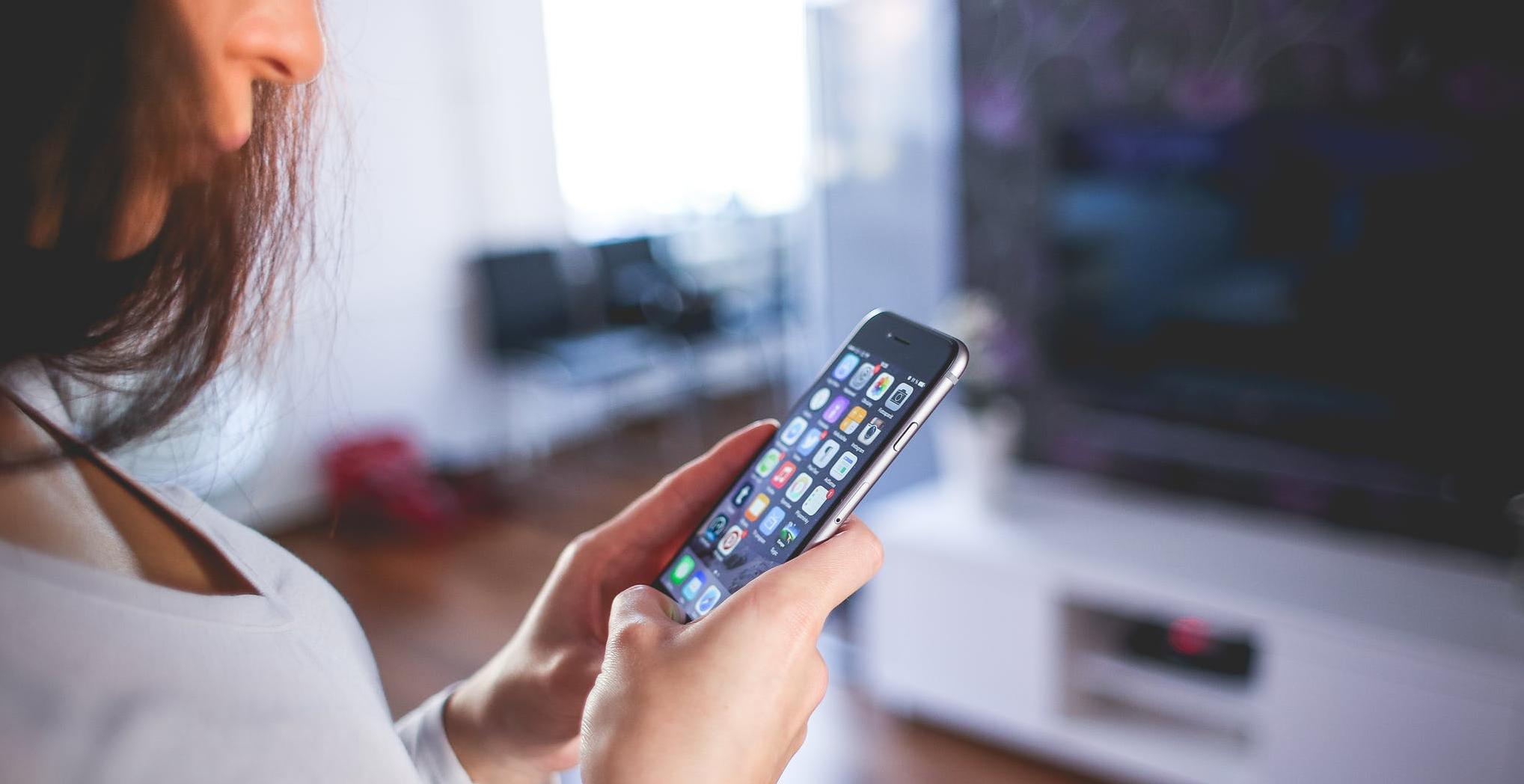 Motorized blinds are the perfect addition to your smart home system!
As smart homes become more and more popular, homeowners are looking for ways to integrate more household items into their smart systems. A smart home seems incomplete without automated window treatments! If you are working towards making your home as automated as possible, one of the first things you should consider are motorized window treatments.
You can integrate your window treatments into lots of different smart home technologies, such as Alexa. With a smart home system, you can take your window treatment automation to the next level. You can simply ask Alexa to raise your blinds, open them, or set them on a schedule for you! If you are wondering about energy consumption and installation fees, you can find out more information about the average overall cost of motorized blinds here!
If you live in an area with frequent power outages, you may be wondering how your automated treatments will work without power. If you are using electric powered drapes, some come with battery backups, and others are completely battery controlled! There are even solar powered options. Work with a window treatment professional to help you find the right automated blinds for you.
10. A Fun Way To Enjoy Your Window Treatments
No matter what type of window treatments you choose, new window treatments are definitely an investment. With automated window treatments, you can enjoy this investment in a unique and fun way! If you have children in the home, you can get them involved too. As you get them to help you control the lighting in your family room or their bedrooms, this is also a great opportunity to teach them about energy savings and the importance of doing what we can for the environment.
GET YOUR PERFECT WINDOW TREATMENTS WITH GRAHAM'S & SON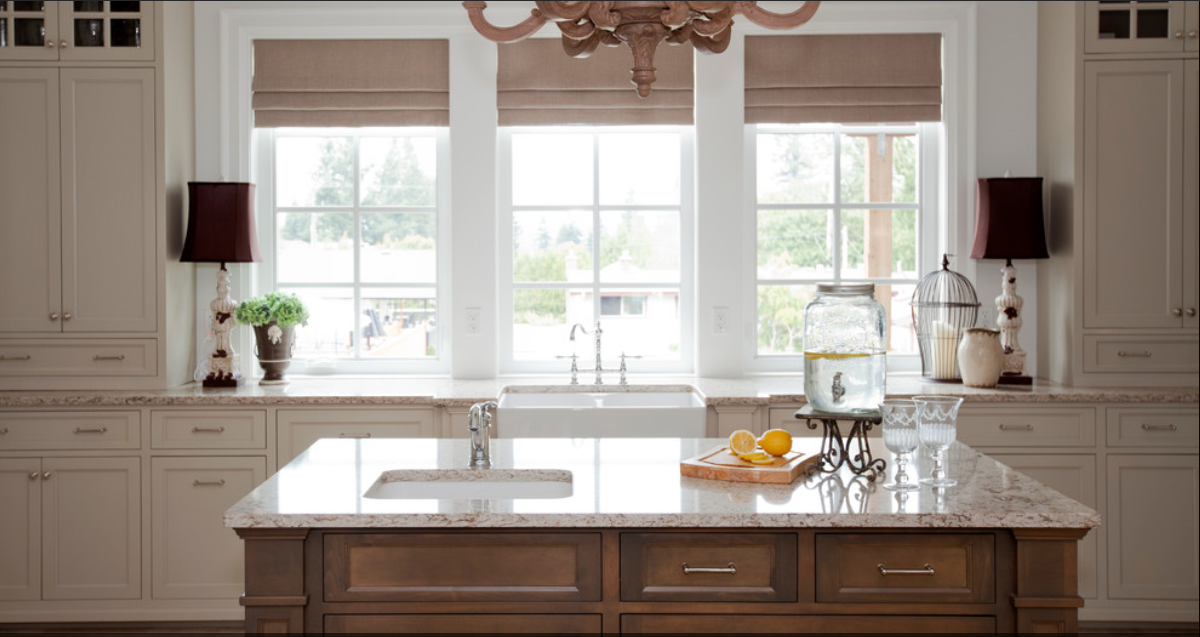 Looking to get the perfect automated window treatments for your home? Graham's & Son can not only offer you expert advice on all of the latest trends in motorized blinds, but we can also help you choose the right window treatments for your unique needs, your home, and your budget.
At Graham's & Son, we offer a wide variety of window treatments. If you are looking to update your current window treatments, contact Graham's & Son today for the most energy efficient and beautiful window treatments possible.
Graham's & Son knows window coverings; we have been in the window treatment business for over 40 years. Our expertise and professionalism are second to none. In addition, right now we are offering an amazing deal on all our blinds, shutters, and shades – when you purchase any two, you will get a third absolutely free.
"Great quality. Wonderful people to work with."
– Karen
Read more customer testimonials
WINDOW TREATMENT INSTALLER & INTERIOR DECORATOR – JOIN OUR TEAM!

Graham's & Son is looking for a full-time Window Treatment Installer and an Interior Decorator, and we would love for you to join our team! We operate out of Cambridge and are looking for someone who knows the Tri-Cities area well. Training will be provided – some experience required. If you think this may be the perfect job for you, see job requirements and overview by clicking here to learn more about the Installer position, or here to learn more about the decorator position.
At Graham's and Son our customers have been so pleased with the high standard of our work that they selected us for the "Best Business Service – Interior Decorating: Platinum" and "Best Shopping – Kitchen Renovations: Gold" awards in the 2017 Cambridge Times Readers' Choice Competition. Book a free in-home consultation today and find out for yourself why Graham's is the best in the interior design business. Contact us today to schedule. If you prefer, you can shop at home. Browse through our website, make your choice, and simply give us a call at 519-658-9025 to place your order without ever having to leave the comfort of your own living room.

Sources: