Kitchen home improvement is a great way to increase the value as well as the comfort of your home. The kitchen is the most popular room to renovate because it is the heart of most of your home's activity, as well as offering the best return on your investment. There are so many styles and options to choose from when you are considering a kitchen renovation that the choice of which style to go with can become overwhelming. We've put together 10 of the most appealing kitchen home improvement designs to help you make that decision. If you need expert advice about remodeling your kitchen, contact the professionals at Graham's & Son Interiors. We would be happy to come to your home for a free, in-home consultation and answer any questions you might have.

1. Black, White and Grey Kitchen with Funky Pot Rack
If you want a kitchen that is anything but "run of the mill," then take a good look at this first design from House Beautiful. It features a gorgeous weathered oak island by Jon de la Cruz and a glazed subway tiles not in the traditional white but in a stark black. But the star of this kitchen is the rather unusual and funky hanging pot rack. You can purchase your own unusual pot rack from Wayfair.ca.
2. Green Smoke Island and Black Mesh Cupboard Doors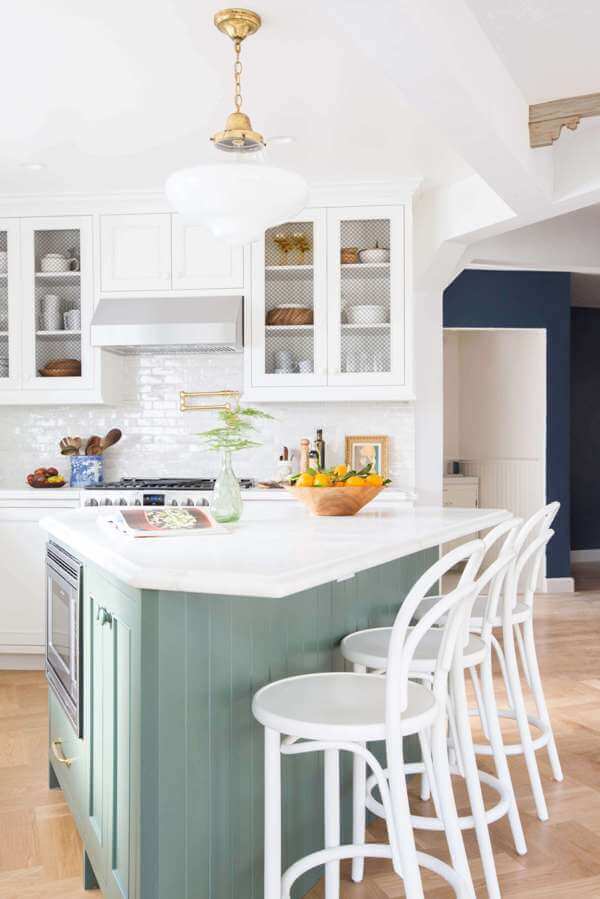 Our next choice is a wonderful design from Style by Emily Henderson. This is actually Emily's own kitchen that she recently remodelled. The triangular shape of the island is rather unique, however, it perfectly fits in with the unusual shape of her kitchen. Her choice of a green smoke paint by Farrow and Ball is stunning. The bevelled edges of the marble top are very kid-friendly as there are no sharp corners. The upper cabinets are detailed with a special matte black mesh and decorative molding beneath. We can't forget to mention the attractive herringbone flooring to finish off and give the whole room a rather old-world style and charm.
3. French Bistro Style in a 1908 Cottage
This beautiful kitchen belongs to the granddaughter of Hank Williams, singer-songwriter Holly Williams. This gorgeous traditional kitchen is a showpiece of her 1908 Nashville cottage. The combination of white subway tiles, polished marble countertops and copper accents is really quite stunning. The rustic kitchen fireplace, dark pine ceiling, and soda pop stools may remind you of a quaint French bistro. The addition of trendy black accents brings a contemporary feeling into this otherwise traditional room.
4. The Perfect Kitchen for the Vertically Challenged
If you are like most of us, you often have difficulty accessing those upper cabinets. Installing a decorative ladder to assist you in reaching those impossibly high spots would make your life in the kitchen so much easier. This clever design from HouseBeautiful incorporates a library style ladder on a rail that can be quickly and easily positioned any location you need. The blue Moroccan tiled backsplash adds just enough of a colour boost to break up the soft, pale stain on the gorgeous wooden cabinets.
5. Quartz Is the New Granite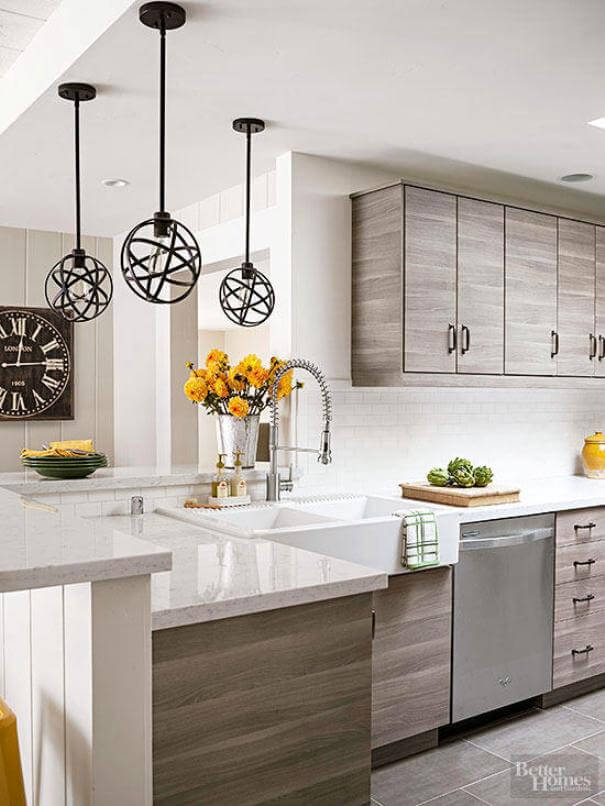 If you love the look of granite but are a bit intimidated by the maintenance required to keep it looking great, then quartz is a fantastic alternative. Quartz countertops are much easier to care for than granite and the neutral shimmering surface of this particular style from Better Homes and Garden will look great for years to come. Add in some atomic style lighting fixtures and sleek contemporary cabinets and you have a modern kitchen that is sure to please.
6. Smaller Kitchen? No Worries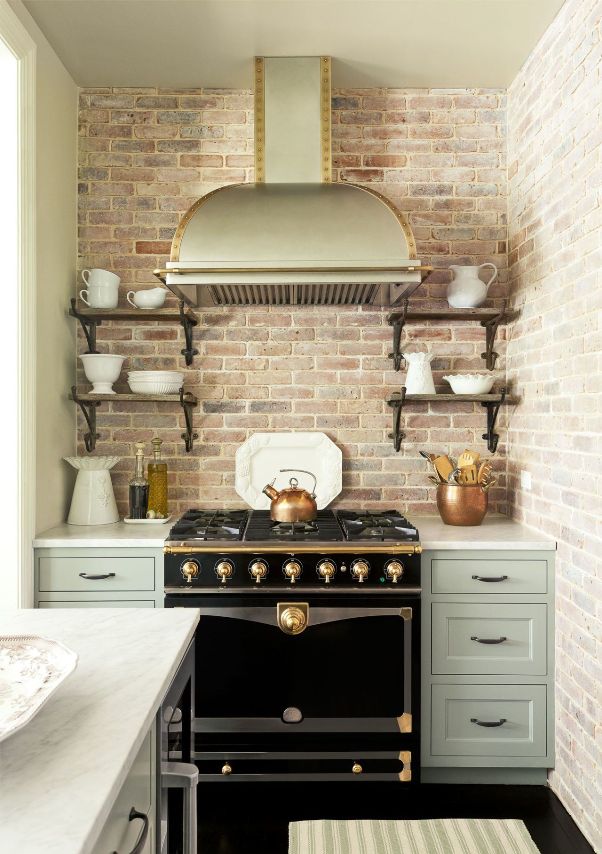 If you have a smaller kitchen, you may notice that silver stainless steel appliances can seem too large and actually overwhelm the room. As with clothing, black is more slimming, so appliance manufacturers such as GE, Samsung, and Whirlpool have come out with some beautiful black and slate refrigerators, stoves and microwaves. We really like the smaller kitchen from Country Living designed by Jenny Wolf Interiors pictured above including this gorgeously ornate LG "Black Stainless Steel" model with brass and silver accents. We also like the charming kitchen hood with its coordinating copper straps and rivets.
7. It's All About Textures
This next kitchen design from House Beautiful is all about textures and contrasts. It's industrial meets ecological with its rustic wall stonework with angular stainless steel appliances. Combine that with its ruggedly exposed wooden ceiling beams above and its sleek cool laminate flooring below and you have a collection of opposites that work together in perfect harmony.
8. Country Quilt Floor
If you like the look and pop of style that an area rug can give, but you are concerned about it being durable enough to withstand the rigours of a high traffic kitchen floor, then consider getting that splash of style from a quilt patterned floor tile. Pair an incredible floor with square subway tiles, reminiscent of shingles, and an oversized farm sink with brass, wall-mounted faucet and taps and you have an awesome country design like the one pictured above from Country Living and designer Grant K. Gibson.
9. Highlight Your Overhead Space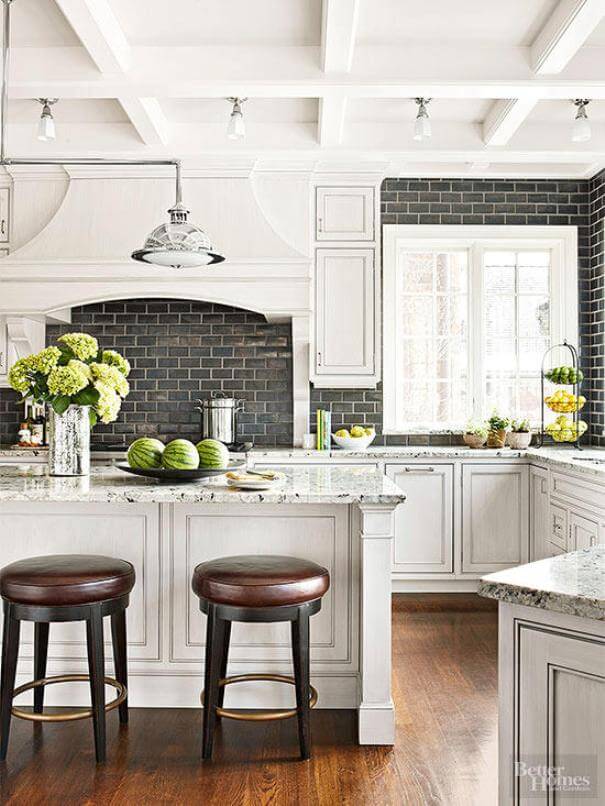 A great new trend in kitchen design is to highlight your overhead space. The ceiling is your fifth wall; you can make it stand out like this lovely design from Better Homes & Garden that uses shallow coffers painted white and tasteful lighting fixtures. The cabinetry and island are also striking with their gorgeous marbled tops and decorative moldings that give further definition to this beautiful kitchen.
10. Red? Why Not!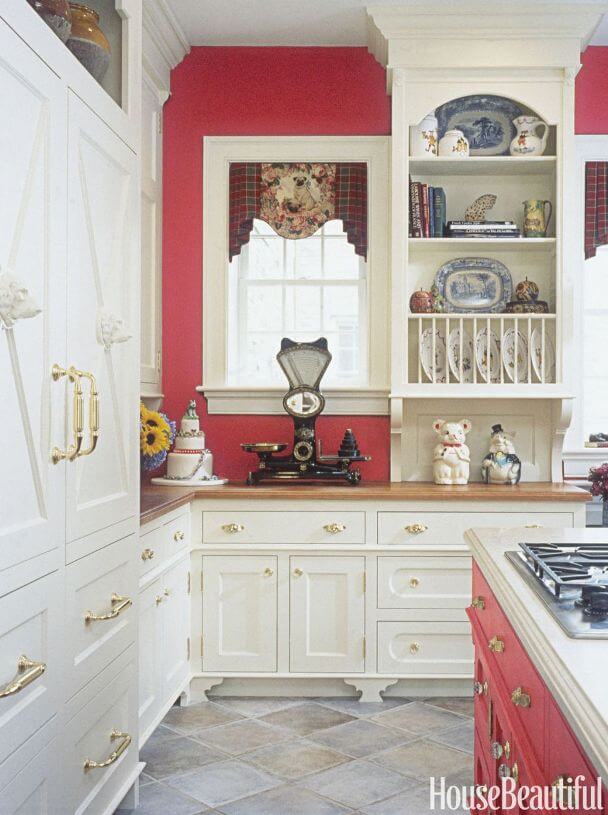 Red can be a fun and refreshing addition to your kitchen especially when it is virtually hidden. In this playful design from House Beautiful, it's like getting a colour surprise just around the next corner. Red is sparingly used on the bottom of the island and tucked away in a corner to cleverly frame an inconspicuously charming window. The added colour gives this otherwise boring white kitchen its own flare.
"Just bought a home that needed a new kitchen. The installers were amazing and the Price, Quality & Workmanship the BEST!"
– Natalie Dawson
Read More Testimonials
Click here to see a gallery of our work
Thinking of Beginning a Kitchen Home Improvement Project? Contact Graham's & Son Today!
If you are thinking about starting a kitchen home improvement project, contact the design experts at Graham's & Son. Graham's & Son has been producing beautiful interior designs for more than 40 years. We are locally owned and operated and we specialize in all types of renovations, including kitchens.
Our customers have been so pleased with the high standard of our work that they selected us for the "Best Business Service – Interior Decorating: Platinum" and "Best Shopping – Kitchen Renovations: Gold" awards in the 2017 Cambridge Times Readers' Choice Competition. Book a free in-home consultation today and find out for yourself why Graham's is the best in the interior design business.