It can be a tall order to find an indoor window covering that gives you the privacy you want at night while letting in a lot of light and a good view during the day. There are plenty of viable options, but California shutters can do all that while giving your Cambridge area home interior an airy, open look that can't always be achieved with curtains or blinds. Contact Graham's & Son today to find out how.
The Advantages of California Shutters
California shutters are a kind of indoor window covering with wide louvers (slats) that let in air but keep out sunlight; they're also known as plantation or interior shutters. The louvers can be opened and shut manually to control the amount of light, visibility and air that comes into the room.
California shutters are unlike traditional blinds in appearance and functionality; the old-fashioned models have narrow, fixed louvers. With the modern wide-slat shutters, you can choose full-height, café-style or double-hung models.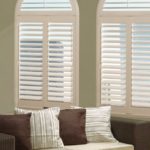 How do California shutters compare to other window coverings?
• Unlike vinyl- or wooden-slat blinds, California shutters have no dangling cords or strings to deal with. They can be folded or swung open from their frames to offer a completely clear view of the outdoors. Best of all, they confer a very classy look to your home.
• Unlike curtains, they can be customized easily, right in your home. They can be made to order for any shape or size of window, including fan shapes and ovals. And whereas you have to remove your curtains from the rod to launder or dry clean them, with interior shutters a damp rag does the job.
• Unlike Venetian, Roman or pull-down blinds, California shutters are efficient at insulating your windows; that makes them ideal for Cambridge's climate. They also provide complete black-out at night while letting in lots of sunlight during the day.
A summary of the benefits of interior shutters
More control over how much light enters room
Privacy
Bring a sophisticated, open look to your home
Energy efficient
Affordable
Customizable
Durable
Good sound insulation
Materials you can choose from:
We offer a variety of models of California shutters to suit your decor and your budget:
Vinyl is cost-effective and offers good resistance to moisture in damp areas.
Composite shutters are made of engineered wood and are very durable and moisture resistant.
All-wood shutters are the lightest option and can be either stained for a natural look or painted.
Summary Infographic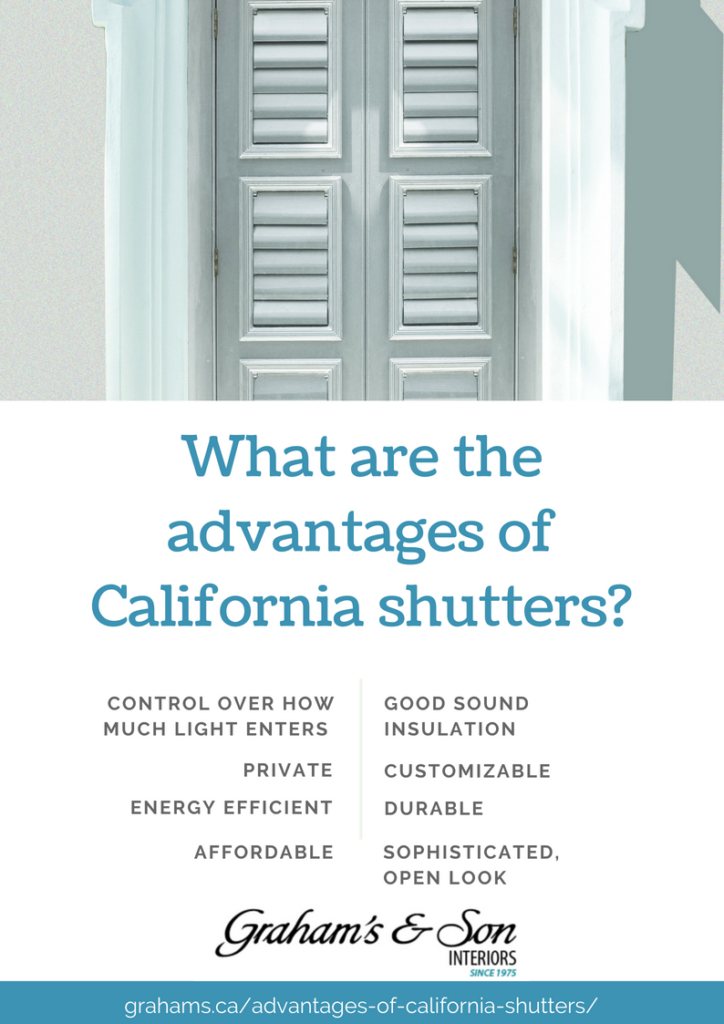 Trust the experts at Graham's & Son!
If you'd like to update the look of your windows with California shutters, call Graham's & Son Interiors in Cambridge to book an in-home consultation. We customize and install all kinds of interior window shutters throughout the Cambridge &Kitchener areas.