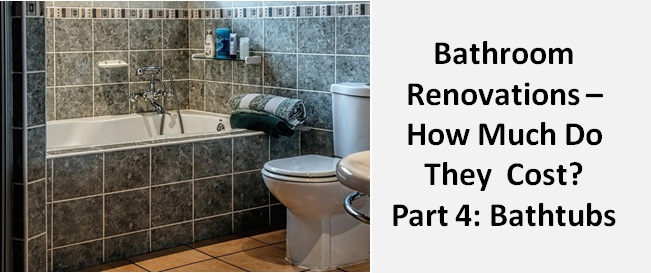 A luxurious new bathroom is not as out of reach financially as you may think; especially if you can realistically look at the various components and what they actually cost. In part four of this eight-part series, Bathroom Renovations – How Much Do They Cost, we will be looking specifically at bathtub choices and costs. In the previous posts, we have talked about flooring and shower choices and in the coming posts we will look at lighting choices, cabinetry, toilets, and wall coverings. If you need assistance and advice with your bathroom renovation, contact Graham's & Son today. We can provide you with a free, in-home consultation. Let us put our expertise to work for you!

"Just bought a home that needed a new kitchen. The installers where amazing and the Price, Quality & Workmanship the BEST!."
– Natalie Dawson
Read More Testimonials
Click here to see a gallery of our work
Bathroom Renovations – How Much Do They Cost?
On average, a 5′ by 10′ bathroom in Canada, could cost anywhere from $10,000 to $16,000 to renovate, according to Canadian Home Trends. The amount includes the designing, planning, supplies, and installation of the new bathroom. If you are renovating a bathroom in a condominium, you could expect to pay about 30% more because of the restrictions imposed by condo rules and existing building design. So, renovating a condominium bathroom could cost from $13,000 to $20,800.
Part 4: The Bathtub
When it comes to a bathroom there are four major components: the shower, the bathtub, the toilet, and the sink. If you have all four components then your bathroom is considered a full bath, 3 of the 4 components means it is a three-quarter bath, 2 components is a half bath and one component is a quarter bath. Most quarter baths would simply consist of an extra shower, often in the basement. Some older houses may have a bathtub on its own which would also qualify as a quarter bathroom.
How Much Do Bathtubs Cost?
Some people think that the era of taking a bath is passing and that a bathtub is no longer an integral part of your bathroom. However, if you are one of the lucky ones who truly enjoy the incredibly relaxing and enjoyable experience that a luxurious bath can give you, then you will heartily disagree and you will want to make sure that a tub is definitely a part of your new bathroom. According to Kitchen and Bath, a new bathtub could cost you anywhere from $500 to $7,500 on average depending on the type of tub you choose. However, all bathtub lovers would agree that it is well worth the investment!
Types of Bathtubs
Free-Standing Tub:
A free-standing tub is one that is not connected to any wall or other surface. This is the traditional style of tub that you think of from days gone by, many of which are elevated off the floor with clawfoots or other decorative legs. They can, however, also sit directly on the floor. Free-standing tubs do require a large amount of space and are usually more expensive, up to $2,000 more than an alcove or drop-in tub. With this style of tub, your plumbing is exposed which may turn some people off but others like to celebrate rather than hide this feature and the plumbing becomes a highlighted design of the tub.
Price Range: $700 to $10,000

Alcove Tub: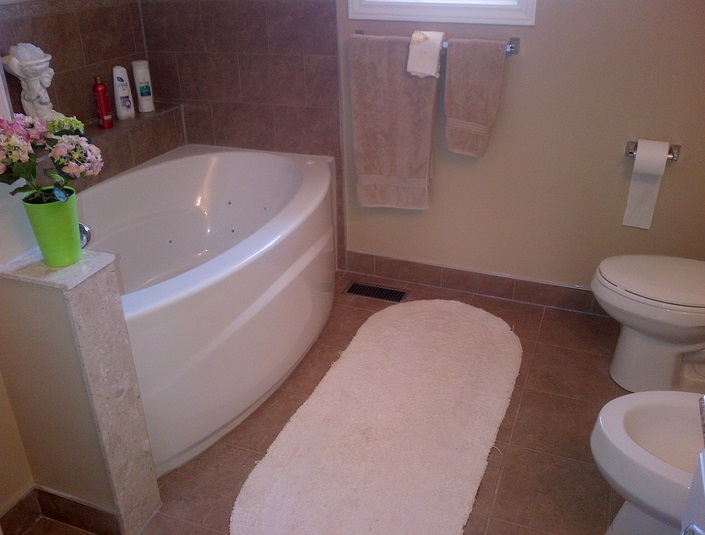 Alcove tubs are the most common types of bathtub mainly because they are simplest and least expensive to install. Most alcove tubs come in a standard size of 60 inches long, however, the size can range anywhere from 53 to 72 inches, so they are not the most spacious. This type of tub is fitted between three walls. If the walls are tiled or properly fitted with an enclosure, they can also be used as a tub/shower combination.
Price Range: $300 to $700
Drop-In Bathtub: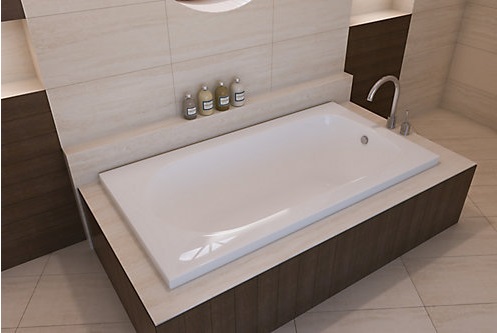 If you like the look of a freestanding tub but you don't want to pay the price and you don't like the closed in feeling of an alcove tub, then you may like a drop-in bathtub. The drop-in tub is installed in a box-shaped structure with its own rim, that sits away from a wall or extends out from a wall similar to a peninsula. They usually require more floor space than an alcove tub.
Price Range: $600-$2,000
Corner Bathtub: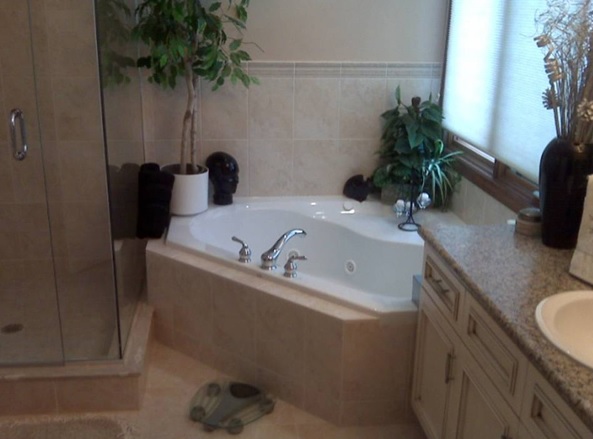 If you would love to indulge in a bathtub that gives you a home spa treatment then consider a corner bathtub. Even though these tubs are also called triangular tubs, they are actually 5 sided and not 3 sided as the name suggests. This type of tub allows for bathing in pairs or trios, however, it does take up a lot of floor space and it requires a large amount of water.
Price Range: $1,000 – $5,500

Walk-In Bathtub: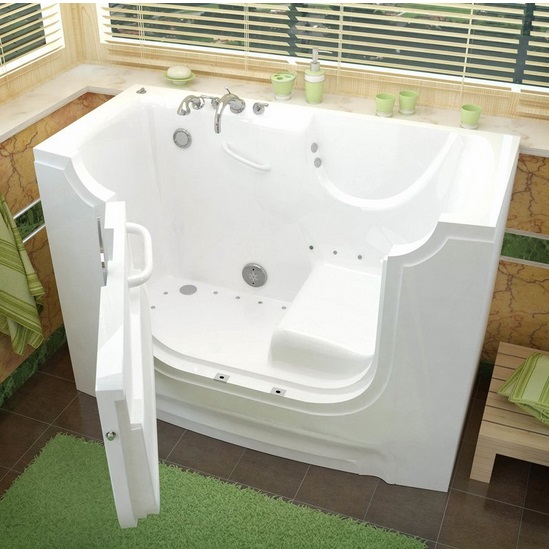 Walk-in tubs are specially designed to help people with mobility challenges still enjoy the benefits of a relaxing bathing experience. They feature a watertight door which allows you to enter the tub safely and conveniently. Many of them also offer additional features such as whirlpool or Jacuzzi options, non-skid flooring, handrails, and adjustable seating.
Price Range: $1,500 – $6,000
Some Helpful Terms
When discussing bathtubs you may come across some terms like 'air bath' or 'clawfoot.' The following will give you an idea of what each of these terms refers to.
Air Bath: Also known as thermo-air massage, an air bath uses blowers to release millions of tiny bubbles through small holes in the bottom of the tub. It is less powerful than whirlpool jets and the result is a gentler massage experience.
Apron: Also known as the skirt, the apron is the front facing side of an alcove bathtub.
Bathing Well: This is the inside of a tub where you sit while having a bath.
Cast Iron Bathtub: This is a tub which is made by pouring liquid iron into a bathtub shaped mold.
Clawfoot: This is a style of freestanding tub which has four "feet" supporting it that are in the shape of an animal's foot and claws.
Deck: This refers to the horizontal perimeter or "lip" of the tub. When talking about a drop-in bathtub it can also refer to the structure that surrounds the tub.
Full Immersion Tubs: These are tubs which are much deeper than average tubs and will all the bather to be covered by water up to their shoulders.
Infinity Edge: This is a style of tub that can be filled right up to the top. The excess water will flow into a space between the inner and outer tub walls.
Tub Surround: A tile or stone structure that surrounds the tub and usually hides the majority of its exterior. It gives the bathtub the appearance of being "built-in" to the surround.
How Long Do Bathtubs Last?
According to the U.S Department of Housing and Urban Development , a fiberglass bathtub should last about 10-15 years, however some models may come with as much as a 25 year warranty. A cast iron tub on the other hand can last up to 50 years. Your tub may still be in good shape, but it might not suit the new bathroom design that you have in mind. If it still has lots of wear left, then you may want to donate it to a charity such as Habitat for Humanity.
Bathrooms Designed For You
Graham's & Son has been in the interior design business for more than 40 years. We are locally owned and operated and we specialize in all types of renovations including bathrooms. We offer free, in-home consultations and will take the time to listen to your ideas and dreams for your new bathroom. If you are thinking of renovating your bathroom or any room in your home, contact the design experts at Graham's & Son to book your free in-home consultation.

Read the rest of our series:
Part 1: Overview
Part 2: Flooring
Part 3: Showers
Part 4: Bathtubs
Part 5: Sinks & Vanities
Part 6: Toilets
Part 7: Lighting and Wall Coverings
Part 8: Common Layouts