The right window coverings can make a huge difference on your winter heating bill. The exact amount of savings will depend on the type of window treatments you choose. Read on to find out the options that are available and which ones can help you save the most and make your windows look amazing as well. If you like expert advice on the most energy efficient window coverings available, book a free, in-home consultation with the professionals at Graham's & Son today.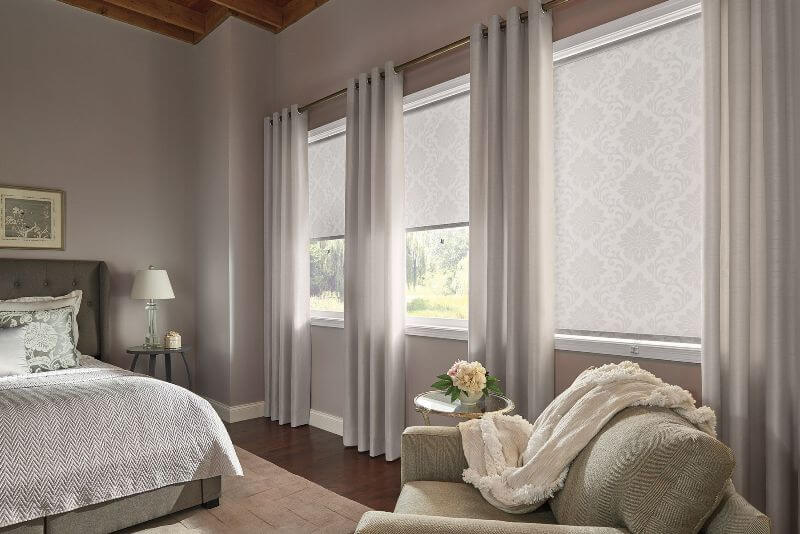 The Facts About Window Coverings and Energy Efficiency
About 30% of your home's heating energy can escape out of your windows. In the summertime, an amazing 76% of the sunlight that lands on a double-pane window will enter your home and become heat. This means that your furnace needs to generate more heat and your air conditioner needs to work harder in order to compensate for these energy fluctuations. Choosing the right window coverings can greatly reduce this heat loss in the colder months and this heat gain in the warmer months.
Choose Window Coverings That You Can Easily Adjust To Maximize Energy Efficiency
It is important to choose window coverings that you can easily adjust to maximize energy efficiency. On a sunny day in the winter, if you open your window treatments on windows that receive direct sunlight, you can take advantage of the sunlight that enters to add heat to your rooms, closing them at night to prevent excess heat escaping out through your windows. In the summer, you should keep your window treatments in areas that receive direct sunlight closed to keep your rooms cooler.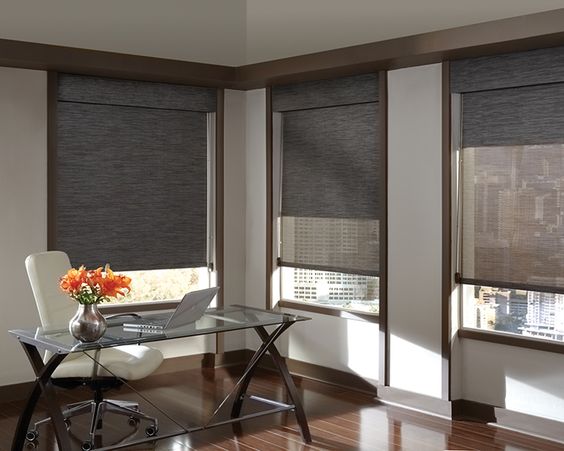 Automate Your Windows To Make Adjustments Easier
Not all of us have the time or can remember to always open and close all of the window treatments in our homes when necessary for energy efficiency. A great option is to invest in automated window treatments which you can program so that you don't have to remember. There are countless varieties of blinds, shades, shutters, and curtains available that you can set to adjust automatically at a specified time each day. Some even come with sensors that will automatically adjust according to the light intensity or room temperature. Automation is a great option aesthetically as well, as there are no unsightly cords and the motors are hidden. To learn more about motorization, read our post entitled "Motorized blinds: The Key Benefits."
The following video demonstrates how easy automated blinds are to operate.
Types of Energy Efficient Window Coverings
You don't have to sacrifice style to have an energy efficient window treatment. There are many different types of window coverings that you can choose from that will satisfy your design preference and help you save on your energy costs. These include blinds, cellular shades, and curtains.
Cellular Shades
Cellular or honeycomb shades are specially designed to trap air within their "honeycomb" shaped pockets. These air pockets act as insulators and they greatly increase the R-value of your window covering. An R-value is the thermal resistance of a material and "the higher the R-value, the greater the insulating effectiveness." Insulated cellular shades usually have the highest R-value of all window coverings. In the winter, tightly installed cellular shades can cut the heat loss through your windows by at least 40% which equals about 20% in energy savings. You can further increase your control over daylight entering your home and heat escaping by choosing cellular shades that open from both the top and the bottom.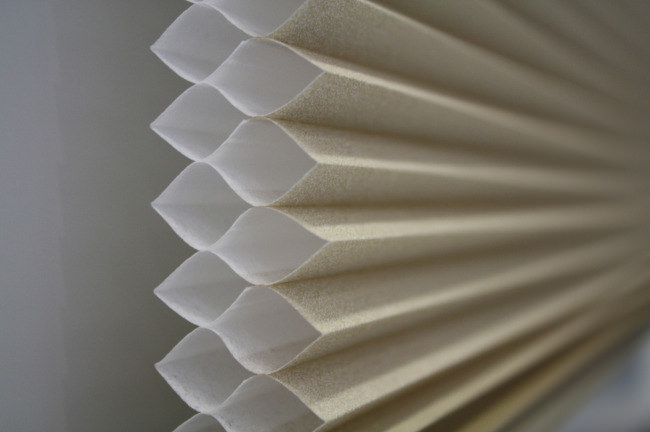 Roman Shades
Roman shades are usually less expensive than cellular shades. They are made from textile material and can be raised into a series of even folds or lowered to lay flat against your window. They do not have as high an R-value as cellular shades, however, if you choose a heavier material, you will have better insulating performance. Combining them with another window treatment will increase their energy efficiency. They can also be used to block out direct sunlight.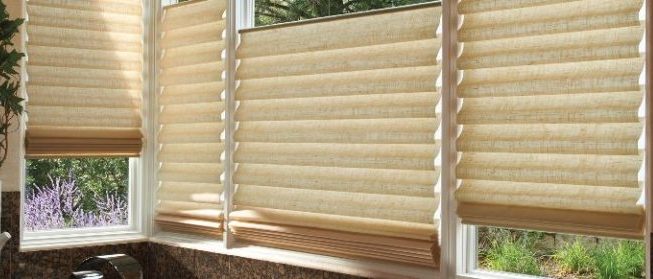 Vertical and Horizontal Blinds
Because of the space between the slats of horizontal and vertical blinds, they are better at reducing heat gain in the summer than reducing heat loss in the winter. Heat tends to escape through the openings between the slats. In the summer, however, the slats can be closed to block direct sunlight or adjusted to reflect direct sunlight onto a light coloured ceiling. This deflection will allow your ceiling to diffuse the light without additional heat gain while letting you still enjoy the natural daytime lighting.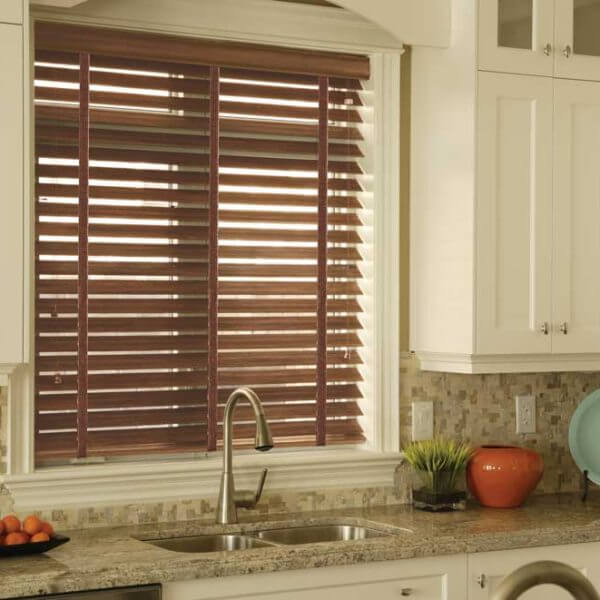 Curtains
Curtains have a wide range of heat gain and loss effect. This is because they come in so many different fabrics and colours. The weave and colour of material will affect the amount of insulation that your curtains can provide. A tighter weave and a darker colour will be more effective in preventing heat loss than a lighter, looser one. If you close your drapes when the weather is cold, you can reduce heat loss by up to 10%. Make sure you close all of your curtains at night, overlapping them in the centre, and during the day close those that don't receive direct sunlight to maximize your energy efficiency. Hanging your curtains as close to your windows as possible and having them reach the window sill or floor will also help. Installing a second curtain, blind, or shade behind will act as further insulation. If you attach the sides of your drapes to the wall with velcro or magnetic tape, you can further reduce your heat loss. All of these measures taken together could reduce energy loss by up to 25%.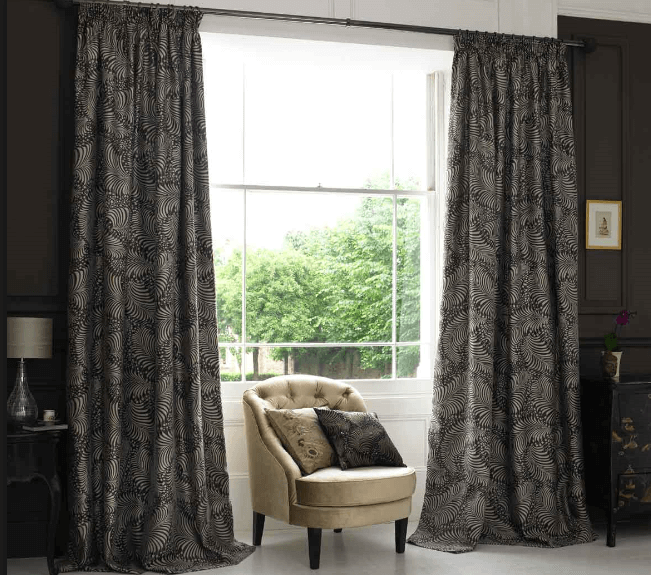 Combine Window Treatment to Further Insulate Your Windows
Using more than one type of window treatment will further increase your energy efficiency. Here are some ideas for combining different types of window treatments.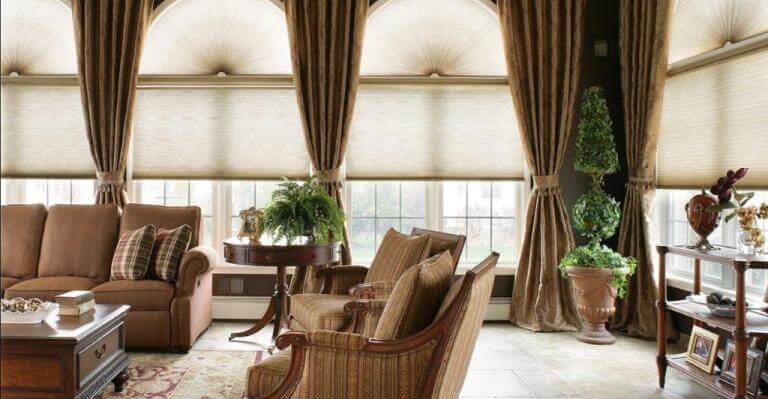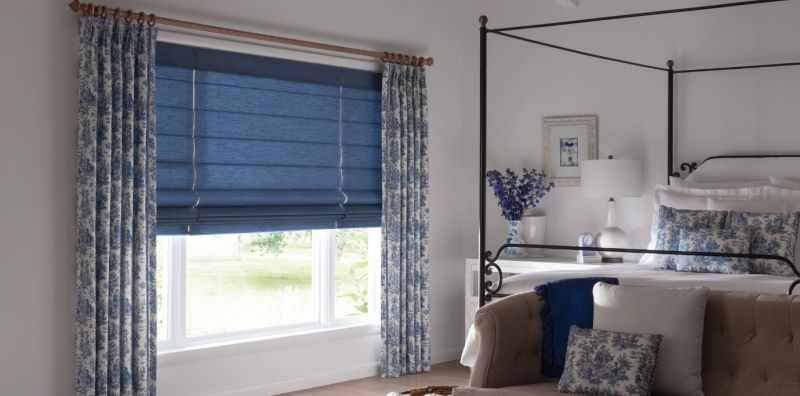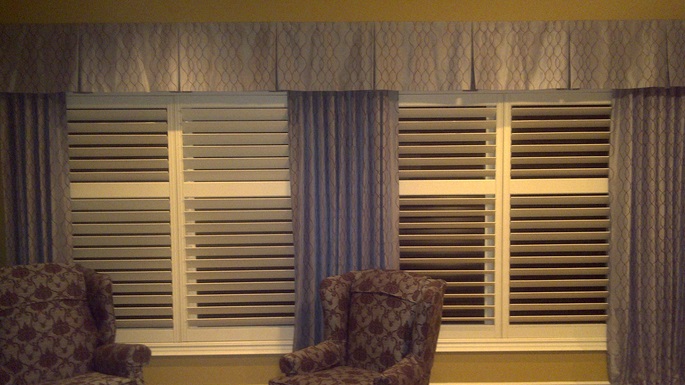 Contact Graham's & Son for the Most Energy Efficient Window Coverings You Can Buy
If you are looking for the most energy efficient and beautiful window treatments possible, contact Graham's & Son today. Graham's & Son knows window coverings; we have been in the window treatment business for over 40 years. Our expertise and professionalism are second to none. In addition, right now we are offering an amazing deal on all our blinds, shutters, and shades – when you purchase any two, you will get a third absolutely free.
Our customers have been so pleased with the high standard of our work that they selected us for the "Best Business Service – Interior Decorating: Platinum" and "Best Shopping – Kitchen Renovations: Gold" awards in the 2017 Cambridge Times Readers' Choice Competition. Book a free in-home consultation today and find out for yourself why Graham's is the best in the interior design business. Contact us today to schedule. If you prefer, you can shop at home. Browse through our website, make your choice, and simply give us a call at 519-658-9025 to place your order without ever having to leave the comfort of your own living room.
"Let me start by saying, I love my window treatments! Mr. Graham was very professional, easy to talk to; he talked with me, not above me, I was at complete ease. He listened to my thoughts, went through my options, and just like that – decision made. The installation crew was quite professional, friendly and efficient. They were in and out in no time, with cleaning up after themselves, and ensuring that I was satisfied with what was done. I would highly recommend Graham's and Son Interiors to anyone, and I look forward to working with them again!"
Anne Allen
Read more customer testimonials