1. Main Differences Between Blinds & Shades
While you may have heard the terms blinds and shades used interchangeably, there are some differences. Let's look at a few of them here, including the materials used, the control options, customization and energy efficiency.
Materials
The most noticeable difference between blinds vs shades is the materials these window treatments are made from. Blinds are solid slats made from wood, composite materials, vinyl or metals which are solid and can be placed horizontally or vertically. Shades on the other hand are made of material, one or more pieces of fabric. Shades are more delicate but lightweight while blinds are more durable but generally heavier.
Control Options
Traditionally, horizontal blinds are opened and closed with the use of cords and vertical blinds are opened and closed with the use of a wand. Now with technology there are motorized and automated options as well as child-safe options that include concealed cords or other controls. 
The slats of blinds can also be tilted (either with the wand or automated control) so that light filters in at varying degrees. They can be completely closed, too. Shades also have cords or automated options to open and shut them and modern shades have been designed to offer varying degrees of light filtering so that you have more options than just completely open or closed! In fact, check out this design from Maxxmar that combines the look of blinds and shades in one. Watch the video below where Scott McGillivray highlight's Maxxmar's Perfect Sunset Shades.
Check out this Maxxmar showcase with Scott McGillivray
Customization
Blinds are pretty standard but can be customized to a certain degree. For example, you can choose between different slat sizes (small to large), the type of materials used (wood, faux wood, composite, vinyl, metal, etc.) and colours. 
On the other hand, shades are more customizable because you can choose between so many different types of fabrics which come in a variety of colours and patterns. You can choose simple roller shades, roman shades, or deluxe designer shades. 
The flexibility and variety of shades is one reason why some homeowners opt for this window treatment over blinds; however, some homeowners appreciate the simplicity and neutral look of blinds to make coordinating other home décor easier.
Energy Efficiency
Blinds may help block out some warm and cool air, but shades will likely do a better job of insulation, particularly if you choose cellular shades for example. These shades are specifically designed to trap air with their honeycomb-shaped cells. Read more about Hunter Douglas's Duette Honeycomb Shades here.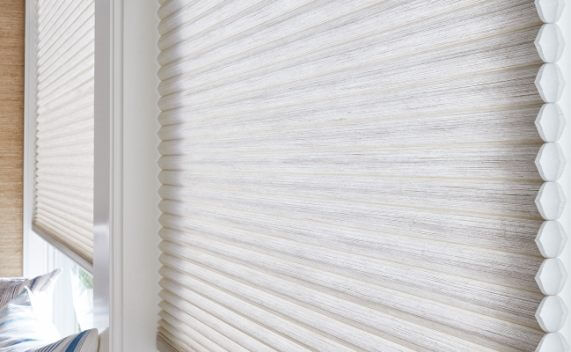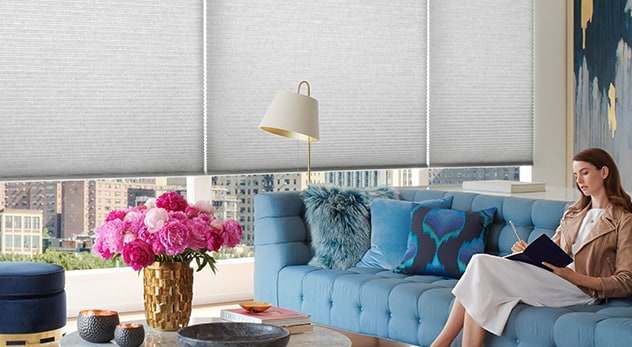 The cost of your blinds and shades will vary depending the following factors:
The size and shape of your window (irregularly shaped windows like arches or angles may increase the costs)
The materials used in the making of your window treatment
Any special features like automation or decorative additions
In general, small vinyl blinds and simple roller shades are inexpensive while larger real wood blinds or specially treated composite blinds and roman shades made from expensive fabrics will cost more. 
Home Advisor suggests that the average cost of a set of blinds is $80 and that shades can cost anywhere between $8 and $2,600. With such a varying range, it is best to consult with a window treatment expert for a more accurate breakdown of cost, including the cost of products and installation. Contact Graham's for a FREE In-home consultation and their experts can help you with the cost of blinds vs shades.
There are many options for your blinds and shades and, though we have already showcased a couple styles above, we have some more ideas for you to browse through below. Click on the links below the pictures to read more about these products. Now, let's start with blinds!
Blinds
Blinds can come in a variety of materials, including wood, faux wood or composite materials, vinyl and aluminum! You can get them in a horizontal or vertical style. They can have small slats, as you would see in mini blinds, or large slats, as you would typically see in vertical blinds. Below we have highlighted some options from three of our top suppliers: Graber, Hunter Douglas and Maxxmar. 
Shades
Shades come in a wide variety of styles. Here are some options you can choose from:
Cellular Shades
Layered Shades
Natural Woven Shades
Panel Shades
Roller Shades
Roman Shades
Sheer Shades
Solar Shades (Interior & Exterior)
As well, most shades come in a variety of materials, including fabrics of varying densities (sheer to heavy materials), woven woods like bamboo or jute, UV protecting materials, and even
recycled plastics
! Browse the gallery below for ideas, and remember to click on the links in the headings below the pictures to find out more.
4. Graham's & Son Interiors
Graham's & Son Interiors can help you no matter what you decide with your blinds vs shades choice – even if you want an entirely different window treatment like California shutters! 
In fact, working with a local and experienced company like Graham's can ensure you get the very best window treatments for your budget and your needs. Graham's will consult with you for free, order your desired products, install your window treatment and help you through the entire process. With their high-quality installation and workmanship, you will get better value for what you pay!
Read more about Graham's here or visit them in person at their store in Cambridge, Ontario. With over 40 years of experience serving customers just like you, they are ready to help you transform your home or office with the perfect window coverings. 
"Amazing company to work with! We changed all of the blinds in our house with shutters or cellular shades. They had an amazing promotional offer which made the price incredible. They are very friendly and informal (this is a good thing) to work with. They installed the window coverings the same day the order arrived. We will be a repeat customer."
– Blake Madill
"We purchased roller shades from Graham's & Son. Measurements were done in home, very professional and knowledgeable on product offerings. Prices were comparable, we had shopped around.
Blinds were delivered directly to our home and were very easy to install."
– Theresa Kuntz