If you are looking for the best Arch Shutters Kitchener has to offer, come to Graham's & Son. We have the area's widest selection of custom-crafted shutters. Contact us today to book a free, in-home consultation.
We will come to your home, expertly measure your windows, and provide you with a competitive quote, right on the spot. At Graham's & Son we have over 40 years experience in the window treatment business in Kitchener.
We can help you make your windows look amazing! And right now when you purchase any two of our shutters, blinds, or shades you will receive a third one free of charge.
Arch Shutters Kitchener
Arch windows look amazing but it can be difficult to find the perfect window treatments to fully show them off. Shutters make a beautiful addition to any type of window but arch shutters are particularly stunning. No matter the size or shape of your arch windows, Graham's can find you the perfect style and colour of arch shutters.

Arch Shutters Kitchener: California or Plantation?
You may have heard both the terms California and Plantation to refer to shutters, but what do they mean? The term California is used to simply designate the size of louvre (horizontal slat) used to make the shutter. California shutters are typically 2 1/2″ wide while Plantation shutters are 3 1/2″ wide.  The type of shutter that you decide on will depend on your personal preference and the overall look that you want achieve. Our professional designers can help you make that choice.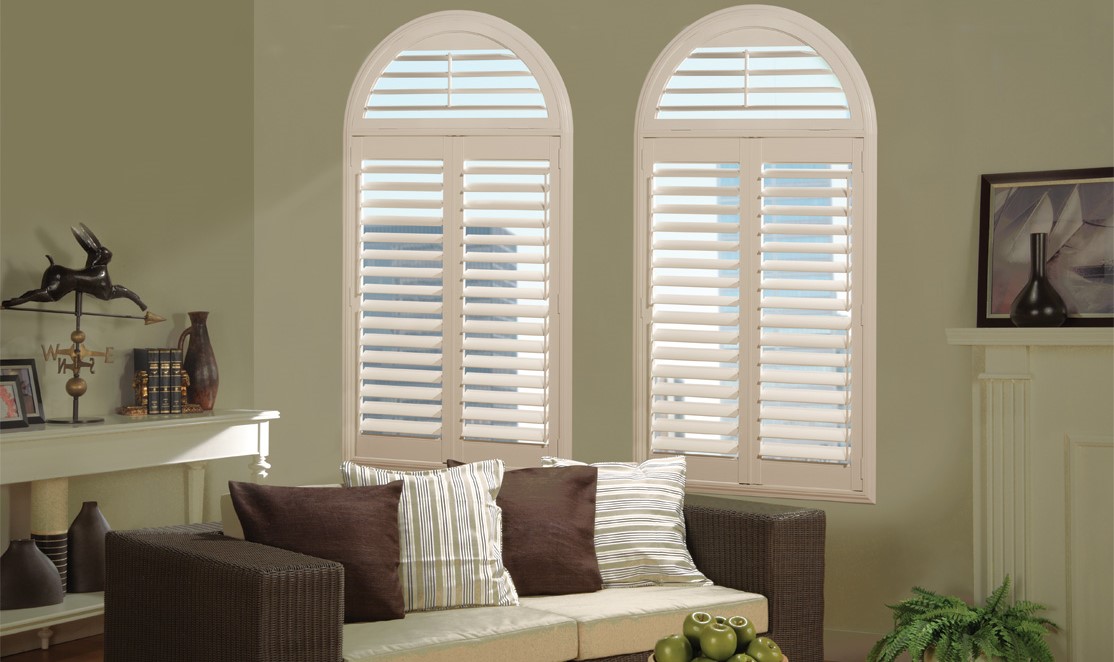 Arch Shutters Kitchener: Wood, Vinyl or Composite
You also have a choice of high quality materials for your arch shutters including wood, vinyl or composite.
Wood:
Graham's & Son offers you a wide range of wooden shutters crafted from superior hardwoods for extra durability and structural integrity. They are custom made with state-of-the-art technology to give them a long-lasting and lustrous finish. Wooden shutters also help to make your home more energy efficient by restricting heat gain and loss through your windows.
Vinyl:
Our vinyl shutters not only look amazing on your windows, but they also prevent as much as 50% of your home's heating and cooling energy from escaping through your windows. They also provide 99% protection from UV rays when they are fully closed. Our custom vinyl shutters are made from a strong PolySilk compound which resists peeling, cracking, and fading. They are also water resistant.
Composite:
Composite shutters give you the essence of real wood in a more cost-effective solution. They are designed to withstand high humidity, so they are ideal for kitchens, laundry rooms, bathrooms, and other high-humidity rooms. They are highly durable which makes them great for high-traffic areas.
Arch Shutters Kitchener: No Problem for Graham's & Son
Arch shutters are not a problem for Graham's & Son. Whether you have elegant cathedral-style windows or classic arches, we can design shutters to perfectly accentuate their unique design. Our sturdy hardwood shutters can also be ordered in larger-sized louvres of 6 1/2″, 8″, and 10″ sizes.
The larger louvre sizes are perfect for large residential, commercial, and design build projects. They can be applied to window and door spans up to 12′ wide and 24′ high. Take a look at some of the great designs we offer.
"Let me start by saying, I love my window treatments! Mr. Graham was very professional, easy to talk to; he talked with me, not above me, I was at complete ease. He listened to my thoughts, went through my options, and just like that – decision made. The installation crew was quite professional, friendly and efficient. They were in and out in no time, with cleaning up after themselves, and ensuring that I was satisfied with what was done. I would highly recommend Graham's and Son Interiors to anyone, and I look forward to working with them again!" – Anne Allen
Arch Shutters Kitchener: The Graham's & Son Difference
We found several online reviews of other window treatment companies and discovered that customers have encountered challenges in the following areas in the past when purchasing shutters or other window treatments from our competitors. At Graham's & Son you will not encounter these problems.
If you purchase from Graham's & Son, we promise to:
1. Give You a Quote During Our First Visit
We will come to your home free of charge, accurately measure your windows, and give you a quote right on the spot during that first visit. You will not have to wait for days or even weeks to find out how affordable our shutters are.
2. Professionally Install Your Shutters
At Graham's & Son, we will be with you through the entire process from taking the first measurements, to ordering the correct products, to installing your beautiful new shutters. You don't have to struggle with installation instructions that are hard to understand or to try and work with brackets and hardware that weren't manufactured properly. Our expert installers have years of experience installing window treatments. They know what they are doing and will only use the best quality installation hardware so that you can be assured that your California shutters look their best.
3. Ensure Your Complete Satisfaction
At Graham's & Son, you will always be dealing with the people who can answer your questions and solve any issues or concerns that you may have. You will not be transferred from department to department. We have a vested interest in your complete satisfaction and will therefore do everything in our power to make sure that you are completely satisfied. Our reputation and our business relies on our customer's satisfaction, so we will take ownership of every situation.
4. Sell You the Highest Quality Shutters that Are Safe and Easy to Operate
At Graham's & Son, we only deal with the highest quality custom-manufactured shutters. All of our suppliers are the best in the business, so you can be confident that your new shutters will look amazing and will stand the test of time.
Our shutters have no cords that could be harmful to children and their standard 3 leaf hinge is recommended for child and pet safety. We can even install blinds, shades, and shutters that are fully automated for ease of use.
Our Location
Graham's & Son are conveniently located in beautiful and historic Cambridge, Ontario at 9 Queen Street East, a mere 20 minutes away from downtown Kitchener.