California vs Plantation Shutters Designer's Guide
California and Plantation shutters are a great way to improve the look and comfort of your home. The top materials to use are hardwood, vinyl, and composite, depending on your preference and priorities for style and function. Get a qualified professional to ensure your window treatment experience doesn't compromise on convenience or value.

California Shutters vs Plantation Shutters
Though some may have you believe that California and Plantation shutters are identical, they are not as you can see from the following forum asking the question, "What is the difference between California and Plantation shutters?"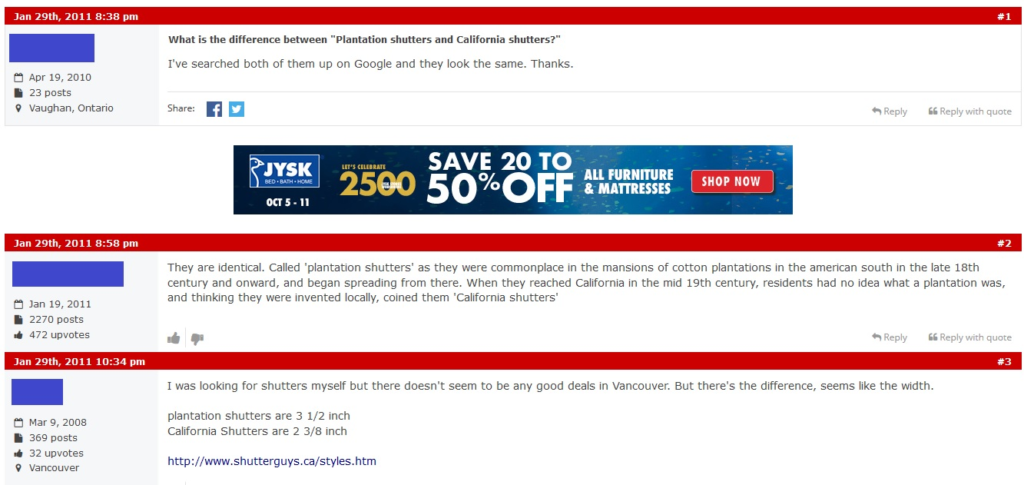 The main difference between the shutter types is the size of the louvres (the horizontal panels and their individual widths).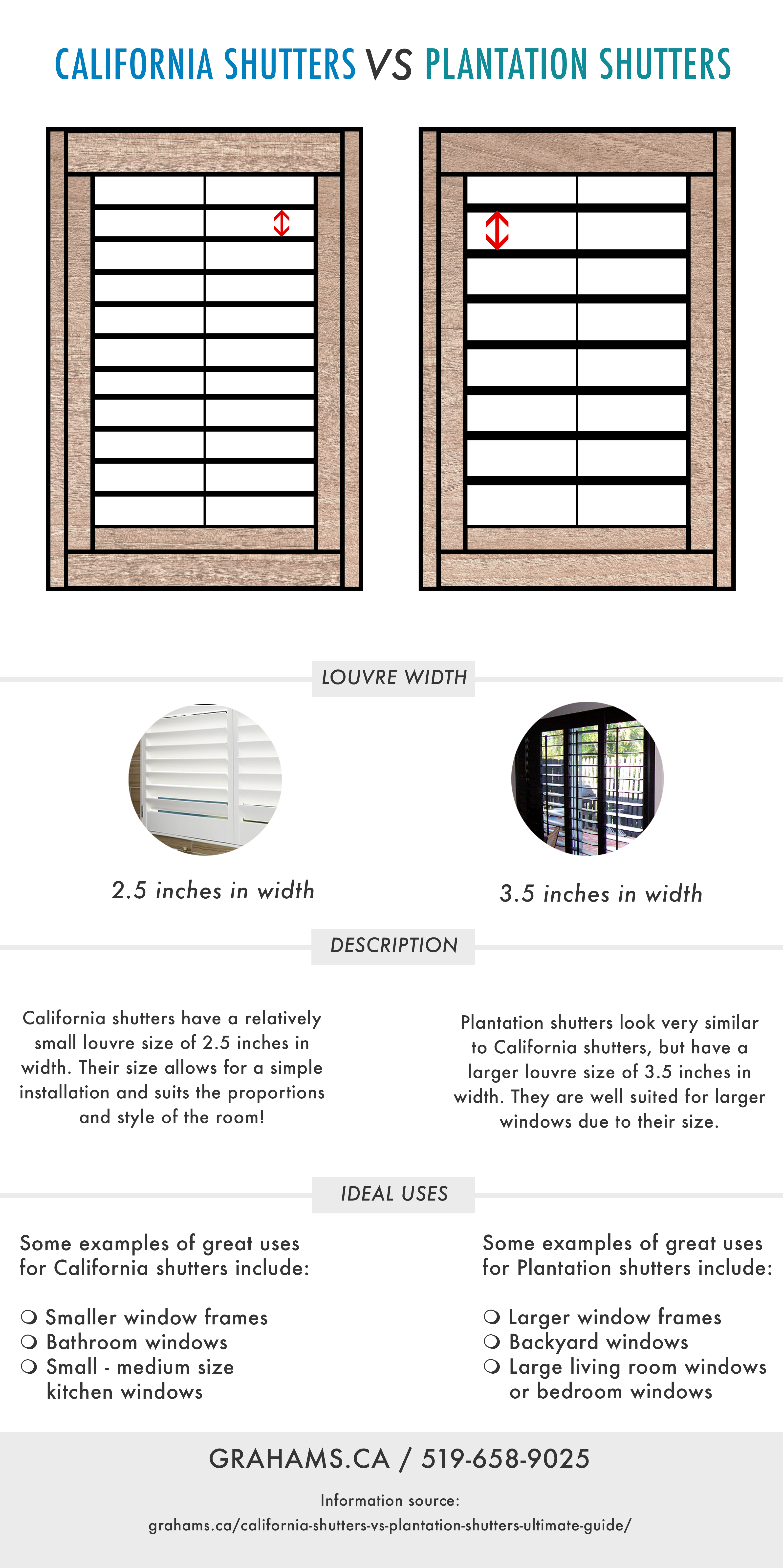 California shutters louvres: 2.5 inches in width
Plantation shutters louvres: 3.5 inches in width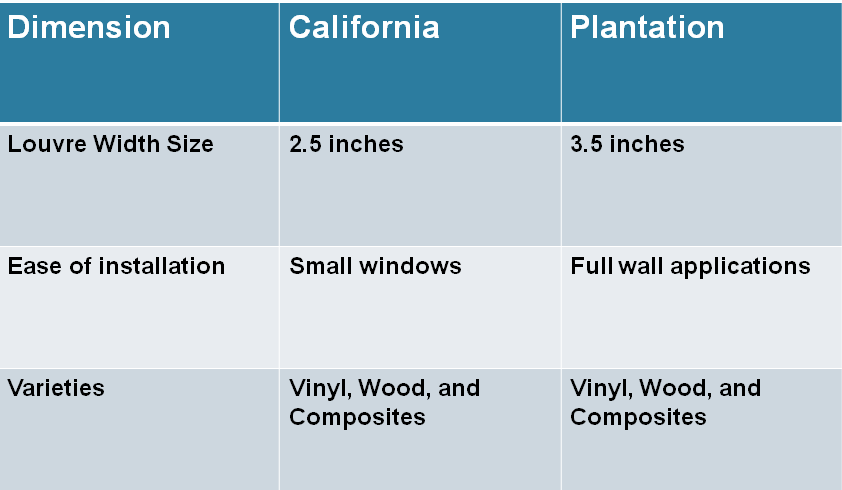 The History of Plantation and California Shutters
When you think of plantation shutters, the image of a huge mansion in the southern States worthy of a scene from "Gone With the Wind" usually comes to mind. In fact, though, shutters actually date back to ancient Greece. According to The Plantation Shutter Company, the very first shutters were actually made out of marble and not wood. They were very solid and strong compared to other window treatments. Marble is difficult to work with and the average person was unable to afford it.

With time, woodworkers were able to master the art of making shutters and they became more popular as time went on. King Louis XlV of France even insisted on having them installed in his palace. Shutters helped prevent sunlight heating up their kitchens and allowed for comfortable napping without blocking air circulation.
In the 18th century, shutters found their way to America. In particular, the southern states took up the trend and shutters began to appear on the windows of large plantation manors. This is where the term "plantation shutters" originates from. These southern plantations were well known for their grandeur and elegance and therefore shutters have also inherited this reputation.
Shutters came to California in the mid 19th century. The residents there thought shutters had been invented by someone local and therefore they became known as California shutters. They had no idea what a plantation was.
See here for an informative discussion and history on California vs Plantation shutters.
Examples of California and Plantation Shutters
What most clients focus on isn't the technical specifications of a shutter but the potential they have for improving a living space and creating a sense of comfort and privacy. Here are some great ideas for shutters for your home.
California Shutters
California shutters, because of their small louvre size, work better with smaller window frames. This allows for ease of installation while suiting the proportions and style of the room.
Plantation Shutters
Plantation shutters are great for near wall height windows and frames, particularly for windows looking out onto backyards.
For more information on our well-crafted and custom-fitted shutters, see our
window shutters
section.
Benefits of California and Plantation Shutters
Aside from the decor and design benefits of a shutter, here is a great overview of why you should consider Plantation and California shutters. The main difference between the two types of shutters is the amount of materials and spacing to use.
Impeccable quality – expect the highest quality of shutters to last for years to come.
Ease of maintenance – shutters require only dusting and, with the right materials, are scratch, dent, and stain resistant.
Comfort – shutters make it easier to manage temperature for your family's comfort and convenience.
Utility savings – shutters help reduce the loss of hot or cool air through windows. Click here to download our Reduce Your Hydro Bill Checklist!
Keep noise out – focus on the import things and leave the outdoor traffic and construction noises outside.
Our customers are thrilled with their recent shutter additions and Katie is just one of many satisfied homeowners:
I just had shutters fitted on three windows in my home and they look fantastic. I'm particularly pleased with how they look and fit on the awkward shaped bay window in the lounge. I was happy with the ordering and measuring process in home and the installation was very clean and quick. Overall, I'd definitely recommend Graham's and Son Interiors for these shutters, in fact I'm ordering some more after Christmas.
Looking to learn more about the benefits of having window shutters? See here for more information on the benefits and disadvantages of window shutters.
Types of California and Plantation Shutter Materials
The most common types of materials for shutters are wood, vinyl, and composite. Here we explore further the pros and cons of each type of material. The main difference between the types of material are fashion versus function – wood excels as a decor piece but comes at a premium, while vinyl is economical and longer lasting.
Wood California and Plantation Shutters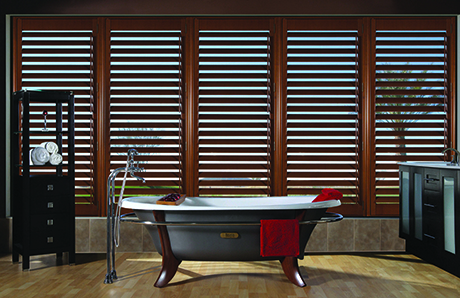 Wood shutters are the choice when your design intent is geared towards look, feel, and decor. The wood shutters are typically higher in price and generally will have a shorter lifespan when compared to their vinyl counterparts.
Pros: great looking and aromatic materials that can be adapted to any home decor. Your home looks and smells better because of the real wood material being used.
Cons: more expensive and requires additional maintenance. Further, having wood for plantation shutters may be impractical for some family members because of their added weight.
Vinyl California and Plantation Shutters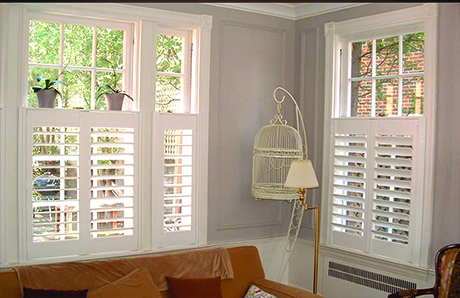 Vinyl shutters provide an emphasis on function over fashion. Vinyl is a great and durable medium that allows homeowners less hassle. Their color is less adaptable.
Pros: cheaper to purchase and requires less maintenance.
Cons: not as visually appealing as wood, and the larger the window the more deficient low-grade vinyl becomes.
There are also grades of vinyl shutters, ranging from lowest cost to highest: hollow vinyl, structured hollow vinyl, solid vinyl, solid aluminum vinyl, and vinyl-clad wood.
Composite California and Plantation Shutters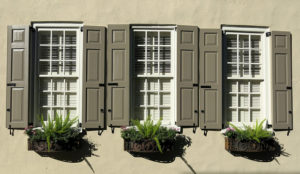 Composite shutters seek to find the happy balance between aesthetics and cost. It is the material that is most often known as faux wood. Composite shutters are a good choice for those looking to get a step beyond vinyl materials.
Pros: looks better than vinyl, offers an expansive palette of colors to choose from, and are sturdy and weather resistant.
Cons: not as visually appealing, whether viewing from indoors or outdoors, as wood.
For those who are more concerned about cost and function, the vinyl material is probably the most worthwhile one. It's important to choose the right grade of vinyl material to ensure they last.
For those who are looking for an unparalleled California or Plantation shutter experience, look no further than the basswood offering. It astounds guests while offering you a surpassing level of home decor and comfort.
If you're looking to learn more about the pros and cons of each type of shutter, see here for more information from the DIY Network.
Avoid headaches and get shutters and service from a local window treatment professional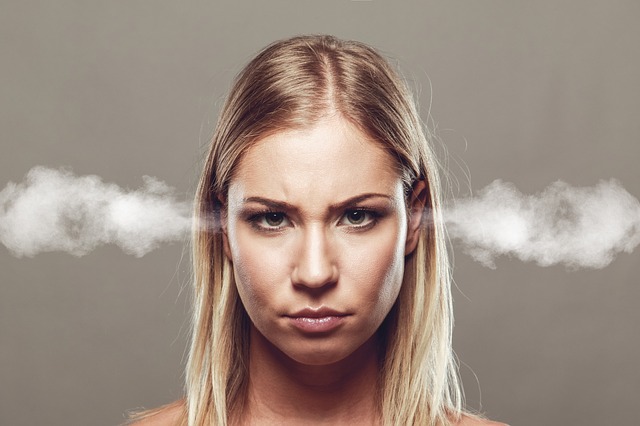 We've looked online and seen how customers have struggled with getting the right window treatment for their home. This is disappointing as a window treatment, like any home renovation project, should be fun, hassle-free, and provide an exquisite outcome. Here are the top reasons why it's best to work with a local service provider. Most customers are tempted to purchase their shutters from trendy online stores or department retailers. Unfortunately, for those looking for a hassle-free experience and long lasting shutter life, this isn't the best option.
Extend the lifespan of your shutter – having poor installation can reduce the look and lifespan of your shutter. Getting a local window treatment store and installer to do it can optimize your window treatment to look good for years to come.
Headaches take away from home comfort and decor – having a challenging ordeal with installation or poor service can detract from the goal of home comfort and elegance.
Keep up with styles and trends – having worked with high-end clientele, local service providers typically have a better sense of where the home decor trends are heading, whereas big stores and online retailers are influenced heavily by price-sensitive shoppers who typically look more for cost savings than style.
Reputation matters more to local professionals – with limited marketing, the biggest factor for small businesses' success is their reputation. This helps local businesses to focus more on their service and quality to ensure customers are happy and their reputation and brand remain trusted.
Confidence in material choices and value – working with local providers can help you get the most out of your project because there aren't expensive department stores to stock and salespeople to employ. A larger proportion of what you pay ends up actually going into your materials and craftsmanship than to other corporate expenses that are common with larger stores.
Product warranty risks – with consumers either choosing the ultra convenience of online stores or high touch service, the industry of big retail stores is currently in decline. This means that product warranties from department stores may no longer be valid in just a few years.
Tips From The Pros
Here is what the professionals are saying about Plantation and California shutters versus blinds on houzz.com.
Many people think that shutters look nicer than blinds however they are more expensive. They also don't have the strangulation hazard of blinds with cords. – JMittman Designs
Shutters have a great look but they are expensive. However they do add value to your home. I prefer Roman blinds. "I love what they add to the room, they are easy to use and come in a million looks." – A Crew of Two
Carolyn Albert-Kincl, ASID says "I love the look of shutters and have them in our house. I fling them open in the morning and close them at night." She has 3 1/2 " louvers in her own home but thinks the 4 1/2″ ones give a more contemporary look. She says that the double hung shutters cost more than the single kind but they are great for privacy. Single panels look great on a large window but if you want to open them every day, they take up more space than hinged ones. – Carolyn Albert-Kincl, ASID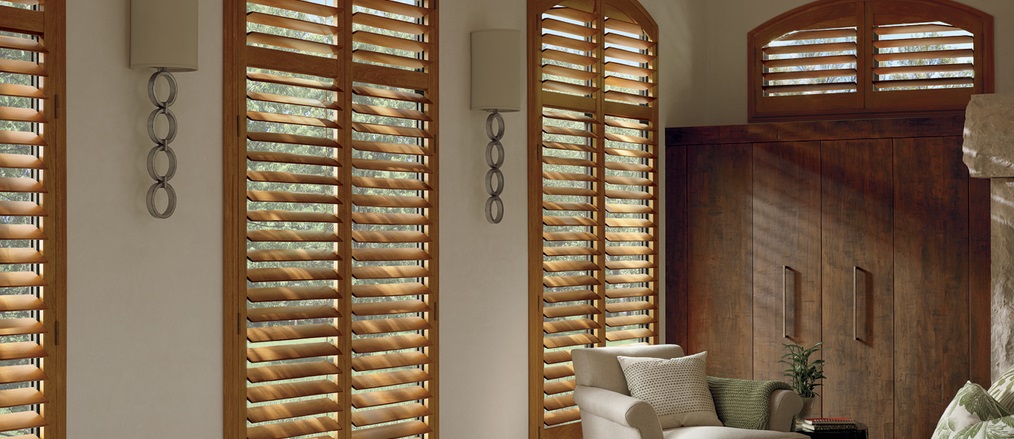 If you are looking for privacy and light control, then you may want to choose a top-down/bottom-up blind or shade system. This will allow light from the top and still give you privacy having the bottom closed. This type of system is also more affordable than shutters. – Fenstermann LLC
To learn more about why to work with a local provider, see here for an article on why big department stores are struggling.
Great Window and Customer Treatment
Graham's & Son Interiors has over 40 years of design experience serving the Cambridge, Kitchener-Waterloo, and surrounding regions. We firmly believe that each client deserves, "superior design concepts, top-of-the-line materials, and timely project management." That is why our satisfied customers gladly recommend our team to their friends and family. Find out for yourself why Graham's & Son Interiors are Southwestern Ontario's premier interior decorators. Contact us today to schedule a free in-home consultation.
If you prefer, you can shop at home. Browse through our website, make your choice, and simply give us a call at 519-658-9025 to place your order without ever having to leave the comfort of your own living room.
Did you know that to celebrate 40 years in business, we are offering an amazing buy 2 get one free deal on all of our blinds, shades, or shutters?
Sources:
History of Plantation Shutters
What is the difference between "Plantation shutters and California shutters?"