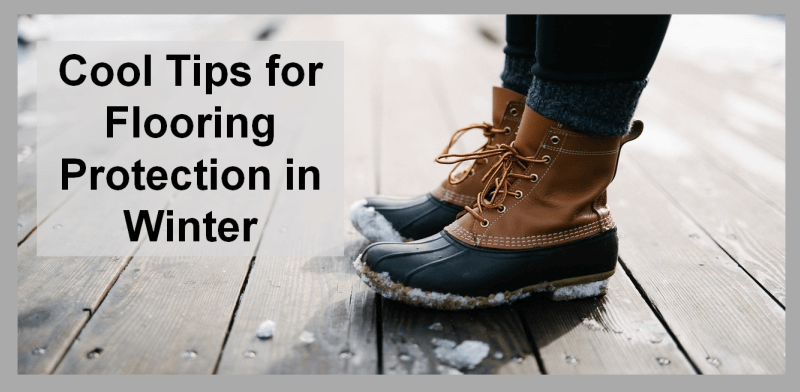 The cold, inclement weather is on its way so we've put together some cool tips for flooring protection in winter to help save your precious floors from the coming onslaught of snow, sleet, and salt. If your flooring has seen better days and you are thinking of replacing some or all of it, contact the flooring professionals at Graham's & Son today to schedule a free in-home consultation.

Flooring Protection in Winter
Winter can be hard on your floors, not only because of the salt, snow, and water brought inside on winter footwear, but also because of the changes in temperature. Don't worry though, there are many helpful tricks that you can implement in order to preserve your hardwood, laminate, vinyl, tile, and carpet.

Start training your children at a young age to always remove their footwear at the door
Tip #1: Train Everyone in Your Household to Remove Their Shoes at the Door
I know that it is the custom in Canada to remove your footwear as soon as you enter a house, however, sometimes you may need to remind certain members of your household to follow this practice. Start training your children from a young age to always take off their shoes, no matter what the time of year, so that they will already be in the habit when it really counts during the winter months. Even your spouse may need a gentle reminder from time to time.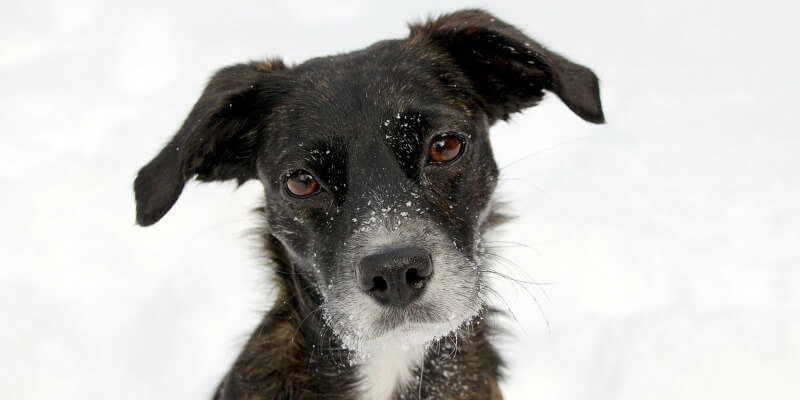 Don't forget to wipe off your dog's feet before he tracks snow throughout your home
Tip #2: Keep a Towel Near the Entrance to Wipe Off Your Furry Friend's Feet
They may be lovable, but pets can make a mess of your flooring. Don't forget about the snow, salt and water that they can also track in from outside. It is a good idea to keep a towel near the door where they come into your house to wipe off their paws before they have the chance to track all through your house. Try to train your pet to wait on the mat until you are finished cleaning them. If they have been for a walk on a leash, keep the leash on them to prevent them from wandering off. This may be possible if you have a dog, but if your cat goes outside, you will have to be pretty fast to catch them.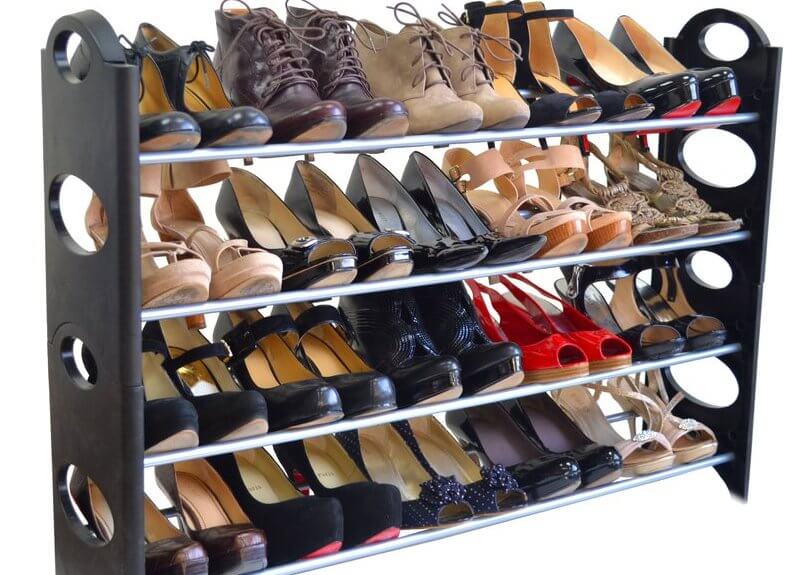 Purchase a large multi-tiered shoe rack, large enough to hold everyone's shoes – Source: Wayfair
Tip #3: Have a Shoe Rack at Your Front Entrance for Your Family and Guests
The number of shoes at your front entrance can become overwhelming and a tripping hazard as well, especially when you have a number of guests over. It's a great idea to invest in a large tiered shoe rack to help keep all of the extra footwear organized and tidy. Place a drainage mat underneath the rack to catch any stray drips and protect your flooring.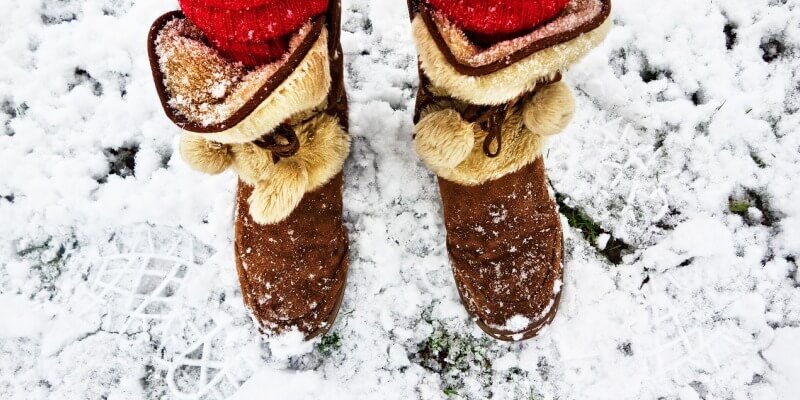 Ask everyone in your household to stomp off as much snow as possible outside before entering your home
Tip #4: Purchase Mats for Both Inside and Outside Your Entrances
Having mats placed both inside and outside of all of your entrances, including the back door and garage, will go a long way to saving your flooring. An outside mat will allow everyone to stomp off as much snow as possible before they even enter your home. The inside mat can be used to catch the remaining snow. This double process will cut down on the amount of snow that comes into your home and eventually turns to liquid.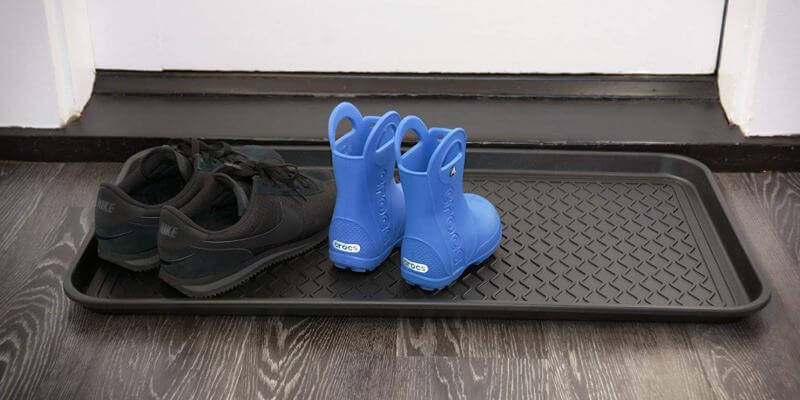 Make sure your plastic boot tray doesn't stop you from opening your door – Source: Amazon
Tip #5: Purchase Large, Good Quality, Non-Rubber or Foam-Backed Mats
The type and size of mats that you purchase will make a difference to your flooring. If the mat is too small, people will be forced to step off of it, especially when multiple people are entering at the same time. Purchase a mat that is large enough to comfortably accommodate a group of people and give them sufficient space to remove their footwear at the same time.
Avoid purchasing a petroleum-based, rubber-backed, foam-backed, or non-ventilated rug as it may discolour your floor, especially if it is hardwood. A plastic boot tray works well, however, you have to make sure that the edges are not too high that they will prevent you from opening or closing your door.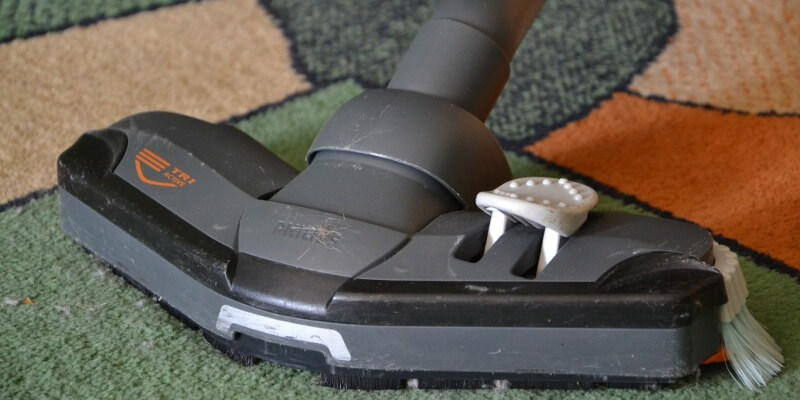 Vacuum your carpeting regularly to help protect its fibres
Tip #6: Clean Your Floors Regularly
It is amazing how much dirt will be tracked in with snow. It is important to regularly sweep, dust, or vacuum up this dirt to prevent it from being tracked in over your flooring, thus scratching or dulling the surfaces of hardwood, tile, and laminate or damaging the fibres in your carpeting.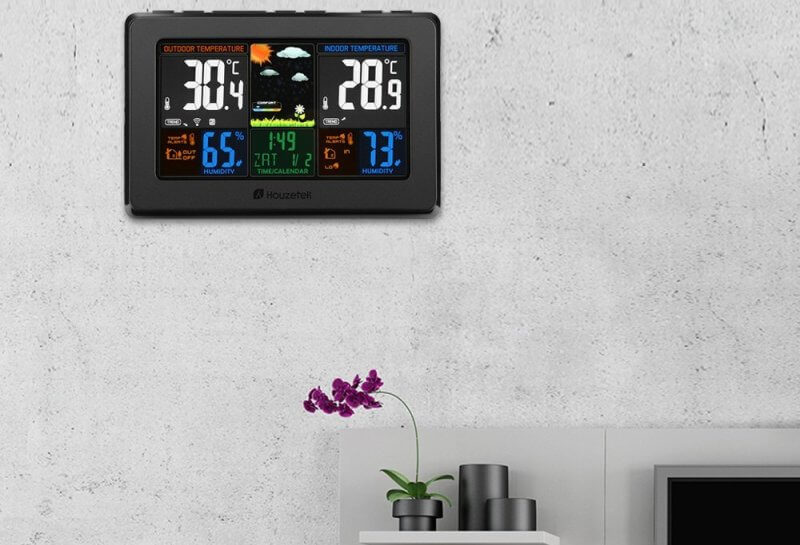 Use a wireless weather station to monitor temperature and humidity levels – Source: Amazon
Tip #7: Control the Humidity and Temperature Levels in Your Home to Prevent Flooring Gaps
The winter brings with it much drier air. This dry air can cause your hardwood flooring to shrink and cause separation or gaps between the boards. Most of these gaps will fill in again once the weather warms up and the air becomes moist again. However, if you want to minimize the gaps, try to keep the humidity levels in your home to between 30% and 50% and the temperature between 16C and 27C. You can purchase wireless weather stations that will monitor the humidity levels in your home for you.
Summary Infographic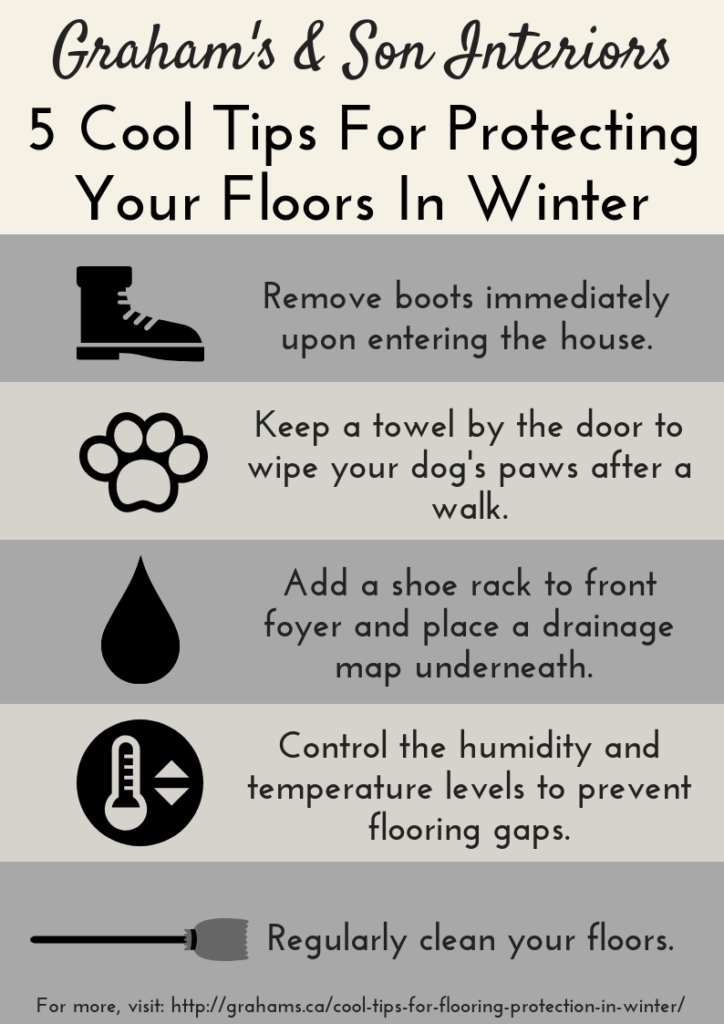 Additional Reading
You may also be interested in our other helpful articles about flooring:
The best flooring for a home with pets
What flooring material is best for a high traffic area?
Best scratch resistant wood flooring
Armstrong has some great flooring options for entryways and foyers. Click here to find out more.

For beautiful flooring contact Graham's & Son – Source: Bruce flooring
Graham's & Son: For Beautiful Flooring in Every Room of Your Home
Graham's & Son knows flooring; we have been in the interior design business for over 40 years. Our expertise and professionalism are second to none. If you are planning on replacing the flooring in any of all of your rooms, come and talk to us. We can help you choose the perfect hardwood, laminate, vinyl, tile, and carpeting to suit your decor. If you're interested in further interior updates, right now we are also offering an amazing deal on all our blinds, shutters, and shades. When you purchase any two, you will get a third absolutely free.
Our customers have been so pleased with the high standard of our work that they selected us for the "Best Business Service – Interior Decorating: Platinum" and "Best Shopping – Kitchen Renovations: Gold" awards in the 2017 Cambridge Times Readers' Choice Competition. Book a free in-home consultation today and find out for yourself why Graham's is the best in the interior design business. Contact us today to schedule a free in-home consultation. If you prefer, you can shop at home. Browse through our website, make your choice, and simply give us a call at 519-658-9025 to place your order without ever having to leave the comfort of your own living room.
"Very happy with the Graham's & Son Interiors in terms of customer service, quality and price as well as workmanship. Can't ask for a better deal. We have already referred your company to three others."
– Jim & Joanne
Read more customer testimonials