Cordless blinds: how do they work? Gone are the days when you absolutely have to use a cord to raise and lower your blinds. You can now choose to have a completely cordless version. But how can that possibly work? In this post, we will let you in on the secret, outline the benefits of going cordless, and introduce to a wide selection of gorgeous cordless blinds and shades that you can choose from for your own home. If you would like to take advantage of safe, sleek, and stylish cordless blinds on your windows, contact the window treatment experts at Graham's & Son today to book your free in-home consultation.


"Hi Christine, Thank you. The blinds look terrific. We were very happy with the quick and expert install. Our experience in dealing with each of you was wonderful. Thanks for taking the stress out of the project by getting us exactly what we wanted and installed perfectly, no clean-up after – it is a real treat to work with such professionals.Take care and hope to do business with you again. Thank you."
– Gayle Z, Brantford
Read More Testimonials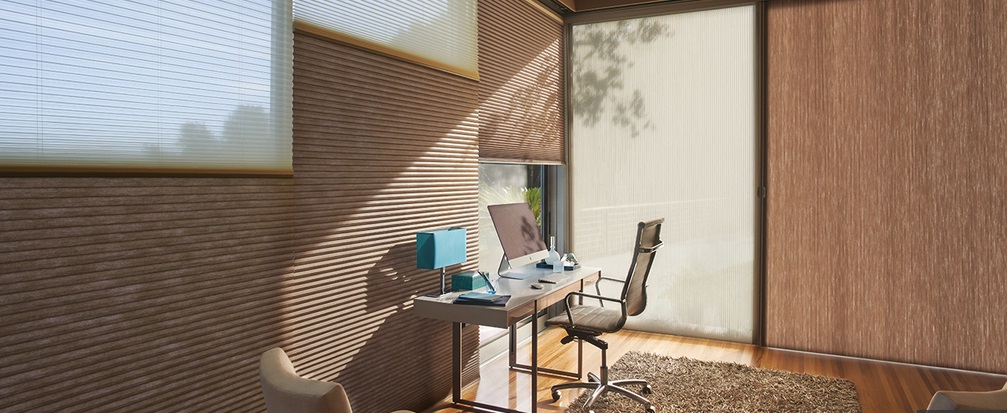 Cordless Blinds: How Do They Work?
Cordless blinds are a great choice especially if you have small children or pets and you are worried about safety issues surrounding dangling cords. With cordless operation, the need for a visible lift cord is eliminated. Instead, you simply raise and lower your blind with your finger. Gently push up to raise them and pull down to lower them. The following video from Hunter Douglas shows how easy it is to raise and lower a cordless blind using their LiteRise® system.
Advantages of Cordless Blinds
When installing cordless blinds or shades, you get the following advantages:
Clean Look: The absence of a cord means that your blinds will have a much cleaner, uncluttered look
No Adjusting: The proprietary design of the cordless blinds means that they will be securely held in place in whatever position you put them in. There is no need for constant adjustments.
Safety: According to Health Canada, each year children die from strangulation from chains or cord loops. Why take the risk? Cordless blinds are much safer for children and pets as there is no longer a dangling cord in which they can become entangled.

You can also achieve a cordless blind by installing an automation system with your window treatments. Not only will automation give you the safety features of manual cordless blinds, but it also has the following additional benefits:

Easy access to hard to reach or elevated windows
Control your shades from anywhere in the world using Cloud technology
Unlimited number of shades can be programmed
Can connect with either an Android or iPhone
Downloadable App available from Play Store or Apple Store
Easy to use wand switch with 3 buttons for up, down, and stop. Simply press the button and walk away.

Somfy Automation System

The Somfy Automation System will allow you to program your blinds to automatically close at dusk as you switch on your lights so you never need to remember. It will work even when you are away from home. The solar sensor presets will automatically adjust according to how much sun there is, helping you to conserve energy. The following video shows how quickly and simply you can operate a Somfy Automation System.

MaxxMotors Controller Automation System

For a more economical automation solution, you can choose the MaxxMotors Controller System from Maxxmar. The following video demonstrates both in English and in French how to set up and program your MaxxMotors Automation System. Once it is programmed, you can control it with an easy to use rechargeable wand switch with 3 buttons for up, down, and stop. Simply press the button and walk away. Your wand works in conjunction with the state-of-the-art WIFI MaxLink Controller. For more information on this automation system, click here.

Brands of Cordless Shades

Graham's & Son proudly partners with both Hunter Douglas and Maxxmar to give you a truly wide selection of high quality, cordless window treatment options to choose from.

Hunter Douglas

Here are some examples of the beautifully designed cordless blinds available from Hunter Douglas through Graham's & Son.

Maxxmar Cordless Shades

If you prefer to have shades instead of blinds, Maxxmar offers a wide selection of cordless shades to choose from, including MiraVista Pleated shades and Cellular shades.

MiraVista Pleated Shades

MiraVista Pleated shades come in a large assortment of jacquards, solids, tone-on-tone prints, and metallic backings. Room darkening fabrics which can be tailored to fit any decor are also available.

Available Dimensions for Cordless Pleated Shades

For a 1″ pleat cordless shade, the following minimum and maximum sizes apply:

Minimum Width = 18″
Maximum Width = 96″
Maximum Height = 84″
Maximum Liner Size = 60″ x 72″

Cellular Shades

Maxxmar Cellular Shades are available in a wide assortment 100% polyester fabric choices from plain to decorative textures, patterns, and opacities.They are all dust repellent and anti-static.

Top Down/Bottom Up Feature

The top down/bottom up feature allow your shade to be raised up from the bottom and lowered from the top, essentially allowing visibility through both the top and bottom portions of your window. This great feature is also available with cordless operation.

The maximum size for a 1″ Pleat top down/bottom up cordless shade is 60″ x 60″. This style of shade is not available with a 2″ pleat.

Purchase Cordless Blinds Now

Now is the best time to purchase your new cordless blinds from Graham's & Son, so you can take advantage of our awesome special offer: buy any two blinds, shades, or shutters, and get a third one absolutely free. Not only will you get an amazing deal, but you also get beautifully crafted and custom designed window treatments that will last and be the envy of your friends and neighbours. You can trust Graham's & Son to provide you with the highest level of customer service, right from the initial designing consultation to the expert installation. And you can enjoy your new dual shades in as little as 2 to 3 weeks from the time that you place your order. Come and visit our showroom today or book your free in-home consultation and we will come to you!