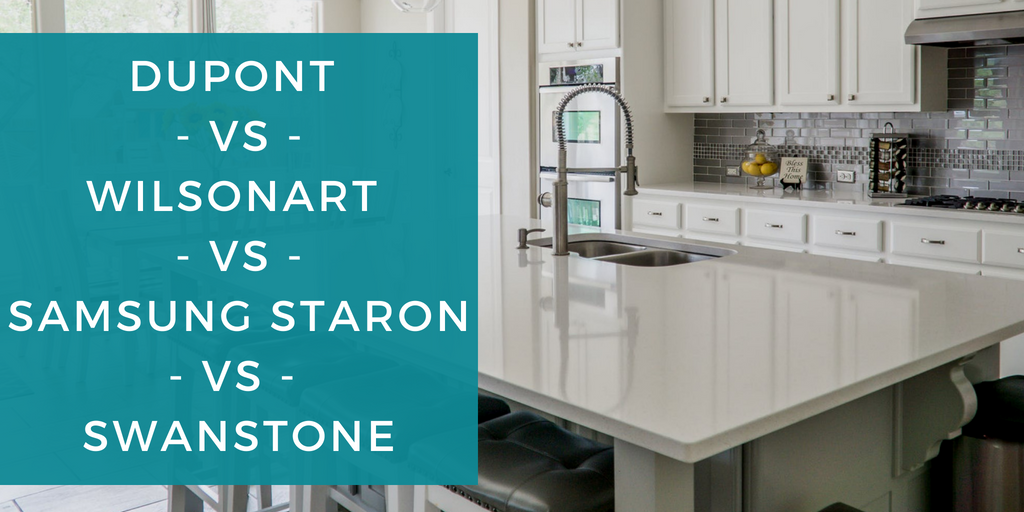 In this DuPont vs Wilsonart vs Samsung™ Staron vs Swanstone Counter Tops article, we will take a look at each brand listed and offer the pros and cons of each, as well as common customer feedback. If you're thinking of adding new solid surface countertops to your kitchen, bathroom, or another room in your home, you will quickly find that there are many options to choose from. How do you pick the right one? To find out what types of countertops may be best for you, your home, and your budget, you can rely on the professionals at Graham's & Son to give you expert advice!
Ready For a FREE In-Home Consultation?

DuPont vs Wilsonart vs Samsung™ Staron® vs Swanstone Counter Tops
If you are in the market for new countertops for your kitchen or bathroom, you will likely come across the following types and brands: Corian by DuPont, Wilsonart, Staron®, and Swanstone. All of these brands are popular for different reasons. We will provide more information about each and go over their pros and cons to help you make an informed decision for your own home.
Corian by DuPont
Corian counters; Image source: Corian.com
PRICE POINT
Corian countertops cost typically between $42 – $65 per square foot.
DESCRIPTION & REVIEWS
Corian is a type of surface material created by DuPont. Corian is used primarily for countertops and household and commercial surfaces, but does have other uses. One unique feature about Corian countertops is its seamless design. During the constructing process, it is possible to make the surfaces joints virtually invisible. You can see this seamless design showcased in both images above.
Overall, Corian has generally favourable reviews. You can check out this extensive article about Corian on Countertop Investigator to learn more. Although some might say that Corian is outdated, the overall consensus is that it is generally always in style due to its ease of maintenance and moderate price point.
PROS & CONS
Corian is an attractive and versatile solid surface material, and is loved by many homeowners and contractors alike! However, every type of counter has its pros and cons. Here, we'll take a look at both.
Pros: Corian is stain resistant, and non-porous, making cleaning up spills in the kitchen easier than ever. It is tough and durable and even offers some sound absorption – perfect for larger kitchens that tend to echo. It has low flammability and comes in a wide variety of colours, patterns, and textures. The material won't warp or lose its appearance for a long time.
Cons: Though the material has low flammability, it is not heat resistant. In fact, it can be damaged by temperatures over 100 degrees Celsius, so homeowners should be careful before putting hot objects on their counter. It is also not scratch resistant and can show visible scratches, especially on darker surfaces.
Wilsonart Solid Surface Countertops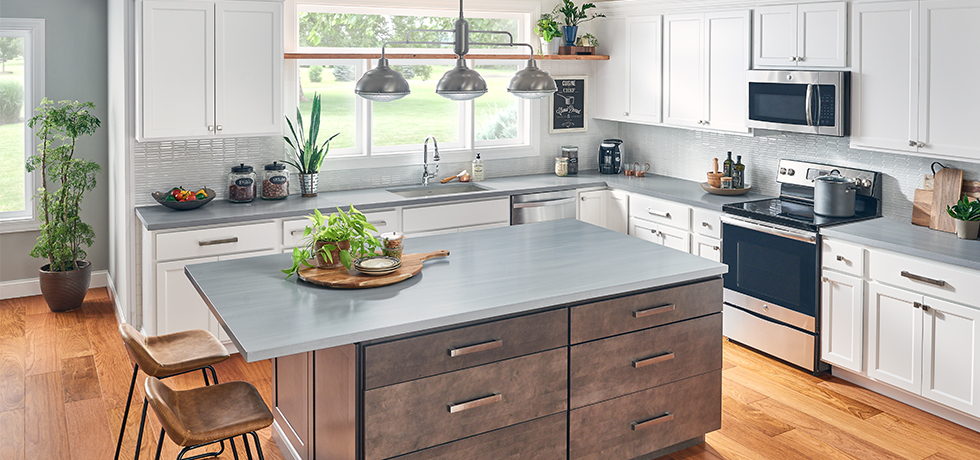 Silver Smoke Countertop in Kitchen by Wilsonart; Image source: Wilsonart.com
PRICE POINT
Wilsonart solid surface countertops typically average between $38 – $74 per square foot.
DESCRIPTION & REVIEWS
Wilsonart offers a wide variety of different countertops, including quartz, laminate, and solid surface counters. Since the other brands in this list offer solid surface, that is the only Wilsonart countertop we will be looking at. However, if you want to take a look at their full collection, you can check out their website here.
Wilsonart solid surface counters are made with an acrylic resin mixed in with powdered bauxite filler as well as pigments (source). The counters come in matte, satin, semi-gloss, and gloss. For thickness, you can get the product in either .25 inch thickness or .5 inch thickness. Like all solid surface countertops, Wilsonart counters generally have favourable reviews and are loved by homeowners for their beautiful look as well as lower price point.
PROS & CONS
Solid surface countertops by Wilsonart are loved by homeowners who want the look of granite or quartz countertops but don't have the budget or want a lower price.
Pros: Wilsonart solid surface counters are affordable and easy to maintain. The matte finish helps to hide stains and fingerprints, and all counters can be easily refinished if scratched. Since the colour and pattern and consistent throughout the counter, if a scratch does occur, it will not be noticeable.
Cons: If you choose semi-gloss or gloss, either of those finishes will require professional maintenance in order to keep up their appearance. These counters can be scratched relatively easily and are not resistant to heat – so homeowners should be aware before placing hot items directly on the counter.
Staron® by Samsung™ Solid Surface Countertops
How to polish a Samsung™ Staron® matte countertop
PRICE POINT
Like all solid surface countertops, you can expect to pay anywhere between $45 – $150 per square foot.
DESCRIPTION & REVIEWS
Staron® is a type of acrylic solid surface material manufactured by LOTTE Advanced Materials. Though Staron® is often used for countertops, it is a versatile material. According to Staron.com, it can be used for a wide variety of commercial and residential purposes, such as kitchen furniture, interior wall cladding, bathroom applications, other home design applications, and more.
Although you may know of Samsung™ as a technology company, they also offer a wide variety of Staron® countertops. This brand is not as common as the other two listed previously – you may have a harder time finding information such as exact price points and products near you. However, you can also talk to your local renovations expert to get more information on the product if you are having a hard time finding it yourself.
PROS & CONS
When you purchase a Staron® countertop by Samsung™, you will get the many benefits of any solid surface countertop – as well as some added benefits.
Pros: Samsung™ Staron® countertops are known for their excellent warranty, which means you will have peace of mind once your counter is installed. These counters are porous and seamless and leave no grooves or joints for dirt and grime to accumulate. They are durable, strong, and stain and spill resistant.
Cons: They are not as common as other choices so information online is limited. Like all other solid surface counters, they are not heat resistant and can become damaged if hot objects are placed on top. They may scratch and dent easily if not properly cared for, and may accumulate staining.
Swanstone Counter Tops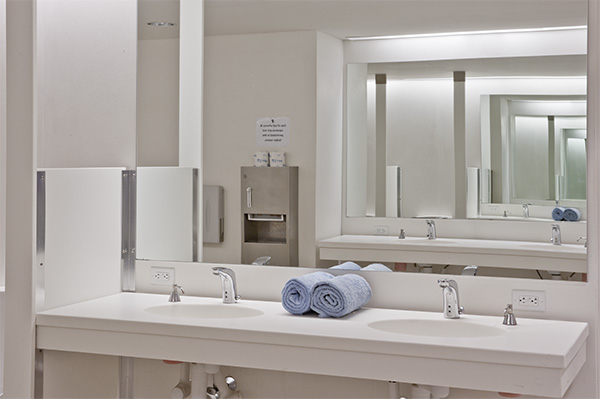 Swanstone countertops; Image source: Swanstone.com
PRICE POINT
For new Swanstone countertops, you can expect to pay around $41 – $62 per square foot.
DESCRIPTION & REVIEWS
Swanstone solid surface countertops are made in the U.S. from high quality molded plastic compounds, making them even more durable and heat resistant than the other options on this list. Unlike many other counters, Swanstone counters gain maximum resistance to chemicals, heat, expansion, and impact due to the manufacturing process (source). Swanstone is also concerned with environmental sustainability and works to ensure their products as eco-friendly as possible.
Swanstone has many favourable reviews and many homeowners love them due to their durability and lower price point than other solid surface countertops. Swanstone also offers a great warranty, providing a 10-year limited warranty on their countertops.
PROS & CONS
Swanstone solid countertops have many benefits, including slightly lower-than-average cost without sacrificing a beautiful and elegant design.
Pros: Unlike other solid surface counters, Swanstone is actually heat resistant! This means you won't have to worry as much about hot objects sitting on your counter. You also won't have to worry about chips or dents, as the surface is extremely durable. Swanstone counters are made with pigment that runs throughout the entire counter, giving it a consistent look throughout.
Cons: These products are difficult to DIY install, so it is best to call in a professional if you want to have it done. Although they are cost-effective for solid surface counters, all solid surface countertops are typically more expensive than other common materials. These counters are heat resistant, but they are not resistant to the cold. In cold temperatures (less than 5 degrees Celsius) they may crack.
DuPont vs Wilsonart vs Samsung Staron® vs Swanstone – Which Should You Choose?
When it comes to picking out your new counter for your kitchen or bathroom, you can see from the list above that there are lots of positives for each available option! Based on positive reviews online, price point, and durability, it seems that you will get the most bang for your buck with Swanstone solid surface countertops.
However, that doesn't mean that Swanstone, or solid surface counters in general, are right for everyone. You should take everything into consideration before you purchase a new counter.
At the end of the day, you may feel stuck between many different options – and that's okay. It's good to take your time and decide on a countertop that works for you, your lifestyle, and your budget. If you need help selecting the best countertop for your wants and needs, don't hesitate to call us at Graham's & Son and ask for our professional opinion. We offer free in-home consultations too!
Book Your Renovation With Graham's & Son!
"Very happy with the Graham's & Son Interiors in terms of customer service, quality and price as well as workmanship. Can't ask for a better deal. We have already referred your company to three others."
– Jim & Joanne
Read more customer testimonials
If you are considering a kitchen or bathroom remodel or renovation and need new countertops, talk to the design experts at Graham's & Son. Graham's & Son has been producing beautiful interior designs for more than 40 years. We are locally owned and operated and we specialize in all types of renovations. We offer free, in-home consultations and will take the time to listen to your ideas and dreams for your new bathroom. If you are thinking of remodelling your kitchen, bath, or any room in your home, contact the professionals at Graham's & Son to book your free in-home consultation today.

Sources: