California shutters are a functional and attractive window treatment solution for anywhere in your home. They are durable, allow you easy control over how much light enters the room, are customizable, and so much more. Even when compared to other window treatment options, there are many benefits. We'll take a look at all of these factors and more about California shutters in the article below! If you're ready to add any type of window treatments to your home, rely on the experts at Graham's & Son today!
We Offer FREE In-Home Consultations!

Everything You Need to Know About California Shutters
Before we get into the details about California shutters, it's important to understand exactly what they are first! If you do a quick Google search for "California Shutters," you will often see results for "Plantation Shutters." These two terms are often used synonymously. However, although California shutters and plantation shutters are nearly identical, there is a difference when it comes to their louvre size.
California shutters have smaller louvres – they are 2.5 inches in width. Plantation shutters have larger louvres, measuring in at 3.5 inches in width. Aside from the louvre size, California and plantation shutters are identical. However, louvre size does make a difference. Because of this difference in size, you may choose one style over the other. Check out our chart below to learn more!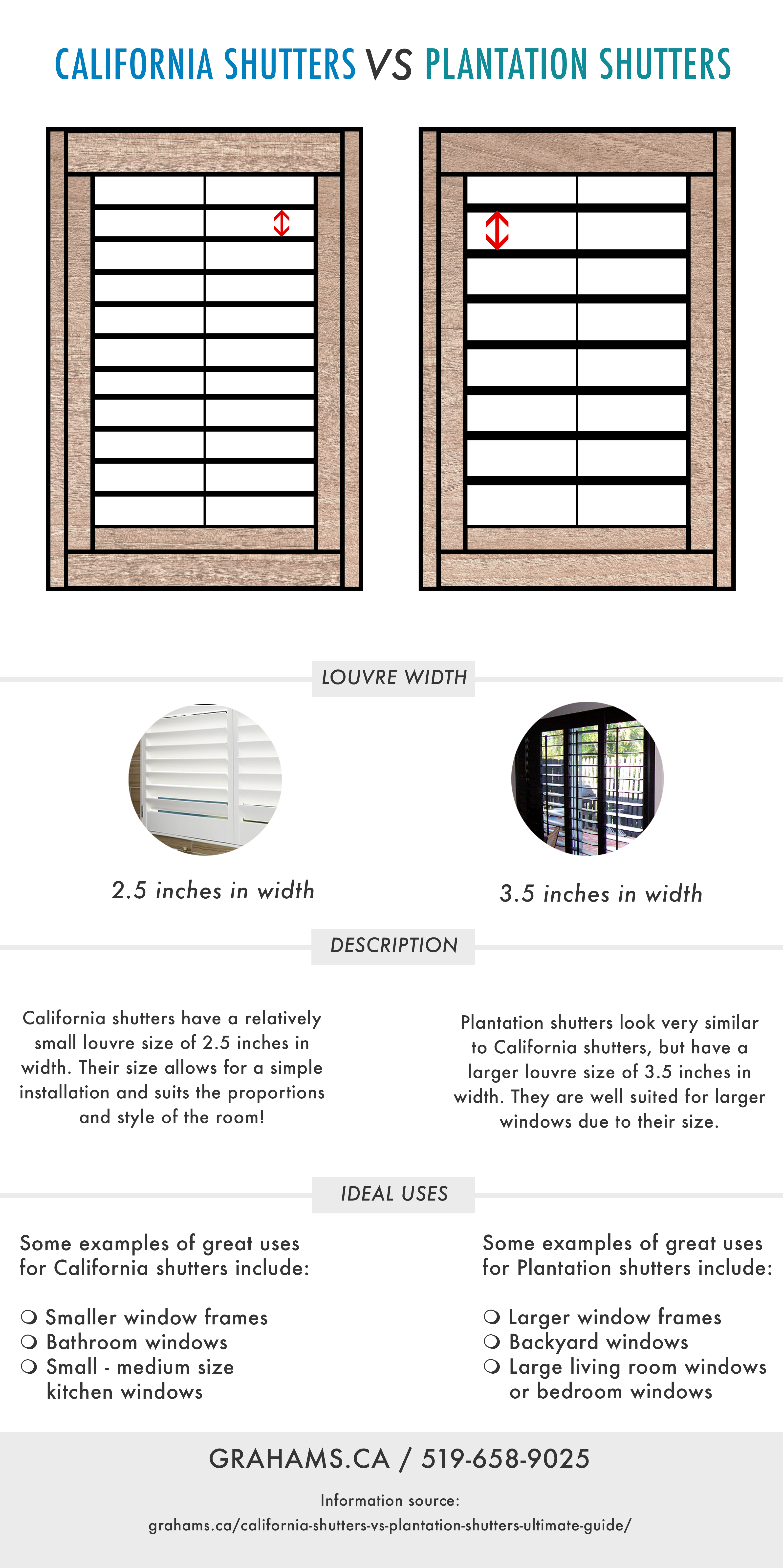 Comparison between California and plantation shutters
If you aren't sure which style is right for you and your home, don't hesitate to ask the experts! A professional window treatment installation company can help you choose the type of shutters that are right for you, your home, and your budget.
California Shutters Give You Control Over How Much Light Enters Your Home – And Much More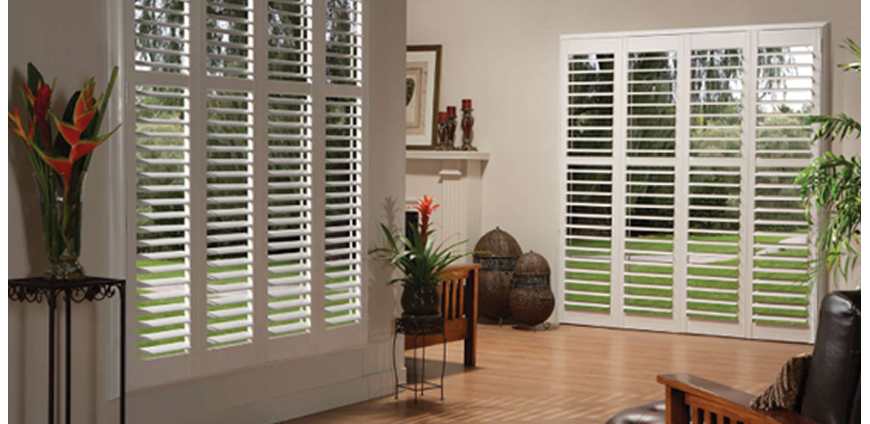 California shutters are great for windows and doors of any size
When it comes to choosing your window treatments, you will quickly find that there are many benefits to choosing California shutters. One of the main advantages is the style of shutter allows you to easily choose how much light enters the room. You can allow a little bit of light, no light, or full light as you adjust the slats. Some other advantages include:
They Require Little Maintenance – Although wooden shutters will require the most amount of maintenance, California shutters are known for being relatively maintenance-free. They are easy to clean and require simple dusting when you notice a build-up.
They Reduce Light But Allow Airflow – California shutters are perfect for reducing light without blocking the flow of air to your room. This is perfect for warm summers, where you need to block out the sun but still want the fresh breeze.
They Are High-Quality – California shutters are so popular partially because they are high-quality products. They are known for their durability, and will often last a long time, regardless of the material you choose.
They Come in a Variety of Materials – Speaking of materials, California shutters come in a wide variety of materials including wood, faux wood, and vinyl.
They Help Reduce Your Hydro Bill – Shutters help to reduce your hydro bill by stopping the loss of cold or warm air through your windows. If your hydro bill is a bit more than you'd like every month, California shutters can help! Learn more about how to reduce your hydro bill here!
Shutters are an excellent choice for any room in your home, from bedrooms to bathrooms to your living room and kitchen. However, like everything, they are not without some potential drawbacks. California shutters tend to be a bit more costly than some other options (though this cost can be reduced if you, for example, choose faux-wood or vinyl over wood shutters).
Wooden shutters are also generally not moisture resistant and can become damaged if placed in areas with a lot of moisture, such as bathrooms or above your kitchen sink. It is also important to look at both the pros and cons of any product before making a decision. Researching ahead of time can help ensure you get the best price and the best window treatments for both your wants and needs.
Wood, Vinyl, or Composite – Which Is Right For Me?
When searching for shutters, you will find that wood, vinyl, and composite shutters are your most popular choices to choose from. In this section, we'll take a look at the pros and cons of each so you can make an informed decision!
WOOD SHUTTERS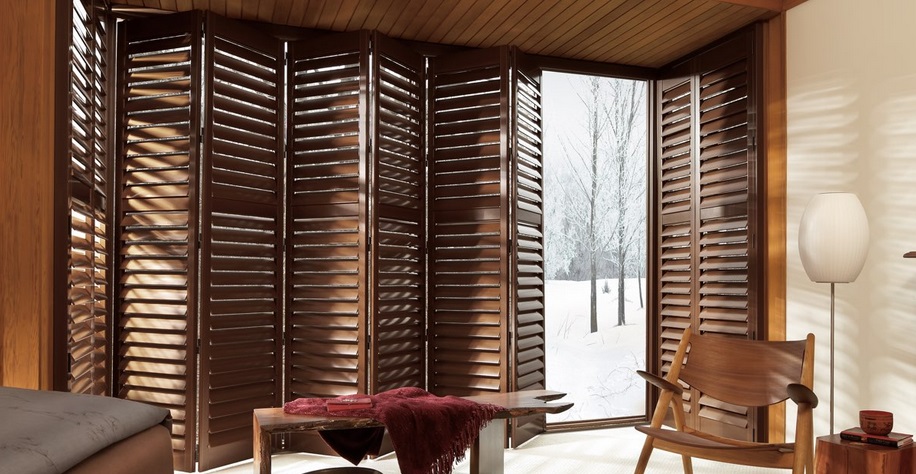 Wooden shutters are attractive and highly customizable

There is no arguing that wooden shutters are a popular, sought-after window treatment option. Because of their material, wood shutters are generally the most expensive option. Still, they offer a 'natural' feel to any room and are easily the most customizable option. It is important to remember that "wood" is not a single material! Like all wooden products, you will find many different types of wooden shutters to choose from, each with their own pros and cons. Wood, although durable, can be affected by moisture – so it's important to treat as required and ensure moisture doesn't build up if installed in kitchen or bathroom windows.
COMPOSITE SHUTTERS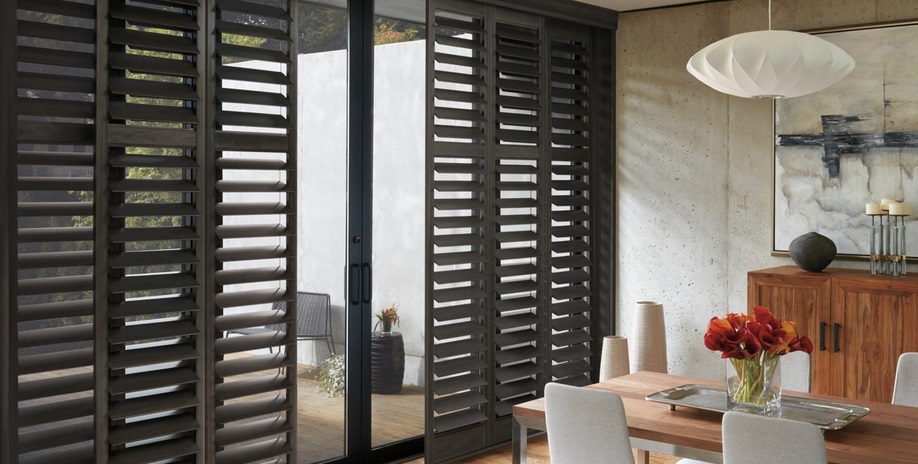 Composite shutters are moisture-resistant and highly durable

You may have heard of composite shutters, but what exactly are they? They look nearly identical, if not completely identical to wood – and that is because they're made from engineered wood. Because of this, they are extremely durable – you won't even have to worry about moisture as they are moisture resistant. This makes them a great solution for kitchens and bathrooms. They are generally slightly less expensive than wooden shutters, although there may be some overlap in price. However, if you're looking for a particular style or colour, it may be harder to find. Unlike wooden shutters, they are not as easy to customize.
VINYL SHUTTERS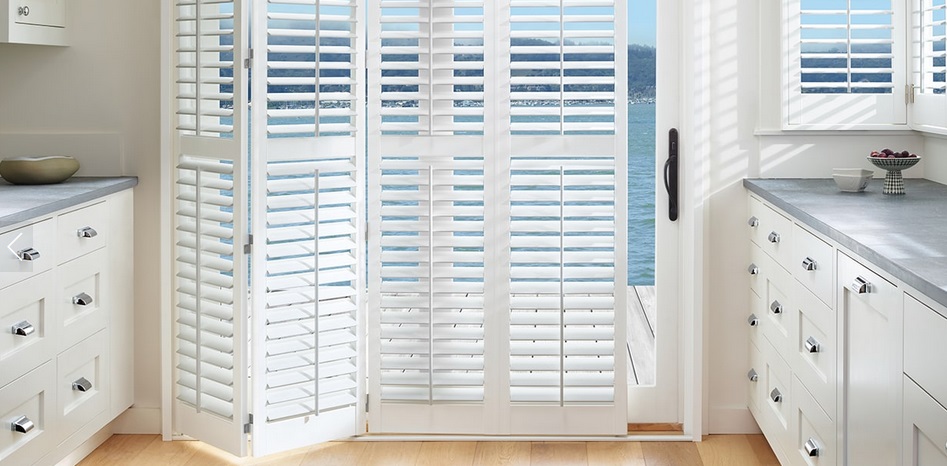 Vinyl shutters require little maintenance and are cost-effective
Vinyl shutters are also an attractive option and require very little maintenance. Though, little maintenance doesn't mean 'no maintenance' – to ensure they last long, clean them when needed. Like composite shutters, vinyl is resistant to water, making them a good choice for kitchens and bathrooms. Vinyl shutters also tend to be the lowest cost option – perfect for those on a budget! However, although cost-effective, they are not as durable as your other options, meaning you may need to replace them sooner than wooden shutters. Vinyl is also not generally customizable. If you feel the need to change up the colour of your shutters every so often, you may want to choose another option.
How Do California Shutters Compare To Other Options?
With shutters, you don't have to worry about dangling cords or strings
Still not quite sure if California shutters are the right choice for you and your home? There are so many window treatment options out there – from vertical blinds to drapes to horizontal blinds – how do you know which is best? Comparing your options will help make the decision easier.
When it comes to vertical and horizontal blinds, California shutters are often a safer choice for homes with children and pets. That's because they do not have dangling cords or strings that can quickly become a safety hazard (however, both horizontal and vertical blinds can be customized with automated devices, which means no cords or other hazards). They also tend to be more attractive than traditional metal or plastic horizontal or vertical blinds.
Curtains and drapes are also a safe option for households with children and pets. They come in many different styles and materials – perfect for all preferences! However, curtains do require a lot of maintenance. Unlike curtains or other cloth window treatment options, shutters can be cleaned in place and require little maintenance. With curtains, they must be removed from the rod in order to be properly cleaned. This can take quite some time – and as they are being cleaned, your privacy may be disrupted!
Pull-down shades (such as Roman shades) are a beautiful and great choice for areas that don't require constant light blocking. Like curtains, they also come in a variety of colours, materials, and styles. Unfortunately, shades are often not a great choice if you need extra insulation. California shutters, on the other hand, are efficient at insulating your windows – perfect for our Southern Ontario climate.
To learn more about the ideal uses for each type of window treatment, see our comparison chart below.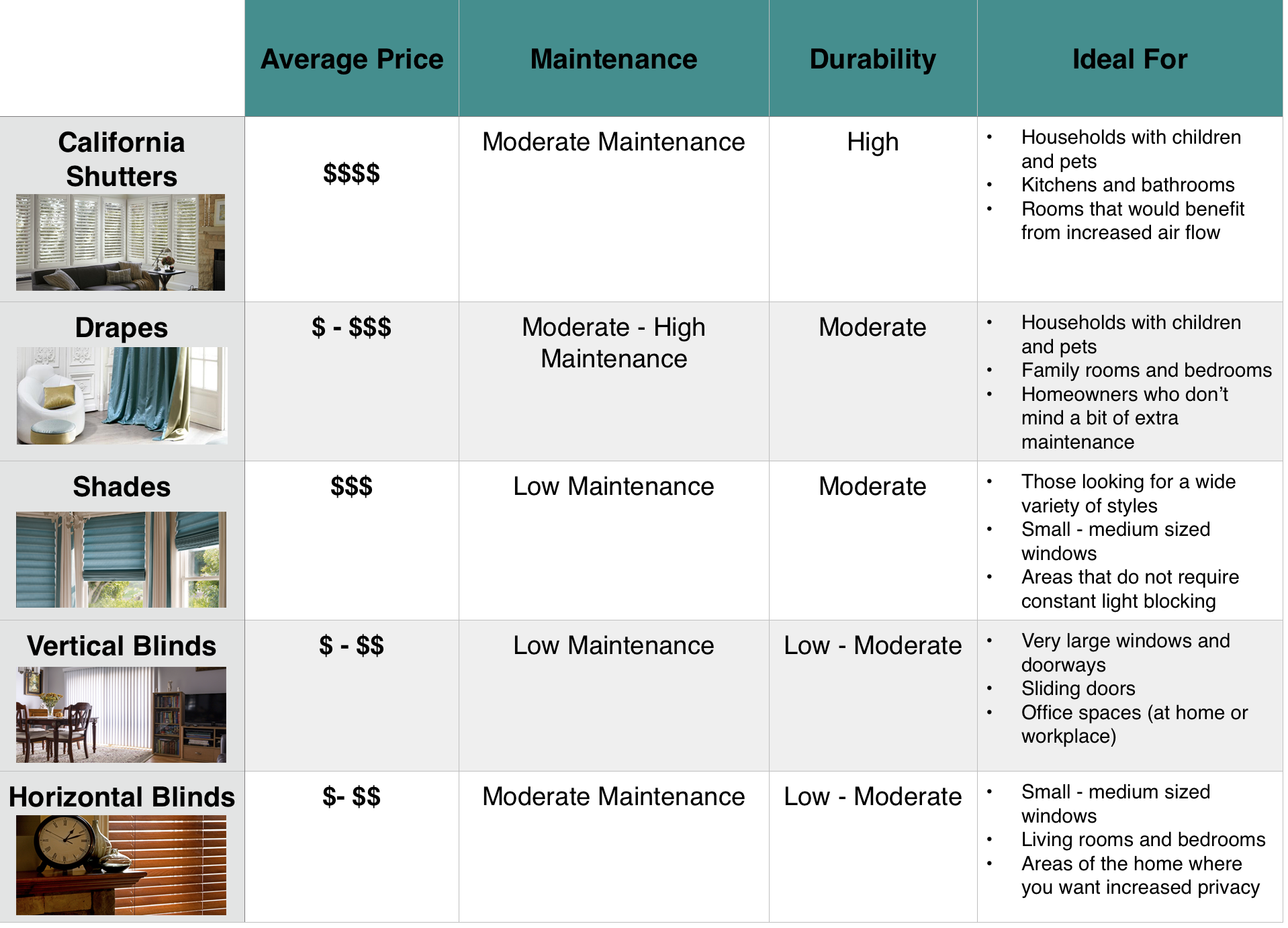 Each type of window treatment has both pros and cons
Need a bigger version of the chart? Click here to view the full-size version!
GET YOUR PERFECT SHUTTERS WITH GRAHAM'S & SON!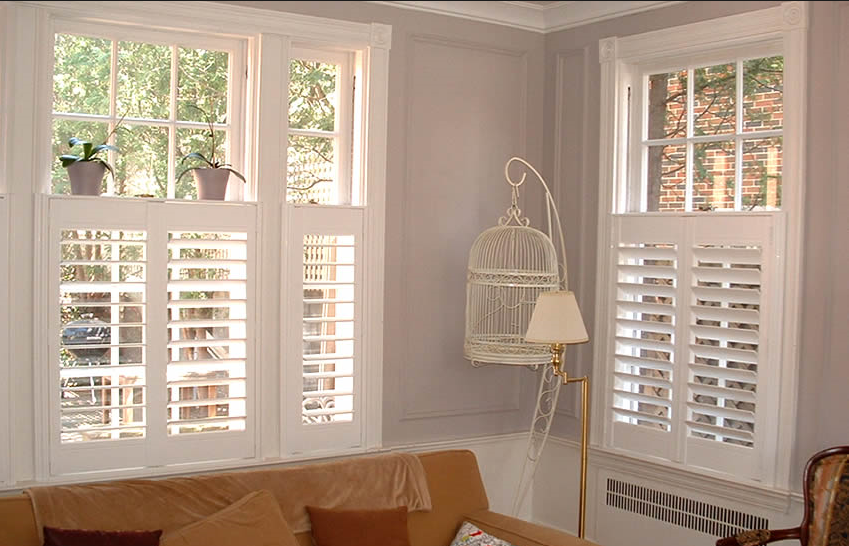 "We are very happy with not only our window treatments but with the excellent customer service we received all the way through from Graham's & Son Interiors. A special thanks also to Matt who looked after us from beginning to end. We are recommending you to everyone we know!"
– Sue & Stan
Read more customer testimonials
Are you considering adding California shutters to your home? Talk to the design experts at Graham's & Son! Graham's & Son Interiors has been producing beautiful interior designs for more than 40 years. We are locally owned and operated and we specialize in all types of renovations. We are also offering a buy two, get one free deal on blinds, shutters, and other window treatments!
We can help you find the perfect custom blinds for your home based on your unique needs, preferences, and budget. If you don't know which option to choose from, we can help you select the ideal materials as well as the style that will work best for your home.
We offer free, in-home consultations and will take the time to listen to your ideas and dreams for your new space. If you are thinking of remodelling your kitchen, bath, or any room in your home, contact the professionals at Graham's & Son to book your free in-home consultation today.

Sources: