Graber Blinds has been a trusted name in window treatments for decades. They are a great choice if you are considering updating your blinds, shades, or shutters, but there are alternative window treatment companies. Maxxmar and Hunter Douglas also offer fine window treatments that you would be proud to display in your home. Read on to get a better idea about the products that all three of these great companies have to offer, their company distinctives, and their price points. If you are looking to update your current window coverings, contact Graham's & Son today to schedule a free, in-home consultation.

"We recently had California shutters installed in our bow window in the living room and a roller blind in our dining room. In both instances, Matthew was wonderful with suggestions and ideas. The installations were great and the results outstanding. We can't say enough about the staff at Graham's and Son Interiors and the final result was beyond expectations. We look forward to working with them again in the spring for flooring. Thank you!"
Susan Ashley
Read more customer testimonials
Company Distinctives
About Graber Blinds
Graber has been designing and creating beautiful window treatments with ingenuity and integrity since 1939. For more than eight decades, Graber has used their innovation and insight to bring their customers the high quality and expertly crafted blinds, shades, shutters, and drapery that their customers have come to expect.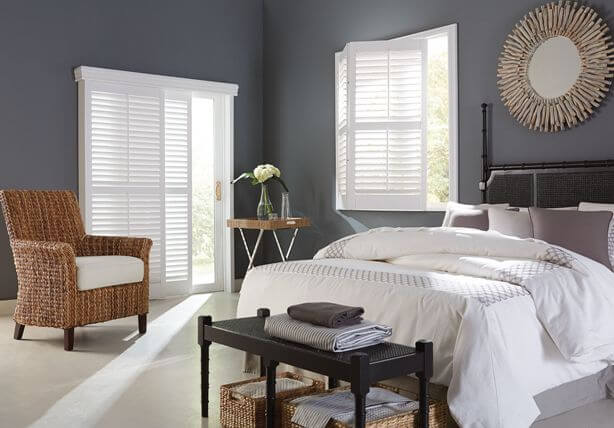 About Maxxmar
Maxxmar is 100% Canadian owned and operated with retail representation from coast to coast. They are proud to have all of their products made in Canada as well. For more than 35 years, Maxxmar has been the industry leader in product innovation, boasting over 60 worldwide patents. Their modern 100,000 square foot manufacturing facility is equipped with specially designed extrusion machinery coupled with exclusive, internally developed moulding dies that give Maxxmar a unique and competitive edge.
About Hunter Douglas
For more than 100 years, Hunter Douglas has been one of the industry leaders in window treatments. They have invented many of the leading design,s such as the Duette Honeycomb Shade, whose revolutionary energy-efficient shape has become the standard for cellular shades. They believe that "the perfect window treatment should do more than just cover a window" so they are constantly innovating and pairing their designs with the most elegant fabrics to produce window coverings that have functionality, durability, and beauty.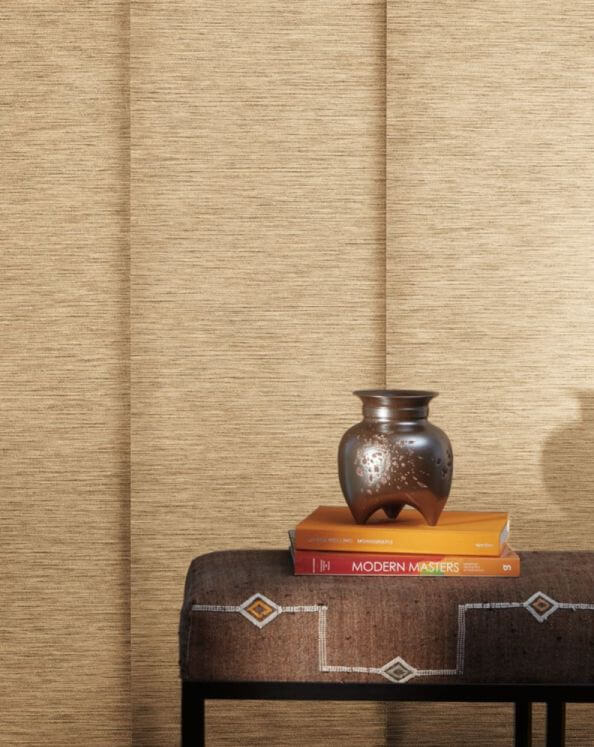 Price
Graber – $$$$
Graber offers you top quality window treatments at an affordable price. Of the three choices, Graber usually has a mid-range to high price point.
Maxxmar – $$$
Maxxmar offers you a vast selection of excellent quality products and services at an affordable price. Their window treatments would usually fall in the mid-range price point.
Hunter Douglas – $$$$$
Hunter Douglas produces beautifully crafted, top-of-the-line window treatments at a higher price point than both Graber and Maxxmar.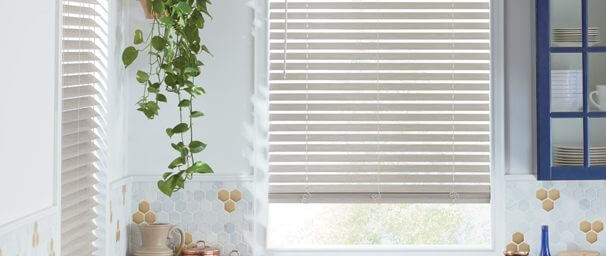 Shutters
Graber
Graber offers both wood and composite shutters. Their Traditions Wood shutters are made from 100% North American hardwood and are a great investment both in style and quality. The wood is skillfully finished with vibrant stains and environmentally-friendly water-based paint finishes that give them a truly stunning appearance. If you prefer, they also have a refined wood-alternative shutter that is engineered to resist moisture and wear over time. Graber's Traditions Composite Shutters come in colour palettes that overlap with Graber composite blinds for whole-home coordination.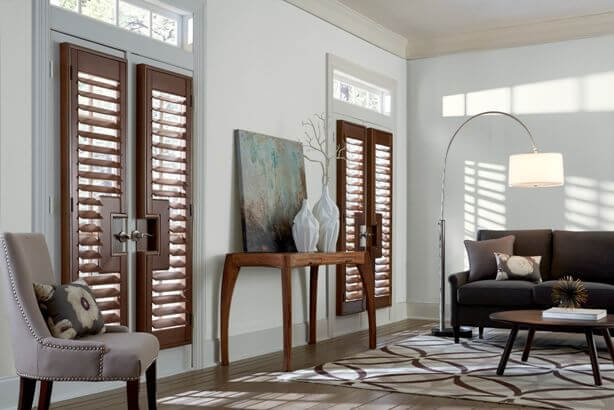 Maxxmar
Maxxmar has a beautiful line of shutters made from both natural and man-made materials. Their wood shutters are crafted from superior North American hardwoods and are custom made with state of the art technology to ensure a long-lasting, lustrous UV-protected finish. Their Hardwood lines include Cashmere Hardwood and Tilia. Their San Marco collection offers the natural beauty of real wood shutters with the durability of vinyl. Maxxmar also manufactures premier grade PolySilk vinyl shutters in popular colour choices from cool whites to rich mochas.
Hunter Douglas
If you want the look of wood with the strength and straightness of modern-day materials, take a look at Hunter Douglas's NewStyle Hybrid shutters. They are a beautiful and affordable alternative to real wood shutters. Hunter Douglas also offers their Palm Beach Polysatin shutters which are made with UV-resistant Polysatin compound which is guaranteed to never warp, crack, fade, chip, peel, or discolour, even if exposed to extreme heat or moisture.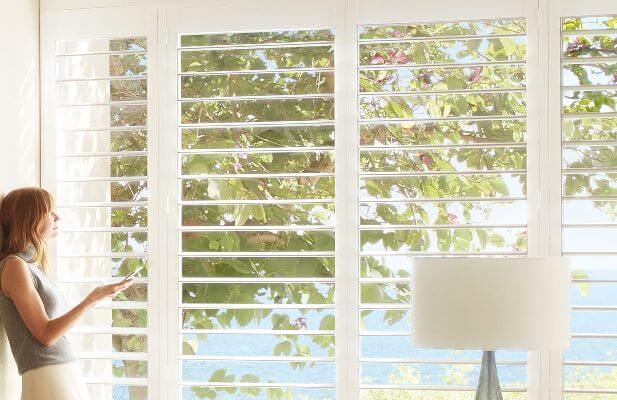 Blinds
Graber
Graber horizontal blinds come in your choice of wood, composite, faux wood, vinyl, and aluminum. Their wood blinds are responsibly-sourced and add a rich warmth and extra insulation to your rooms. For those more humid areas of your home, you may prefer their beautiful wood alternatives which are engineered to stand up to moisture. Their vinyl blinds are also great in higher moisture areas and they are a lightweight choice that comes in a range of modern trends and styles. If you are on a budget, then Graber's aluminum blinds may be the perfect solution for you. If you have a patio door that needs dressing, Graber has a wonderful selection of vertical blinds designed to fit larger areas.
Maxxmar
Maxxmar offers a wide selection of both horizontal and vertical blinds. Their horizontal blinds are available in both wood and faux wood styles. Their wood blinds come in rich designer colours and warm wood tones with your choice of paints and stains. You can further enhance their look by selecting a complementary decorative solid, embossed or tone-on-tone textured tape. Their faux wood blinds have a unique blend of resin and wood that is expertly fused together to imitate the look and warmth of real wood. These are perfect for high moisture areas in your home like the kitchen or bathroom.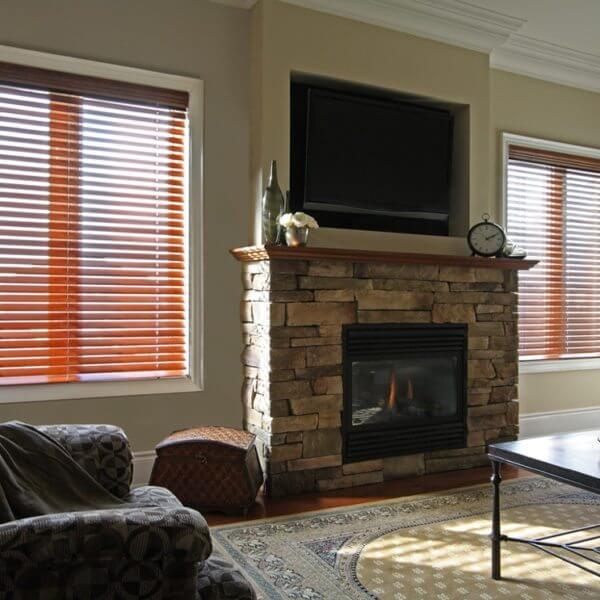 Hunter Douglas
Hunter Douglas has an amazing selection of wood, faux wood, and aluminum horizontal blinds. Their wood blinds are made from rich hardwood and come in your choice of three slat sizes. Their alternative wood blinds provide amazing performance combined with a classic look that doesn't age. If you are looking for a sleek, clean look, then check out their thin-slat aluminum blinds. You can even pair metal slats with real wood accents for a striking and totally unique look.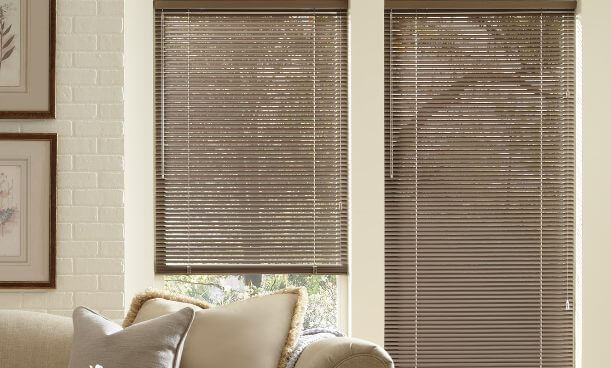 Graber Blinds Alternatives from Graham's & Son
Graber, Maxxmar, and Hunter Douglas all have some wonderful window treatment options; you are sure to find the perfect solution to your window dressing needs once you have a look at their amazing selection of high-quality products. If you are looking to purchase blinds, shades or shutters for your home, come to Graham's & Son, your local Graber, Maxxmar, and Hunter Douglas dealer.
Graham's & Son Interiors has over 40 years of design experience serving the Cambridge, Kitchener-Waterloo, and surrounding regions. We firmly believe that each of our clients deserves "superior design concepts, top-of-the-line materials, and timely project management." That is why our satisfied customers gladly recommend us to their friends and family. Our customers have been so pleased with the high standard of our work that they selected us for the "Best Business Service – Interior Decorating: Platinum" and "Best Shopping – Kitchen Renovations: Gold" awards in the 2017 Cambridge Times Readers' Choice Competition. Book a free in-home consultation today and find out for yourself why Graham's is the best in the interior design business.

| | |
| --- | --- |
| | |
Find out for yourself why Graham's & Son Interiors are Southwestern Ontario's premier interior decorators. Contact us today to schedule a free in-home consultation. If you prefer, you can shop at home. Browse through our website, make your choice and simply give us a call at 519-658-9025 to place your order without ever having to leave the comfort of your own living room.
Buy 2 Get 1 Free
Right now is the perfect time to purchase vertical blinds as we are offering an amazing buy two get one free deal on all of our blinds, shades, and shutters.
Buy Two Blinds, Shades, Or Shutters & Get One Free!