Getting the right shutters for big windows is important. To find the best shutters for you and your home, you'll first want to consider your budget, since finding shutters for big windows can be a large investment. Then, you will want to consider their weight and the materials they are made of. Continue reading on to learn more about these steps, or contact the window treatment experts at Graham's & Son to learn more!
Get The Perfect Shutters For Any Sized Windows!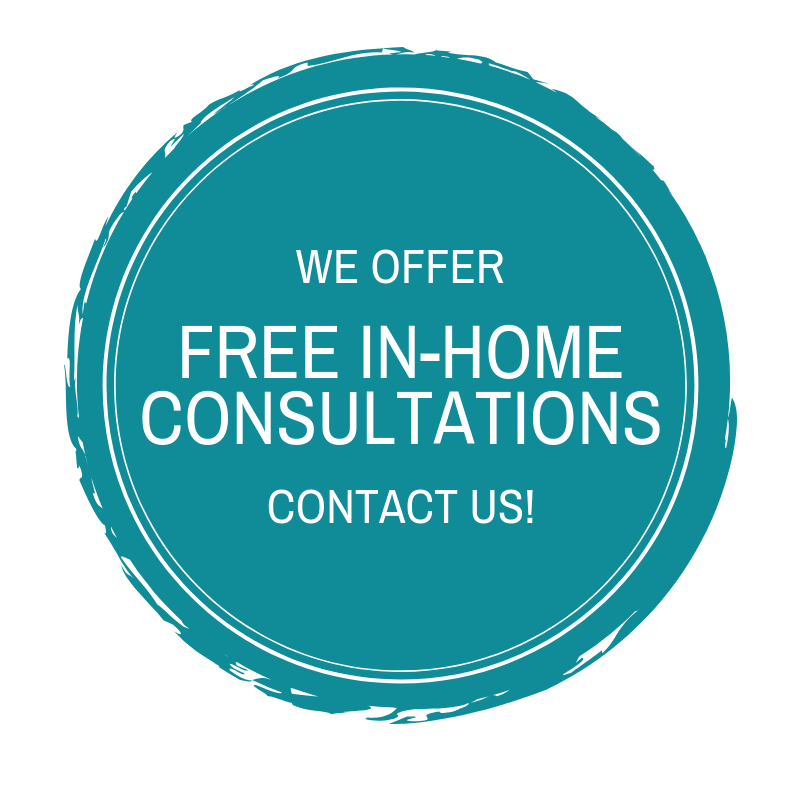 How To Find The Best Shutters For Big Windows
It can be a challenge to find the right shutters for any sized windows – let alone large windows (or even sliding doorways)! With larger windows comes a bit more preparation, but with a bit of research and help from the professionals, you'll easily be able to find the perfect shutters for your big windows. You can check out galleries such as this collection from Pinterest to get ideas and ask yourself the following questions to help you narrow down your choices.
1. What Is My Budget?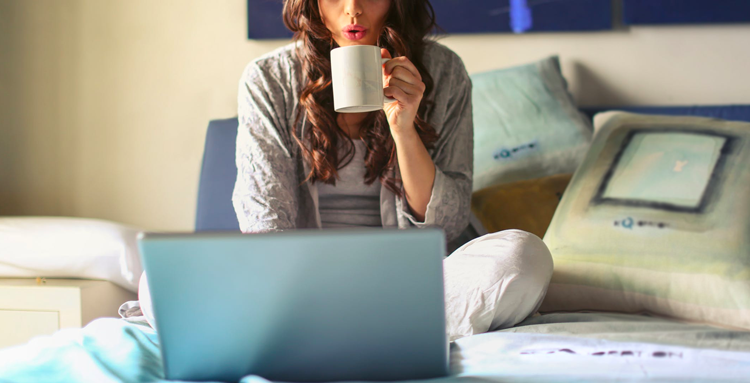 Before you get started, do some research and find out what your budget is
The first thing you will need to consider before purchasing your new shutters is your budget and how much will your shutters cost. Of course, it will cost more to install any type of window treatments on a bigger window, so it is important to budget as carefully as you can. According to Home Advisor, basic shutter models can cost around $20 – $100 per shutter, while high-end models will cost anywhere between $250 – $700 on average.
It is a good idea to think about what is most important to you and go from there. Is high quality of utmost importance? If so, you may want to wait and save a little longer if your budget is not quite there yet. Or, if for example, you just recently moved to a new home and desperately need new window treatments ASAP, then you may be happy with a more basic model.
You will also need to take into consideration installation fees. Shutters, unlike curtains or even blinds, are difficult to install and must be measured to perfectly fit your specific window frame. In old homes, window frames may slightly bend or warp in various areas due to age and wear and tear- so it is important that you get a professional to help you measure and then install.
For large windows, it can be difficult to accurately (and safely) measure, depending on the height of the window. The same goes for doorframes, which have the added element of a door that needs to still be accessible! Working with a professional will not only ensure that your shutters properly fit, but it will also keep you safe!
One last thing to consider when thinking about installation fees is the number of windows and shutters you are installing. Although it may seem like it would be much more costly to install many shutters at once, that is not the case. The more window treatments you install at once, the more savings you will get.
For example, installing one custom window treatment may cost around $60-$70. However, installing two custom window treatments may only cost $80. For three at a time, you may only pay about $100. This is good news for those with large windows, since you will likely need to install many shutters at a time.
2. What Materials Are Best For Large Windows?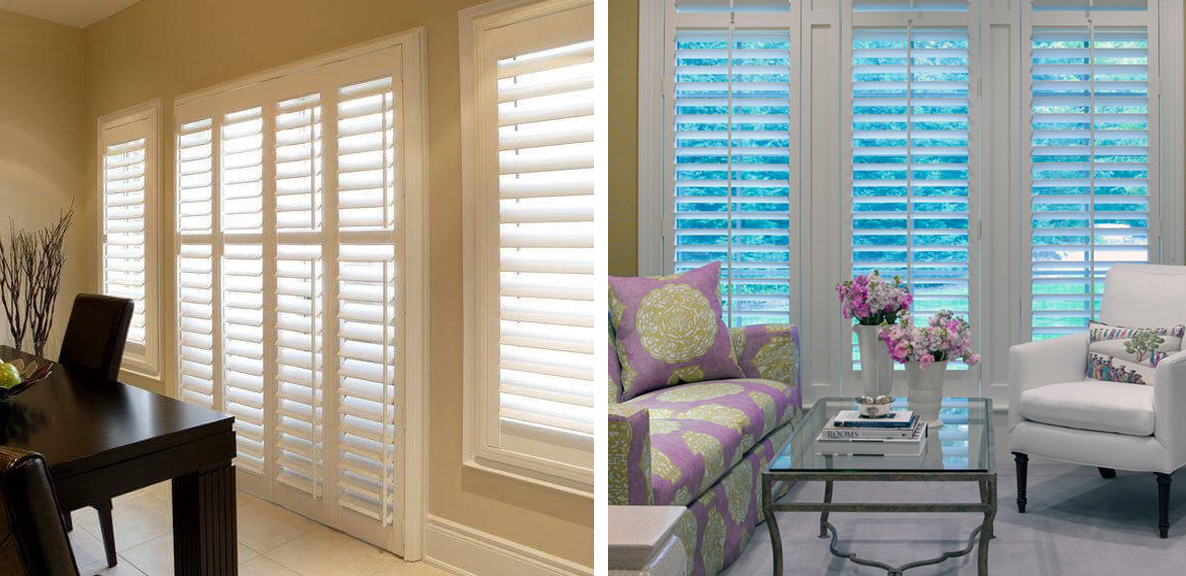 Shutters for large windows are made up of multiple shutter panels
Finding the right window treatments for your large windows is a bit more of a challenge because you need to take into consideration the weight of your shutters. If you just had one giant shutter cover a very large window, you would barely be able to move the slats or manipulate your shutters when you needed to open or close them!
Fortunately, most shutters for big windows are not just one, single large shutter. You will be hard pressed to find a shutter like that! Instead, they are multiple shutter panels all placed beside each other in your window. As you can see in the images above, large windows are covered by using multiple sections of shutters placed side by side. In the left picture, there are 8 shutters over one large window! You may end up needing quite a few individual shutters depending on the size and shape of your window.
You will also want to take into consideration the materials your shutters are made from. The three most popular options are wood, composite (faux wood), and vinyl. Most experts agree that wooden shutters are the best for big windows. This is because they are extremely durable yet lightweight. Composite tends to be heavier, though very durable, and vinyl tends to be lighter, but often has size restrictions as the lightweight build can't support larger window frames.
However, wood may not always be the best choice. For example, if you have large windows or a doorway that you want to add shutters to in a moist or damp room (e.g. a laundry room, a bathroom, or even your kitchen), it may be better to choose vinyl or composite. This is because wood does not hold up very well in damp environments.
To learn a bit more about each choice, check out the chart below.
Wooden shutters vs composite (faux wood) shutters vs vinyl shutters
If you are still not sure which material is right for your windows, consider speaking to a window treatment professional. The professionals will know exactly which material will work best for your unique home and the size and shape of your windows.
3. What Style Is Right For Me?
When looking at shutters, the two most popular choices are California shutters and plantation shutters. These two types of shutters are nearly identical. The only difference is their louvre size. California shutters typically have a louvre size of 2.5 inches in width, while plantation shutters are slightly larger at 3.5 inches in width. Most homeowners choose plantation shutters for large windows because of the wider louvre size.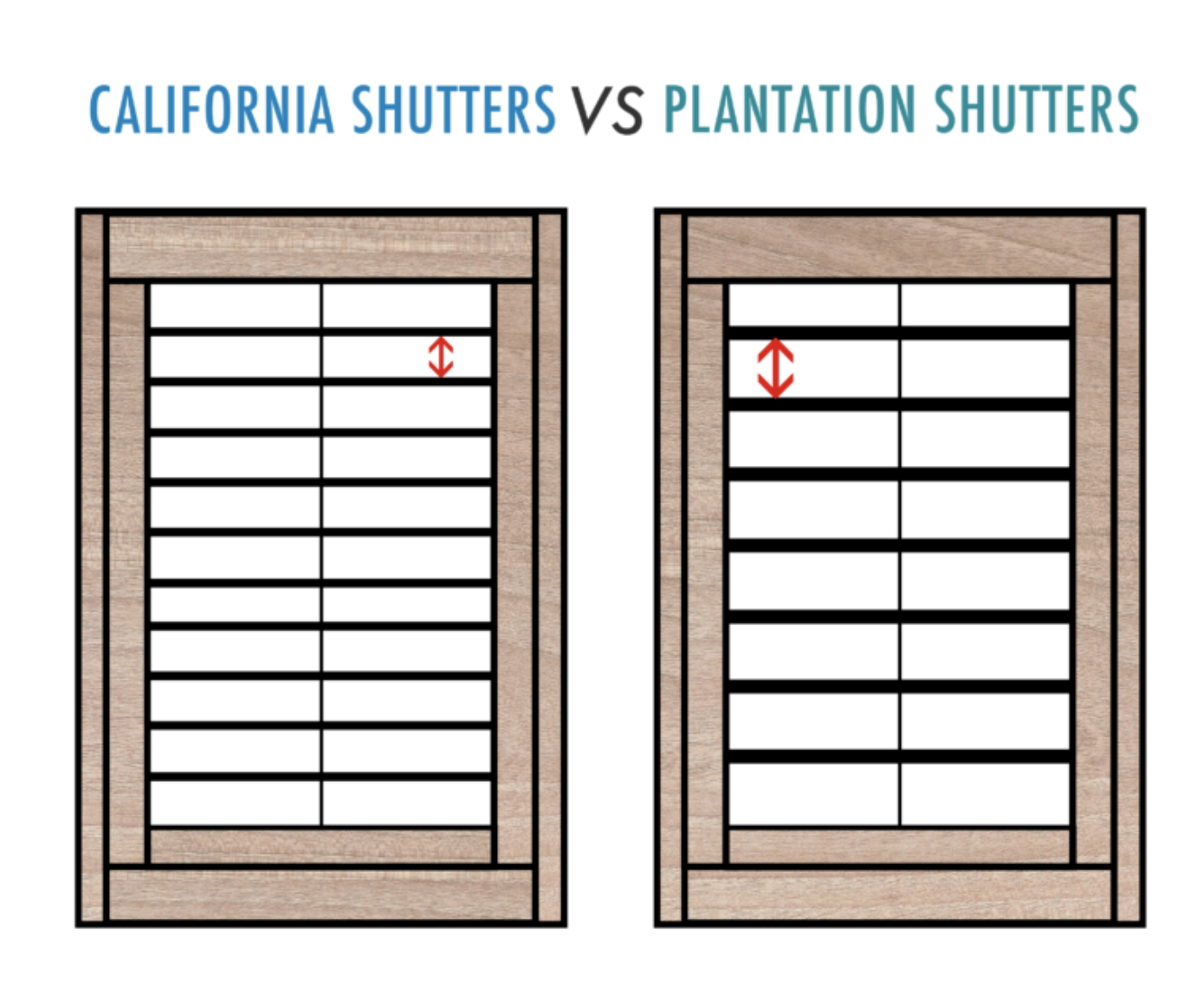 A quick look at the difference between California vs plantation shutters
Aside from plantation and California shutters, there are also some other interesting styles you can go for. For example, if you have unique windows, you may consider choosing a specialty shaped shutter (right image below). Or, if you want to let in more light or have sections of your window completely shutter-free at times, you may consider tier-on-tier shutters or half shutters (left image below).
Shutters come in a variety of styles – there is something for everyone!
If you are looking for more great ideas for your shutters, check out our shutter style guide here. This page provides an overview of the many different styles you can find when looking for shutters to help you narrow down your choices!
Why Choose Shutters?
You may be wondering why shutters are such a good choice for large windows, instead of curtains or blinds, or other popular choices. Although almost any window treatment can work with nearly any size and style of window, shutters are an excellent choice because they are easy to operate (e.g. no need to reach and grab for high-up rods or strings).
They also won't be difficult to access if your windows are high up on the wall. For example, with curtains, you may have to tug and pull to get them across the rod – and then they may bunch up, or drag along the floor unless otherwise modified. Shutters are easy to open and close. You won't have to pull or reach or tug on anything.
Shutters are also an attractive option that looks good with nearly every type of decor. They are a timeless choice that looks great with modern rooms, traditional styles, and rustic decor. Since large windows often take up a large portion of your room, you want to ensure your window treatments will look great and not take away from the rest of your room's unique style.
GET THE PERFECT SHUTTERS FOR YOUR BIG WINDOWS WITH GRAHAM'S & SON!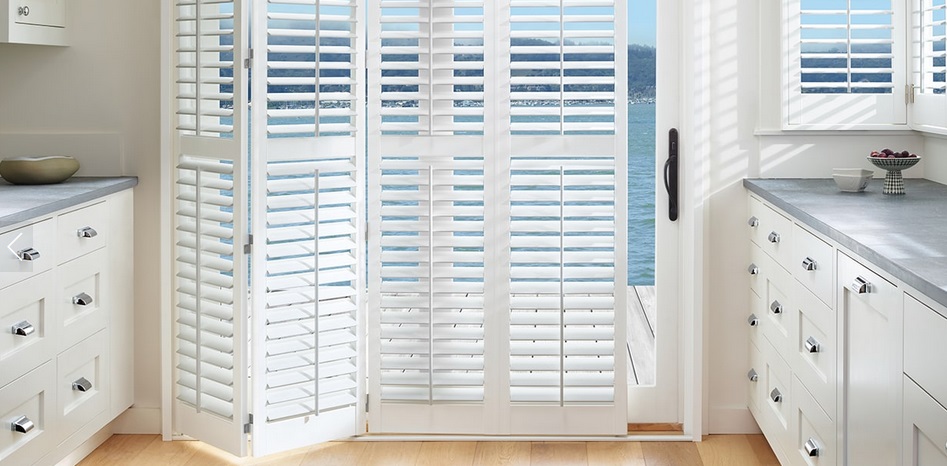 Looking to get the perfect shutters or window treatments for your home? Graham's & Son has decades of experience when it comes to expertly installing shutters for windows of all shapes and sizes. We also offer FREE in-home consultations, so we work with you to find the right choice for you, your home, and your budget.
At Graham's & Son, we offer a wide variety of window treatments, including shutters. If you are looking to update your current window treatments, contact Graham's & Son today for the most energy efficient and beautiful window treatments possible.
Graham's & Son knows window coverings; we have been in the window treatment business for over 40 years. Our expertise and professionalism are second to none. In addition, right now we are offering an amazing deal on all our blinds, shutters, and shades – when you purchase any two, you will get a third absolutely free!
"I love my new California shutters that Grahams and Son Interiors recently installed…Great customer service as well. I would recommend them as they not only do window treatments – they do everything for the interior of a home!"
– Mariana from Cambridge
Read more customer testimonials
WINDOW TREATMENT INSTALLER & INTERIOR DECORATOR – JOIN OUR TEAM!

Graham's & Son is looking for a full-time Window Treatment Installer and an Interior Decorator, and we would love for you to join our team! We operate out of Cambridge and are looking for someone who knows the Tri-Cities area well. Training will be provided – some experience required. If you think this may be the perfect job for you, see job requirements and overview by clicking here to learn more about the installer position, or here to learn more about the decorator position.
At Graham's and Son our customers have been so pleased with the high standard of our work that they selected us for the "Best Business Service – Interior Decorating: Platinum" and "Best Shopping – Kitchen Renovations: Gold" awards in the 2017 Cambridge Times Readers' Choice Competition. Book a free in-home consultation today and find out for yourself why Graham's is the best in the interior design business. Contact us today to schedule. If you prefer, you can shop at home. Browse through our website, make your choice, and simply give us a call at 519-658-9025 to place your order without ever having to leave the comfort of your own living room.