It's easy to learn how to properly clean your shutters. The process is really as simple as a weekly vacuum, regular dusting, and the occasional deeper cleaning. It is worth the effort to clean your shutters; if you keep them free from dust and debris, they will continue to look fabulous and regular maintenance will help them function properly. If any of your current window treatments are in need of a replacement, talk to the window treatment specialists at Graham's & Son. We'll come right to your home for a free consultation.

Vacuum Your Shutters Weekly to Keep Them Looking Amazing
One of the biggest complaints about shutters is having to clean them, but it isn't as big of a chore as you imagine, especially if you follow some simple regular maintenance tips. Like anything, if you leave your shutters unattended for a long period of time, when you do come to actually clean them it will be a big, time-consuming chore. That is where regular cleaning spurts really help. A quick weekly vacuum will go a long way to keeping your shutters looking great and will mean that you won't have long and laborious cleaning sessions to face.
Weekly Vacuuming Is Good for Both Vinyl and Wood Shutters
Both vinyl and wood shutters should be vacuumed regularly to keep them looking their best and to help them remain in good working order. You can easily add vacuuming your shutters to your weekly cleaning routine without adding a lot of extra time.
How to Clean Your Shutters with Your Vacuum
Step 1: Place a soft brush attachment onto your vacuum cleaner.
Step 2: Completely close your shutter louvers.
Step 3: Lightly vacuum over your shutters starting at the top and working your way down to the bottom using a side to side motion.
Tip: Be careful not to push too hard on the blind as you move the vacuum over the surface to prevent scratching it.
Tip: If you don't have a soft brush attachment, or have lost yours, you can purchase a replacement. Most of these parts are a standard size. The one pictured above is $12.99 at Home Depot.
How to Dust Your Shutters
Purchase a Microfiber Shutter Cleaner that Is Specially Designed to Make Cleaning Easier
There are many different styles of shutter cleaners that will help speed up the dusting process. Instead of having to wipe down each individual louver on your shutter, the cool design on the EasyClean Duster available from Amazon has three microfiber dusting fingers that will allow you to dust multiple louvers simultaneously! This can greatly cut down your cleaning time. You can safely use it on both wood and vinyl blinds and it is washable, re-usable, and refillable.
Use a Duster with an Extended Handle to Reach Your Higher Shutters
If your shutters are quite high up you can also use a Swiffer 360 with a 3-foot handle to help you reach the high spots. The great thing about the Swiffer cloth is it actually picks up and traps the dirt and debris instead of simply moving it around like a regular feather duster does. The following video shows you how to use a Swiffer 360 to clean the louvers of your shutter.
If You Don't Have a Special Duster, Use This Time-Saving Method
If you don't have a special duster designed to clean shutters, use the following technique to speed up your dusting time.
Step 1: Take a microfiber cloth and hold it in your hand in a "C" shape.
Step 2: Open the louvers and cup your hand around one louver (your thumb will be under the louver and your finger above).
Step 3: Gently squeeze your thumb and fingers together while you run your cloth across the shutter. This technique will allow you to clean both the top and bottom of the louver at the same time.
The beginning of the following video demonstrates this simple cleaning procedure.
Tip: When you are opening or adjusting your louvers, move one of the centre louvers, not one at the very top or the bottom. Moving a louver on either end will mean that the force of all of the other louvers will be exerted on that one lower or upper hinge of that louver and it may cause it to eventually break.
How to Deep Clean Vinyl Shutters
Once you have dusted your vinyl shutters you may like to give them a more thorough cleaning, do the following:
Step 1: Mix up a solution of mild detergent diluted in water. Use only 5% detergent.
Step 2: Dip a cotton cloth in the solution and wring it out well.
Step 3: Gently rub down the dirty louvers.
Step 4: Rinse the area with clear water to make sure that you have removed all of the excess water.
Step 5: Dry the surface well with a clean cloth.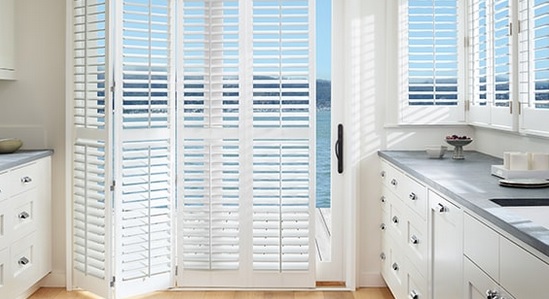 How to Deep Clean Wooden Shutters
If you have finished dusting your wooden shutters and they still seem a bit "blah," try giving them a deeper cleaning.
Step 1: Take a microfiber cloth and spray it with a wood furniture polish such as Pledge.
Step 2: Gently wipe all of the surfaces of your shutter with the polish, including the tilt bar and frame.
Step 3: Use a toothbrush sprayed with polish to clean the hard to reach spaces such as the corner.
Tip: Never use soap or water on wood shutters. This may cause them to warp.

"We recently had California shutters installed in our bow window in the living room and a roller blind in our dining room. In both instances, Matthew was wonderful with suggestions and ideas. The installations were great and the results outstanding. We can't say enough about the staff at Graham's and Son Interiors and the final result was beyond expectations. We look forward to working with them again in the spring for flooring. Thank you!"
– Susan Ashley
Read more customer testimonials
Looking to Replace Your Current Blinds or Shades? Come to Graham's & Son!
Tired of your current window treatments? Is it time to give your windows a facelift? Come to Graham's & Son for new shutters, blinds or shades for your home. Graham's & Son Interiors has over 40 years of design experience serving the Cambridge, Kitchener-Waterloo, and surrounding regions. We firmly believe that each of our clients deserves "superior design concepts, top-of-the-line materials, and timely project management." That is why our satisfied customers gladly recommend us to their friends and family. Our customers have been so pleased with the high standard of our work that they selected us for the "Best Business Service – Interior Decorating: Platinum" and "Best Shopping – Kitchen Renovations: Gold" awards in the 2017 Cambridge Times Readers' Choice Competition. Book a free in-home consultation today and find out for yourself why Graham's is the best in the interior design business.

| | |
| --- | --- |
| | |
Find out for yourself why Graham's & Son Interiors are Southwestern Ontario's premier interior decorators. Contact us today to schedule a free in-home consultation. If you prefer, you can shop at home. Browse through our website, make your choice and simply give us a call at 519-658-9025 to place your order without ever having to leave the comfort of your own living room.
Buy 2 Get 1 Free
Right now is the perfect time to purchase vertical blinds as we are offering an amazing buy 2 get one free deal on all of our blinds, shades, and shutters.
Buy Two Blinds, Shades, Or Shutters & Get One Free!