View the latest window treatment trends for 2018 including rose gold hardware, ombre drapes, subway tile shades & curved Roman blinds. Is this the year you finally update your home? Why not start with looking at the latest blinds, shutters and window treatment trends for 2018? In this post, we will show you the most up-to-date drapery, blind, and shade designs for the coming year. If you would like one of the latest window treatment trends in your home, speak to the interior design specialists at Graham's & Son. We can answer all of your window treatment questions and help you decide which style and colour will best suit your decor and needs. And now is the perfect time to buy. When you purchase any 2 blinds, shades, or shutters, you will receive 1 absolutely free! Contact us today to book your free in-home consultation.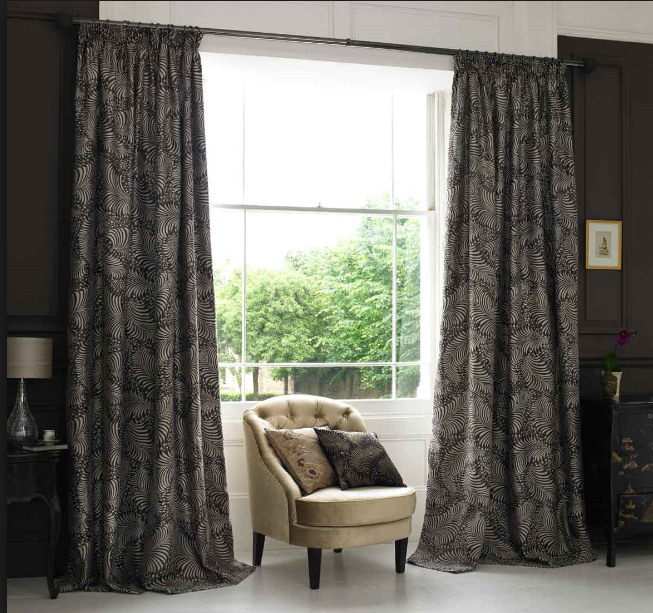 "Let me start by saying, I love my window treatments! Mr. Graham was very professional, easy to talk to; he talked with me, not above me, I was at complete ease. He listened to my thoughts, went through my options, and just like that – decision made. The installation crew was quite professional, friendly and efficient. They were in and out in no time, with cleaning up after themselves, and ensuring that I was satisfied with what was done. I would highly recommend Graham's and Son Interiors to anyone, and I look forward to working with them again!"
Anne Allen
Top Window Treatment Trends Infographic
Here are what we consider the top 5 trends for this year. Read below for more trends in 2018!
Latest Window Treatment Trends – Drapery
Drapery is hot for 2018. Take a look at these gorgeous designs and fabrics that will accent your windows beautifully and give them a definitive modern feel.
Black and White Contrasts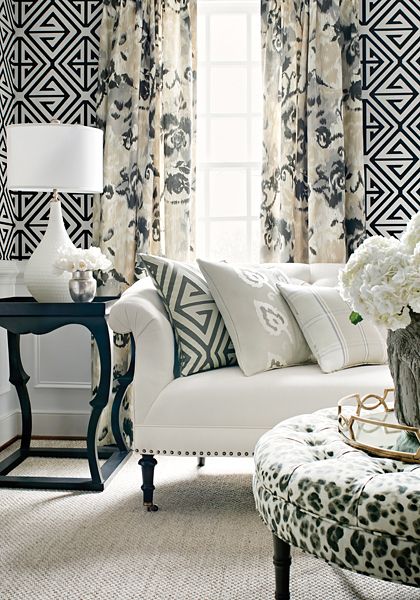 You might not have thought that geometric, floral, and animal prints would ever look good together all in the same room, but this actually works. The key is the uniformity of colour. The black, greys, and white exquisitely pull this design together. We especially love the contrast between the large floral curtains and the bold design of the wall paper. This contemporary layout is courtesy of Thibautdesign.com but we found it on Pinterest.
Rose Gold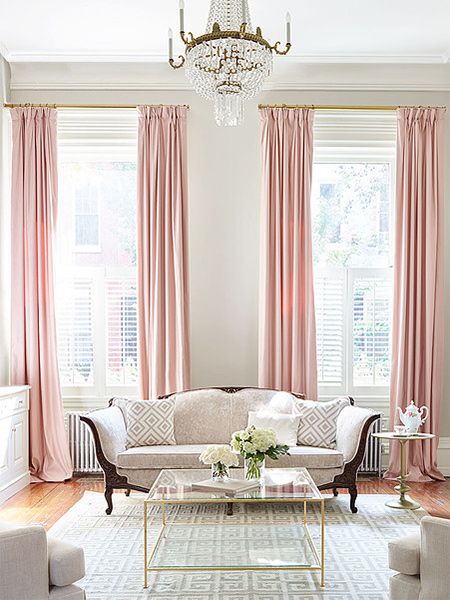 Rose gold curtain rods are one of the latest window treatment trends. This elegant metal beautifully accents any curtain fabric. In the above design found on Pinterest, originally from Home Dzine, the rose gold is repeated in the furnishings. We also really love how the extra long pink fabric of the curtain gently pools on the floor to give a soft yet elegant impression.
Sheer Elegance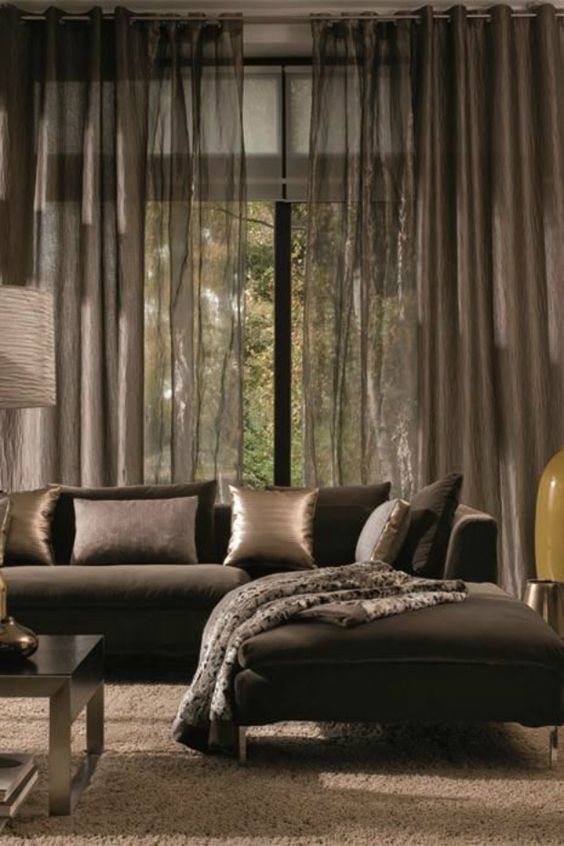 If you really want to set the right mood in your living room, try sheer and sexy window treatments. These silky and shimmering panels are romantic as well as a little sultry. Sheers give you some privacy while still allowing a generous amount of mood lighting into your room. This contemporary design came from Pinterest and was originally pinned from KOKET Love Happens.
Ombre Drapes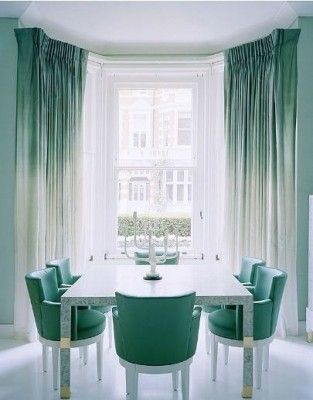 Ombre is hot this year, even for drapery. Look at how these gorgeous bay window curtains cascade from the ceiling in a rich turquoise ending in a pale white at the floor. They are truly one-of-a-kind. We found this beautiful idea on Pinterest and it came from Linda Holt.
Drapery For Your Walls?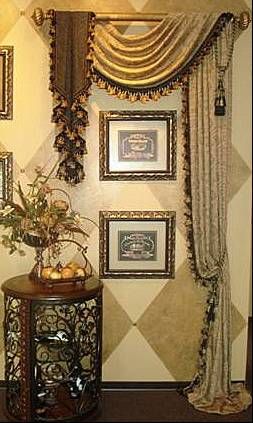 Now here is a unique twist – drapery for your walls, not your windows. Yes, one of the latest window treatment trends is to treat one of your walls as a window and dress it up accordingly. The effect is an actual work of art and definitely a conversation piece. This cool and very trendy idea came directly from Pinterest.com.
Blinds and Shades
If you prefer blinds to drapery, then there are many hot trends for you to choose from this year. Blinds can give you the added bonus of insulation to help you save on your energy bills as well as increased privacy.
Subway Tile Shades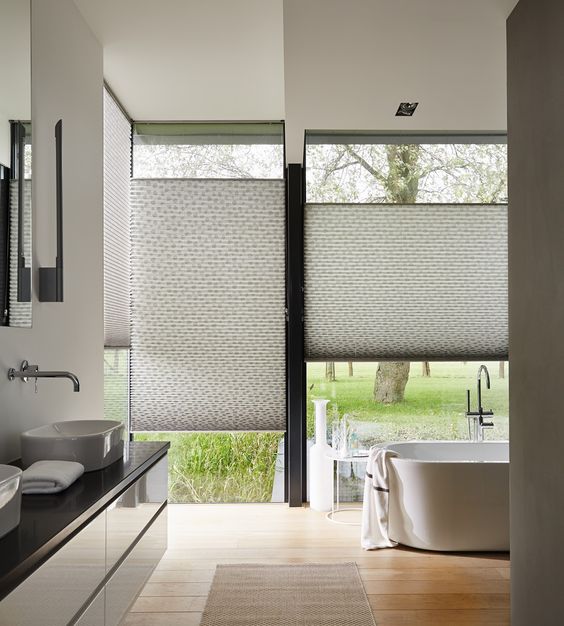 This next window treatment trend came from Pinterest and was originally pinned from likbez.info. The popular subway tile motif is cleverly echoed on these bottom up, top down blinds for the bathroom. These very contemporary blinds not only look great, but they also give you an endless combination of lighting choices and design looks.
Please Pass The Mustard
Don't be afraid to add a little extra mustard to your life. We love the colour of these Roman blinds. They brighten up this cozy corner and their versatile design allow you to adjust them from either the top or bottom or if you like, from both. Have fun creating your own looks and lighting options while saving on your energy bill. Their cordless construction also makes them a safe choice if you have children or pets. This option comes courtesy of Pinterest from flexblinds.com.
Coordinating Valences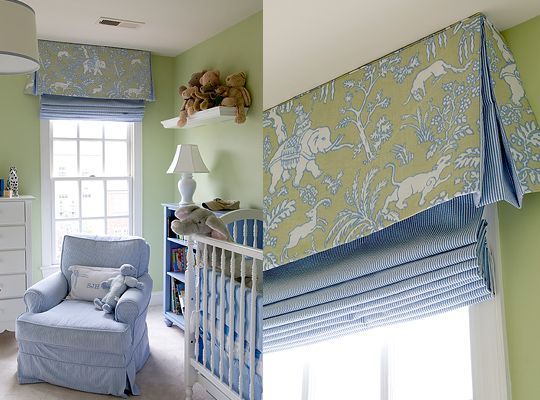 Adding a coordinating valence above your blinds or shades is one of the latest window treatment trends for 2018. Choose a pattern or complementary colour to make your valence pop. The adorable animal motif on this sample found on Pinterest, originally from Beautifuldiy.net, is reminiscent of the classic story "The Jungle Book" and would be perfect for any nursery.
Romans With Curves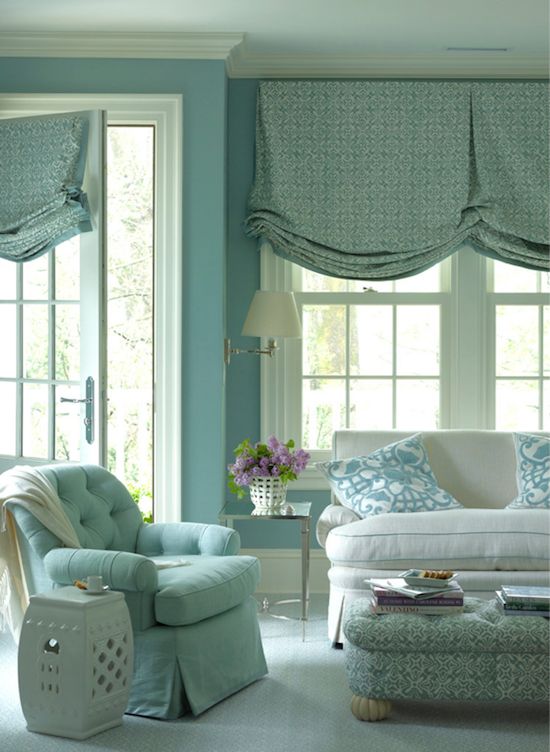 If you are tired of linear blinds, take heart. Here is a gorgeous option: roman blinds with curves. Not only do these beautiful blinds pull up into soft curves but they also come in a unique and stylish fabric which perfectly matches the ottoman in the forefront. This window treatment trend comes from Pinterest via thezhush.blogspot.ca.
Combine Blinds and Drapes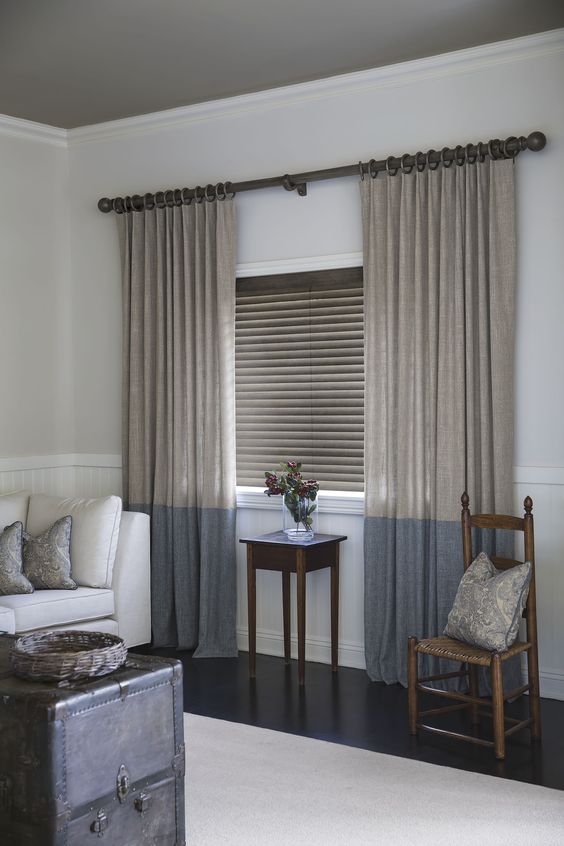 If you can't make up your mind between blinds or drapes, then don't. Go with both. It looks great and gives you the best of both worlds. Our final window treatment trend comes from Pinterest and was originally pinned from Smith & Noble. It features drapes which perfectly match the blinds at the top but then have a block of accent colour beneath the window ledge. It makes for an interesting and effective choice.
Why Purchase From Graham's & Son?
Graham's & Son is a locally owned and operated family business that cares about our customers. That's why we make sure we treat every client with respect and give them the highest level of customer service possible. We will come right to your home, free of charge, sit down with you, and help you to choose the perfect window treatments for your home. We will take accurate measurements for you, place your order, and supervise the installation process. We want to make sure that you are completely satisfied with your new window treatments. If you are interested in updating the look of your home with one of the latest window treatment trends, contact the professionals at Graham's & Son today.