Are you ready to spruce up your living room, but want to know the average living room renovation costs first? One of the most important steps for any home renovation is figuring out your budget. Living room renovations can cost more or less depending on a variety of factors – and we will go over all of these in this article! If you need expert advice about renovating, contact the professionals at Graham's & Son Interiors. We would love to come to your home for a free, in-home consultation and answer any questions you might have.

LIVING ROOM RENOVATION COSTS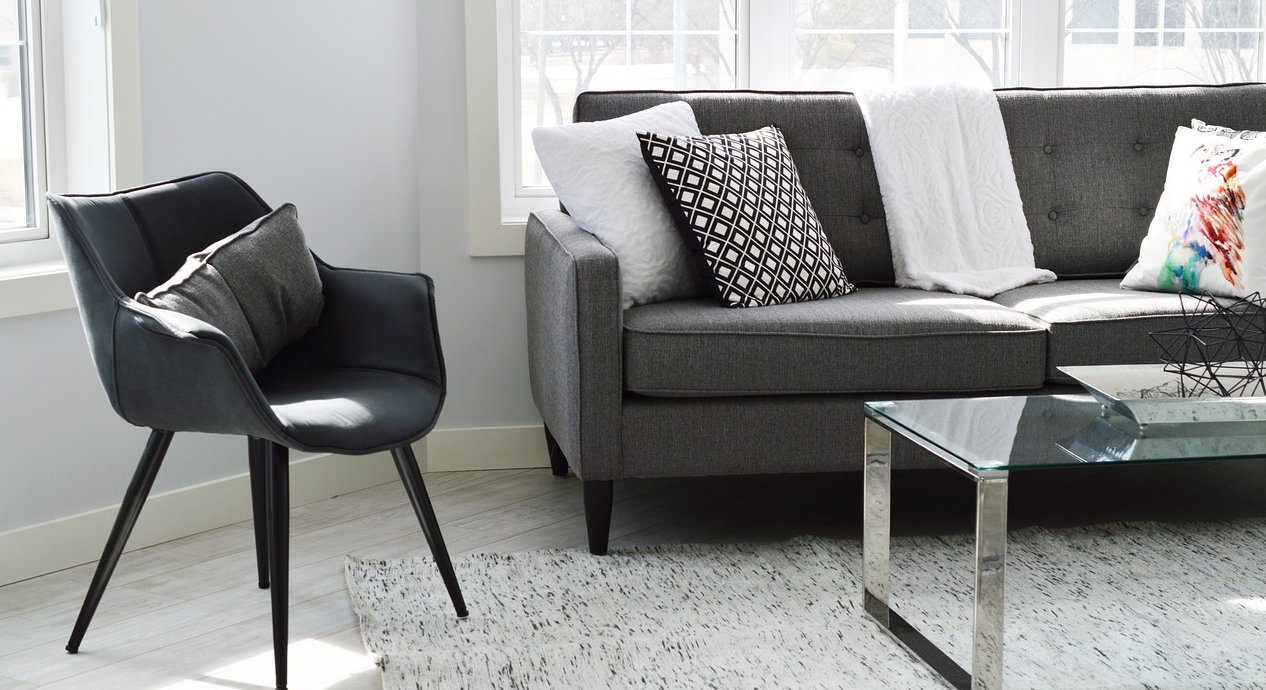 Living room renovation costs can widely vary depending on how extensive the reno is. It may also vary depending on what you are adding/removing. For example, one of the most expensive parts of a living room renovation is the cost of new wooden floors. However, if you choose to stain and fix existing floors, or if your floors are already in great shape, you can save thousands of dollars on your renovation.
According to most sources, the average living room renovation will cost approximately $4,000 – $7,000 USD (that's approximately $5,000 – $9,000 CAD). These prices are based on the typical renovations, such as adding new floors, buying new furniture, and adding a new TV.
According to Finder.com, a mid-range living room renovation will cost approximately $8,109.00 USD, or $10,597 CAD. Finder.com offers a breakdown of each item. Since the prices are listed in USD, we have converted the prices CAD to give you a better idea of what it might cost in Canada. Remember, these prices can widely vary depending on the brand you buy, contractors you hire, and the quality of materials used.
New wooden floors (250 square feet): $4880.00
New Seating: $3200.00
Coffee Table: $260.00
Side Table: $220.00
New TV: $780.00
Lamp: $65.00
Storage Unit: $250.00
Total = $9,665.00
From the estimate given above, you can see how easy it will be to play with your budget. If you decide that you absolutely need new floors but are getting tight on your budget, you can get rid of the new TV, or choose to buy a cheaper version of a side table, coffee table, and storage unit. The great thing about renovations is that you have so many choices – you will eventually be able to find something you love that fits any budget.
LIVING ROOM RENOVATION COSTS – BREAKDOWN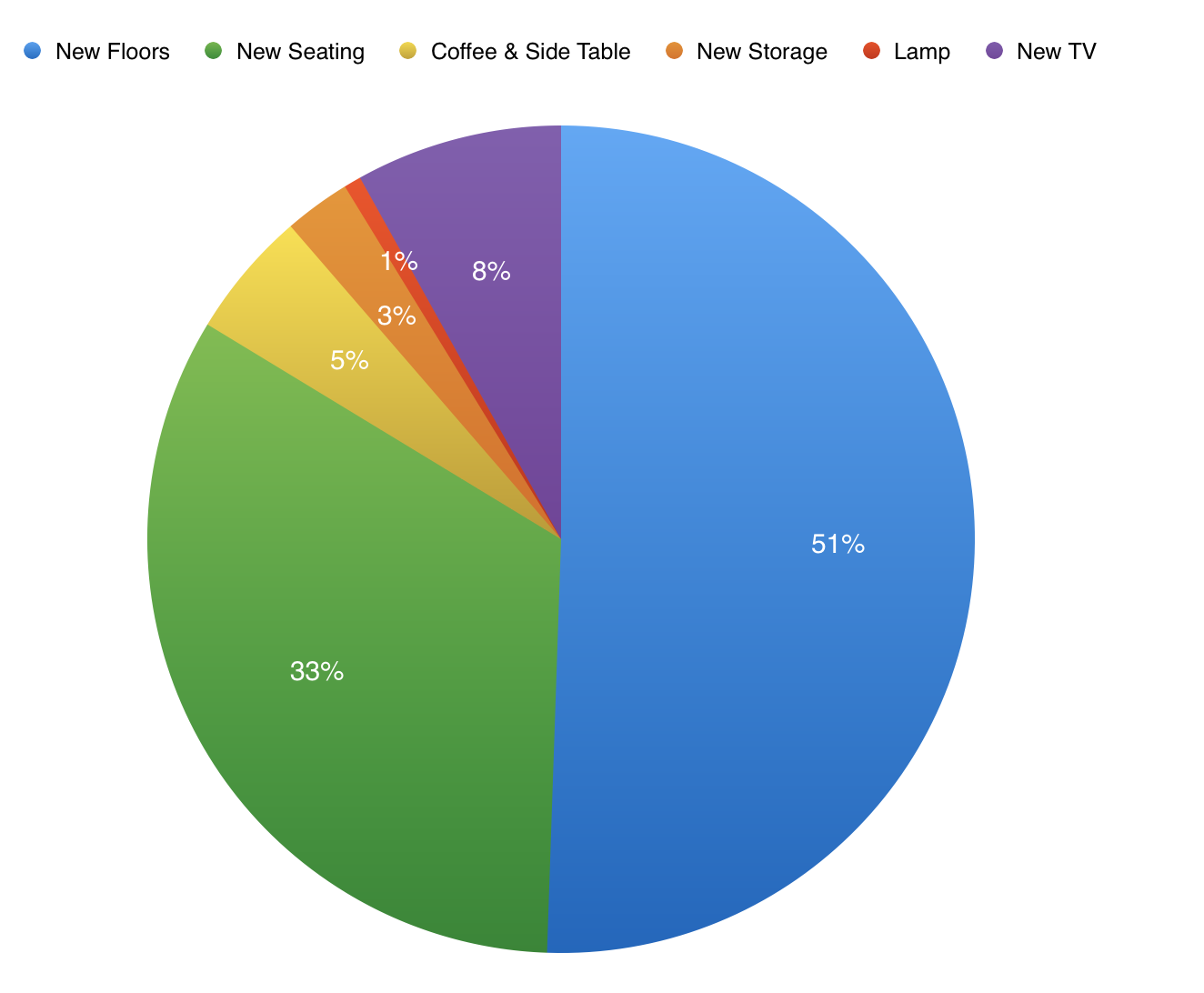 Of course, there are also some options that are not listed in the overview above you may want to consider. For example, a new coat of paint can completely transform a room – and it only costs about $60.00 for a can. You may also want to replace your windows. Old windows can allow energy to escape, and you could lose cool air in the summer and hot air in the winter. New windows widely vary in price due to size and style, but you can expect to spend around $500.00 for the average window.
Adding new window treatments is also a great way to help modernize your room while helping you save money on your energy bill. With window treatments, the possibilities are nearly endless! You may choose to go with Roman shades or California shutters. Or you may choose to get beautifully patterned drapes. It's all up to you – window treatments let your personal style shine through!
So, with all of these different options, how do you know what to pick and narrow down your options? The sections below will give you a more in-depth look at each option above to help you make a more informed decision.
Tips For New Living Room Floors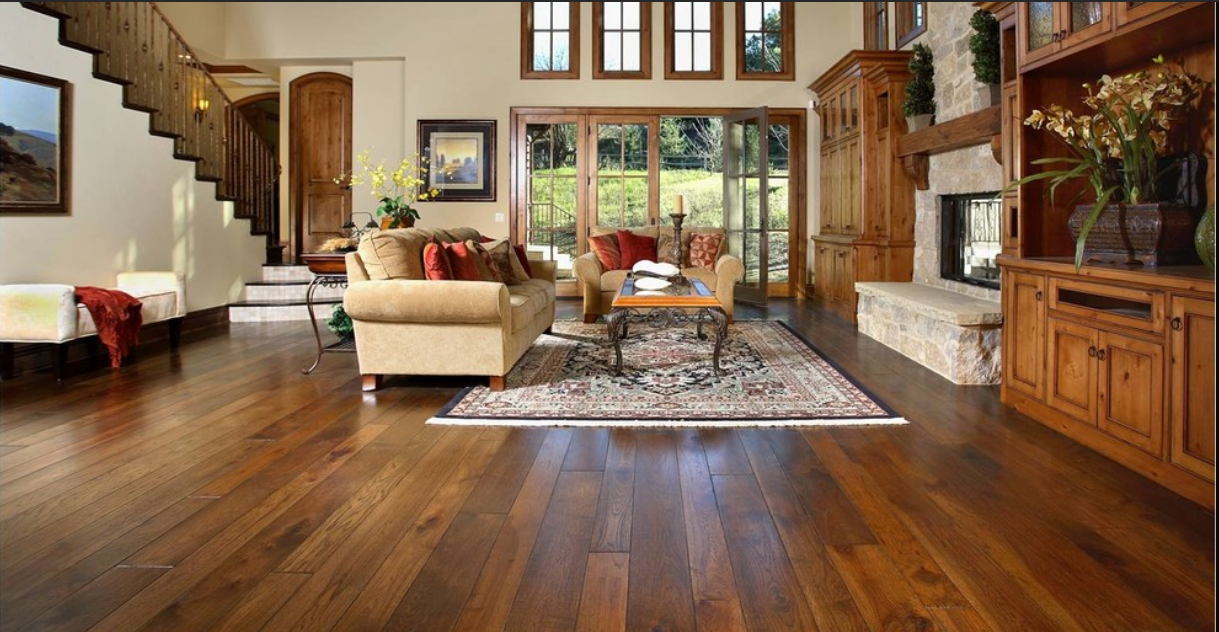 Hardwood Floors – From Graham's Gallery
When it comes to new floors, you have a wide variety of options. Many homeowners choose to remove carpeting completely when renovating. There are a lot of benefits to hardwood floors (and many benefits for laminate alternatives too). With hardwood, you are getting a product that can literally last a lifetime.
With proper care, hardwood can remain in great condition for decades. Both hardwood and laminate are easy to clean and do not absorb dust and debris like carpeting. However, if you love the warm look and feel of carpet, it is a less expensive alternative. It is just important to ensure you regularly clean it to keep dust and other particles from building up.
You also have a lot of options when it comes to hard flooring. If you love the look of wood but just can't fit it into your budget, laminate flooring nowadays looks almost identical to hardwood floors. They are also generally easier to clean and maintain. However, they will not last as long and cannot be customized (painted, stained) like hardwood.
If you do love the warm look and feel of carpet for your living room, it is still an option! Carpeting is not like it used to be. There are now many brands that are stain resistant and much easier to clean than in the past. Though it's a good idea to regularly clean your carpets to prevent dust build-up, with regular maintenance, you can have beautiful looking carpets for years to come.
You will also want to decide if you are going to DIY your new floor installation or work with the professionals. When it comes to DIY, you won't have to pay for labour. However, unless you are experienced using power tools and difficult manual labour, floor installation can be more than you signed up for. A poorly installed floor can even reduce the value of your home instead of raising it. Working with the professionals ensures the job gets done right. You won't have to pay for fixes or repairs or re-dos.
Tips For Buying a New TV
The living room is often the entertainment centre of your home. A TV nowadays is more than just a TV – it is a portal into an entire world of media, including video games, Netflix, 3D movies, and more. Getting a new TV can help modernize your room, but also improve the quality of your family's entertainment. An average 32″ HD LED TV can cost less than $300.00 but will come with just the basics. A Smart TV that allows you to instantly connect with your favourite apps and programs will cost much more.
It all depends on what you and your family's wants and needs. If you end up having a bit more left in your budget than you anticipated, splurging on a bigger, better TV may be just fine! However, if you have decided that a new TV is not on the top of your priority list and budget is running out, then you may want to go with just the basics. Remember, you can replace your TV at any time – and it will always go well with your furniture!
Tips For Buying New Seating
Upholstery by Graham's & Son
One of the biggest parts of a living room renovation is getting new seating! Couches and chairs can quickly add up, so it's important to decide on your budget ahead of time. If you absolutely love your existing furniture and it is high quality, you may choose to reupholster or refinish instead of buying brand new. It's a great way to give your long-loved furniture a fresh look while keeping sentimental value.
If you want to get rid of your old furniture, it's time to start shopping! It is generally a good idea to buy higher quality couches and chairs so you won't have to replace them anytime soon. You will also want to think of your different materials – do you love leather, or prefer soft fabric? You may also want to consider other factors – do you have dogs or cats that sit on your couch? If so, you may want to go with pet-friendly materials like microfibre or leather. If you are having trouble deciding, don't hesitate to reach out to the renovation experts at Graham's to help make your decision easier!
Tips For Buying New Furniture – Side Tables, Coffee Tables, and Storage
When it comes to new furniture, your options are nearly endless. You may choose to go with ultra modern styles, or you may prefer antiques – either real antiques or replicas. You can get your new furniture in any colour you want, and at many different heights.
You should also think about mixing styles vs matching sets. Matching sets are the perfect way to ensure everything goes together perfectly in your new living room. You won't have to think hard about if your coffee table, bookshelf, and side table go together, because they're made to match!
However, mixing items can also be a fun way to express your different preferences. Maybe you really love the modern-retro look and want a piece from each style. Remember the choice is yours! You also have a lot of options when it comes to your budget. Some simple coffee tables sell for as little as $15.00 or less, while high-quality versions can cost over $1,000.oo!
Tips For Buying New Lighting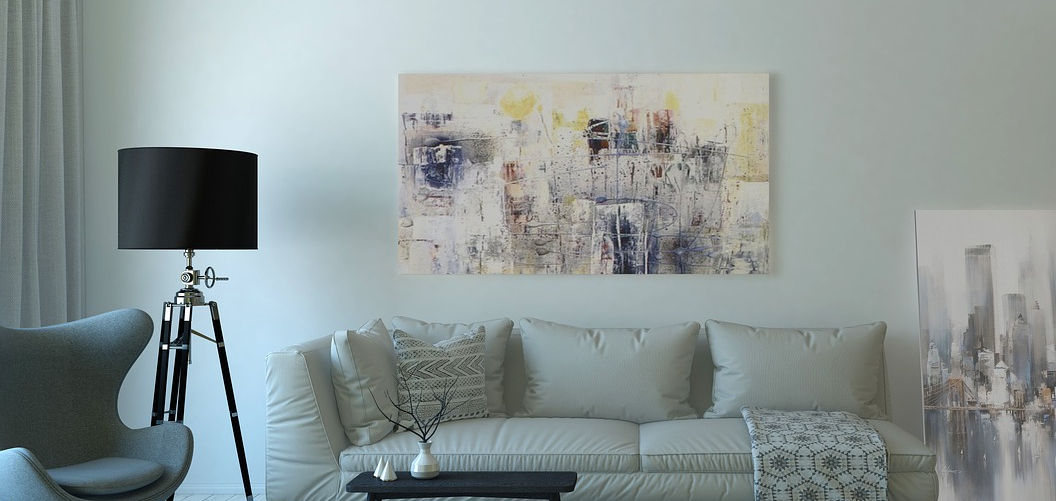 A brand new lamp can take a room from dreary to bright in seconds. Some living rooms do not have ceiling lights, or have limited natural light. That's why lamps are an important piece for your renovation. You have many choices when it comes to lighting! Do you lack floor space in your living room? If so, you may want to skip the standing lamp and choose a table lamp instead.
The type of lamp you choose will have an impact on the overall feel of your room, so try to pick something that matches the rest of your decor. Lamps are generally inexpensive, but higher end table lamps can cost around $100.00, and even more for larger standing lamps. However, you can find them for a lot cheaper, especially if they're on sale. Since new lights are not a necessity, don't feel bad about taking your time to find the perfect ones for you and your budget.
WHY RENOVATE YOUR LIVING ROOM?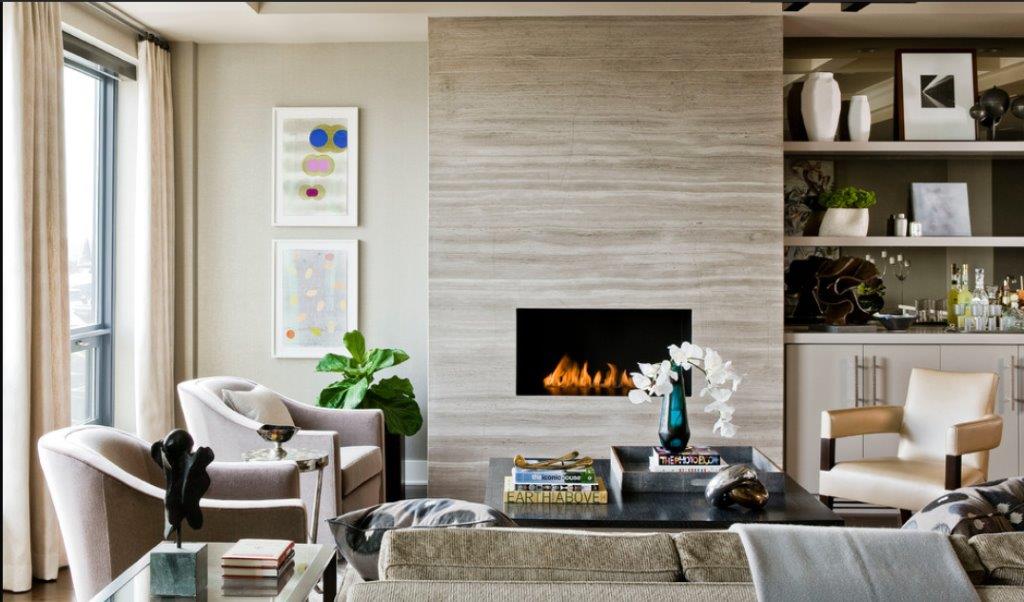 Modern Living Room – from Graham's Gallery
Your living room should be a place of relaxation and fun times with friends and family. Whether you love snuggling up with a good book on your favourite chair, playing games with the kids, or watching TV with your dog, it's likely that you spend a lot of time in your living room!
Because the living room is a high-traffic area in the home, regular wear-and-tear can quickly take its toll. Carpets can become dusty, worn down, and smelly. Wooden floors can become chipped or warped. Furniture may no longer be in its prime after so many years of use. Even your windows themselves or blinds and curtains may need to be fixed or updated.
Renovating your living room can help bring life back to one of the most used rooms in your home. You will feel great about having your friends over for an evening chat or hosting for the holidays and big family get-togethers. Renovating can also increase your room's functionality – and even help you save money. Adding new shelves and organizational additional items can significantly help increase storage space. Replacing old windows and adding new window covers can actually help you save money on your energy bill!
TIPS FOR PLANNING YOUR LIVING ROOM RENOVATION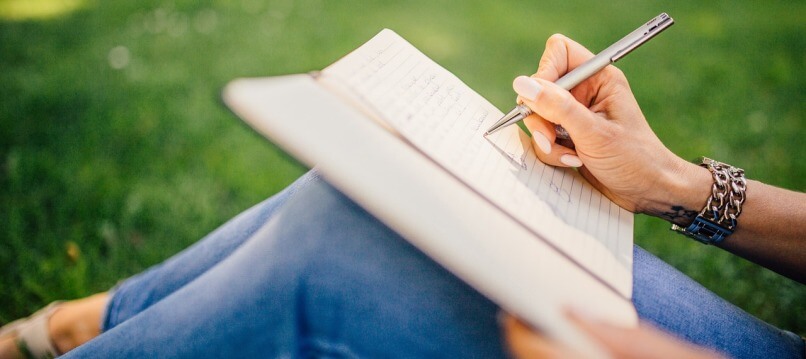 1. Research & Prioritize Your Renovations
The first thing you should do before you begin your renovation is to research your options and prioritize. Create a list. BigSteelBox.com recommends writing down the following three categories:
Urgent – Items that need to be dealt with immediately: renovation tasks that must get completed as the problems affect your life (e.g. a leak in the wall, cracked floorboard, etc.)
Aesthetics – Items that will add to your home's decor and comfort but that you can live without
Wish List – Your "dream items" that are not priorities but would be great to have if you end up with extra cash
2. Follow the 5 to 15% Rule:
A good rule of thumb to follow when deciding how much to spend on any renovation is to always keep the 5 to 15% rule in mind. This rule states that you shouldn't spend less than 5% of your home's value, as it might actually lower your home's value rather than improving it, and don't spend more than 15% as it is difficult to recoup more than 15% of your investment when you sell your home.
3. Plan Ahead
Your living room is right at the centre of your home, and renovations can get messy. Really messy! If you complete a full living room renovation, complete with adding in new floors, your room could be in a state of disarray for quite some time! It's a good idea to plan everything ahead. Where will your furniture go while you renovate? Where will your family spend quiet evenings? How will you keep children or pets safe during the renovation?
4. Consider Renovating During The Summer
Renovating when they weather is nice can help you take advantage of your outdoor living space! Renovations, especially living room renos, can temporarily displace you from your normal living space, especially in places like Ontario, where you may want to avoid renovating during the colder weather. Spring and summer renovations help ensure you have a comfortable and cozy space outdoors when inside is gets a bit too hectic.
RENOVATING YOUR LIVING ROOM? CONTACT GRAHAM'S & SON
"Very happy with the Graham's & Son Interiors in terms of customer service, quality and price as well as workmanship. Can't ask for a better deal. We have already referred your company to three others."
– Jim & Joanne
Read more customer testimonials
If you are considering a living room renovation, talk to the design experts at Graham's & Son. Graham's & Son has been producing beautiful interior designs for more than 40 years. We are locally owned and operated and we specialize in all types of renovations. We offer free, in-home consultations and will take the time to listen to your ideas and dreams for your new kitchen. If you are thinking of remodelling your living room or any room in your home, contact the professionals at Graham's & Son to book your free in-home consultation today.

Sources
finder.com / bigsteelbox.com / housebeautiful.com