Window shutters can help transform your windows into an elegant feature. As far as window treatments go, shutters are one of the most diverse options available, with so many different materials, shapes, styles, colours, and functionalities.
We've put together a list of some unique shutter styles to help give you ideas of all the possibilities, along with some brief notes for each one.
Keep reading for a dozen fresh ideas to inspire the design of your home.
If you've researched your options and you know the exact window treatment that will complete the look of your house, contact a professional, local home renovation business like Graham's & Son to begin the project today.
We'll offer you a free quote for the job, as well as answer any questions you might have about what style of shutter of window treatment would be best for you.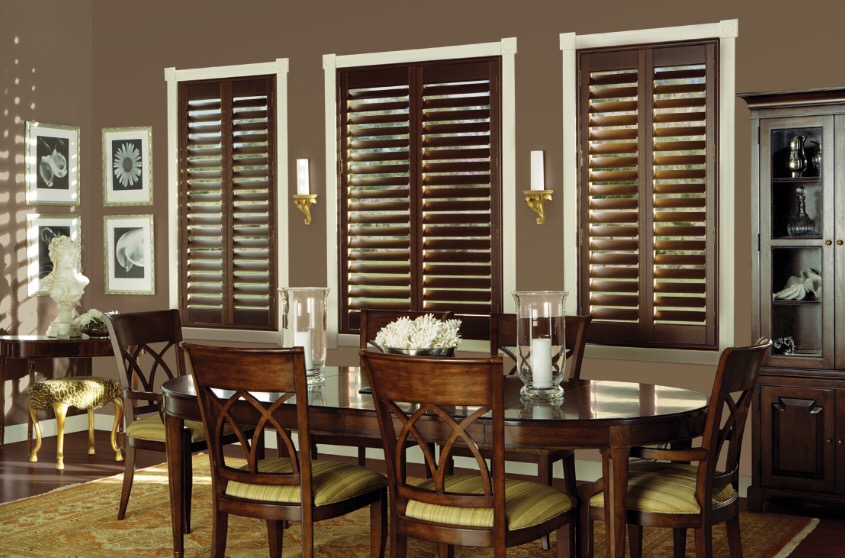 Plantation shutters are what most people picture when they imagine using shutters to spruce up the interior of their home. Most commonly made of wood, plantation shutters are large, rectangular, and can let in plenty of light.
This style comes in a variety of finishes. White-painted shutters are popular, but so are different varieties of wood stain. Try to match the look of your shutters with the other furniture or trim in your house. The example above also shows off some fancy trim around the shutters, which can be used for other styles beyond plantation as well. These shutters also come in vinyl and composite styles.
To learn more about the biggest differences between plantation shutters and the similar, yet distinct California shutters, check out our article on the topic.
2. Classic Farmhouse Shutters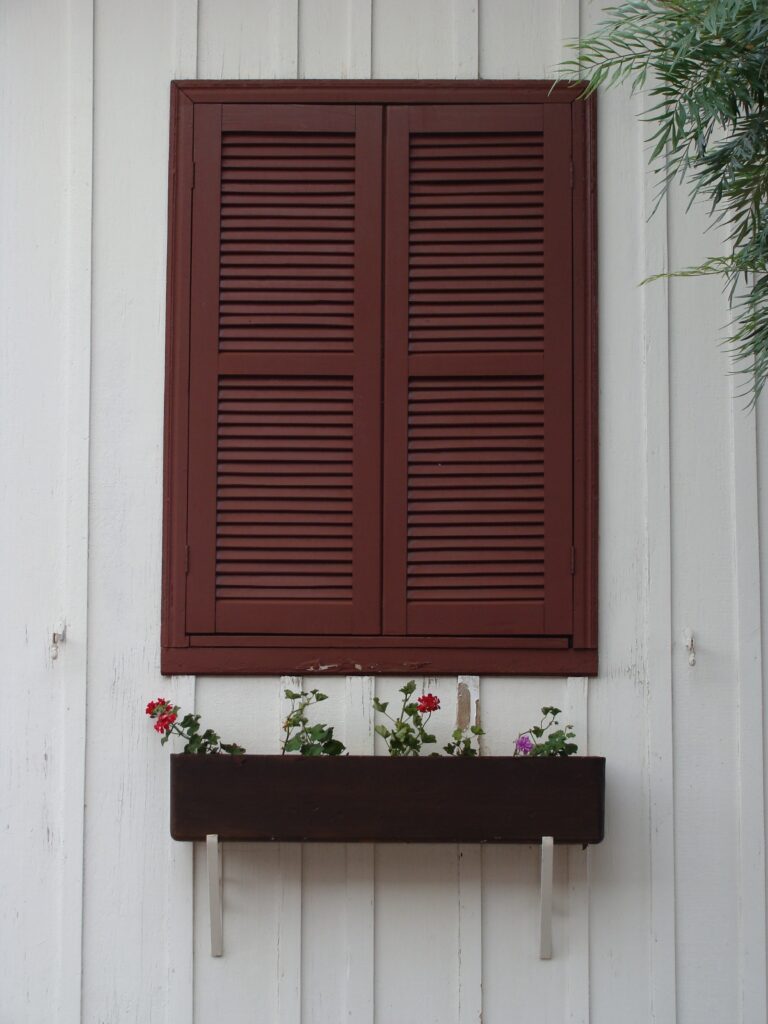 If the plantation style is the archetypal interior design, farmhouse shutters are the archetypal exterior design.
Unlike many other modern window treatments, farmhouse shutters aren't usually adjustable, meaning the horizontal slats can't be pivoted to change how much light being let through.
Farmhouse shutters act more as a privacy screen, installed with hinges so that they can be swung out, opening up your window for access while bracketing the window on both sides with quaint wooden shutters.
3. Natural Kitchen Lighting
Current home design trends show that homeowners have realized how pleasant it can be to have plenty of natural lighting in both your kitchen and bathrooms.
Adjustable blinds have long been the go-to interior window treatment, but in the kitchen blinds can feel messy or inelegant. Conversely, shutters are easy to use, easy to adjust, and easy to clean, in case you ever want to wipe splatters or cooking oil residue off of them.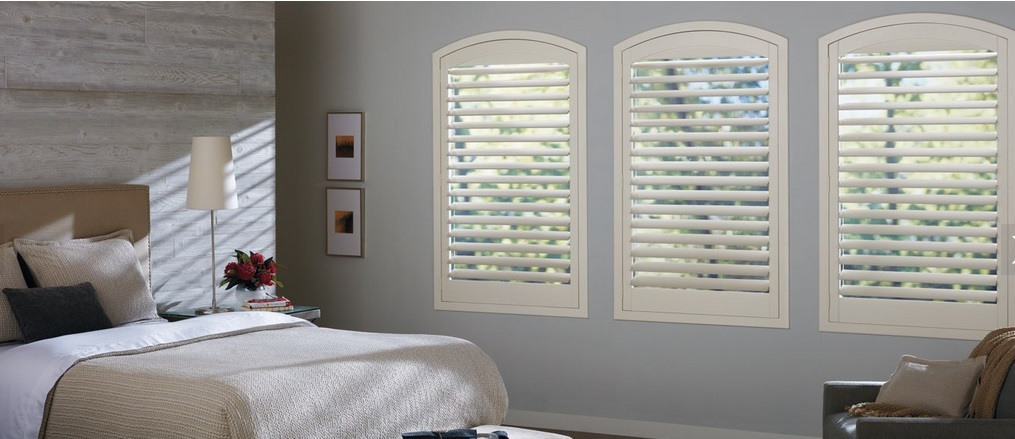 One of the benefits of working with a small company that specializes in window treatments is that you can work with them to get custom-shaped installations that exactly fit your vision.
The shutters above have an arched top, and take the place of standard glass windows. Working with a specialist makes the whole planning and installation process much easier.
Many years ago, glass was harder to make and still just as fragile, meaning effective glass windows were simply less common. Because of this, shutters were a much more common method of protection and privacy. Many European countries still feature decades old shutters on their buildings, and some of the wooden shutters have been decorated with striking colours and patterns, as above.
If you want the freedom to express yourself using the design of your house, wooden shutters can give you that option. Look for guides that explain how to paint the shutters on your own. 
Shutters even work as features of busy living rooms. They can be extended as high as the windows are, and can be adjusted to allow in however much light you prefer.
Wooden tones are very popular, as they fit into a broad set of interior designs. Even if you update the look of your room years down the line, wood never goes out of style.
7. Sturdy Roller Shutters
This shutter type is most commonly used by small businesses who want to be able to protect their storefronts. Storefront shutters are either folded accordion style, or retracted into a roller-case during the day.
This shutter style is usually much more hardy, with shutters made out of metal. However, this style can also be used for places like covering large bay windows, in which case the shutter would be made of a cloth material.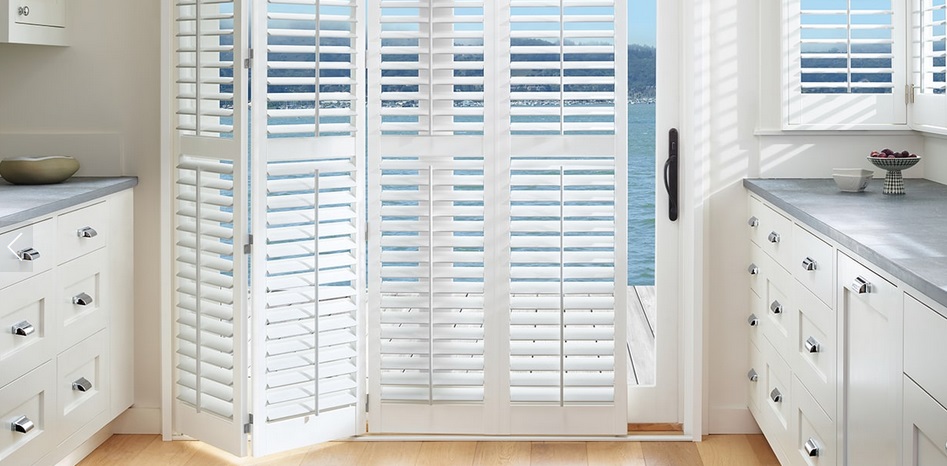 To enhance your home experience, why stop at shutters only on your windows? Nothing ads to a cottage or beach house like elegant, easy-to-move shutters to connect your house to the great outdoors.
Sliding vinyl shutters like the ones above are attached to roller grooves on the top and bottom, allowing them to be slid to one side and compressed, accordion-style, or easily opened up to bring back privacy.
Like the gorgeous blue shutters above, you may have seen this simple, classic style of shutter on century homes, farmhouses, or older buildings.
This shutter is one-side, meaning it's hinged on one side, and the entire shutter is a single piece meant to cover the whole window all at once. It needs a lot of clearance, and isn't as practical as many of the other modern forms of shutter, but if you don't care about practicality and really want shutters to add that extra something to the exterior of your house, this style may fit beautifully.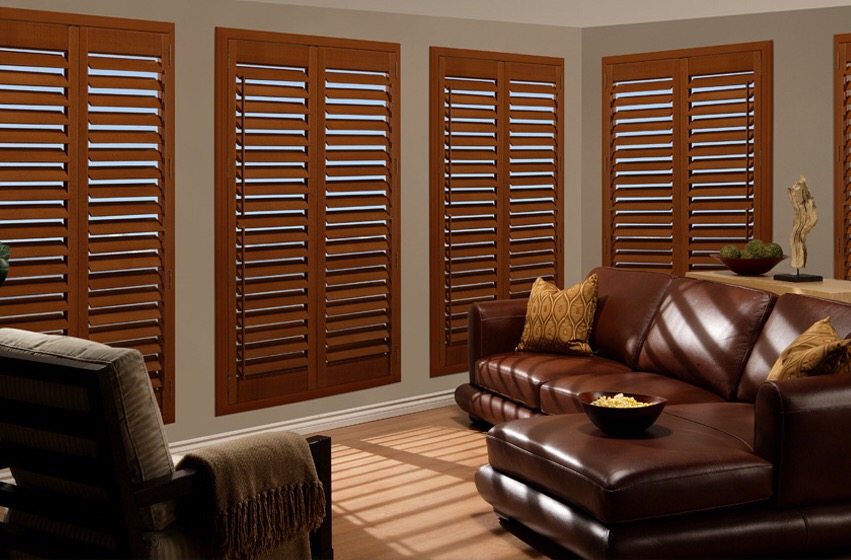 Got an apartment, small condo, or rental space that needs some sprucing up? Elevate the living space with tasteful window shutters. Shutters work great in the city because of how private they are. Even when fully open, the numerous horizontal slats make casual peeking a lot more difficult.
Every room is a bit different, but carefully chosen shutters can truly complete your interior decoration.
11. Intricate Yet Functional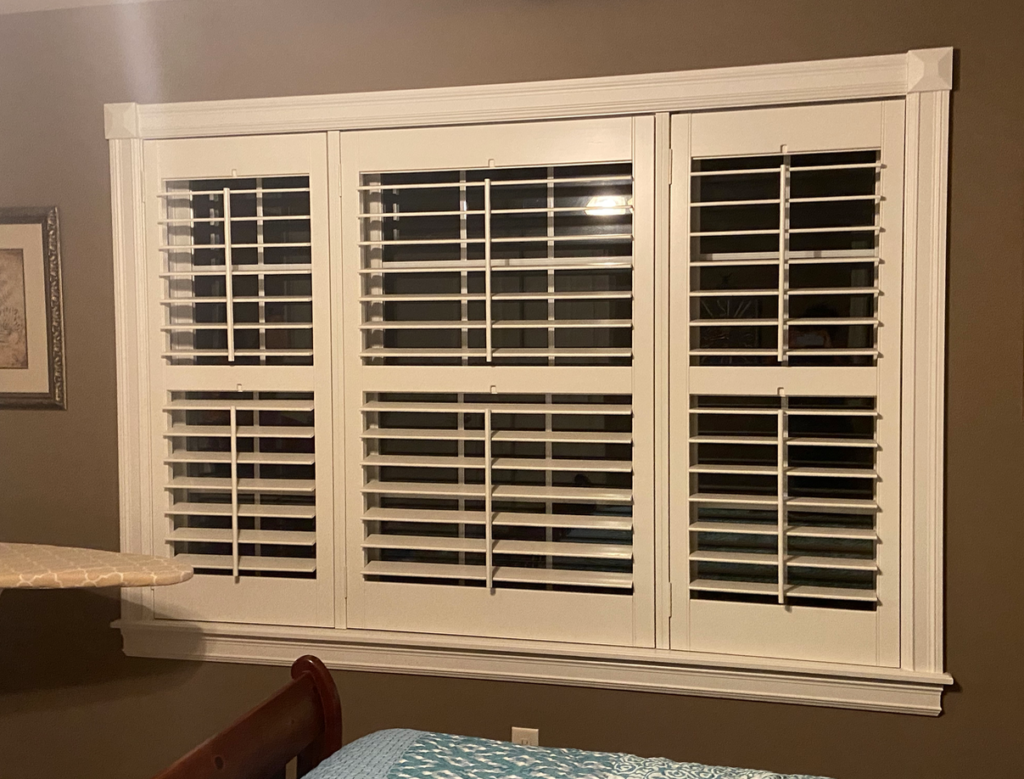 Once the size of your shutters passes a metre, it becomes easier to experiment with shapes and functionalities.
For example, this shutter setup is segmented into three, meaning each third can be adjusted independent of the others, allowing for supreme customization.
Fake shutters are one of the most iconic country home features.
They're often more affordable than their maneuverable cousins, and can be made of wood, plastic, or aluminum, in many different colours. If you do install decorative fake shutters, jut make sure they fit the size of the windows they're beside so that they don't look out of place.
Complete your county home or cottage with a full set of slick, matching fake shutters.
GRAHAM'S & SON: Window Treatments & Much More

With extensive experience installing blinds, drapes, shutters, and even providing custom home renovation, trust Graham's for your next big home project.
Every project begins with a conversation. We want to hear the dreams you have for your house so we can give you the perfect result.
In addition to premium window treatments, we offer renovations for bathrooms and kitchens, full-scale flooring renovations, and even upholstery services.
CONTACT GRAHAM'S & SON TODAY FOR A FREE CONSULTATION
"We worked with Graham's and Son on our new vacation home to install a solar blind system. From the get go, they were were informative, professional, communicative and just a pleasure to deal with. These folks know their stuff and as an exacting customer who cares about quality and aesthetics, it says a lot that they have my full trust! Their recommendations were spot on, the installation was fast, and the final product is just beautiful. We plan on putting in a few more blinds based on their recommendations – they have years of experience and they are great people as well. Highly recommend working with them. Thanks guys!"
Sara M.