Find out the advantages of a retractable patio awning! Graham's and Son has listed them all – just click on the links below to read more:
The Benefits of a Retractable Patio Awning
With a retractable patio awning, you can party outside – rain or shine. Maybe you just want to enjoy a morning coffee or an evening dinner outdoors with family – the awning provides you with added comfort and flexibility since you aren't entirely dependent on the weather.
You can even get dimming LED lights so that you can enjoy the outdoors into the evening. Set up your patio furniture underneath your awning and visit into the night!
Also, for those who might not want to be out on a windy afternoon, awnings are designed to be wind-resistant, built from strong materials like aluminum and steel.
Plus, if you want a little sunshine and a boost of Vitamin D, just retract the awning – it takes seconds.
Although the sun provides us with much-needed Vitamin D, too much sun can be harmful. A retractable patio awning helps block harmful UVA and UVB rays that damage your skin. SunSetter Awnings are even recommended by the Skin Cancer Foundation.
Also, if you have an awning over your deck, it may even help slow down the damaging effects of weathering. You'll even help protect furniture and fabric indoors from the sun that filters through your windows.
The power of the sun is amazing – so just think about how it can heat up your home. The area under the awning becomes noticeably cooler (spaces below a SunSetter awning can be up to 20 degrees cooler) and this, in turn, helps lower the energy costs associated with cooling your home.
Easy Installation and Operation
Awnings can be installed by 2 people, or from professionals like Graham's. The awning itself can be attached to most sidings like wood, masonry, or vinyl.
Awnings can be operated manually with a hand crank or be motorized so that you can open and close your awning with the help of remote control. The motorized awnings usually have a manual override, just in case you lose power! Watch the video below to see an example of the motorized awning.
Watch the video above and see how easy it is to operate the motorized SunSetter Awning. Video Source: SunSetter Awnings
Awnings are available in a variety of colours and designs, and fabrics are made to last! SunSetter Awnings offers a woven acrylic fabric that is water-resistant or a laminated fabric that's 100% waterproof.
Awnings come in a variety of widths and can project 7 feet out from your home or more. You can also get warranties, cleaning kits, screens, and wireless sun, wind, or rain sensors which will automatically open or close your awning for you.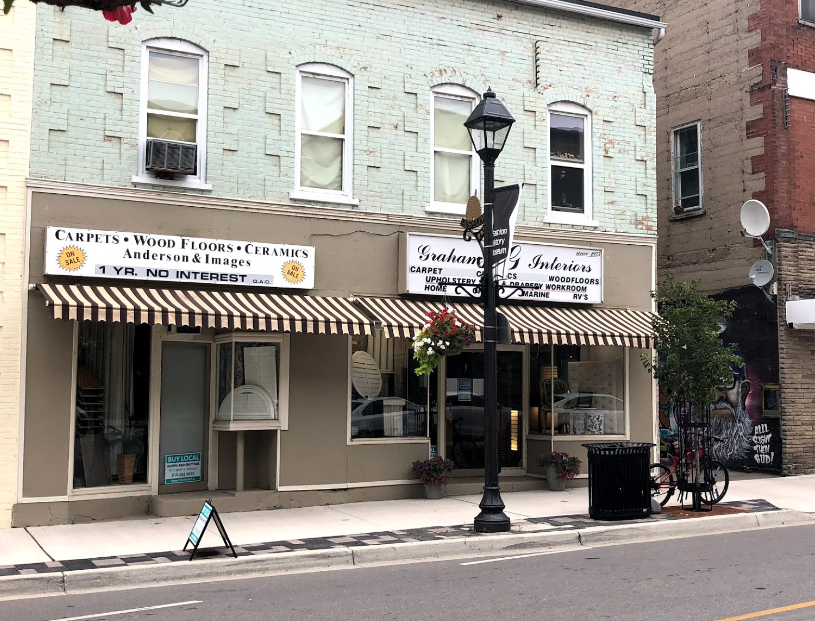 Graham's & Son - Your SunSetter Awnings Dealer
Graham's is proud to be a dealer of SunSetter Awnings and provides customers with professional measurements & installation. They'll make sure your awning is secure and ready to use. They'll even give you advice on what fabrics and colours work best! With Spring weather only months away, it may be time to start planning for the installation of your retractable patio awning.
Contact Graham's today for a consultation or read more about Graham's work.
Great experience working with Graham's & Son Interiors. Highly recommend their services. We had excellent service, advise and workmanship right from quote to job completion. All the staff, the owner, project manager, store staff and installers were incredible to work with. Excellent customer service and quality workmanship. Thank you for your help, patience for a job well done!!
We had wooden blinds installed in every window, together with an automatic awning when we first moved into our house nearly 7 years ago. Graham's & Sons provided excellent guidance and the installation was prompt and friendly. Recently we had an issue with one of the blinds not opening properly. A representative came to our house and resolved the issue to our complete satisfaction AND at no charge. I highly recommend Graham's & Sons to anyone looking for professional and friendly service.