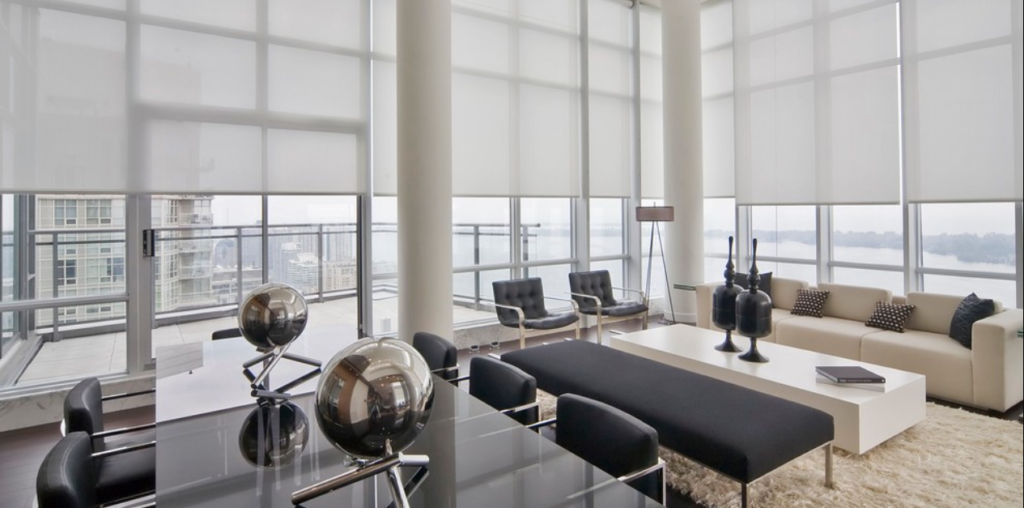 Graham's can help you find the perfect window treatments for your patio doors - not matter what room or home you have.
7 Window Treatments for Patio Doors
1. Vertical Cellular Shades
Looking for energy efficiency? With patio doors you have a larger space for heat or cold air to filter into the room, so these shades are ideal because of the honeycomb construction. These vertical shades have small pockets that trap air and work as extra insulation. The pleats come together nicely when shades are open, too.
Get all sorts of colours and fabrics and textures in Duette Honeycomb Shades from Hunter Douglas.
Plus, you can get cellular shades for windows, too, so you can mix and match between vertical and horizontal shadings.
Vertical blinds are probably the most popular type of window treatments for patio doors – and probably what you imagine when you think of them, too. Vertical blinds are great for their versatility. Vertical blinds come in fabric, wood, aluminum, or vinyl and can come in your choice of colours and finishes or even patterned fabrics for a unique style. You can even choose sheer fabrics or embossed vinyl patters.
You can open and close vertical blinds to different degrees manually or you can now choose motorized options.
Bring a bit of nature right into your home with these window treatments for patio doors. You can dress your patio doors with shades made from materials like jute, grasses and bamboo – renewable materials that look beautiful and have interesting textures.
Graber's natural shades  are designed to withstand heat and humidity and come with automated lift options as well. Get these natural shades as drapes, too – read more here. 
Shutters are a classic look and typically come in hardwood or composite materials which are specifically designed for their resistance to temperature and wear. Composite shutters are ideal for rooms that are more humid – like Kitchens. Plus, with the frequent use of patio doors, such as in a kitchen leading to an outdoor dining space, these composite shutters are designed for durability.
In the picture above you see Graber's Composite Shutters which are designed in the Bypass Track System which allows you to attach your shutters to your door frame via panels that slide along a track.
Curtains or drapes offer a more formal look for your sliding doors. They can be paired with blinds or sheers, can be tied back to allow for the entry of sunlight or closed to keep in the warmth and keep out UV rays. Curtains can be hung on rings for an easy slide open and come in a whole variety of colours, fabrics, and textures. You can custom design your drapes to to match the design of living rooms or dining rooms.
Gliding panels are like wide blinds which open and shut by stacking behind each other. Panels are ideal as window treatments for patio doors because they are perfect for wide windows. Someone who likes the simplicity of blinds but wants something a little different and a bit bolder will probably like these panels.
Check out Hunter Douglas's Skyline Gliding Window Panels and see the variety of materials and colours you can choose from.
Discover How Graham's Can Help
With decades of experience installing the perfect window treatments for patio doors and windows, Graham's can come into your home and offer a free consultation. They will help you sort out your design style, your budgeting needs, consult with you about the different options you just read about and will do all the measurements, ordering and installation so your home is looking fabulous! Browse their photo album online and read the testimonials below (or click here for more!). 
Contact Graham's today and get ready to use and enjoy those beautiful patio doors this summer!
Wonderful people to deal with, and my house looks amazing!! Both Wayne and Matt were fantastic. Consultation and measurements were all done in my home everything arrived as promised and looks perfect. These days customer service means everything and these guys knocked it out of the park. Thank you Grahams I will be back!
After 28 years in the same house, we decided to downsize. One of the projects for our new place was window coverings. We invited 3 companies in to help us with this decision. We made the BEST decision to go with Graham & Son Interiors. Wayne Graham was prompt to follow up with us to book a time to come out. He was extremely knowledgeable. The quality and cost were excellent. The installer was highly experienced and paid attention to detail He did not rush. We will be repeat customers for future interior needs!