If your bathroom is in need of a facelift, then you'll want to check out the latest bathroom renovation trends for 2019. Whether you are considering a complete renovation, or you just want to replace or update a few of the features, you are sure to find some inspiration here. Need some helpful, personal design advice? Contact Graham's & Son today to book your free in-home consultation.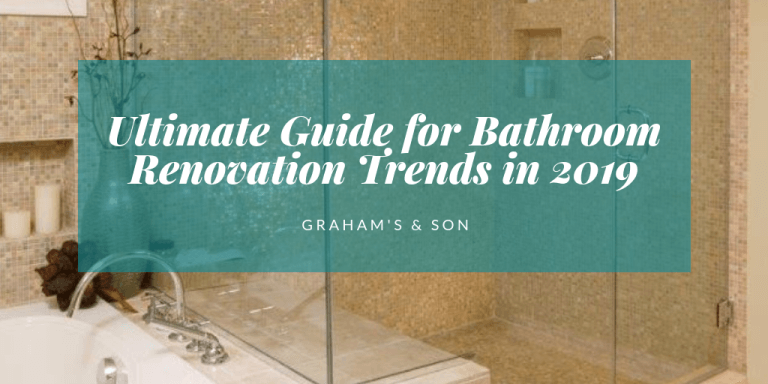 Smart Showers
Not only can you have an exquisite looking new shower, but you can also have a smart one. The U by Moen Smart Shower will give you a personalized showering experience that you can control by your voice, phone or controller. It enables you to start, stop, and pause your shower with your voice or a simple touch of the controls to a preset, perfect temperature. You can save up to 12 presets so that each shower is exactly how you like it, every time.
A smart shower remembers your favourite shower settings
Tropical Rainforest
One of the hottest trends for this year will be the tropical rainforest. Transform your bathroom into a steamy jungle of delight with a trendy green bathtub, fantasy wallpaper, and oodles of lush foliage to complete your tropical escape. Plants thrive in the warm, moist conditions of a bathroom and in turn, they will give off extra oxygen, which is also good for you!
A trendy green bathtub is the star of this tropical bathroom – Source: Audenza
If you don't have a green thumb, you can also purchase faux plants that look as good as the real thing but won't lose their leaves or turn brown if you forget to water them. Check out how real this silk hanging Philodendron from Wayfair looks.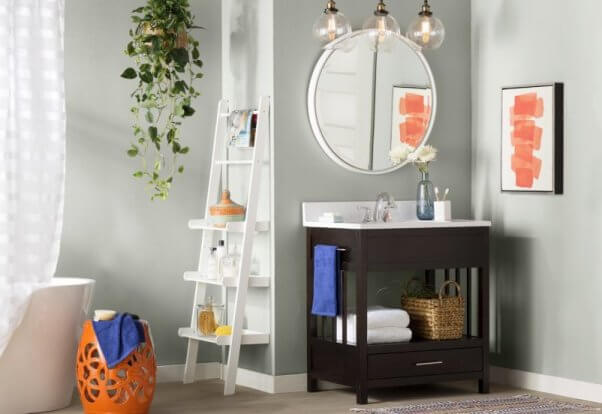 A bit of greenery brings added life to your bathroom – Source: Wayfair
A Sink to Share
2019 will see a move away from "his and hers" individual sinks to a variety of sleek trough-style sinks meant to be shared. But don't worry, there is plenty of room for both of you! This contemporary style rectangular white ceramic sink is sleek and sexy. It mounts to your wall for a clean look.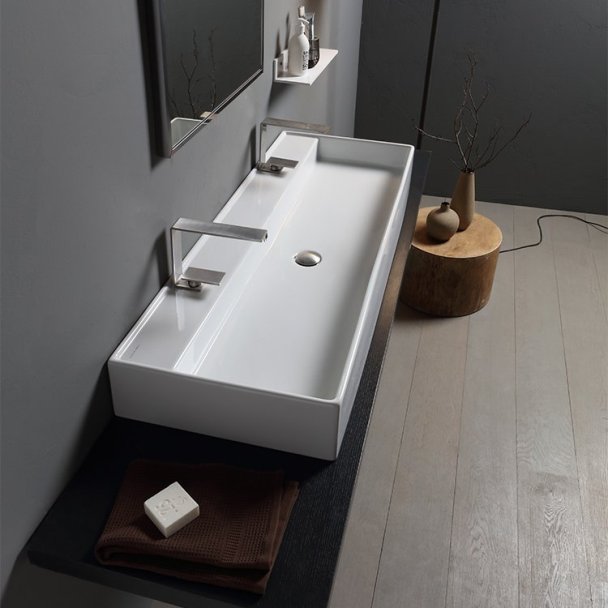 A mounted wall sink is both stylish and contemporary – Source: Wayfair
Smaller bathrooms will be treated to spectacular vessel sinks that aren't afraid to show off their style. This Kraus glass vessel sink and faucet combination from Wayfair is handcrafted from tempered glass, which creates a dramatic design statement and yet will go with a variety of different decors. The textured surface means that maintenance is easy and the waterfall faucet will definitely be a talking point for all of your guests.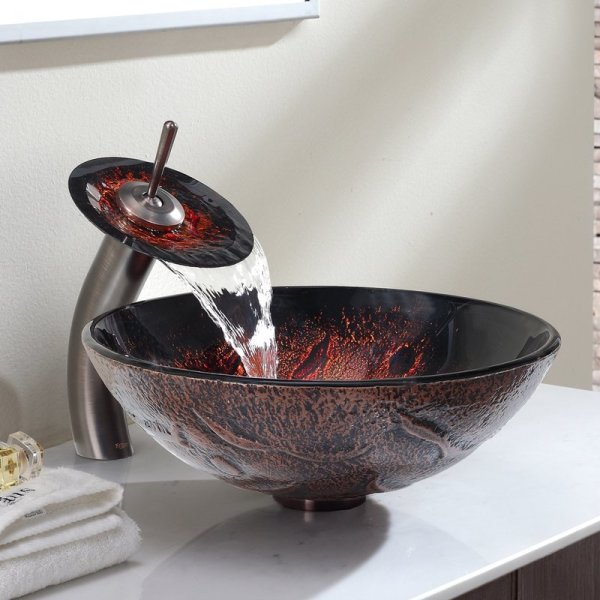 Vessel sinks don't have to be a boring, smooth white – Source: Wayfair
Bye Bye Minimalism, Hello Accents
In the past few years, bathroom designs have favoured a minimalist approach. This season, however, you will notice more decorative touches. Instead of a consistent tile scheme throughout, you'll find splashes of accent tiles to give a much needed focal point to your room and break up the "sameness."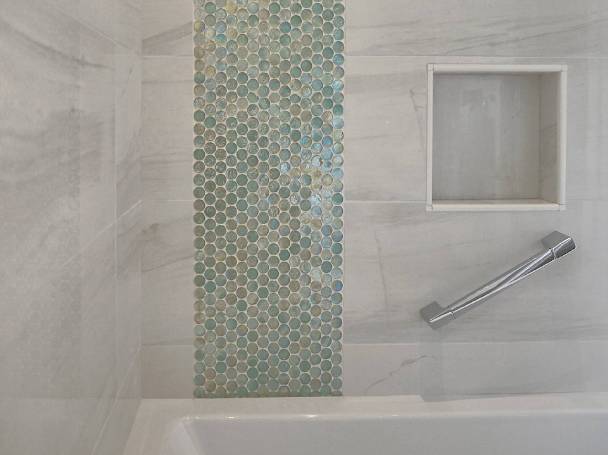 Add a splash of colour with decorative glass tiles – Source: Centura
If you don't want to re-tile your bathroom, you can still accent your room with unique shelving like this great industrial inspired pipe wall shelf. Pair it will some lovely towels, vases or other attractive pieces to liven up an empty space on your wall.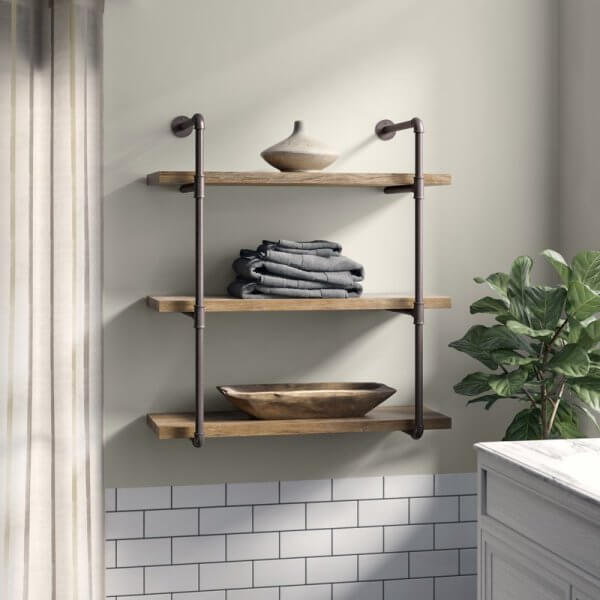 Accents are in this season – Source: Wayfair
Wallpaper Wow!
Wallpaper has come a long way and with today's more water-resistant versions that include protective finishes, you can enjoy the flash and style of wallpaper in your bathroom. Architonic has some beautiful bathroom wallpapers that will liven up a dated bathroom with a pop of colour and design.
Wallpaper never looked so good – Source: Architonic
You can also choose one of the more subtle choices like this butterfly motif for a softer yet still spectacular effect. Find out about the latest in wallpaper trends in our post about "The Return of Wallpaper".
Wallpaper specially designed for the bathroom looks great and stands up to moisture – Source: Architonic
Choose Graham's & Son for Cambridge Bathroom Renovations
Graham's & Son Interiors has been producing beautiful interior designs in the Cambridge area for more than 40 years. We are locally owned and operated and we specialize in all types of renovations, especially bathrooms and kitchens. We offer free in-home consultations and will take the time to listen to your ideas and dreams for your new kitchen and help you with a design that will suit your budget. If you are thinking of remodelling your kitchen, bath, or any room in your home, contact the professionals at Graham's & Son to book your free in-home consultation today. In addition, right now we are offering an amazing deal on all our blinds, shutters, and shades. When you purchase any two, you will get a third absolutely free.
Our customers have been so pleased with the high standard of our work that they selected us for the "Best Business Service – Interior Decorating: Platinum" and "Best Shopping – Kitchen Renovations: Gold" awards in the 2017 Cambridge Times Readers' Choice Competition. Book a free in-home consultation today and find out for yourself why Graham's is the best in the interior design business. Contact us today to schedule a free in-home consultation. If you prefer, you can shop at home. Browse through our website, make your choice, and simply give us a call at 519-658-9025 to place your order without ever having to leave the comfort of your own living room.
"Very happy with the Graham's & Son Interiors in terms of customer service, quality and price as well as workmanship. Can't ask for a better deal. We have already referred your company to three others."
– Jim & Joanne
Read more customer testimonials