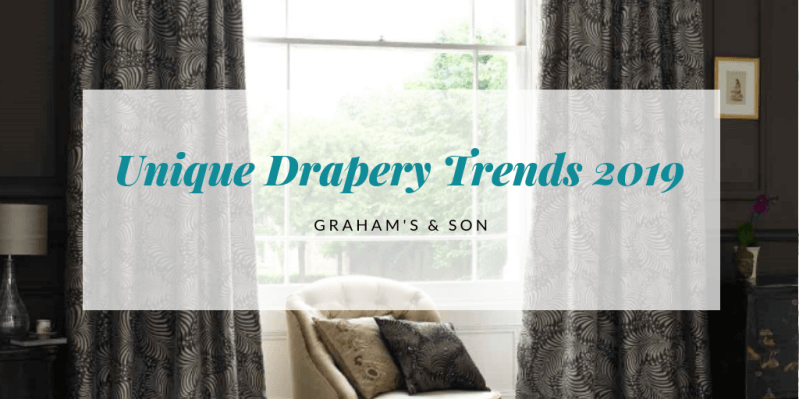 Unique Drapery Trends 2019: What are the latest and greatest trends for drapery this season? Read on to find out what's hot this year. Contact Graham's & Son today to order your new window treatments. Graham's & Son specializes in custom drapery and professional installation so that your windows will look amazing! They also clean, repair, and do alterations on any type of window treatment to keep yours looking as beautiful as the day they were installed. Schedule your free in-home consultation today.

Trend #1: Get Custom Drapes and Shades Made to Complement or Contrast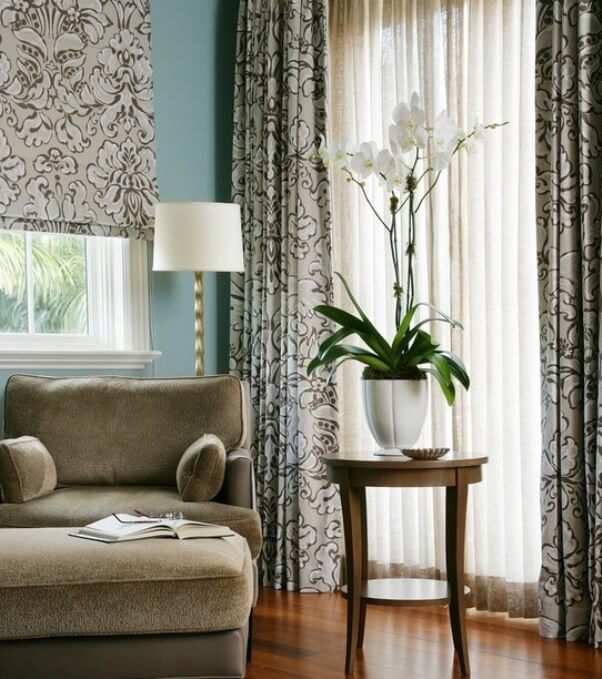 Have your drapes custom-made to match your shades – Image Source: Graham's & Son
One of the hottest trends in drapery this year is having your curtains and shades custom made to complement each other. The bold patterns in the above design from Graham's & Son are highly unique yet the neutral tones mean they're understated at the same time. If you don't want your window treatments to match perfectly, then you can have them designed to contrast as in the below design from DrapesStyle.com. The colours from the geometric pattern in these trendy roman shades are picked up in the two-toned block curtains.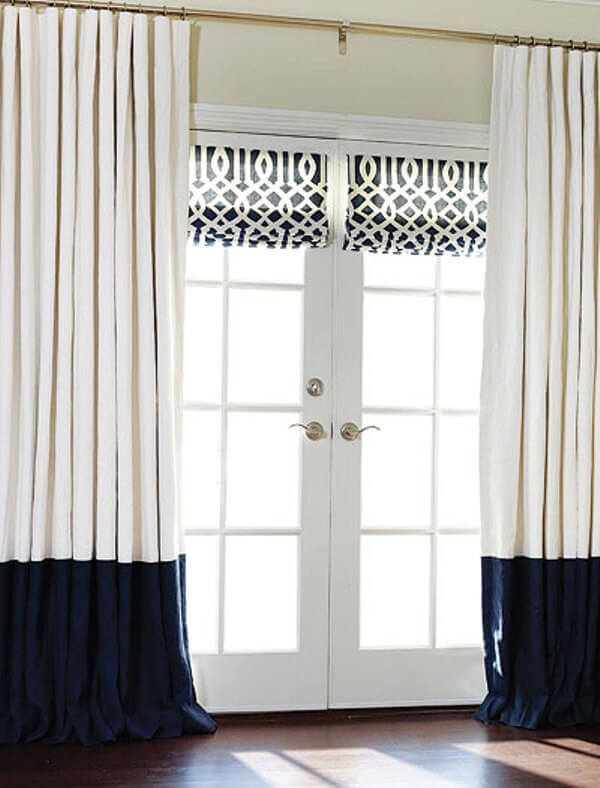 If you prefer, contrast your drapery with your shades – Image Source: DrapesStyle.com
Trend #2: Use Strong Solid Drapery Colours to Accent Your Room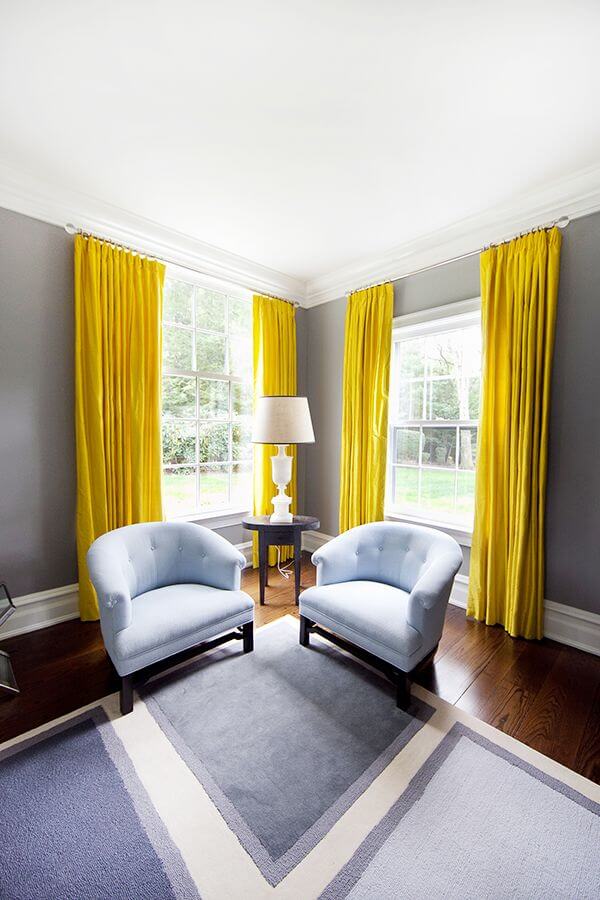 Accent your room with bold, beautiful solid coloured drapery – Image Source: Refinery29 Photographed by Mindy Best
You may be afraid to add colour to your rooms in case you are planning to sell in the future. However, a room that is decorated in all neutrals can be a little dull. That's the beauty of using your drapery to bring in some wonderful and refreshing bold colours into your room. Drapery is easier to change than painting your walls or replacing your flooring, so go ahead and be daring with your colour choices. The above design by Refinery29 showcases striking solid mustard floor-to-ceiling drapery that beautifully brightens this conversation corner. Bright and bold solid curtains can also cheer up your rooms during the long, dreary winter months.
The rich deep blue in the living room featured below is a wonderful choice for drapery to add some colour to your neutral palette. You can continue the blue theme with accent pillows and ornaments. This lovely room is courtesy of Graham's & Son Interiors.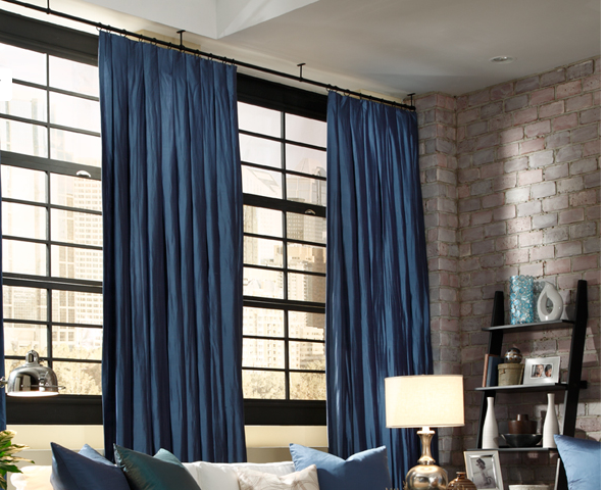 Pick up the deep blue of your draperies with accent matching pillows – Image Source: Graham's & Son Interiors
Trend #3: Go Grey and Make Your Windows Shimmer and Shine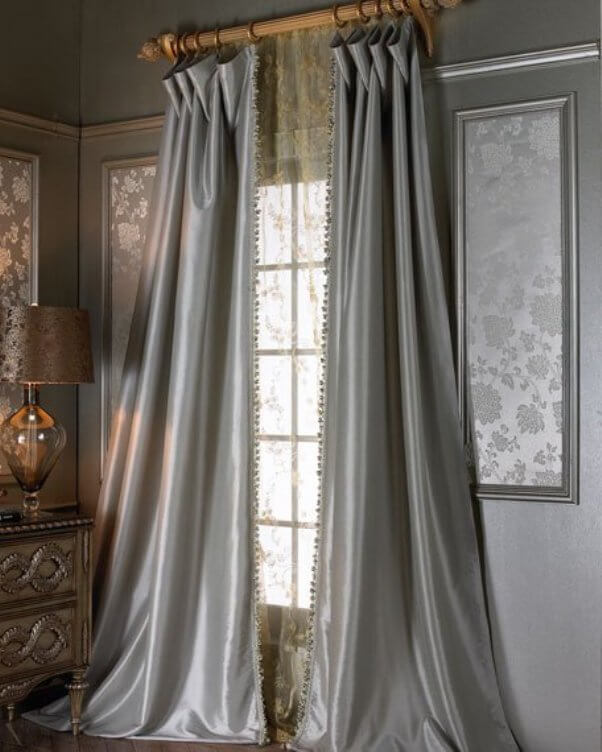 Choose a shiny grey fabric that mimics the look of metal – Image Source: Horchow.com
Grey is a hot choice for drapery this season, but instead of a dull matte grey, choose a shiny fabric that mimics metal. These shimmering soft grey silk panels above from Horchow.com have an understated and elegant shine. You can also go a bit darker and shinier with something like these silk taffeta drapes from Overstock.com in a darker, yet very rich, graphite. And don't forget to buy them long enough to gently pool on your floor.
Graphite silk taffeta drapes have a rich deep shine – Image Source: Overstock.com
Trend #4: Choose Ombre for Your Windows as Well as Your Hair Colour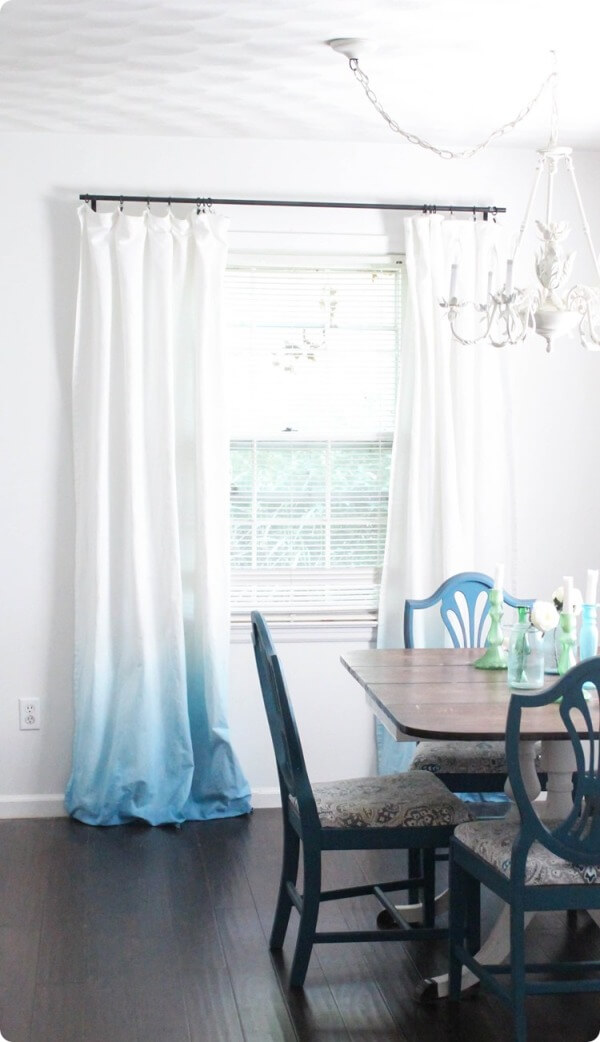 These elegant ombre curtains will beautifully pool on your dining room floor – Image Source: Pouted.com
If you like ombre hair dyes, then you are sure to love ombre curtains! This first ombre selection from Pouted.com features full-length white linen curtains that flow into a soft turquoise pool on the floor. The effect is a very soft and elegant backdrop to this lovely dining area. The stately living room highlighted below is beautifully finished off with ombre pleated curtain panels of beige and blue. The benefit of this style is that you can accent with not one but two colours! This second ombre example also comes from Pouted.com. The beauty of ombre is how customizable it is -you can choose the amounts and colours you want. If you are interested in making your own ombre fabrics, check out this great article from Better Homes and Garden that easily teaches you how.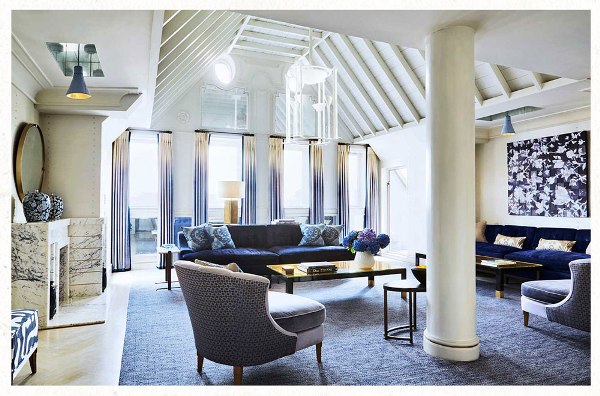 Accent with both colours from these ombre curtains – Image Source: Pouted.com
You may also be interested in these informative posts:
Custom Made Drapes on a Budget
Window Treatment Trends in 2019
5 Benefits of Window Treatment Automation
Custom Drapery Trends 2019 by Graham's & Son – The Latest Styles and Best Value
Looking to replace your old window treatments with high quality, modern ones? Graham's & Son can offer you expert advice on all of the latest trends in window fashion and they can also help you select the perfect styles and colours that will best suit your rooms and budget.
If you are looking for the most energy efficient and beautiful window treatments possible, contact Graham's & Son today. Graham's & Son knows window coverings; we have been in the window treatment business for over 40 years. Our expertise and professionalism are second to none. In addition, right now we are offering an amazing deal on all our blinds, shutters, and shades – when you purchase any two, you will get a third absolutely free.
If your drapes need a good cleaning and you don't have the time or are afraid of taking on the job, Graham's & Son also offers professional drapery cleaning at reasonable rates.
"Let me start by saying, I love my window treatments! Mr. Graham was very professional, easy to talk to; he talked with me, not above me, I was at complete ease. He listened to my thoughts, went through my options, and just like that – decision made. The installation crew was quite professional, friendly and efficient. They were in and out in no time, with cleaning up after themselves, and ensuring that I was satisfied with what was done. I would highly recommend Graham's and Son Interiors to anyone, and I look forward to working with them again!."
– Anne Allen

Read more customer testimonials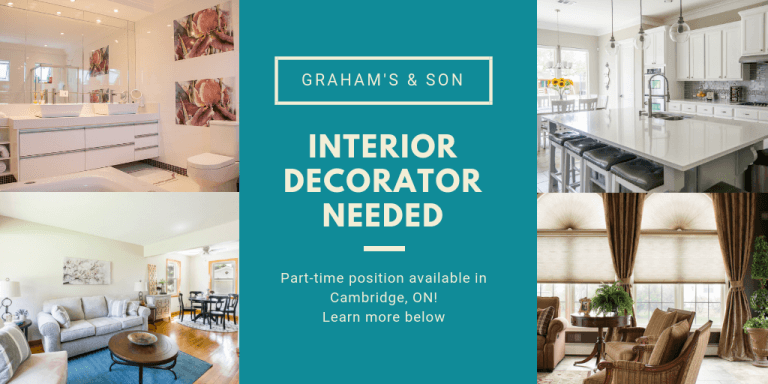 Interior Decorator Needed – Join Our Team!
Graham's & Son is looking for a highly creative person with imagination and artistic flair to join our winning team. The ideal candidate for this position will be someone willing to work a flexible schedule consisting of weekends, evenings, and day shifts. This is a part-time position in Cambridge, where a work week will consist of 5 to 40 hours, depending on how busy we are. If you have a passion for decorating and residential design, this could be a great stepping stone for you to be able to learn sales and interact with customers. We teach all our staff how to sell and equip them with the knowledge required to do so effectively. If you think this may be the perfect job for you, see the job requirements and overview by clicking here.
At Graham's and Son our customers have been so pleased with the high standard of our work that they selected us for the "Best Business Service – Interior Decorating: Platinum" and "Best Shopping – Kitchen Renovations: Gold" awards in the 2017 Cambridge Times Readers' Choice Competition. Book a free in-home consultation today and find out for yourself why Graham's is the best in the interior design business. Contact us today to schedule. If you prefer, you can shop at home. Browse through our website, make your choice, and simply give us a call at 519-658-9025 to place your order without ever having to leave the comfort of your own living room.