Vinyl shutters have come a long way from their first introduction. They now come in a beautiful array of custom designs and colours that rival any wooden option. In addition, they offer the highest degree of durability and resistance to extreme moisture and humidity possible in a window treatment. In this post, we've compiled 9 dazzling vinyl shutter design options to help you get inspired. All of the exquisite options that follow are available through Graham's & Son Interiors. Take a look, get excited by the possibilities, and then contact us to set up your free, in-home consultation. We'll take measurements and give you a quote on the spot!

I just had shutters fitted on three windows in my home and they look fantastic. I'm particularly pleased with how they look and fit on the awkward shaped bay window in the lounge. I was happy with the ordering and measuring process in home and the installation was very clean and quick. Overall, I'd definitely recommend Graham's and Son Interiors for these shutters, in fact I'm ordering some more after Christmas.
– Kristin Parker
Read More Testimonials
9 Impressive Vinyl Shutters Designs
We have put together 9 of our favourite vinyl shutter design. And to create some extra fun suspense, we've presented them in reverse order. So continue on until the end to see our number one pick!
Divide and Complement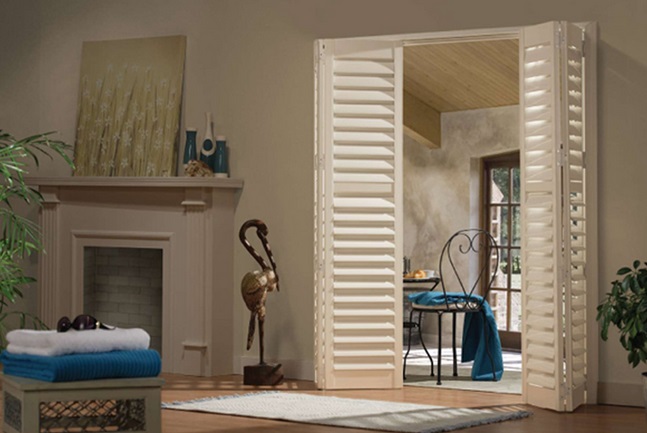 Who said that shutters have to only go on windows? These beautiful shutters, made from premium grade PolySilk vinyl, act as an inner door to separate the two rooms. Unlike traditional doors, shutter doors give you the versatility to close them for complete privacy, open just the louvers for a sense of division with extra lighting, or fully open them to simply frame the doorway and allow full lighting. The lovely cool white shade of the shutters wonderfully complement the slightly darker wall tones in this room. These gorgeous shutters are custom made by Maxxmar Window Fashions.
I Can't Believe It's Not Wood!
Nothing beats the rich look of real wooden shutters, except maybe these gorgeous San Marco shutters from Maxxmar. It's almost impossible to tell that they aren't real wood. The grain and finish give the illusion of natural wood yet with the added durability of vinyl. We love the choice of a light coloured wood finish to act as a perfect backdrop to the crisp white couch and earthy green accent pieces. The whole room gives off a very welcoming outdoor flare and the choice of shutters definitely ties all the pieces together.
Small but Significant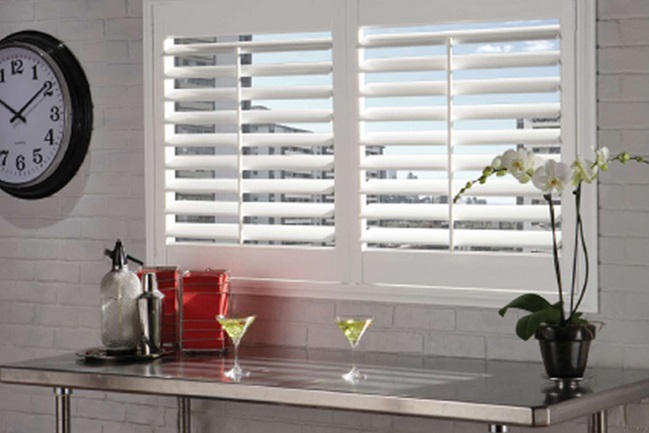 Don't forget your small windows when you are updating your window treatments. This previously forgotten about space now pops with the clever addition of Somerset PolySilk shutters. The bright white of the window flows out onto the painted exposed brick wall to lighten and highlight this space. The clever addition of a stainless steel glass table bar invites you over to look out through the open louvers and enjoy the view.
Risk The Red
Neutrals are usually the safe design choice, but why be safe when you can really have fun with colour. We think that these eye-catching red San Marco vinyl shutters are definitely worth the risk! The result is especially effective on these long twin windows. They take a rather traditional looking dining room and make it extraordinary.
Classically Rich
We love the classic and rich feeling of the above design. The choice of San Marco natural wood-look vinyl shutters is the perfect covering for these patio doors. They give you the elegant appearance of wood with the extra protection required to protect against high humidity of excessive moisture. The dark stain finish of the shutters splendidly echoes the beautiful wooden furniture in the room.
Creamy Clean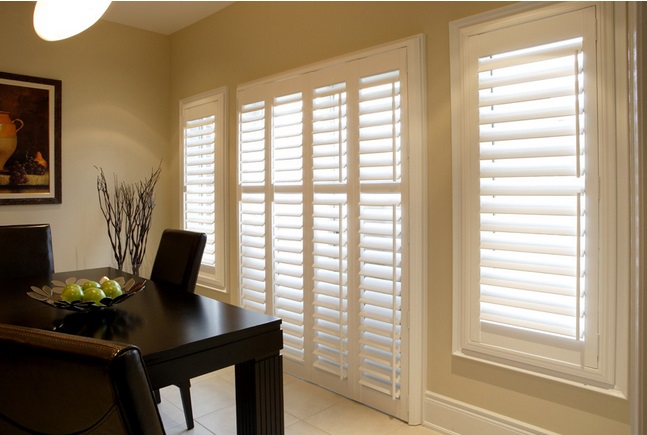 If you like clean lines and rich creamy tones, then this is the shutter choice for you. These gorgeous Summerview PolySilk shutters are both elegant and modern. These finely crafted window treatments come in a wide colour range from cool whites to rich mochas. The computerized positioning of the louvers ensures a uniform appearance even if you have windows and doors of different heights.
Beautiful Bathroom Backdrop
Would you like a stunningly beautiful backdrop for your bath? Take a look at how breathtaking this bathroom looks with San Marco's vinyl shutters from Maxxmar. The classic wood-like shutters break up the possible monotony of a large picture window but still gives you the option of opening the louvers to let the sunshine in.
Seeing Double? – No Trouble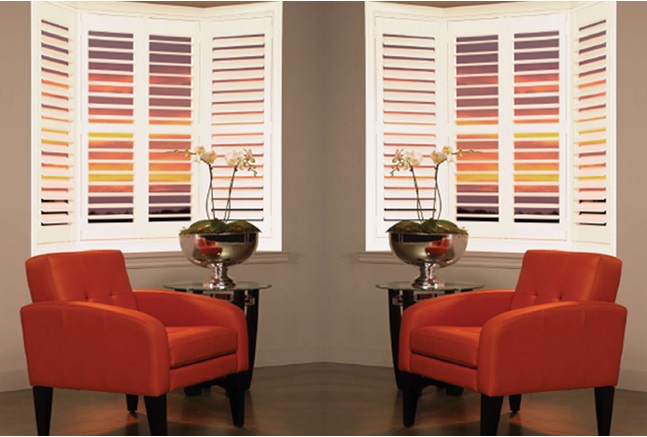 No, you aren't seeing double. This clever corner design proves that double doesn't have to mean trouble; it just means twice the fun and twice the effect. So don't be afraid of symmetry. If you have corner windows, why not give this a try. The crisp white Somerset vinyl shutters by Maxxmar make a lovely echo to the darker earth tones on the walls and flooring. They also give the orange accent chairs a backdrop that really makes them stand out.
Last But Definitely Not Least
We've saved the best for last. This final vinyl shutter design includes a patio door as well as a window. The best thing about these shutters is their amazing colour. The earthy yellow tone is reminiscent of walking through a field of delightful sunflowers on a cool fall morning. The elegant and uplifting door and window treatments are the perfect foil to the rich dark wooden furnishings. These stunning shutters are part of the San Marco collection, custom made by Maxxmar.
Benefits of Vinyl Shutters
Vinyl shutters are not only aesthetically pleasing but they offer some other great benefits as well including:
Increased energy efficiency
UV protection for your furniture
Room lighting control
Easy maintenance
Buy 2 Get 1 Free on Vinyl Shutters At Graham's & Son
Have you been inspired to update your current window treatments? Now is the perfect time to act. All of the above awesome designs for vinyl shutters are available from Graham's & Son; and to celebrate 40 years in business, Graham's is offering a great deal on all of these shutters as well as our entire selection of shutters, blinds, and shades. When you purchase any two shutters, blinds, or shades you will receive a third one absolutely free! Graham's & Son can also give you an on-the-spot quote during your first in-home consultation. We will come to your home, measure your windows and doors, and give you a free, no obligation quote. No need to wait. Contact us today to book your free, in-home consultation.