Not all vinyl shutters are created equally. What are the best vinyl shutters to purchase? When purchasing new shutters, it is helpful to know the kind of questions to ask, such as "what kind of structure does the shutter have", "is the colour embedded throughout", and "is there a warranty". Read on to get some tips on what to look for when choosing your new shutters. If you would like some additional expert advice, contact the window treatment specialists at Graham's & Son. We'd be happy to come to your home for a free consultation.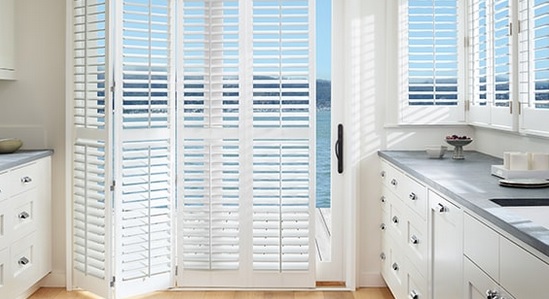 "We recently had California shutters installed in our bow window in the living room and a roller blind in our dining room. In both instances, Matthew was wonderful with suggestions and ideas. The installations were great and the results outstanding. We can't say enough about the staff at Graham's and Son Interiors and the final result was beyond expectations. We look forward to working with them again in the spring for flooring. Thank you!"
-Susan Ashley
Read More Testimonials
What Are The Best Vinyl Shutters?
What are the best vinyl shutters? What features should you be looking for when you are purchasing new vinyl shutters? The following information will help you to know the type of information you should be finding out about so that you can make an informed decision.
Know The Different Types of Vinyl Shutters
Vinyl shutters usually have polyvinyl chloride (PVC) or aluminum supports added for stability. They tend to be less expensive than wooden shutters and are better in areas that have higher moisture. But beware, not all vinyl shutters are created equally. There are differences in prices as well as in quality and durability. It is helpful to know the different types of vinyl shutters available so that you will know exactly what you are getting. Here are the different types of vinyl plantation shutters available for purchase:
Hollow Vinyl: Hollow vinyl shutters are the least expensive type of shutter. This is because they are simply a hollow vinyl frame, so less material is used in their construction. But like most things, cheaper doesn't mean that it is your best choice. Because this type of shutter is hollow, they are less sturdy than solid shutters and they can begin to sag over time. They cannot support the weight of a larger frame so they should only be installed on smaller sized windows. The following video clip will show you what a hollow vinyl shutter looks like.
Structured Hollow Vinyl: A structured hollow vinyl frame is a bit more sturdy than a completely hollow one. This type of construction features a vinyl skeleton within the vinyl frame. The skeleton can support more or the shutter's weight which will reduce some of the sag experienced with hollow shutters. This type of shutter is still considered to be "hollow", but it has a superior structural integrity compared to an entirely hollow variety.
Solid Vinyl: A solid vinyl shutter is made up of a vinyl frame that has been filled with blown PVC. Solid vinyl shutters are more stable than either of the above hollow structure types, but they still are quite reasonably priced.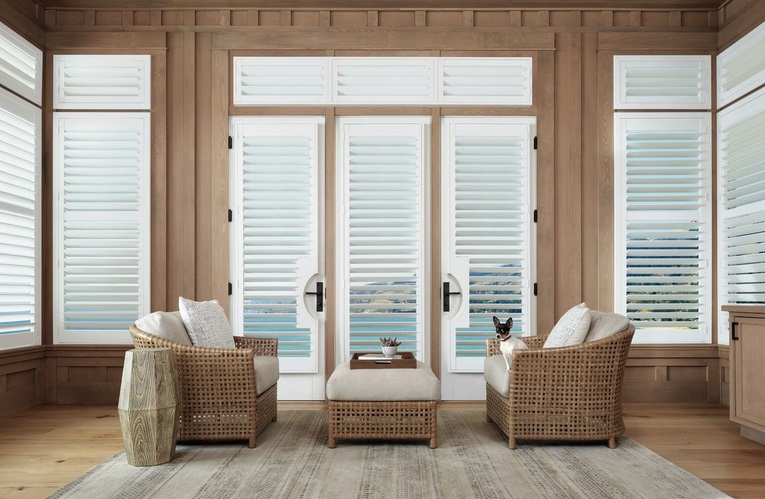 Solid Vinyl with Aluminum Inserts: This type of vinyl shutter is made of solid vinyl with aluminum inserted inside for extra support. Aluminum will give more support to the structure of your shutter without adding a lot of additional weight like other metals will.
Vinyl-clad Wood: A vinyl clad wood shutter has a solid wood frame that is wrapped with vinyl. The wood makes the shutter both strong and durable while the protective vinyl coating makes it more moisture resistant.
Constructed Without Staples
One area where shutter breakages often occur is where the push bar is connected to the louvres. Poorer quality shutters are connected at this point with staples, however, the better quality ones have specially designed connectors which are stronger than staples and they allow the shutters to close tightly in both directions.
Embedded Colour Throughout
Look for vinyl shutters that are made from a compound that has the colour embedded throughout the shutter. This will mean that the shutter will never need to be sanded, painted, or stained. Normal scratches and dents won't affect the finish or the colour either. This type of construction will make the shutter perfect for higher traffic areas as well.
Computerized Positioning of the Louvers
The best vinyl shutters will have computerized positioning of the louvers. This means that if you have shutters of different heights installed in the same room, they will have the same uniform appearance and will have a more aesthetically pleasing appearance than shutters with an uneven positioning.
Consider The Look
If you are choosing vinyl shutters over wooden ones because of the price difference or their resistance to moisture, but you would still like the appearance of wooden shutters, take a good look at the various "wood-like" options available. Technology has come a long way in the production of vinyl and there are many better quality vinyl shutters on the market that look almost identical to finely painted wooden shutters. You don't have to sacrifice aesthetics for price, the best vinyl shutters will look very close to wood.
Find Out About The Warranty
The best vinyl shutters will have a comprehensive warranty with them. Look for a lifetime limited warranty. The warranty should cover any defects in materials, workmanship or failure to operate for as long as you own the shutters. It should also cover all internal mechanisms, components and brackets. Make sure as well that any repairs or replacements will be done with parts of similar or equal quality as the originals. A warranty will give you peace of mind and the assurance that the shutters have indeed been well made.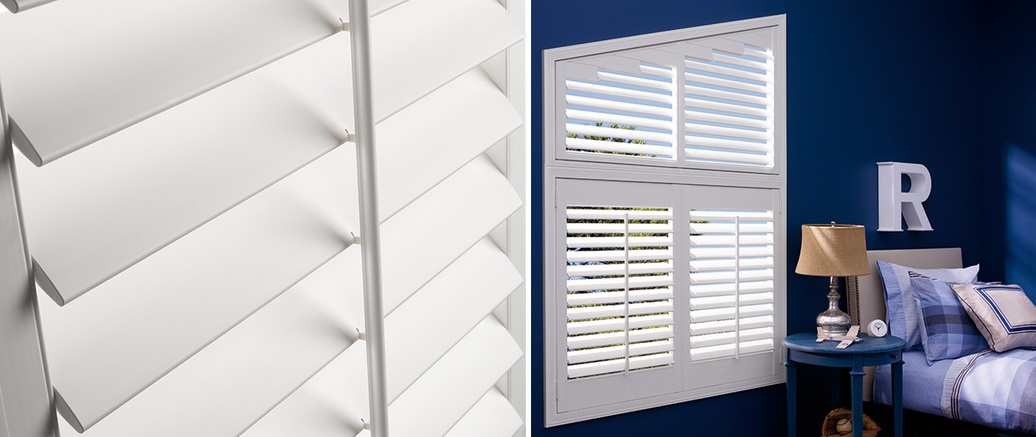 Environmentally Friendly and Healthy
Better quality vinyl shutters will meet the regulations regarding formaldehyde and VOC emissions. They will also be 100% recyclable. You can even purchase vinyl shutters which have an exclusively formulated compound that will not promote the growth of fungus or bacteria.
Need Help Deciding What Are The Best Vinyl Shutters?
If you would like help deciding on the perfect vinyl shutters for your home, contact the window treatment specialists at Graham's & Son for a free, in-home consultation. Graham's & Son has been in the interior design business for over 40 years, and we can answer any questions and concerns that you may have about what are the best vinyl shutters. And right now is the perfect time to purchase – when you buy any two shutters, blinds or shades, you'll receive a third absolutely free!


Sources:
All About the Different Types of Plantation Shutters https://www.diynetwork.com/how-to/rooms-and-spaces/doors-and-windows/3-types-of-plantation-shutters
How to Choose the Right Interior Shutters https://www.angieslist.com/articles/how-choose-right-interior-shutters.htm