Years ago it would have been unheard of to even contemplate painting vinyl shutters. But today, you can paint badly faded or stained vinyl surfaces with fairly good results. The most important thing to remember is to purchase a high-quality paint that is specially designed for shutters. If your shutters are past being simply painted or you simply don't have the time needed to do it yourself, it may be time to replace your worn shutters with brand new ones. For helpful advice about updating your window treatments, contact the professionals at Graham's & Son today. We'd be happy to come to your home for a free consultation and provide you with a quote on our first visit.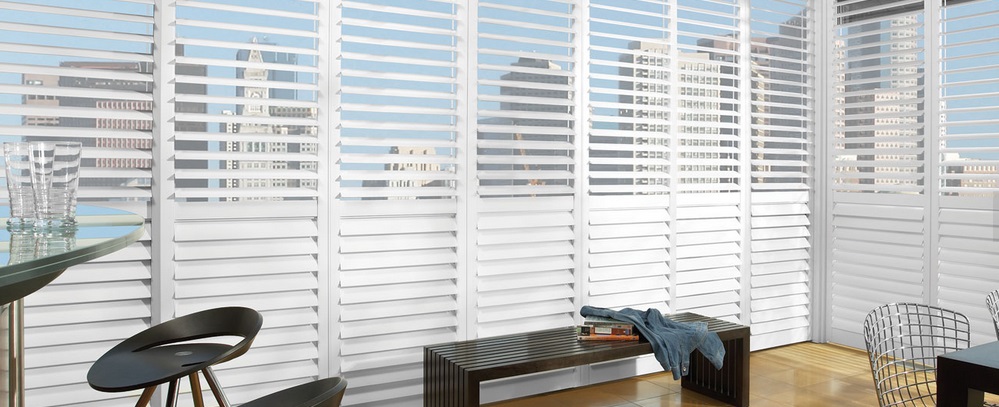 "Let me start by saying, I love my window treatments! Mr. Graham was very professional, easy to talk to; he talked with me, not above me, I was at complete ease. He listened to my thoughts, went through my options, and just like that – decision made. The installation crew was quite professional, friendly and efficient. They were in and out in no time, with cleaning up after themselves, and ensuring that I was satisfied with what was done. I would highly recommend Graham's and Son Interiors to anyone, and I look forward to working with them again!"
-Anne Allen
Read More Testimonials
Why Do Vinyl Shutters Fade?

There are varying levels of quality when it comes to vinyl. Manufacturers can vary the quality and quantity of the different ingredients that go into producing vinyl thus creating higher and lower quality grades. For example, some shutters will be made using a high-quality titanium dioxide which is rather expensive but will prevent the vinyl from fading due to exposure to ultraviolet (UV) light. The titanium dioxide also needs to be placed near the top surface of the shutter in order to be effective. This is difficult and also more expensive to do. To cut down on costs, manufacturers will use too little titanium dioxide or mix it throughout the vinyl thus making it ineffective. That is why lower quality, lower priced shutters will tend to fade. If you have purchased a higher quality shutter with the correct proportions and distribution of titanium dioxide, you probably won't have this problem.
What Kind Of Paint Should I Use On Vinyl Shutters?
If you are planning on painting your vinyl shutters, the most important thing to remember is to purchase the correct type of paint. The following tips will help you make the right choice.
Buy a High-Quality Paint With Urethane Resins
Buy a high-quality paint that is a blend of both acrylic and urethane resins. Urethane resins bond better to vinyl. Do not buy the cheapest paint you can find. You can find this type of specialty paint at national-brand paint stores, not home centres. If you go to a larger national retailer that has a paint and hardware division, you may also be able to find this type of paint.
Why Use Urethane Resin?
Urethanes are extremely sticky and once they have dried, they tenaciously adhere to anything they come in contact with. They are actually very similar to an epoxy. Once they cure, they are almost impossible to remove. This is a very important feature in a paint as you do not want it to peel away from the vinyl.
Can I Use Regular Exterior Paint?
You can, however, the paint will probably crack and peel. This is because vinyl tends to expand and contract a lot. As sunlight hits it, the vinyl will heat up and expand. Once the sun goes down and the temperature drops, it will contract again. Most paints are not designed to withstand this constant stretching back and forth each day and they will quickly come apart.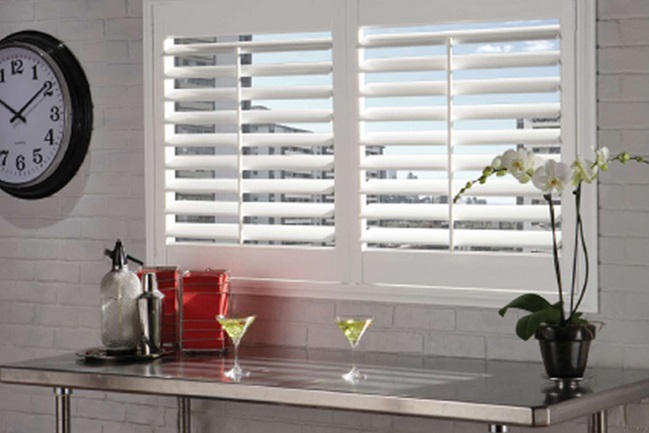 Use An Appropriate Colour Of Paint
It is a good idea to not choose a colour that is darker than the original colour of the shutter. Vinyl shutters are designed to absorb a certain amount of heat without warping. Painting them a darker colour than they were originally may cause them to absorb too much heat and warp.
Having said that, Sherwin Williams does offer a line of VinylSafe paint colours that claim to allow you the freedom to choose from 100 colour options including a few darker ones that are specially formulated to resist warping or buckling when applied to a sound, stable vinyl substrate. The main rule to follow is, don't buy just any type of paint. Make sure that it is designed to be used on a vinyl surface and follow the manufacturer's directions carefully for the best results. The following is a selection of some of the colour choices available in the VinylSafe paint line.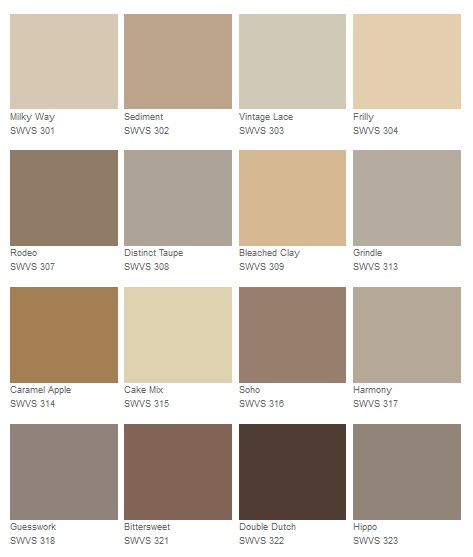 Preparing to Paint
Remove the shutters from the window: If you are painting multiple shutters, it is a good idea to number them with a pencil on the top edge so that it will be easier to put them back in the correct spot.
Remove the hardware: It is well worth the time it takes to remove all of the hardware instead of trying to paint around it or masking it with tape. Make sure that you place all of the hardware in a container so that you don't lose any.
Remove any mould or mildew: If you notice any mildew or mould anywhere on your shutters, kill it using a mixture of one part bleach to four parts water. Place the mixture in a spray bottle and carefully spray the affected area. Rinse the bleach mixture off thoroughly with water.
Clean Your Shutters: Thoroughly clean and then rinse your shutters to remove any dust, dirt or grease. A clean surface will help ensure that your paint will stick. The following video shows you two different methods for cleaning vinyl shutters.
Use a Spray Paint If Possible
It is a good idea to use a spray paint rather than a brush to ensure that even layers are applied. Using a brush will not only take you forever, but the paint may get into the very small gaps at the end of each louvre and the shutter frame. If this happens, then once the paint dries, your shutter may no longer work smoothly. You may not even be able to move the louvres at all. If you can't find the colour or type of paint that you want in a spray can then you can use a paint gun instead to get a similar effect. The following video demonstrates the proper technique to use when spray painting shutters using a can of spray paint.
Ready to Invest In New Vinyl Shutters?
Is it time to invest in new vinyl shutters that won't fade or crack and will never need painting? Come and talk to the window treatment specialists at Graham's & Son today. We will introduce you to our high-quality lines of vinyl shutters that are virtually maintenance free and come with a limited lifetime guarantee. Graham's & Son has been in the interior design business for over 40 years, and we can answer any questions and concerns that you may have about what are the best vinyl shutters for you. And right now is the perfect time to purchase – when you buy any two shutters, blinds or shades, you'll receive a third absolutely free!


Sources:
How to Paint Plastic or Vinyl Exterior Shutters