Learn how to make your windows sparkle and shine.
Image Source: Simon Kadula
1. How to Notice When Windows Need Cleaning
Did you know that keeping your windows clean can actually increase the lifespan of your windows? Acid rain can damage windows and dirt can cause scratches. So, there is good reason to maintain them. 
Here are some telltale signs that your windows need to be cleaned:
Streaks, Stains and/or Smudges (From dead bugs or bird poop)
Build-up of dirt, sand and/or debris
Scratches
Your allergies are acting up!
Also, if you notice that any of your windows are cracked or are trapping moisture, it might be time to replace them.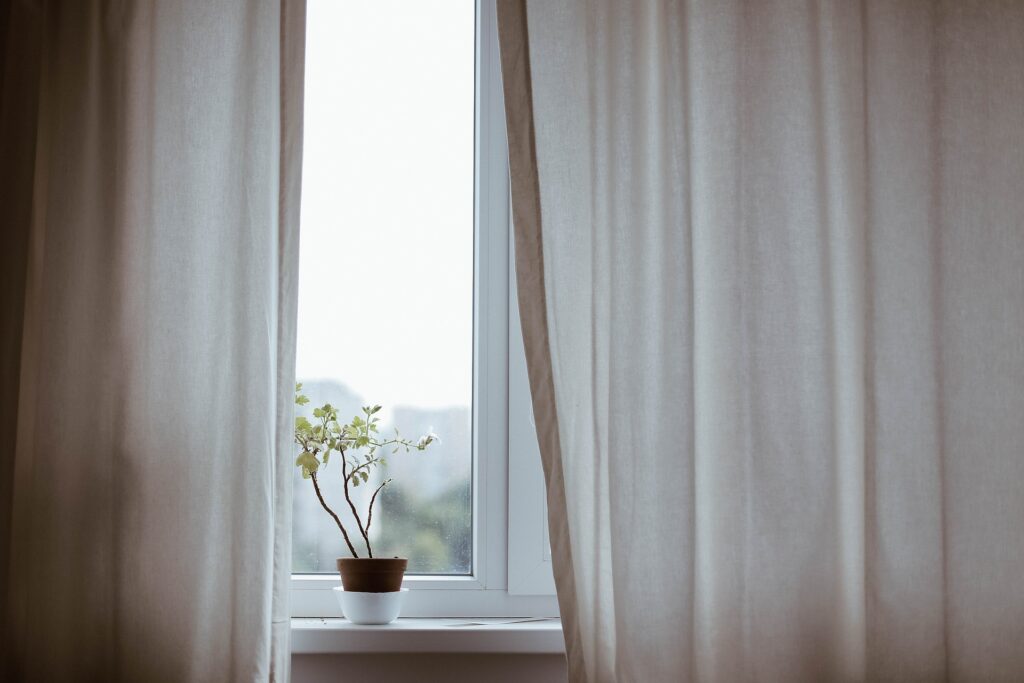 Keep windows looking fresh and clean with these cleaning tips.
Image Source: Pexels
2. Basic Cleaning Methods
Dusting
Before bringing water onto the scene, you can do a quick dust or vacuum of your windows (and blinds), particularly around the frames where dust collects. You can also dust screens to get rid of cobwebs and other debris.
Don't use a soapy rag at this point as it might leave streaks.
Cleaning with Water and Liquid Soap
After dusting, you'll want to wipe down your windows with a clean, damp rag. You'll then use clean, warm water and a little liquid detergent to wash your windows. Alternatively, you can try something different with special window cleaners which we list next. If you plan on using water and liquid detergent, here is a step-by-step guide:
Window Cleaning Guide
Lay down drop sheets (old sheets or plastic) to protect floors inside or grounds outside if necessary
Wipe down the frame of your window with a wet/damp rag
Fill a bucket with clean, warm water and a little liquid soap (dish soap)
For Exterior Windows:
Dip a window scrubber (material that is not too abrasive) into a bucket of clean, soapy water, wring out the water and use it to clean the surface of the window
Use the squeegee to wipe the glass (watch the video below to learn how to use the "s" technique) & avoid short strokes
Use a rag to catch and protect any water from dripping onto the frame, especially if you have real wood frames
Wipe off the excess water around the frame of the window with a dry towel (as shown in the video below)
For Interior Windows:
Pour your cleaning solution (soapy water or another cleaner as listed below) into a spray bottle and spray the interior surfaces of the window
Clean the glass with a rag and then wipe it down using a microfiber cloth or towel to make it shine!
Learn the "S" technique of window cleaning!
Using Other Window Cleaners
If you prefer not to use liquid soap, you can try other window cleaners. Generally, these cleaning products are meant for interior windows, but some work for both interior and exterior windows. 
Here are some options: 
Windex Glass Cleaner
Hope's Perfect Glass Cleaner
Spic and Span Cinch Glass Cleaner
We advise you not to use harsh cleaning products with a lot of chemicals or ammonia as this could damage the glass and be harmful to your health.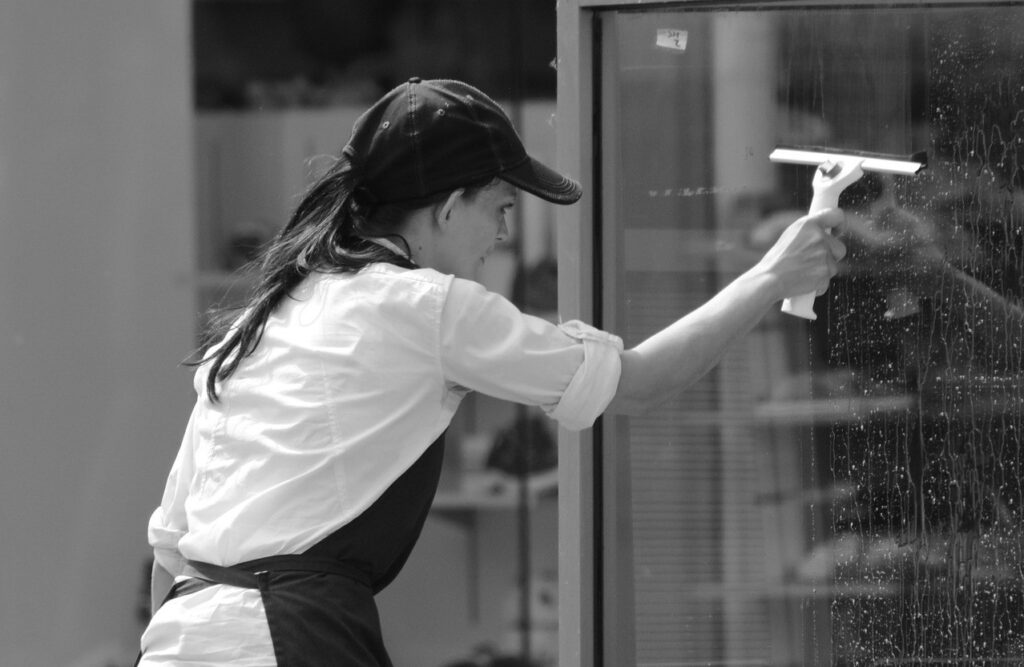 You'll probably find the job of window cleaning much easier if you invest in the right tools.

Image Source:
Ben Kerckx
3. Tools Needed for Window Cleaning
Along with some experience (or research like you're doing now), here are the materials you will need to clean your windows:
Bucket of Water (Clean, warm water with a small amount of liquid dish soap)
Spray Bottle
Squeegee (Click on the link to the left to find out what the best window squeegees of 2023 are according to Bob Vila.)
Soft Window Scrubber
Clean Rags (Wet/Damp, Dry)
Microfiber Cloth or Towel
Drop Clothes/Old Sheets/Plastic Tarp
If you are cleaning windows outdoors, you may need a ladder or lift depending on how many stories your home has. We also recommend having someone spot you if you plan to go up a ladder! You can also look for extendable squeegee handles.  
With Spring around the corner here in North America, you may be in the mood for freshening up your nest! After you've cleaned your windows, why not consider some new window treatments? 
Whether its new blinds or designer drapes, contact Graham's & Son to learn more about designing the perfect window treatments.
"Graham's is our go to!
We have our home in Hespeler done with stunning shutters and now our cottage in Sauble Beach. We are so impressed that they go over and beyond to get the job done right. We are thrilled with the outcome and highly recommend anyone thinking of window treatments to use them. They stand behind the products, install accurately and provide helpful assistance when you're not sure what would look best.
Thank you Graham's- so appreciated!!"