Tips for Window Treatment Trends 2022
So, before we get into colours, let's take a look at some trending styles for the new window treatment trends 2022. So far it would seem that the trends have been influenced by: 
Both cultures share similar minimalist design principles, but if the minimalist style doesn't suit you and you want something a bit more luxurious, you could also explore the Neo-Baroque style.
Personally, this is my favourite part of design – colours! 
While colour preference is personal, some of the hot design colours for 2022 that suit trending styles include:
Neutral Tones: white, cream, pearl, beige, brown, black, graphite, gray 
Natural Colours: Turquoise, Purple, Lilac, Blue, Green, Peach, Yellow
Bold Colours: Neo-Mint, Navy, Burgundy, Red 
You'll notice that some of these colour trends continue from other years, so be careful. If you are choosing a colour like gray, keep in mind that this trend may not last much longer. 
Also, you can see that some of the natural colours can be quite bold (and vice versa) depending on the saturation of the colour.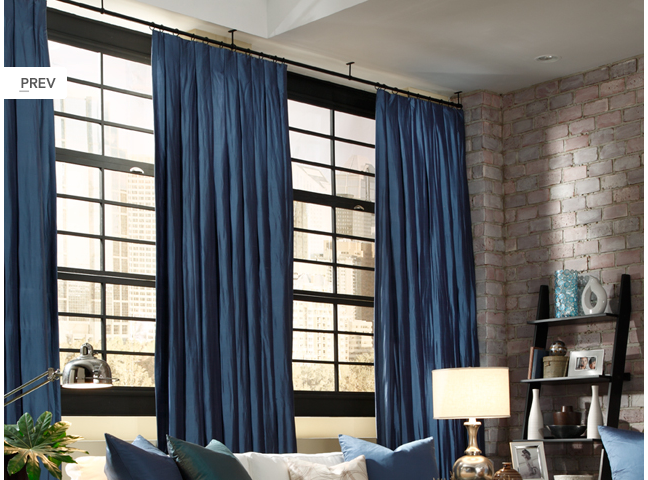 These blue drapes compliment the natural wood and brick materials, increasingly popular eco-friendly choices.
3. Popular Types of Window Treatments
The types of window treatments trending this year seem to be popular because they are easy to use, made from sustainable products and make a bold statement. Here is what we are seeing for window treatment trends 2022:
Shades
Roman Blinds/Roller Blinds
Japanese Blinds/Panel Blinds
Below is a gallery to help you see the differences between shades and panels. Click on the links above to see some examples of the curtains trending.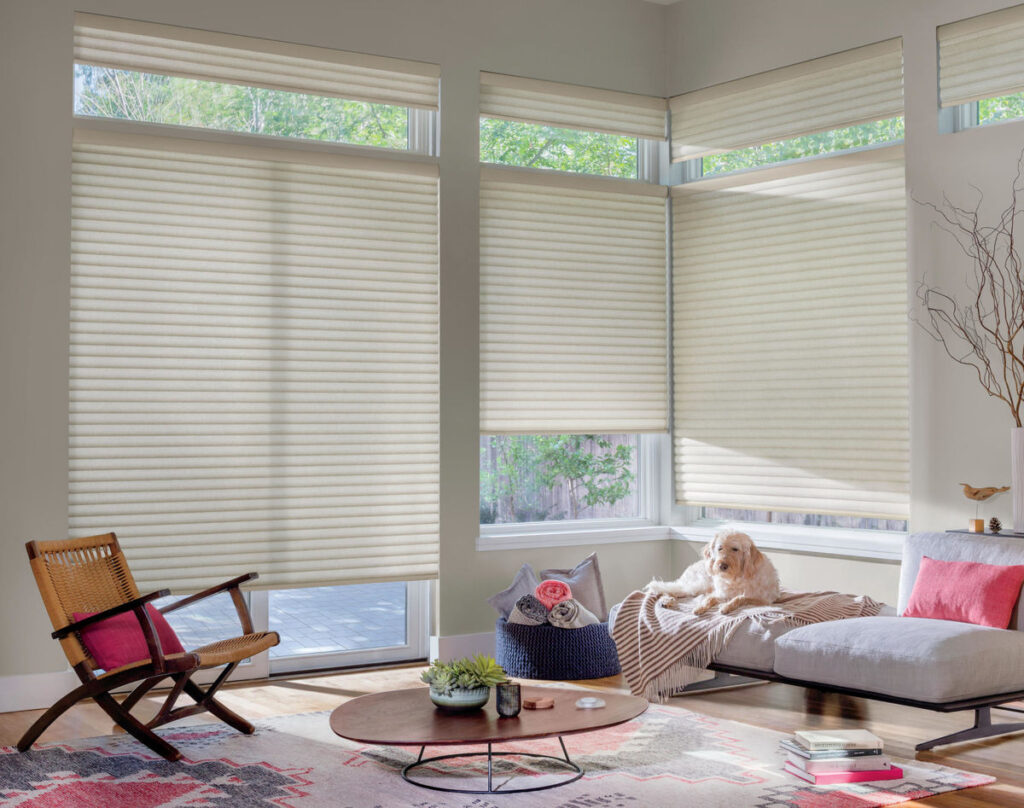 Sonnette Cellular Roller Shades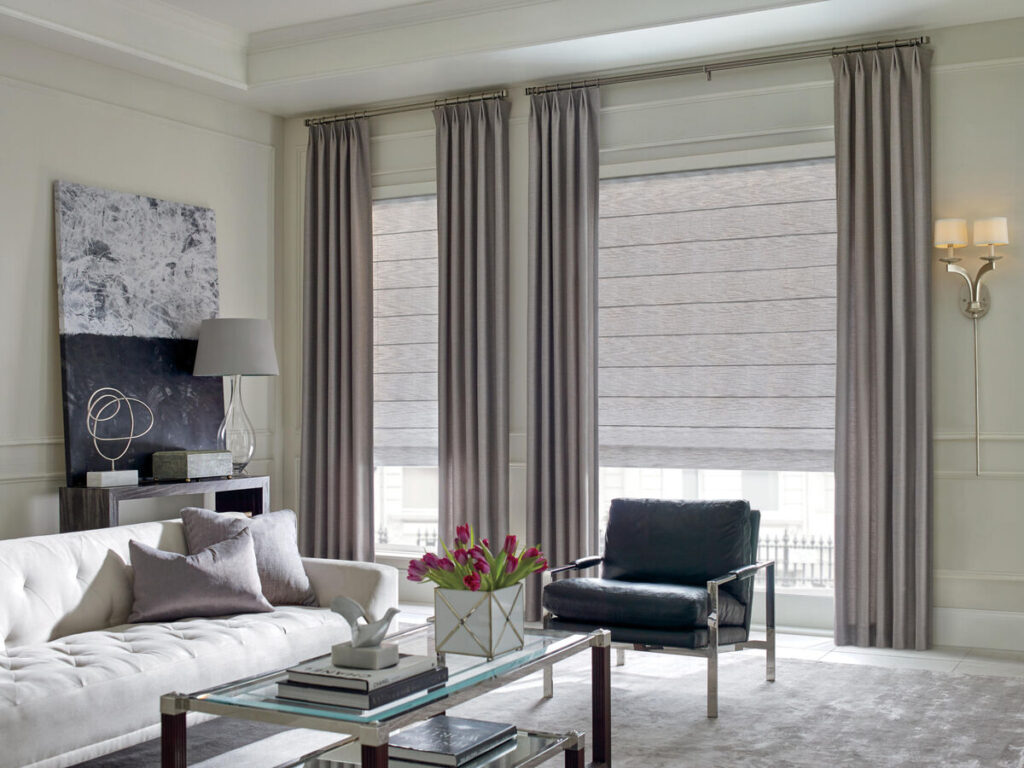 Design Studio Roman Shades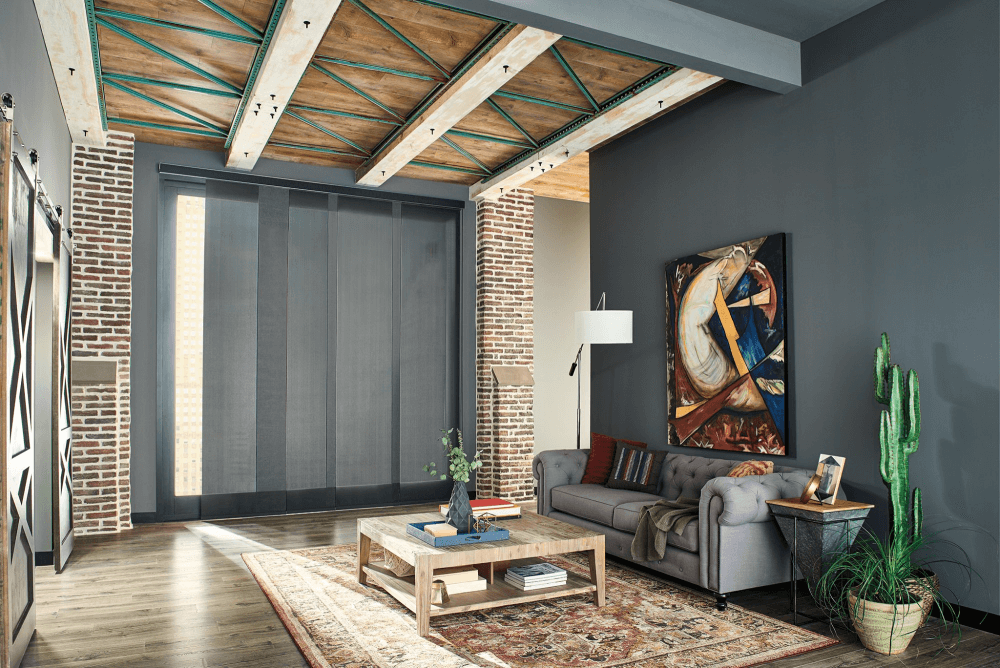 4. Trending Materials & Patterns
Materials:
With the push for more environmentally-friendly products, people are seeking out new materials for their window treatment trends 2022 such as SEA-TEX screen shades made from ocean plastic by Hunter Douglas.
Other materials people are opting for include:
Heavier materials include:
Patterns:
Popular prints include: 
Nature-inspired or geometric prints
Stripes
Polka-dots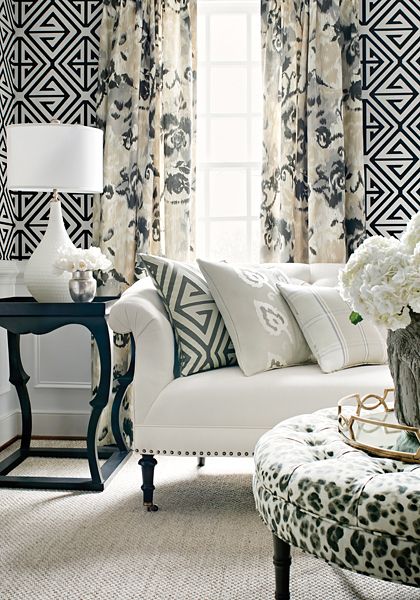 Here the designer has combined nature-inspired prints with geometric prints in black and white.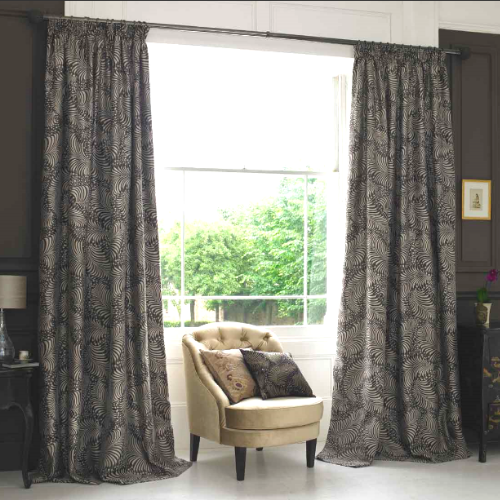 The return to some browns is perfect for nature-inspired prints.
5. Trending Accessories & Automation
Accessories:
Some fun things to try this year are some wooden beads to drawback curtains or some DIY finials. You can pretty much mix and match anything, but great accent colours are of course black, chrome, and wooden materials. Read more about hardware and accessories for drapes here.
Automation:
As technology continues to advance, so do window treatments. People are enjoying the ease of automation. For example, you can get smart shades that will automatically open, close, tilt, etc.
Check out Graber motorized shades so you can control light with an app, a remote or even your voice! 
Or, do the same thing with the Hunter Douglas's PowerView® App. 
With increasing fatigue in our lives, this simple change can make a daily difference!
Watch the video above from Hunter Douglas and see why automation is one of our window treatment trends 2022.
Graham's and Son Interiors
Graham's and Son Interiors can help you get the look you want, whether it is a product you've seen or a custom-made window treatment of your own design. They offer in-home consultation so you can get help when choosing colours, designs, and learning about eco-friendly options. Also, their friendly, professional staff will help you with measurements and installation. For fashionable and expert design, contact Graham's.
After 28 years in the same house, we decided to downsize. One of the projects for our new place was window coverings. We invited 3 companies in to help us with this decision. We made the BEST decision to go with Graham & Son Interiors. Wayne Graham was prompt to follow up with us to book a time to come out. He was extremely knowledgeable. The quality and cost were excellent. The installer was highly experienced and paid attention to detail He did not rush. We will be repeat customers for future interior needs!
Amazing company to work with! We changed all of the blinds in our house with shutters or cellular shades. They had an amazing promotional offer which made the price incredible. They are very friendly and informal (this is a good thing) to work with. They installed the window coverings the same day the order arrived. We will be a repeat customer.