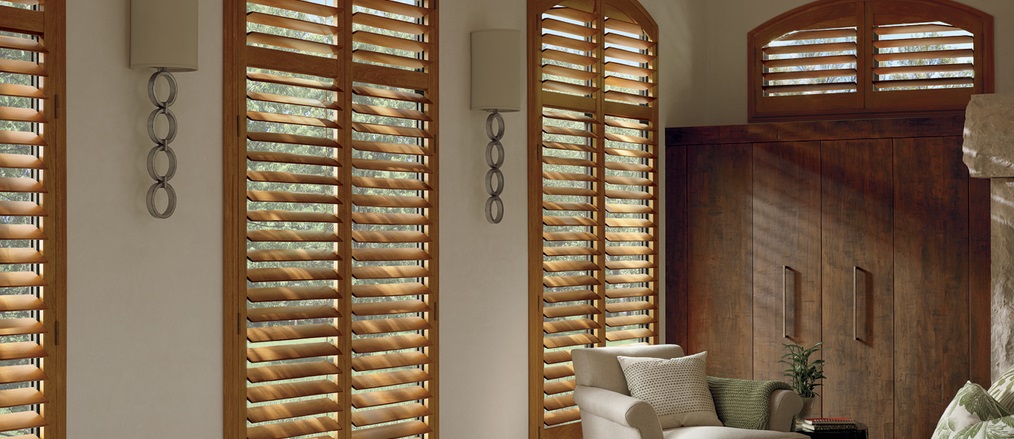 Are you thinking of updating some or all of the window treatments in your home with wooden shutters? Well, we've put together this post to help you get inspired. We've searched the Internet and have compiled a list of the 7 most impressive shutter design ideas. Read through the article, then contact the interior design experts at Graham's & Son. We'll come right to your home for a free in-home consultation to help you decide on the perfect look and fit for your style.

"Let me start by saying, I love my window treatments! Mr. Graham was very professional, easy to talk to; he talked with me, not above me, I was at complete ease. He listened to my thoughts, went through my options, and just like that – decision made. The installation crew was quite professional, friendly and efficient. They were in and out in no time, with cleaning up after themselves, and ensuring that I was satisfied with what was done. I would highly recommend Graham's and Son Interiors to anyone, and I look forward to working with them again!"
-Anne Allen
Read More Testimonials

7 Impressive Designs for Wooden Shutters
We're counting down the 7 most impressive design ideas for wooden shutters that we could find online. We think you will be so inspired by what you see and that you will want to start your own window and door transformations.
7. Nicely Nestled Nook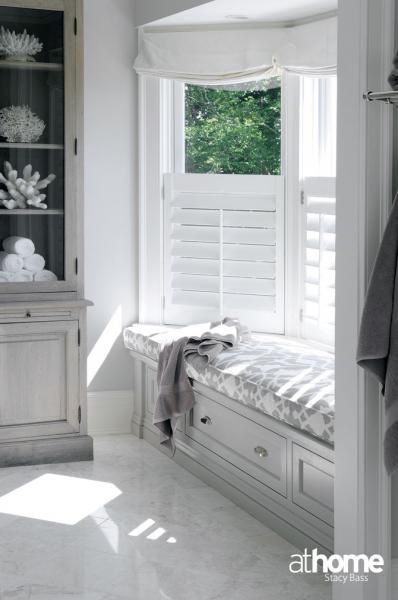 Grab a good book, put on some comfy sweats and nestle into this wonderful little corner bay window to escape to a world where your imagination can run wild. You'll want to come to this beautiful little corner often with its beautifully covered seat cushion and handy storage drawers beneath. We love the look of the shutters that only go halfway up the window, leaving you with plenty of natural light above, yet with the option of having privacy below. We found this charming design on Pinterest, but it was originally from DecorPad.
6. Bring the Outside In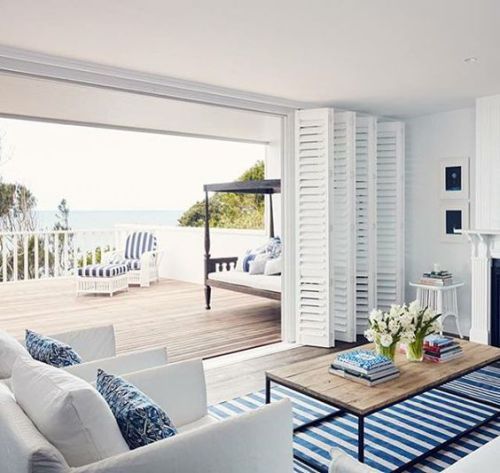 This design idea came from Pinterest and was originally pinned from WordPress.com. Who wouldn't want to bring the outside in when you have an incredible view like this? The wooden shutters in this design idea are functional and fabulous. They allow you to fold them all the way back, effectively making the outside deck an immediate extension to the home. When night falls or the rain sets in, they can be fully closed to give the privacy and protection that you require. We love the choice of soft whites of this room as well, making everything so crisp and clean, while the clever pops of blue accents give a nautical, summery feeling than can be enjoyed year round.
5. Rustic and Rich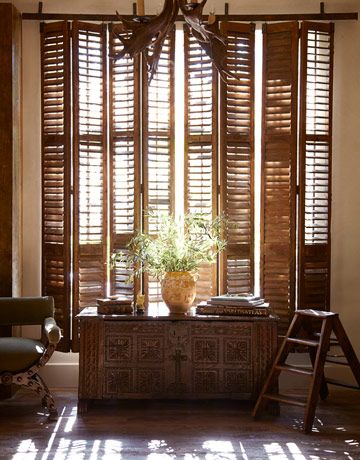 What other material can give you both a rustic and a rich feeling at the same time? These impressive floor-to-ceiling shutters in a rich mocha finish do just that. They are a wonderful backdrop to the ornately carved antique chest and they strategically allow enough sunlight in to accentuate its intricate patterns. The silky cream of the walls adds just enough colour to allow the shutters to stand out as they should. We found this design on Pinterest but it originally came from NiagaraNovice.blogspot.ca.
4. Traditionally Tantalizing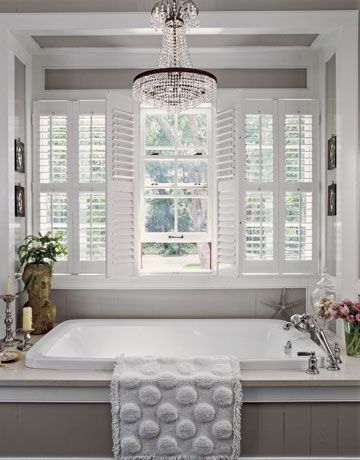 We think Scarlet O'Hara herself would give up her beloved Ashley for a bathroom like this one. The incredible oversized sunken tub invites you to come and relax while you lay back and gaze out between the open louvres on the crisp, painted shutters enveloping your picture window. If you prefer a little more privacy, simply close them and switch on the opulent overhanging chandelier. This sumptuous design idea came from Pinterest and was originally pinned from MyDomain.com.
3. Seeing Double
We discovered this next design on Pinterest from Terreyglassandmirror.com. We love how the wood of these dark shutters gently curves around the arches of the twin windows. The thick frame is a great contrast for the earthy pink tones in the wall colour. The addition of two occasional chairs made from the same wood and a dainty glass-topped side table make this a rather cozy and appealing conversation area.
2. Mastery For The Master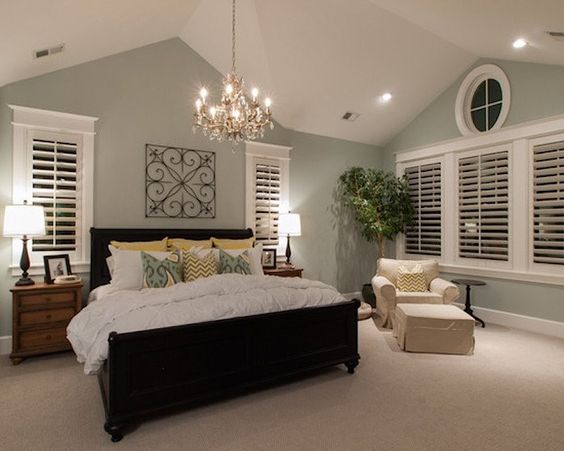 This impressive design for your master bedroom came from Pinterest and was originally pinned from MyDomain.com. The deep, rich wood of the head and foot boards on this luxurious king-sized bed are beautifully framed by a pair of long thin windows nicely adorned with bright white wooden shutters. The shutter theme is carried through to the larger side windows. A cozy chair and ottoman are comfortably nestled under a potted tree, creating the perfect spot for a little late night reading before turning in for the night.
1. Just Hanging Around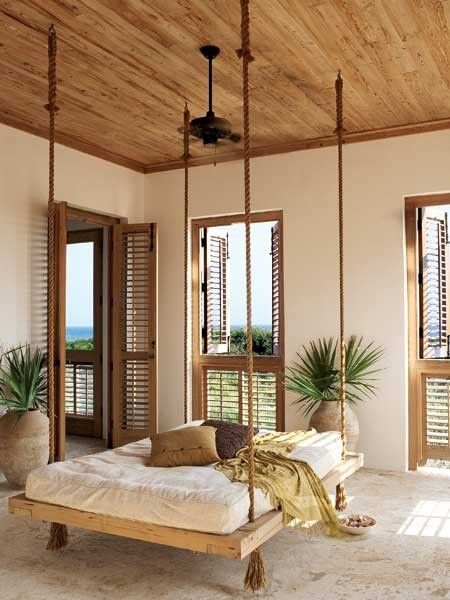 We've saved the best for last. This incredible design came from Pinterest but it was originally pinned from the aptly named site indulgy.com. Now we know this might seem a little too out there, but isn't your inner child just thrilled by this giant swing bed? This is no child's bed, however. Yes, it is hanging from the ceiling, but it also shouts out playful elegance, especially as it's encircled by gorgeous wooden shuttered doors and windows in a soft sand finish. Maybe it's not the most practical choice for your primary residence, but wouldn't it be amazing in a beach house or cottage?
Buy 2 Get 1 Free!
If you have been inspired by these gorgeous wooden shutter designs, now is definitely the perfect time to purchase them. At Graham's & Son we are celebrating more than 40 years of successful business in the Cambridge, Kitchener, and Waterloo region. To celebrate, we are offering our customers a great deal on all of our shutters, blinds, and shades. Right now, if you purchase any two shutters, blinds, or shades you will receive a third one absolutely free of charge. Now that's a great deal! Contact the interior design specialists at Graham's & Son today to book your free in-home consultation today. We will come to your home, take accurate measurements, and provide you with a quote during our first visit!