Hunter Douglas Cambridge
Graham's & Son Interiors is your source for Hunter Douglas products in the city of Cambridge. Hunter Douglas is the leading manufacturer of shutters, shades and blinds for the Canadian market. Click here to see how to get to our showroom or to have us bring the finest Hunter Douglas product samples directly to your home.

"Thank you. The blinds look terrific. We were very happy with the quick and expert install. Our experience in dealing with each of you was wonderful. Thanks for taking the stress out of the project by getting us exactly what we wanted and installed perfectly, no clean-up after – it is a real treat to work with such professionals." – Gayle

Hunter Douglas Products
https://www.youtube.com/watch?v=ft0-UA-XRG0
Free In-Home Consultation
With Graham's and Son, feel free to shop from home. Let us bring a variety of product samples directly to you, so you can have the luxury of shopping in your own home. Have the benefit of seeing how the samples look in the actual room you are considering buying them for. We come to you to make it an easier and better product selection process. Contact us using our website form to book an in-home consultation today.
We Design, Measure, & Install
We will not only help you pick the perfect Hunter Douglas product for your need, but we will also do all the measuring and installing. We will look after the entire process for you. Have more than just a window treatment you want to install? We will plan, design, and install whatever you need. We even do full home renovations. Not sure a Hunter Douglas product is best for you? That is okay! We carry numerous other brands and will recommend the best product and brand for your particular budget and needs.
Certified Expert Designers
Described as southwestern Ontario's premier interior decorators, Graham's & Son Interiors specializes in interior design and consultation. One of our experienced and knowledgeable staff would be happy to sit down with you in your home to discuss what products would be best to make your vision become a reality. Give us a call today.
Lifetime Guarantee
The Hunter Douglas Lifetime Guarantee is an expression of our desire to provide a thoroughly satisfying experience when selecting, purchasing, and living with your window fashion products. In support of this policy of consumer satisfaction, we offer our Lifetime Limited Warranty as described below. The warranty includes all manufacturing defects, internal mechanisms, and fabric delamination. Motorized components are covered for 5 years and operational cords for 7 years. Click here to learn more.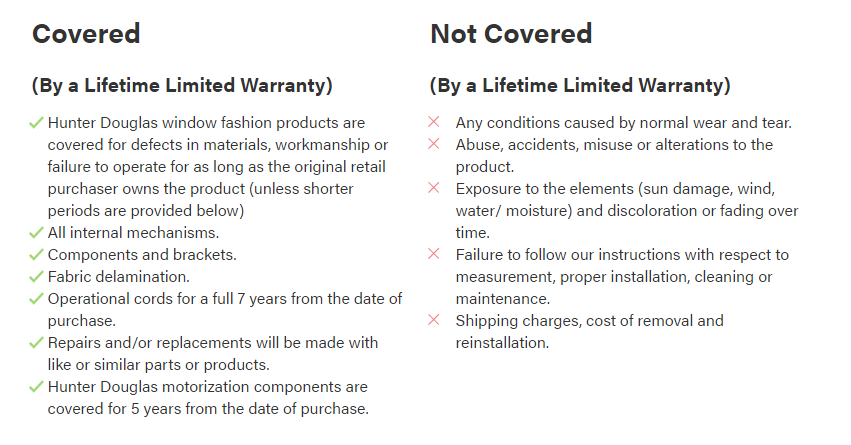 The Hunter Douglas Advantage
Privacy and Light Control
Hunter Douglas window fashions are available in a wide variety of designs and in fabrics and materials that come in a range of opacities—offering varying degrees of privacy and light control options. Click here to learn more.
Energy Efficiency
Up to 50% of your home's heating and cooling energy can be lost through your windows. Hunter Douglas is an industry leader in making a big energy savings difference. Click here to learn more.
Child Safety
From cordless manual and motorized operating systems, retractable lift cords, cord tensioners, and wand controls, we offer a wide array of innovative lifting system options for enhanced child and pet safety as well as especially easy operation. Click here to learn more.
Wider Range Of Choices
All of Hunter Douglas window fashions are designed and custom-assembled in the U.S. Their longstanding commitment to quality and innovation means you'll enjoy choices at Hunter Douglas that you won't find anywhere else. Click here to learn more.
Product Recommender
Not sure what Hunter Douglas product is best for your particular situation? We have a great tool that will simply ask you some questions about what you are looking for and it will recommend what product is best for you. It is a simple 5 step process that looks at the shape you need, the features you need, the amount of light & privacy you want, and what materials and style you are looking for.
Click here to start the product recommender now.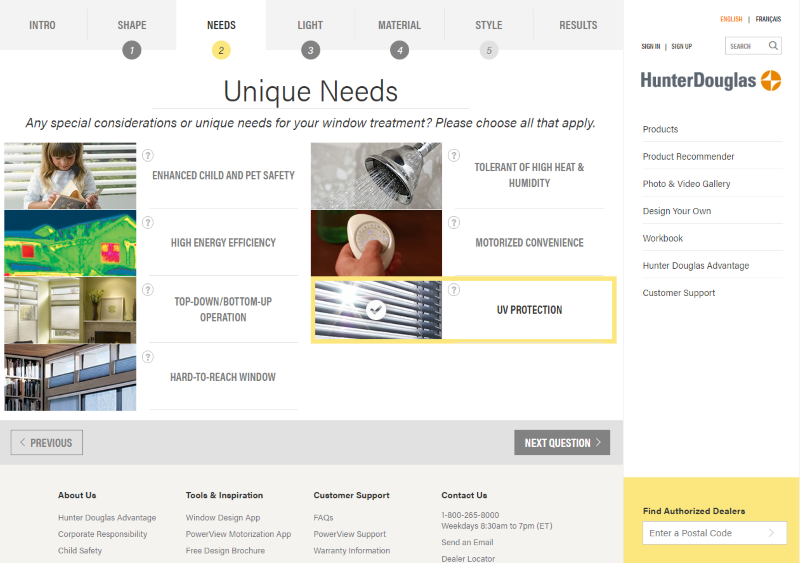 About Hunter Douglas
Hunter Douglas N.V. is a Dutch multinational corporation. Its principal business is making window blinds and coverings. It was formed in 1971 as a result of a restructuring of the previous Canadian entity, Hunter Douglas Ltd, which started in 1956. The company is publicly listed on the Euronext stock exchange. Their head office is in Rotterdam, the Netherlands, and management office in Lucerne, Switzerland. The CEO, Ralph Sonnenberg, owns more than 80% of the stock.
To read more about the company history, go to http://www.hunterdouglasgroup.com/timeline/.