Have you recently moved into an older house, or have you finally decided your 20-year-old bathroom needs a facelift?
Shower and bath renovations are one of the most common types of home renovation projects people do and for good reason. With a room that gets so much foot traffic, often with daily use, you want your bathroom to have a modern, clean look you can be proud of.
In this article, we've covered the four biggest features of the average bathroom and offered a summary of the different options available for each one, as well as some quick practical tips.
If you or someone you know is handy, you may be able to perform basic repairs on your own. But if you plan on attempting large-scale renovations, we recommend working with an experienced, professional company
 like Graham's & Son
.
Often taking the visual focus of a bathroom, showers are usually built with clean aesthetic properties, combining form with function. Many modern homes use glass dividers for the shower, with elegant tiling and stylistically appropriate accessories.
No matter how good it looks, remember that your shower will spend a lot of time wet. That means the most important two features of a shower are (1) that it keeps all the water inside, without leaking into the rest of the room, and (2) that it's easy to clean to prevent mould.
Options
Tiling – Marble tile is the fancy shower design choice. Marble is smooth, easy to clean, and exceptionally durable. Marble comes in many colours for all purposes. Acrylic tiles are a very popular alternative, and are more cost-effective., although you may also find tiles made of granite, glass, or porcelain.
Sliding Doors vs Swinging Doors – To some degree, this is a matter of personal preference. However, the former will save space. Regardless of what you choose, doors require maintenance, either for the sliding track or the hinges, respectively.
Colour – Regardless of the design you settle on, you should have many colour options. White and greys are the most common, although some homeowners like to make use of accent colours.
Shower head – Some common styles of shower head include:

Rain Heads – Large-surfaced heads that dispense water flatly and evenly, as if you were being rained on.
Waterfall Heads – Water pours over a ledge and falls naturally, like how a waterfall would.
Standard Head – This is the head you're likely most familiar with. They usually have multiple settings for water dispersal. Standard-style heads can include a filter, multiple heads, or can be removable from their mount to aid in washing.
Tips
Use Flat Surfaces – Because your shower needs to be easy to clean, try to use flat surfaces. Flat surfaces are easier to wipe or squeegee than irregular surfaces.
Match Accessories – Whenever you're installing new shower heads, taps, hoses, or grates, try to stick with the same colour scheme and finish so that your shower looks fashionable and smart. You can also try matching the accessories with other taps and features in your bathroom. This is much easier when doing full-room bath renovations all at once.
Not every bathroom needs a bathtub, but many houses have at least one "master bathroom," which contains one. Standard bathtubs have a recognizable oblong shape, but if you have the space, bathtubs can be a variety of sizes and styles, adding a sense of real luxury that makes ambitious bath renovations worth it.
Options
Size – A standard-size bathtub in North America is about 60 inches long, 30 inches wide, and 14-16 inches deep. If you're taller than 6 feet, try looking for a tub that's 70 or more inches long. You can also find tubs that have higher walls if that's what you prefer.
Shape – Standard tubs have an oblong shape. It's not uncommon to find larger tubs with steps or seat indentations built into the interior. If you want something unorthodox like in the above picture, ask your local home renovation company what alternative models they carry.
Tips
Prevent Slips – Even if your tub has steps to get in and out, you should use a non-slip floor mat so that you don't slip when getting out. Consider installing handrails to hang on to, especially if you have mobility issues.
Ledge Space – The example above has a generous ledge to hold plants, candles, and even art. Your bathroom doesn't need to have that much ledge space, but it should have at least some so you can store your soap and hygiene supplies.
Regular Cleaning – Bathtubs ought to be cleaned regularly, especially if used often. You can use a vinegar mixture to remove hard water residue and other stains, or something intense like CLR if the stains are more serious.
A countertop will not receive the same wear and tear as the other features on this list, but it's a central feature that everyone will see when they enter the room. Your countertop should set the stylistic scene of the entire bathroom, and be pleasant enough to look at without being too busy. It should complement the room's design, not distract from it.
For ideas of other countertop options, check out Graham's & Son's project gallery.
Options
Material – Popular materials for countertops include durable marble, cost-efficient quartz, or even granite. We don't recommend composite countertops for bathrooms because they're not as water-resistant as other options.
Colour – Your colour options vary with your chosen material. Marble can come in shades of white/grey, red/pink, and even blue, quartz is usually white or pink, and granite is available in a variety of attractive earth tones.
Backsplash – A backsplash is a short protective installation placed on the wall perpendicular to the countertop to protect the wall from water splashes. Backsplashes aren't necessary but can keep your bathroom clean and are an opportunity for a tasteful splash of colour.
Tips
Keep it Dry – After using the sink, wipe your countertop dry. Otherwise, you can get water stains on the counter that are annoying to clean. It is especially important to keep the corners clean and dry.
Sinks & Mirrors – Countertops need to fit around your chosen sink and mirror. If you already have a sink/mirror combo installed, measure them to make sure the countertop doesn't take up too much space. If you're redoing the entire room, then you won't need to worry about this, as it'll be the renovation company's responsibility.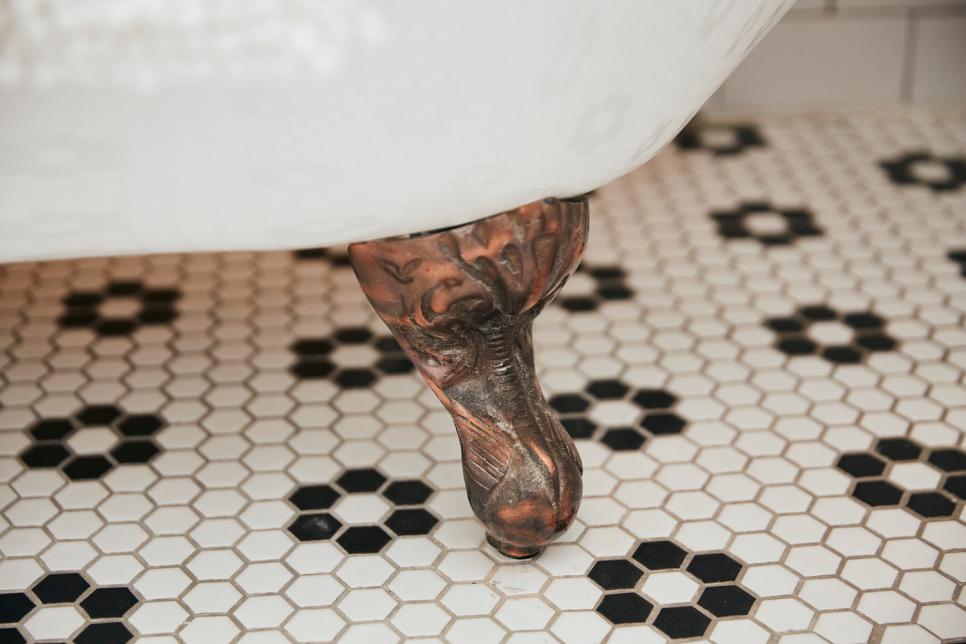 Flooring in a bathroom setting takes on a series of unique challenges. It needs to be installed and sealed properly so that there are no tripping hazards and so there is zero possibility of water getting under the tiles to damage or rot the wood beneath. Tiles or vinyl flooring are the most common options for bathroom floors.
Options
Material – The most popular style of flooring is vinyl tiling. It's affordable, easy to install, and reasonably durable. If you're looking for something at a higher price point that feels more deluxe, consider natural stone or ceramic. If you're especially environmentally conscious, it's possible to even get cork bathroom flooring, but cork will need to be resealed every few years to stay water resistant.
Creativity – Smaller tiles, like the picture above, can allow you the freedom to add personal designs to the floor. Patterns break up the solid colour and make the room more interesting as a whole. 
Tips
Sealing – Individual tiles will be sealed together by grout or adhesive, but they'll usually be sealed around cabinets, walls, or the toilet using caulking. This caulking keeps water from leaking under any piece of furniture. Check your caulking every year or so, and reapply it if necessary.
Durability – Cracks in floor tiles can also lead to water leaking into the floor. If you ever crack, cut, or break a tile, replace it as soon as you can, and avoid getting too much moisture in the room until the tile is replaced.
Re-use – If you have a grand plan for your entire home where each room needs to match, or you simply want to match all your bathrooms with each other, you can either buy extra bathroom tiles or note which ones you used so that you can re-use the same tiles when you go to renovate other parts of your home.
GRAHAM'S & SON: BEAUTIFUL BATH RENOVATIONS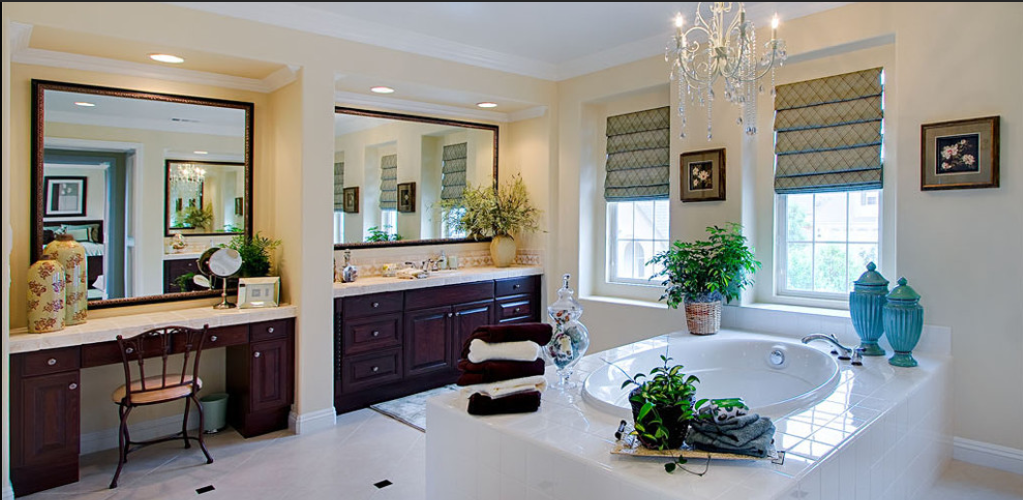 Turn your bathroom into a gorgeous space that stands alone when you partner with Graham's & Sons for your next home renovation.
To ensure you get the result you expect, we start each of our renovation projects with an at-home consultation, making sure we're on the same page and that we understand your budget, expectations, and the unique details of your home.
In addition to bathroom renovations, Graham's offers premium kitchen renovations, window treatments, flooring, and much more. Give us a call today for information on all the products we carry and what to expect from a project with Graham's.
CONTACT GRAHAM'S & SON TODAY FOR A FREE CONSULTATION
"Wonderful people to deal with, and my house looks amazing!! Both Wayne and Matt were fantastic. Consultation and measurements were all done in my home everything arrived as promised and looks perfect. These days customer service means everything and these guys knocked it out of the park. Thank you Grahams I will be back!"
Brandon W.