Blinds, Drapes, Shades, Panels, and Shutters… there are so many options when choosing window treatments for sliding glass doors!  With over 45 years of experience in interior design, Graham's and Son would like to help you find the best window treatments for sliding glass doors. Let's take a look at some possible solutions for your window treatment.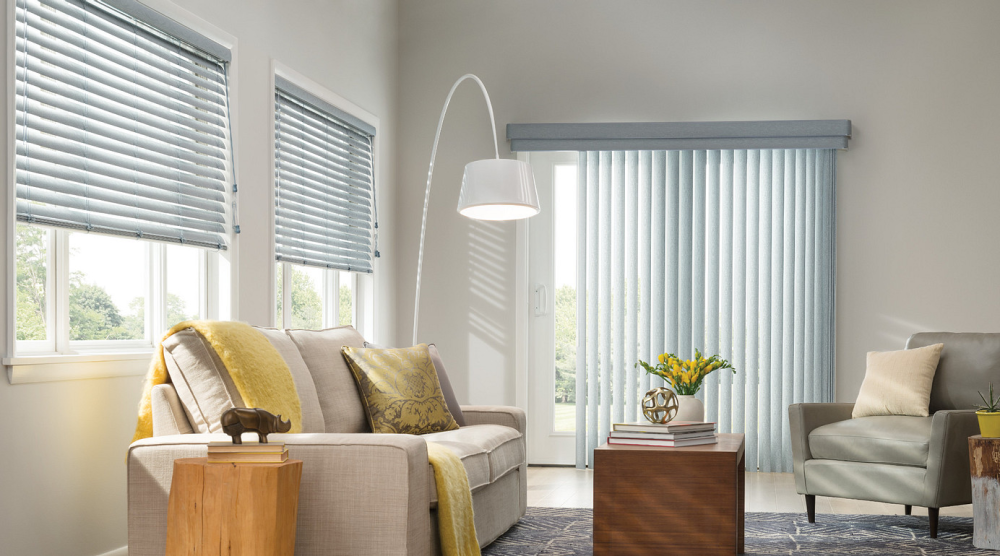 Learn the best window treatments for sliding glass doors
Before you choose the type of window treatment(s) for your sliding glass doors, imagine the room where they are found and begin by asking yourself the following questions:
What is the room's design and style? (Eg. Traditional vs. Modern?)
What are my Color Schemes?
What kind of lighting is provided by the sliding doors? Do I want to lighten up the room or darken the room?
How am I going to use the room? What activities will be affected by the window treatment I choose?
With some of these questions answered, you'll be better prepared to focus on the next big question about what type of window treatment for your sliding glass doors. Your options will most likely include the following: Blinds, Drapes, Shades, Panels, or Shutters
Traditional Window Treatments:
Blinds:
Blinds can move horizontally or vertically. Typically, most people choose to install vertical blinds for their sliding doors. Blinds can be made from fabric, wood, aluminum, or vinyl, all in a variety of colors. Vertical blinds are traditional window treatments for sliding glass doors.
Notice how the horizontal blinds above give you flexibility
Drapes:
As with Blinds, Drapes are a traditional window treatment that can be made from different fabrics in various colors. Drapes can also come in natural materials like bamboo, jute, grass, or woven wood. You can choose light drapes to allow more sunlight into a room, or you can choose insulating, black-out drapes to darken a room. Drapes are an extra layer to window treatments for sliding glass doors and add texture and color to a room.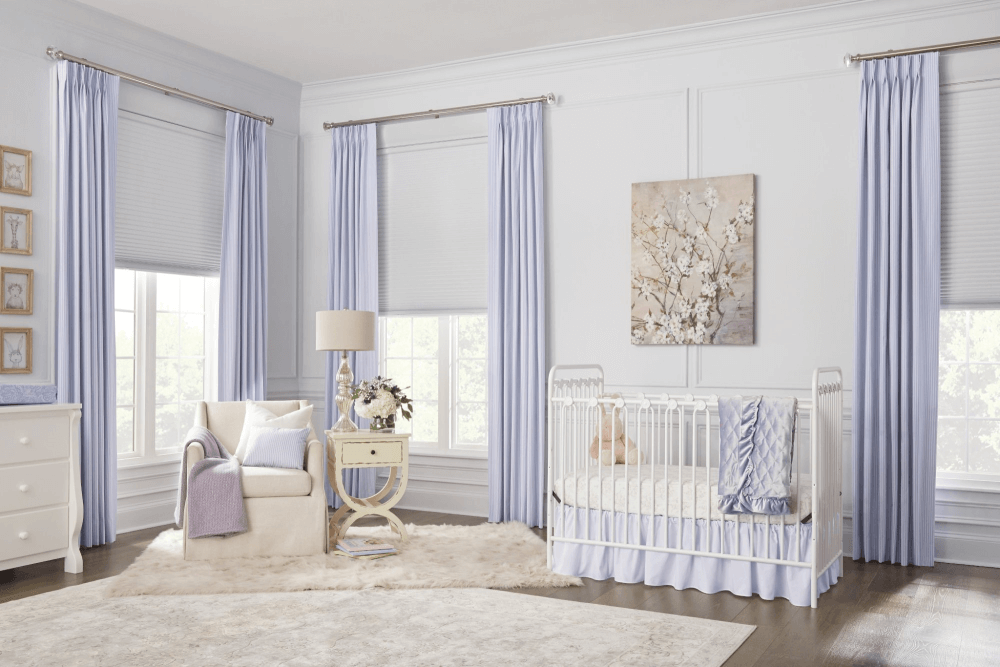 The addition of drapes add a layer to soften the look of this baby's room.
Modern Window Treatments:
Panels:
For a cordless, clean look, another option for treating your sliding glass doors is through panel coverings. Panel coverings are like vertical blinds in that you can slide them open. Shades can come in a variety of colors and materials, including solar, roller, natural, and Fresco® Roman.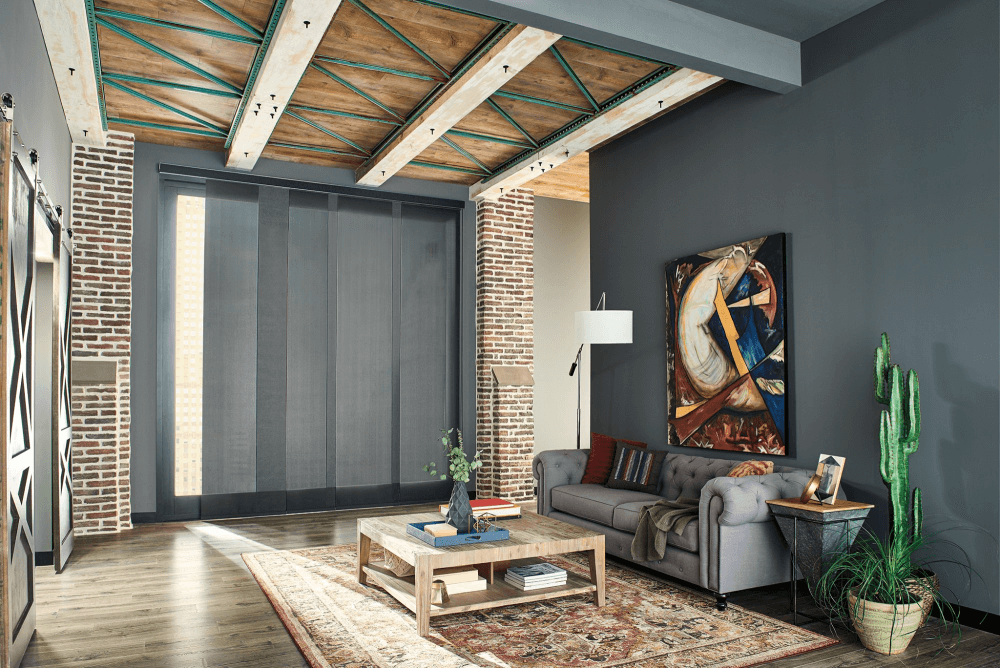 Here is an example of sliding panels
Shades:
Similar to panels, shades like Graber Slide-Vue™ Vertical Cellular Shades or Duette® Honeycomb Shades can be used to cover your sliding glass doors. Plus, they also provide some insulation to keep your home energy efficient!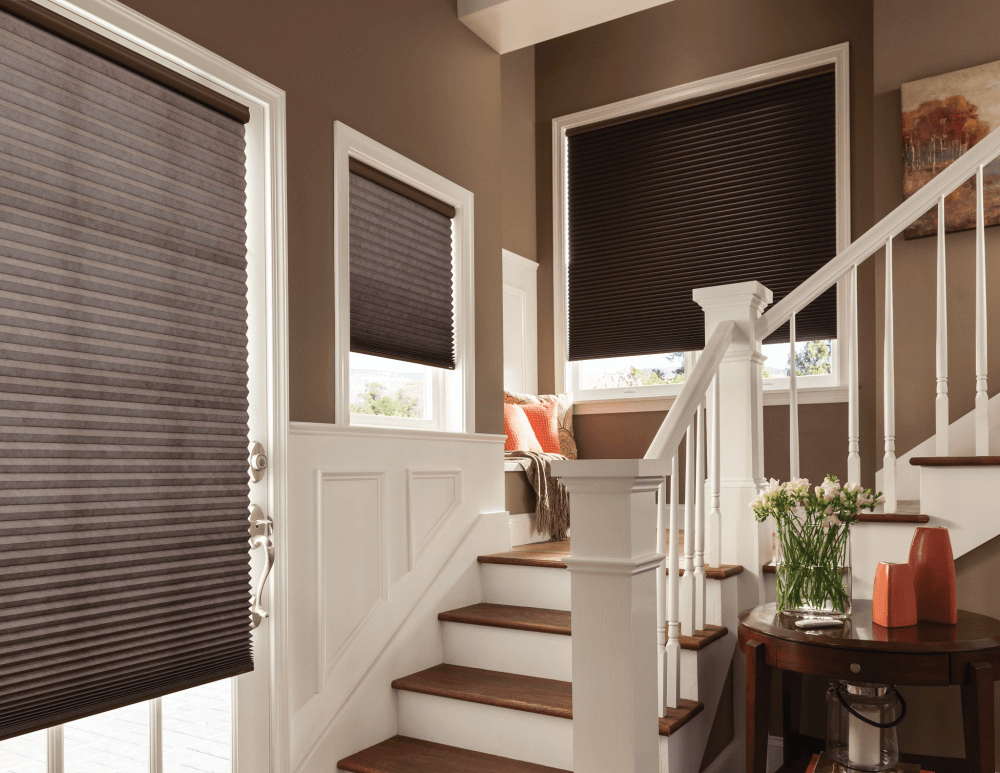 Cellular shades like these are ideal for various windows and doors
Shutters:
This window treatment can look traditional or modern. Shutters are generally made of wood or composite materials and can be opened or shut. They can also be painted to match your color scheme. This is a more expensive option for the window treatments of sliding glass doors, but it adds value to your home.  Don't let the picture below fool you – shutters can move side-to-side like panels or open to give you access to your glass doors.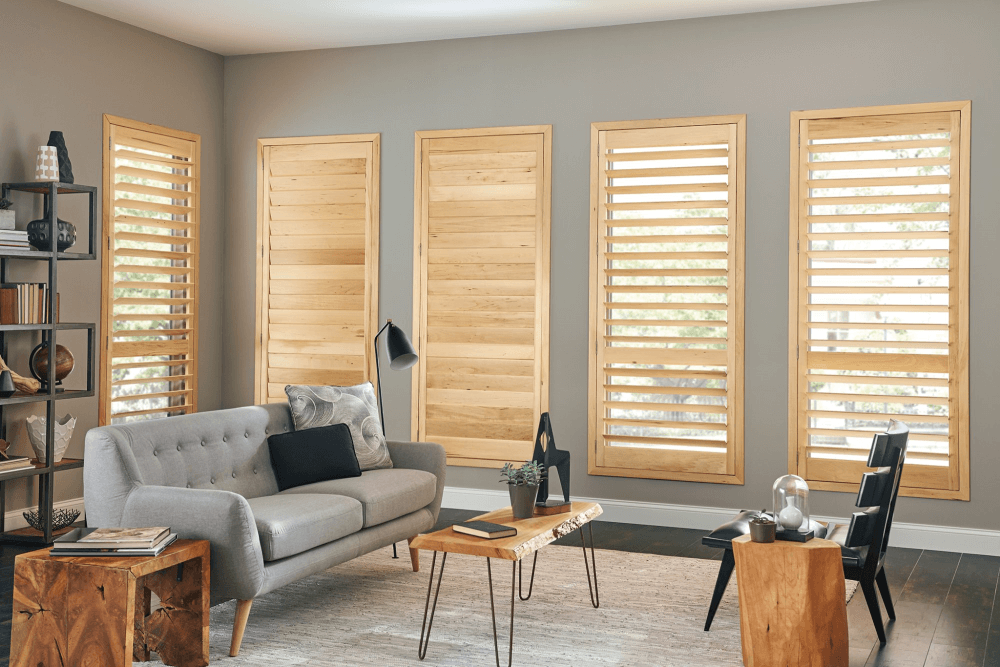 These wood shutters compliment the natural wood features of this living room
Consultation
Graham's offers FREE consultation when selecting window treatments for your sliding glass doors.
Warranty
Graber Warranty offers coverage on Graber blinds, one of our leading suppliers, for 3-5 years from the date of purchase.
With expert advice and materials from Graham's, you'll have the tools you need to create beautiful window treatments for your home. Plus, you will be supporting a local, family-owned business that provides you with trustworthy, quality service.  
Testimonials
Great experience working with Graham's & Son Interiors. Highly recommend their services. We had excellent service, advise and workmanship right from quote to job completion.
All the staff, the owner, project manager, store staff and installers were incredible to work with. Excellent customer service and quality workmanship. Thank you for your help, patience for a job well done!!
I've used Graham's for years and they've always looked after me. I always recommend them to my friends and family. You will not be disappointed!
– Dino Bedessee