Dual shades are a great choice if you are thinking of updating your current window treatments. They give you the greatest range of lighting options available combined with numerous design combinations due to the fact that you can adjust them to show off not one, but two different custom made shades. In this post, we have collected 10 of the most impressive uses of dual shades that we could find to help give you some ideas. But with these versatile shades, you are only limited by your imagination. If you would like to see how beautiful dual shades could look on your windows, contact the interior design specialists at Graham's & Son. We can bring samples right to your home and advise you on which options would best suit your decor. Book your free in-home consultation today!


"Thank you very much for the service you guys provided us with, it was excellent and I know we didn't spend a lot of money with your company but you treated us as if we did, thank you."
Lisa P – Cambridge- Read more testimonials
Benefits of Dual Shades
Dual shades have many great benefits including:
Great range of lighting options
Numerous design combinations
Able to be adjusted to show off two different shades
10 Most Impressive Dual Shades Ideas
We've searched the Internet and have found 10 of what we think are the most impressive dual shade ideas. Read on to get inspired and then contact Graham's and Son to book a free in-home consultation. We can even give you a quote during our first visit.
10. Office Opulence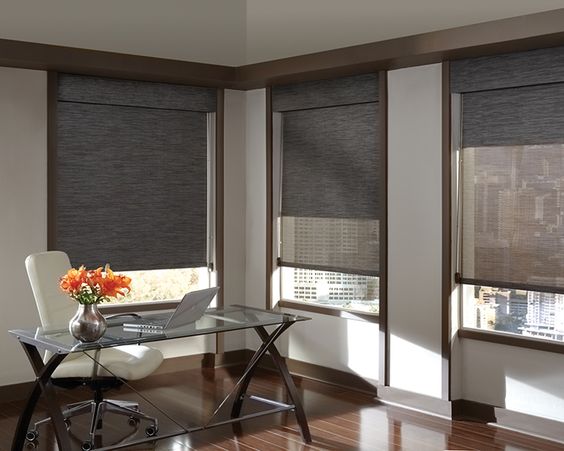 We love how wonderfully stylish these Hunter Douglas dual shades look in this office. The heavier front shade is tightly woven with natural fibers to give a natural, earthy feeling as well as added privacy. The lighter weight shade behind also echoes the natural feeling while being more transparent. This great combination allows a wide range of lighting and privacy options.
9. Wooden and Wonderful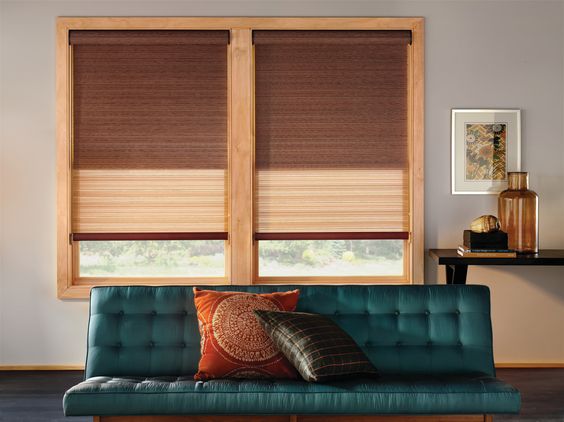 If you love the look of wood, you'll love this dual shade combination. The darker front shade and the lighter rear shade can be adjusted to any combination of lengths depending on whether you would like a little or a lot of light or whether you would like the colouring of your window treatment to be stronger or softer. These shades are accented nicely with the beautiful wooden window frame. This beautiful combination is courtesy of Hunter Douglas.
8. Quaint in the Corner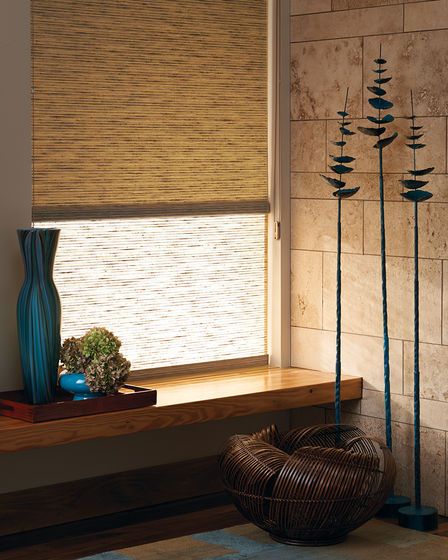 Our next choice is part of the Alustra collection from Hunter Douglas. The quaint woven textures of these dual rolling shades accent this corner window beautifully. Whether you would like to have a little light or a lot, the choice is yours. That's the beauty of having dual shades. You can decide and then precisely adjust your shades to the perfect combination! And when you're ready, you can readjust them once again to suit your mood.
7. Big And Bold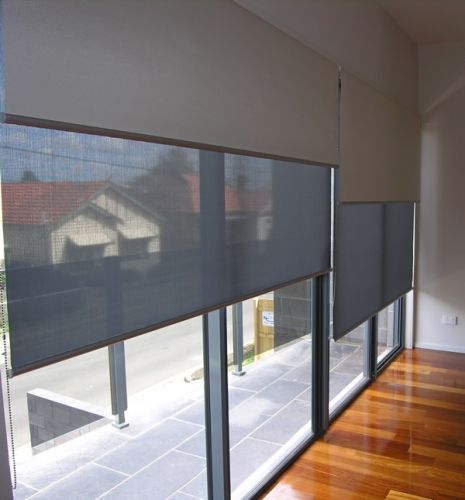 Larger windows can sometimes be a challenge to dress. However, with these elegantly paired dual shades, the effect is clean and modern. The lovely grey and taupe tones of the shades provide enough privacy yet are sheer enough to let in ample lighting. We found this wonderful coupling on Pinterest, but they were originally pinned from iseekblinds.com.au.
"Let me start by saying, I love my window treatments! Mr. Graham was very professional, easy to talk to; he talked with me, not above me, I was at complete ease. He listened to my thoughts, went through my options, and just like that – decision made. The installation crew was quite professional, friendly and efficient. They were in and out in no time, with cleaning up after themselves, and ensuring that I was satisfied with what was done. I would highly recommend Graham's and Son Interiors to anyone, and I look forward to working with them again!"
– Anne Allen Read more testimonies
6. Blocks of Colour
Dual shades not only give you great lighting flexibility, but they also can be an amazing design feature. These delightful shades found on Pinterest, originally from dbablinds.com.au, offer interesting blocks of colour. Notice how you can creatively achieve three levels of interest by adjusting them in a flow from darker grey at the top to a lighter grey in the middle to full sunlight at the bottom. Vary the proportions of colour and light as the mood takes you.
5. Stunningly Smooth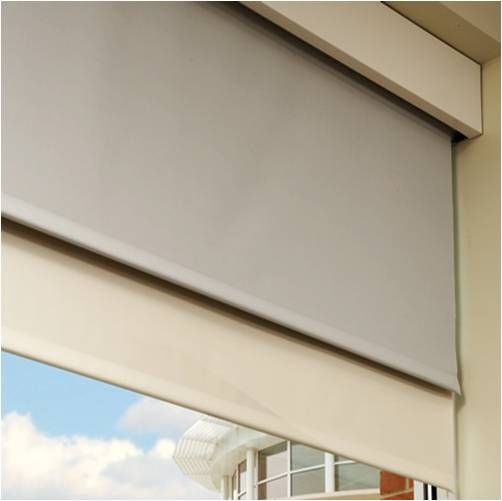 The beauty of installing dual shades is that you can virtually choose any two colour or shade combinations to perfectly accent any decor. Hunter Douglas offers an impressive array of hues and materials to choose from. The above choice is very subtle in its tone yet stark in its smooth texture. And they adjust quickly and effortlessly to give you all the light you want or the choice of complete privacy when you need it.
4. Delicately Dual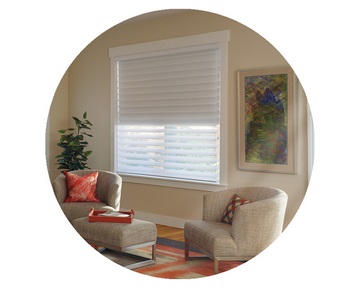 If you prefer a softer touch to your window treatments, take a look at these light and airy dual shades from the Silhouette collection at Hunter Douglas. The ethereal lighting created by these beautifully woven shades creates soft and subtle lighting patterns, yet also provide enough coverage to protect your furniture from harmful UV rays and stop heat from entering or exiting your home.
3. Solid Meets Variegated
This next design idea was taken from Pinterest and came from TripAdvisor.com. These alluring dual shades combine a solid room darkening shade with a variegated transparent shade. Fully extended, you can have the solid colour dominate your room, pull it all the way up to showcase the patterned one, or choose any combination in between. We also think that it's a great touch to have the accent pillow match the rear blind. That's how versatile your design choices become when you have your window treatments custom made.
2. How Great Is Grey

Grey is definitely the most popular colour right now, and for good reason! It's classic and cool and it accents well with so many other natural hues. We love the choice of textured greys used in these lovely Roman blinds from Hunter Douglas. Paired with a translucent liner shade behind, and you have the perfect finish to a delightful dual shade window treatment.
1. Tough To Top Taupe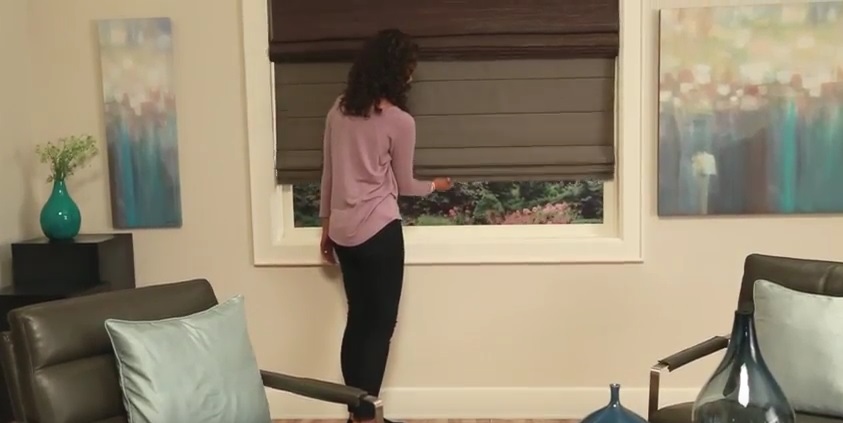 And for our number 1 dual shade idea, we think that it's tough to beat taupe. If you like to be set apart from the rest of the crowd and don't want to go with the popular grey, why not consider taupe. Taupe is a wonderful neutral tone that pairs well with many accent colours. These two-toned taupe dual shades look amazing next to the slightly pink undertones of the wall colour. The heavier material used in the shades will also give you maximum room darkening ability as well as absolute privacy. This attractive window treatment design is courtesy of Hunter Douglas as well.
Save Big on Dual Blinds Now – Buy 2 Get 1 Free
Right now Graham's & Son is offering a great deal on our window treatments. Buy any two shades, blinds, or shutters and get the third one absolutely free. Now is the perfect time to purchase the dual shades that you have been thinking about. Contact the professionals at Graham's & Son today to book your free in-home consultation and take advantage of this amazing deal.