Eclipse Shutters vs Hunter Douglas Shutters? Which is the best? What's the difference? We got you covered! Both are top-of-the-line products. Each one offers a similar product line that can be customized to perfectly fit your decor, however, their motorization options are slightly different, as are their approaches to social responsibility.
Read on to learn more about these two top window treatment manufacturers and book a free home consultation with Graham's & Son Interiors, your local Eclipse and Hunter Douglas dealers. They can help you choose the perfect blinds, shades, shutters, or drapery for your windows.
Eclipse Shutters vs Hunter Douglas Shutters
First, let's take a look at some general information about these two fantastic suppliers!
Hunter Douglas offers a wide variety of innovative window treatments – and even architectural products. They have a long history dating back to 1946 and are known worldwide. Hunter Douglas is also known for their corporate and social responsibility, supporting organizations such as the Ronald McDonald House Charity and Habitat for Humanity. 
Eclipse Shutters is one of the best selling shutters in North America. They are the largest manufacturer of custom-made shutters. The original vinyl shutter was developed in the greater Toronto area and now it is fabricated to the same standards worldwide. Eclipse Shutters have a unique manufacturing process which combines top quality components and highly automated equipment with skilled workmanship to provide the fastest delivery times in the industry. Eclipse also has an unlimited 25 year warranty.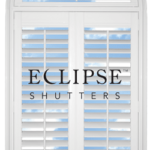 When it comes to Eclipse Shutters it is obvious of the advantages as there are so many options! Eclipse shutters are sturdy and engineered to add the benefit of energy efficiency, blocking out the suns hot rays in the summer and cold drafts in the winter. Eclipse shutters utilize their smartly engineered system where you get a choice of the louvers either controlled by their Patented Tilt-Bar System or Rear Tilt-Bar System for a seamless look!
Eclipse Shutters offer many advantages! for instance, they provide great durability as they are expected to last at lest 25 years with minimal care! Eclipse shutters will never be damaged by the sun as they are UV resistant and also water and steam resistant. 
Eclipse features the following four types of shutter styles (click on the links to see more information from their website)

Highlights:
Shutter with louvers only 2 1/2″ wide
great for windows, doors and room dividers
narrower louver width provides more privacy when open than some of the wider options, making them just right for an area with lots of walk by traffic
 complete privacy when louvers are closed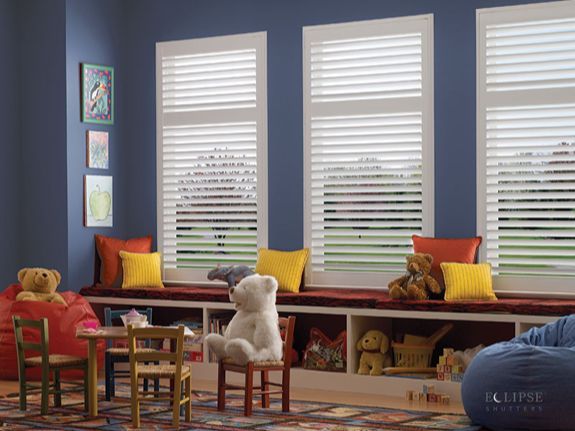 Highlights: 
When they are open, visibility is 56% greater than 2 1/2″ shutters
Works well in both traditional and contemporary homes
Perfect for windows that open to a beautiful view 
Provide a great amount of privacy even when open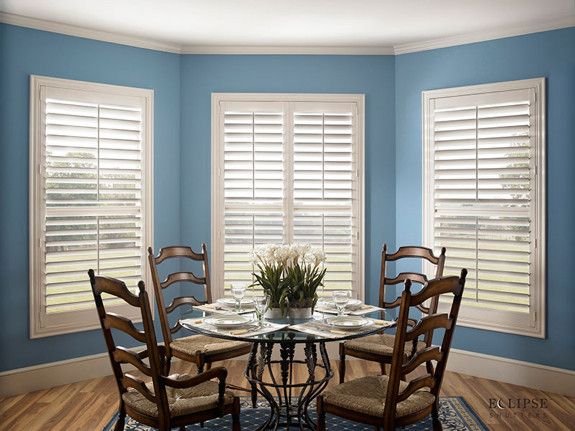 Highlights:
Originated in the Southwest region of the United State where homes have larger windows and panoramic ocean views
A very elegant feel and will make a bold statement in any room
 Best used when they open to a stunning view
Create visibility thats 108% greater than the 2 1/2″ shutters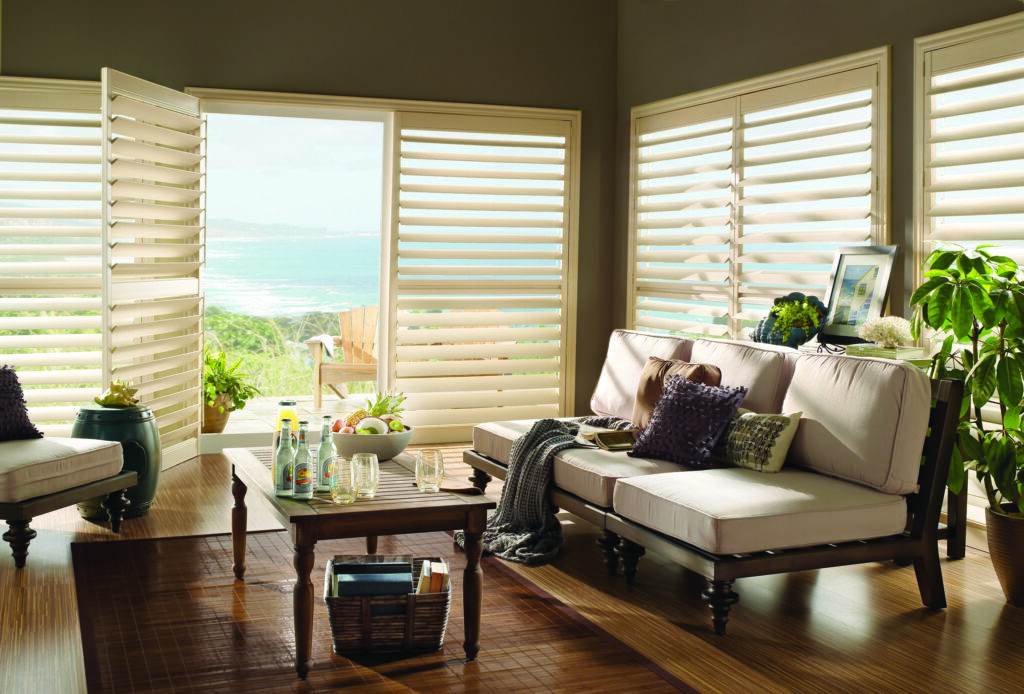 Highlights:
Eclipse Arch
Available in 11 shapes that fit a variety of arch styles
The Eclipse Arch makes it possible to enjoy the simplicity of plantation shutters even on non-traditionally shaped windows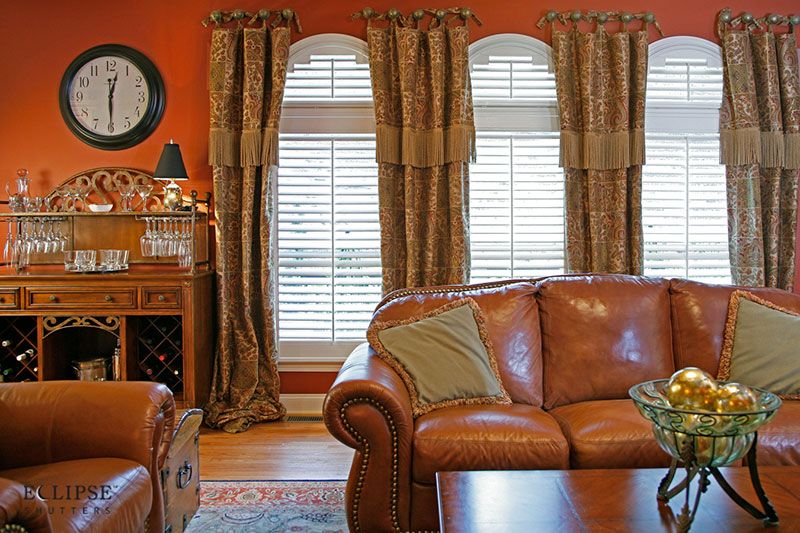 Hunter Douglas offers shutters that provide you with privacy as well as insulation and energy-efficiency. Coming in a variety of colours and finishes, Hunter Douglas focuses on shutters that are made of either a UV-resistant polysatin or a hybrid material which looks like real wood. Crafted out of these materials, their shutters are durable and strong.
Hunter Douglas features the following two types of shutter styles (click on the links to see more information from their website)
Highlights:
3 louver sizes available: 2 ½" ; 3 ½"; & 4 ½"
Made from UV-resistant Polysatin™ material
Choice of 3 different colours: White, Bright White & White Silk
Water resistant
PowerView® automation controls
Lifetime guarantee

Highlights:
3 louver sizes available: 2 ½" ; 3 ½"; & 4 ½"
Made from a wood composite material, polypropylene coating, and Finetech® finish
Choice of 5 different colours: Crisp White, True White, Polar White, White Lace & Swiss Cream
Choice of 3 types of finishes: English Saddle, Sierra Sand & Urban Grey
SoftClose™ louvers
Truemill® dovetail construction
Available specialty shapes
Choose Graham's & Son Interiors
With over 45 years experience, Graham's and Son has expert advice to offer you when it comes to deciding between Eclipse shutters vs Hunter Douglas Shutters. Let Graham's help you with the selection of your shutters and get the look you desire for your home or business.
Graham's and Son offers you:
High-Quality Installation & Workmanship
Better Value For What You Pay
What Other Customer Are Saying...
"Amazing company to work with! We changed all of the blinds in our house with shutters or cellular shades. They had an amazing promotional offer which made the price incredible. They are very friendly and informal (this is a good thing) to work with. They installed the window coverings the same day the order arrived. We will be a repeat customer." 
– Blake Madill
"I was very impressed with the professionalism exhibited by this company. I had ordered 2,5 inch louvered for my shutters however 3.5 inch shutters were manufactured and installed. (Apparently 95% of people now order the larger ones). I politely pointed out their error and they quickly acknowledged their mistake. They offered to replace all at no additional cost or give us cash back of 25% of the total cost. We elected to keep the blinds and they promptly provided the cash settlement. First class. This is a very ethical business and I definitely will be a repeat customer!" 
– Stewart McKechnie