Before you decide on what shades to dress the windows of your home or business with, take some time to learn about the different products available. In this blog, we will be comparing Elite Window Shades vs Hunter Douglas Shades. 
We will also review why Graham's & Son Interiors is the best in the business. They offer high-quality installation workmanship and better value for what you pay.
Elite Window Shades vs Hunter Douglas Shades
Elite began as a family owned drapery business in 1967. First located on Bathurst Street in Toronto, Elite sold custom drapes to local customers. As a business, Elite has grown over the years and they now serve customers all across Canada and they have their own facility in Concord, Ontario. Though they have grown, they are still committed to the high-quality service of a family owned and operated business.
Established in 1946 because of a joint venture between two men named Henry Sonnenberg and Joe Hunter, Hunter Douglas began with the development of aluminum slats. The company had its beginnings in the U.S. and Canada, but it is now a world-leading provider of window coverings. They also manufacture architectural products and are known for their commitment to innovation and social responsibility.
Elite focuses on drapes, blinds and shades for residential and commercial purposes. Hunter Douglas offers the same selection of window coverings with the addition of shutters. 
Let's take a look at the shades each company provides as you consider Elite Window Shades vs Hunter Douglas Shades.
Elite offers the following types of shades (click on each heading to be linked directly to the website).
These shades are made from a unique fabric which combines two looks: traditional shutters and blinds with modern roller shades. The shades are made of alternating bands of opaque fabric and sheer inlays. When lowered, you get room darkening; when opened slightly, light is filtered through the sheer fabric and the shades appear as Venetian Blinds; when opened completely, the shades are hidden in its cassette and you have a full view of the outdoors.
As you may have guessed, Roller Shades are made from one continuous piece of fabric or material that rolls up when not in use. Elite has roller shades that come in a variety of options: 
Designer Shades 
Solar Shades 
High Performance Shades
Green Shades (PVC Free) 
Blackout Shades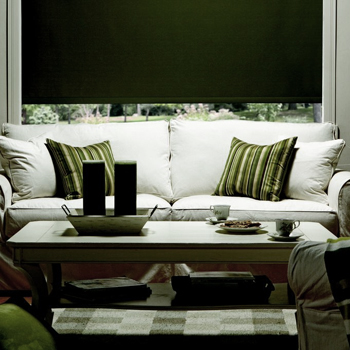 These shades are made of layered fabrics and rotating vanes (the horizontal panels hanging from the headrail) to offer different levels of privacy. These shades give you a view to the outdoors but also protect from UV rays and sun glare.
A versatile product, cellular shades are made with honeycomb-shaped air pockets which actually help in insulating your windows. 
These shades can come with light-filtering and blackout options and can be fitted to various shaped windows.
Roman Shades work well for room-darkening. When closed, these shades will lay flat; when open, the shades will create elegant folds for a traditional look. While not available as automated shades, these shades can be controlled with a Continuous Cord Loop or a Standard Pull Cord.
Comparing Elite Window Shades vs Hunter Douglas Shades?

Contact Graham's for expert advice!
Next is a list of shades from Hunter Douglas (click on each heading to be linked directly to the website).
Made from a specially designed honeycomb shape, this type of shade traps air and provides insulation. This energy-efficient construction is available in a variety of fabrics, pleat sizes, colours and textures.  
Also, these shades are also very easy to clean – all you need to do is use the brush attachment on your vacuum!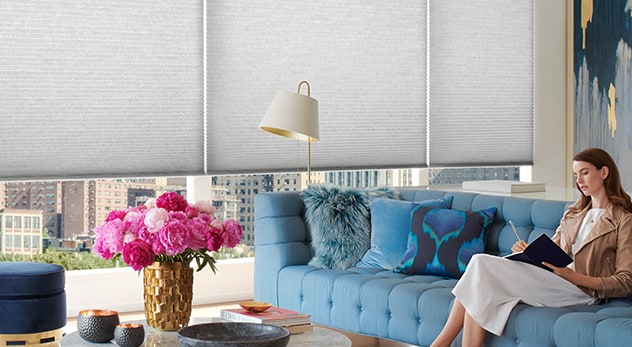 When it comes to Roman Shades, Hunter Douglas offers 3 main designs:
Each style consists of soft, fabric folds in a variety of opacities. When raised, the fabric stacks consistently and evenly. Their roman shades come in all different fabrics, colours, and folds for a traditional or modern look.
As you learned earlier, Roller Shades are made from one piece of fabric or material (or a combination of materials as you will see) that rolls up when not in use. Hunter Douglas offers the following types of roller shades:
Click on each link to see how Hunter Douglas has created some really unique roller shades!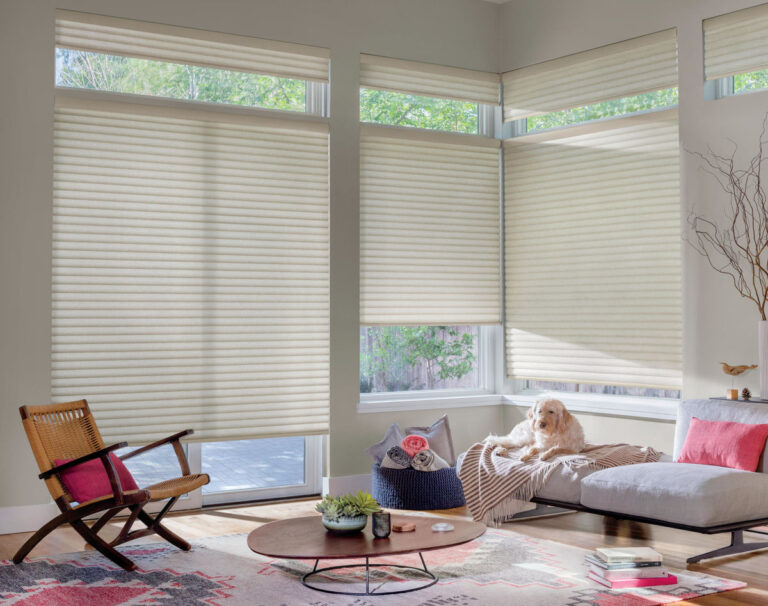 Solar shades, also called screen shades, are specifically designed to protect your indoor furniture from harmful UV rays. They are ideal for sunrooms and patios and offer 5 different levels of privacy.
What is also really cool about these shades is the fact that the fabric is actually made from reclaimed plastic that has washed ashore.
Hunter Douglas also offers other light-diffusing shades like their SILHOUETTE® and PIROUETTE® shadings. These shades both have adjustable vanes of fabric to provide different levels of light filter.
If you aren't familiar with Hunter Douglas shades, be prepared for a large variety of styles, fabrics, and options! Be sure to check out all the options.
With so many options for shades (and that is just one type of window treatment!), you are going to want some advice when choosing between Elite Window Shades vs Hunter Douglas Shades.  
Graham's and Son has interior decorating expertise to help guide you through these decisions. Their staff will meet with you and help you choose the proper shades for your environment. They will also make your order for you, install your products and make sure you are getting the best value for your money! 
Browse their Facebook page (Click here) to see their quality work and find out why you want Graham's & Son for all your interior design! Read the testimonials below for even more good reasons to choose Graham's.
Email Graham's at sales@grahams.ca or call them at (519) 658-9025
"We purchased roller shades from Graham's & Son. Measurements were done in home, very professional and knowledgeable on product offerings. Prices were comparable, we had shopped around. Blinds were delivered directly to our home and were very easy to install." – Theresa Kuntz
"Quality! Everything about their installs are high-end. A pleasure to work with." – Matt Sime