You've probably heard that the kitchen is the most popular room to remodel because it is the heart of most of your home's activity as well as offering the best return on your investment. But when it comes to kitchen renovations, how much do they cost? If you need expert advice about renovating, contact the professionals at Graham's & Son Interiors. We would love to come to your home for a free, in-home consultation and answer any questions you might have.

"Just bought a home that needed a new kitchen. The installers were amazing and the Price, Quality & Workmanship the BEST!"
– Natalie Dawson
Read More Testimonials
Click here to see a gallery of our work
Reasons Why You Should Renovate Your Kitchen
There are many reasons why you should renovate your kitchen beside the most obvious one which is that it is the number one room to renovate if you want to add to the value of your home. Here are a few more good reasons:
Save Time: A well-designed kitchen will improve the functionality of the workspace, making it easier and more efficient to prepare meals. This will save you time and will make cooking more enjoyable.
Save Money: Upgrading your appliances can help you save money in the long run on your utility bills if you purchase high efficiency, energy saving ones.
Improve Your Quality Of Life: You and your family spend many hours in your kitchen. Having an inviting space that suits your lifestyle can make a big difference in creating a positive and pleasing family time experience.
Kitchen Renovations – How Much Do They Cost?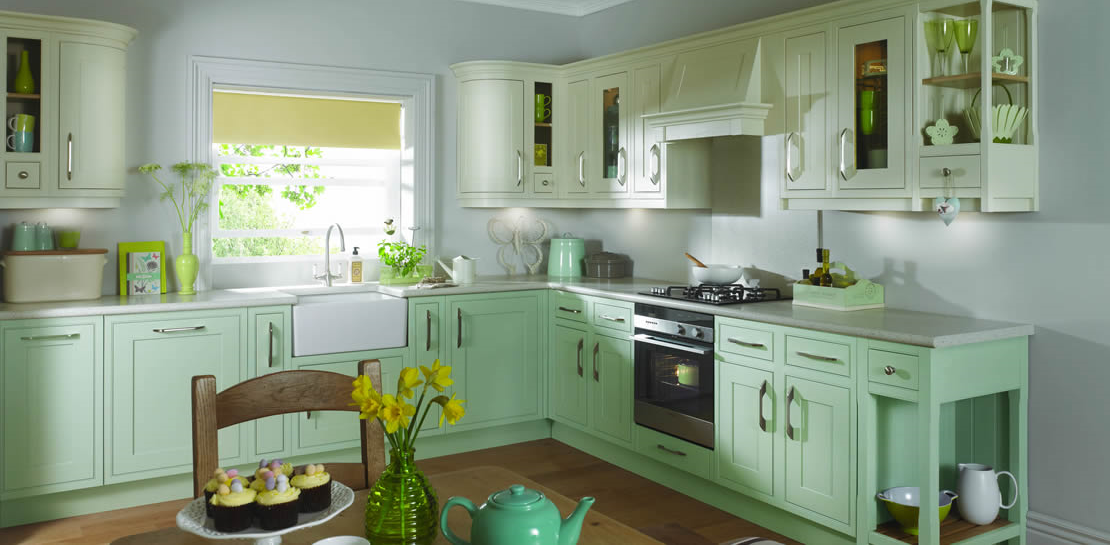 An average kitchen remodel, with mid-range priced appliances and cupboards, will probably cost anywhere from $16,485 and $43,219 CDN. Higher end remodels can go upwards of $65,000 or more. If you are on a really tight budget and would like to do a low-end facelift, you probably could spruce it up for as low as $5,000. It all really depends on what changes you are looking to make, the quality of materials that you want to use, and the budget you have in mind. To help you figure out what kind of cost you are looking at, we'll break down your kitchen renovation into its different components and give you an idea about how much you may expect to pay for those components.
The following will give you a rough idea of how much of your budget each of the main parts will take up:
30% – Kitchen Cabinets
10% – Countertops
5% – Flooring
14% – Appliances
5% – Plumbing
5% – Electrical
20-35% – Labour
Remainder – Unexpected costs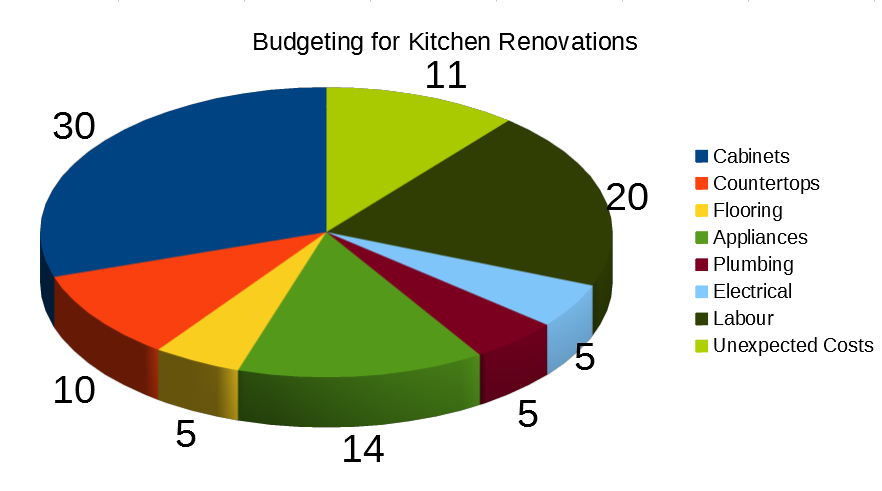 Tips For Planning Your Kitchen Renovation
1. Follow the 5 to 15% Rule:
A good rule of thumb to follow when deciding how much to spend on your kitchen renovation budget is the 5 to 15% rule. Don't spend less than 5% of your home's value as it might lower your home's value rather than improving it, and don't spend more than 15% as it is difficult to recoup more than 15% of your investment when you sell your home.
2. Set Priorities:
Decide on your priorities for the renovation and if your funds run out, cut out the lower priority items.
3. Living Arrangements:
Make a plan for what your family will do while the renovation is taking place, such as moving in with relatives or setting up a temporary kitchen in another room while your kitchen is out of commission. Perhaps plan for a summer renovation so that you can cook your meals outside on a barbeque.
Kitchen Cabinets
Your kitchen cabinets are probably the first thing that gets noticed: outdated and worn cabinetry can negatively impact the overall impression of your room. Having sufficient cabinet space will also provide you with the extra workspace that you require to function efficiently in your kitchen.
Custom or Standard?: If your budget will allow it, custom cabinetry will give you the most flexibility to perfectly fit your space and taste. However, standard cabinetry is much more affordable. You can make a compromise between the two by installing pull-out shelves or lazy susans into standard cabinets to partially customize them and make them more convenient.
Materials: There are many different types of materials that you can choose from for your kitchen cabinets. Wood is still the most popular choice as it is very durable and it lasts a long time. There is a wide range of different types and prices for wood cabinets. If you are looking for less expensive alternatives, you could choose from composites, laminates, metal, or even glass.
Countertops
Countertops are used as a covering on top of your lower cabinets or an island. When choosing a kitchen countertop, the size and type of material used will affect the cost the most. There are so many different options and price points to choose from, including:
Low to Moderate Materials:
Higher Priced Materials:
Quartz
Stainless Steel
Butcher Block
Marble
Granite
Your choice is going to depend on what is going to work best for you and what will suit your design and budget. Higher priced options can add more to the value of your home than the lower priced options. Tile will look great but it does require quite a lot of maintenance to keep it looking its best.
Flooring
The size of the floor and the material that you choose for it will greatly affect the cost of your kitchen flooring. Because of the risks of stains, heat, moisture, and grease spills that can be common occurrences in a kitchen, the most expensive flooring options may not be the best choice for your kitchen flooring, unless you want to keep on top of the cleaning and maintenance required for the more expensive flooring options such as hardwood, tile, stone, or slate. Vinyl or linoleum are less expensive to purchase and install, however they will add very little to the value of your home. For more information on which flooring choices are best for higher traffic areas, read our blog post entitled "What flooring material is best for a high traffic area?"
Appliances
Quality appliances can not only improve the overall look of your new kitchen, but they will also help increase the resale value of your home. You need to do your research though. The most expensive stove, for instance, may not be the best value in terms of efficiency and energy savings. Take a look at what features are offered and what is behind the price. A lower priced appliance with great energy efficiency might save you on your utility bills but may not last as long as a higher priced one that has a lifetime guarantee. The best rule of thumb to follow is to buy the best appliances that you can afford.
Tips for Cutting Costs
Don't Move Appliances Or Plumbing: Try not to move appliances that need gas or plumbing hook-ups as the cost for paying for an electrician or a plumber to do the job will greatly add to your overall budget.
Install Stock Cabinetry: If you would like new cabinets, but your budget is tight, consider purchasing stock cabinets instead of having them custom made.
Refinish Your Cabinets: If your cabinets are still in good shape and you just want to freshen them up, then an inexpensive way to do this is to remove the doors and refinish or paint them yourself.
Choose Materials Carefully: The materials that you choose for your kitchen greatly impact the final costs. Specialized materials often require special installation. Consider carefully the types of materials that you really need to have.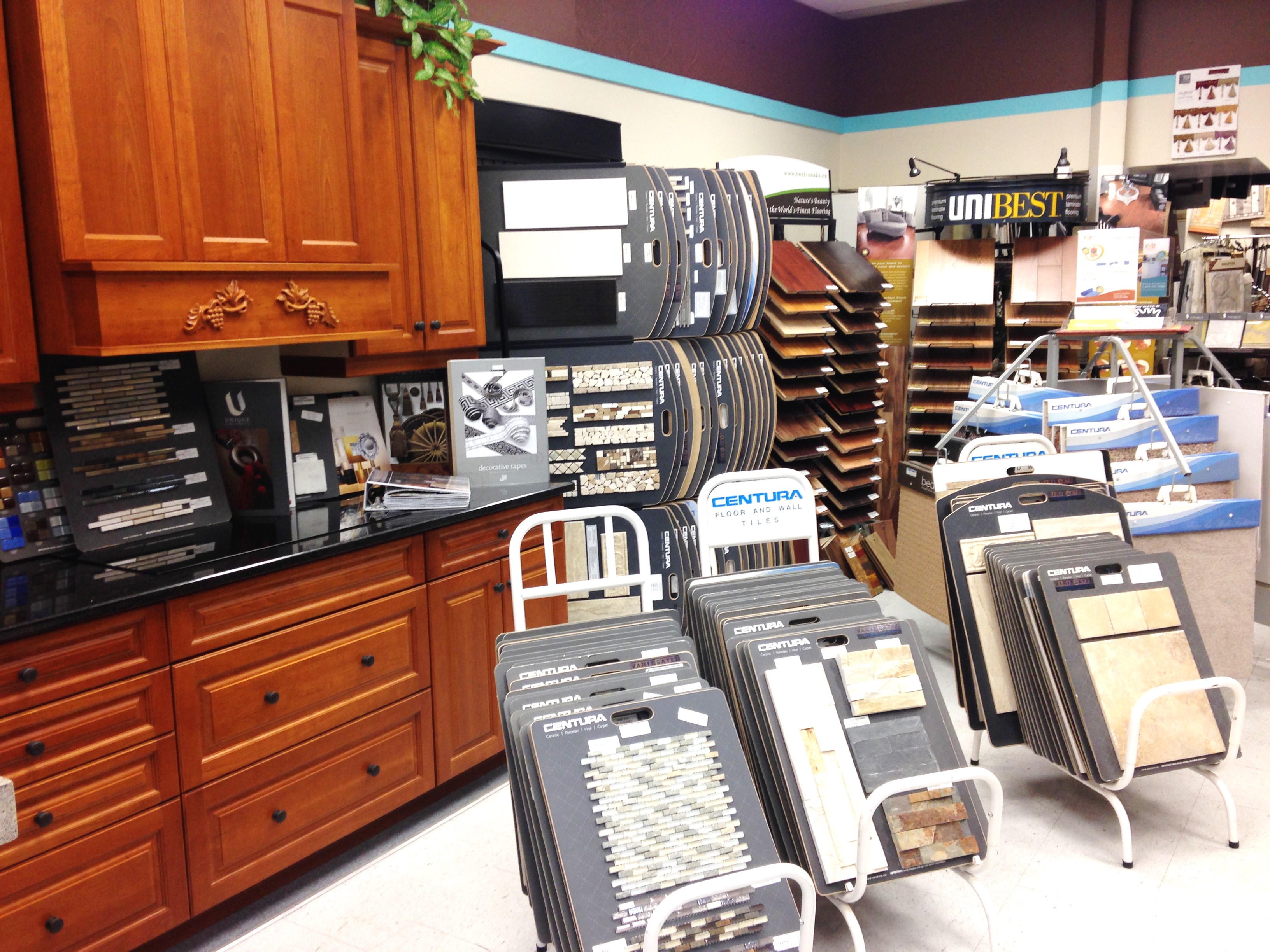 Renovating Your Kitchen? Contact Graham's & Son
If you are considering a kitchen renovation, talk to the design experts at Graham's & Son. Graham's & Son has been producing beautiful interior designs for more than 40 years. We are locally owned and operated and we specialize in all types of renovations, including kitchens. We offer free, in-home consultations and will take the time to listen to your ideas and dreams for your new kitchen. If you are thinking of remodeling your kitchen or any room in your home, contact the professionals at Graham's & Son to book your free in-home consultation today.

Sources
Kitchen Remodeling Costs – Remodeling Professionals Tell All