Deciding between 2 leading suppliers, Shadeomatic blinds vs Hunter Douglas blinds, is difficult. Let's compare these 2 types of blinds and look at how Graham's and Son, a family-owned and operated business that has been serving the Cambridge region for more than 45 years, can help you set up your home or business with blinds that suit you. With Graham's, it won't matter what supplier you end up choosing as they can tailor anything to meet your unique needs.  
Let Graham's & Son help you choose the right blinds for your home or business.
Shadeomatic Blinds vs Hunter Douglas Blinds
Both suppliers offer the following:
Types of Blinds: Horizontal and Vertical
Materials: Wood, Faux Wood, Aluminum, Fabric, PVC, and Vinyl 
Automated Operating Systems: Remote Control, Smart Devices, and Voice activation
Although Shade-O-Matic® has been part of the Hunter Douglas Group of Companies since 1996, it was actually found in 1982. Grown from a small regional company based in the Greater Toronto Area, Shade-O-Matic® has become a national provider in Canada. They strive to offer high-quality, innovative products that meet or surpass safety requirements and provide energy efficiency.
Decorative PVC and Fabric Vanes are available.

Over 250 colours and patterns to choose from.
Standard Wand, Chain and Chord Controls for total light control and flexibility.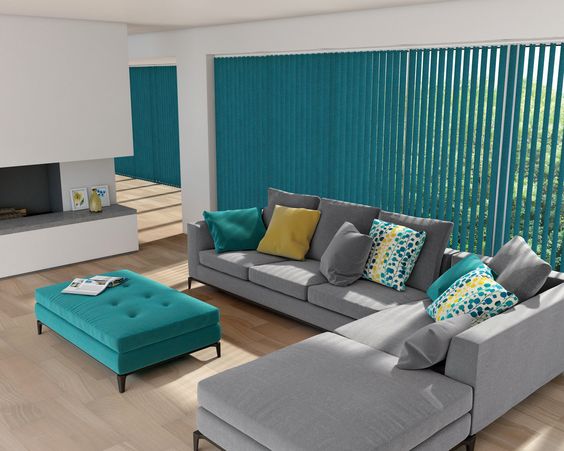 These vertical blinds have been chosen in a color that matches other fabrics in the room.
2″ and 2 1/2″ Slats engineered from durable polymer materials 
Available in natural or neutral finishes, a premium wood grain print, or additional decorative tapes
Cordless Lift System and a Lift & Lock Cordless System is available
Optional LightsOut feature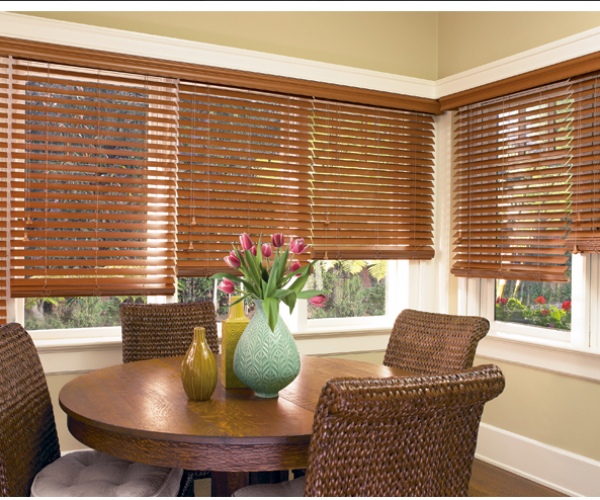 Faux wood is a great alternative to real wood because of its resistance to wear and tear.
3 Slat sizes available: 1 3/8", 2" and 2 3/8"
36 stains and finishes to choose from, including decorative tape 
Cordless Lift System and a Lift & Lock Cordless System is available
Optional LightsOut feature
Real wood blinds compliment the hardwood floors in this living area.
1 and 2 Slat sizes available
50 different colours and finishes, including an easy-to-clean dust resistant finish
Spring-tempered slats to help prevent dents and kinks
Optional LightsOut feature
Aluminum blinds provide a sleek and minimalist look.
Hunter Douglas was established in 1946 with the development of aluminum slats. First becoming widely known in the U.S. and Canada, the company is now a world-leading provider of window coverings. They are also manufacturers of architectural products and known for their commitment to innovation and social responsibility.
Made from 100% real wood from responsibly managed forests
Large selection of slat sizes, stylish colours, and decorative tapes are available
De-Light™ feature reduces light leaks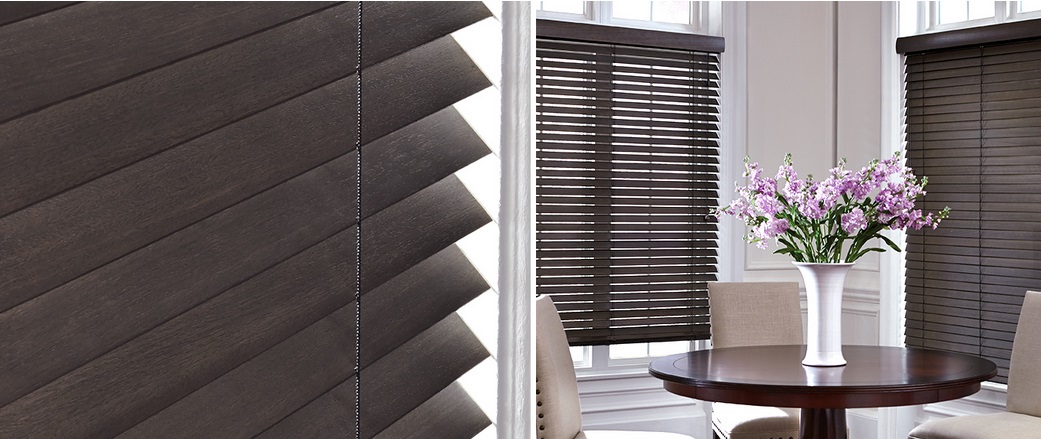 Real Wood Blinds compliment natural wood features in your home.
Large selection of colours, realistic stain finishes and decorative tapes
Suited for humid areas as they are guaranteed not to fade, yellow, warp, or bow
De-Light™ feature reduces light leaks

Alternative Wood Blinds are great for humid areas like Bathrooms or Laundry Rooms.
Durable so they maintain their shape 
Extensive selection of colours, finishes, textures, and decorative tapes
De-Light™ feature reduces light leaks
Have some fun with modern-looking and colored Aluminum Blinds.
Still debating Shadeomatic Blinds vs Hunter Douglas Blinds? With so many choices, you can't go wrong with having Graham's provide you with professional design advice. Let them help you pick out the perfect blinds for your home or business. Contact Graham's and Son for a free consultation. 
Testimonials from Clients
"Very positive experience with Graham's & Sons! Matt came out to our home in Kitchener for a free consultation where he helped us pick the perfect blinds for our home. The installation process was timely and professionally executed. We highly recommend this business to others. Based on our experience of quality service and products offered by Graham's & Sons my husband and I are excited to check out the showroom to see about kitchen upgrade options!" – Lija Nicole Obermaier
"Had a amazing experience with Graham's & Sons interiors with window treatment for our sliding door, I would certainly recommend them for their products, we are so happy with our motorized window blind. They came and installed it very quickly. Looking forward to doing more business, thanks again." – Andrew Skurz