Shutters For Large Windows
The Perfect Shutters by Graham's & Son
Large windows with large shutters make an impressive statement! Graham's & Son Interiors offers the best shutters for large windows in the tri-cities. From consultation, measurement, and installation, our staff makes sure you find the shutters that suit you and your home – even if your windows are oversized or irregular in size.
Learn More About:

1. Shutters for Large Windows
2. Shutters for Irregular Windows
3. Graham's & Son Interiors

With over 40 years of experience helping customers like you get beautiful home interiors, Graham's & Son wants to ensure you get the exact window coverings and quality service you desire!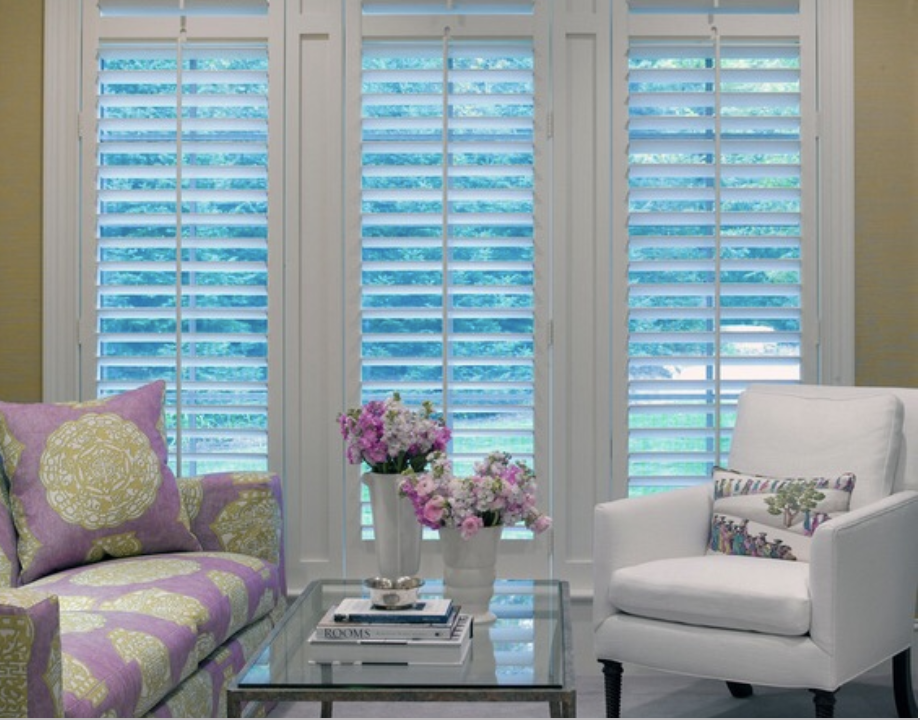 Shutters for Large Windows
1. Shutters for Large Windows
Shutters are an excellent window covering choice for your large windows – and doors, too! While exterior shutters look great on the outside of your home, we will focus on interior shutters.
Here is the scoop on Shutters:
They look beautiful
They are energy efficient
They help reduce noise from outdoors
They provide light control
They look great from the inside and outside of your home
They can even add value to your home
The best choice in interior shutters for large windows are Plantation Shutters, since their louver size is larger at 3.5 inches wide compared to California Shutters which have louvers that are 2.5 inches wide. The louvers are the slats which can be slanted to control light and air. Basically, the larger the window, the larger the louver. If you would like to learn more about Plantation Shutters, have a look at our blog post, What are Plantation Shutters? Top 5 Designs.
Shutters are installed directly on your window or door and can be left shut as an entire panel or opened if you want your window completely opened. When the panel of louvers is shut, you can slant the louvers to open or shut them, too.
Shutters are available in wood, composite materials, and vinyl. The most affordable shutters are generally vinyl shutters. Learn more about vinyl shutters here in our other blog post, Vinyl Plantation Shutters: Everything You Need To Know.
Below are some pictures of shutters for large windows, including pictures of products from top suppliers we work with like:
2. Shutters for Irregular Windows
You may think that you can not get shutters for windows that are irregular in shape. Thankfully, Graham's can help you find products that offer shutters that can be customized for large windows that come in irregular shapes.
You may need shutters that are angled, arched, or you may even need shutters that have cut-outs for door handles if you are treating doors. Or maybe you want café style shutters. You are not as limited as you might think when it comes to shutters for large, irregular windows, and doors.
You can choose from a variety of shutters which come in a range of styles, colours, materials, sizes and shapes. Take a look at the pictures below to see some examples of irregular windows with large shutters. Or, Contact a Graham's specialist to get shutters for large windows, doors and irregular windows!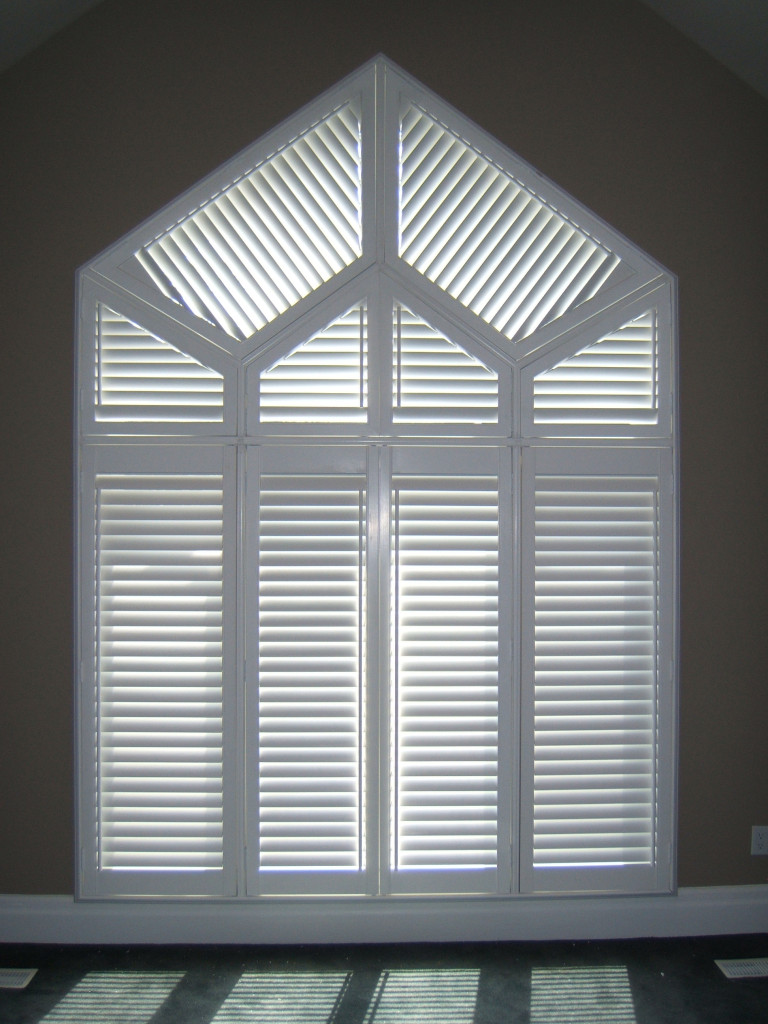 Maxxmar Specialty Shutters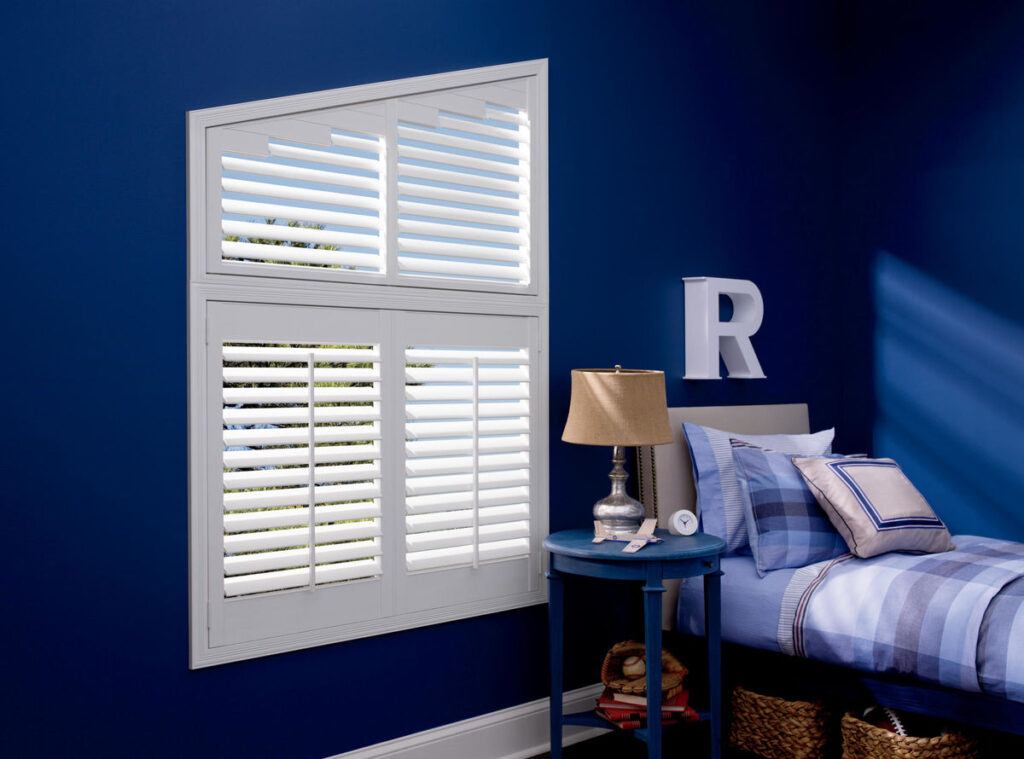 Hunter Douglas
Specialty Shutters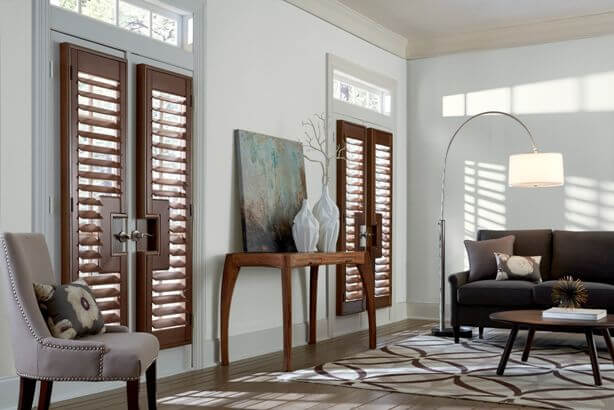 Graber Specialty Shutters
3. Graham's & Son Interiors
Discover the difference when working with design experts from Graham's & Son Interiors. Our specialists can help you get the perfect shutters for your unique space. They provide:
Free in-home consultations (Discover all the options and how they can be tailored to suit your needs!)
Accurate measurements
Quality shutters and other window treatments
Expert Installation
If you are ready to add shutters for large windows or any specialty windows and doors, Graham's & Son Interiors is ready to help. They will guide you through the process, from selecting the right window treatment, ordering your supplies, to professional installation. They are also committed to customer satisfaction all along the way!
Committed to Customer Care for over 40 years
We are conveniently located in Cambridge, Ontario at 9 Queen Street East. 
"Amazing company to work with! We changed all of the blinds in our house with shutters or cellular shades. They had an amazing promotional offer which made the price incredible. They are very friendly and informal (this is a good thing) to work with. They installed the window coverings the same day the order arrived. We will be a repeat customer." – Blake Madill