We've put together a list of what we consider to be 10 outstanding blackout blinds designs for those of you who require times of total darkness. Whether you do shift work and need to sleep during the day, or you need a hand helping your little one nap during the day or go to sleep in the early evening, or you want to watch a movie on your big screen during the day without the annoying glare of sunlight, then blackout blinds may be the perfect option for you. Not only will these blinds help you sleep, but they will also help you save money. Blinds act as an extra insulator which means you will save on your energy costs. If you are in the market for new blackout blinds, contact the window treatment experts at Graham's & Son. We will come right to your home, and during a free, in-home consultation, measure your windows and give you a quote right on the spot.

"We recently had Graham's and Son interiors Install Blinds throughout our house. The product looks awesome and the price was unbeatable. Matthew provided excellent advice and customer service in regards to making sure we were happy with everything. I will not hesitate to call Graham's and Son Interiors when we update our kitchen in the near future."
– Eddie Obermaier
Read more testimonials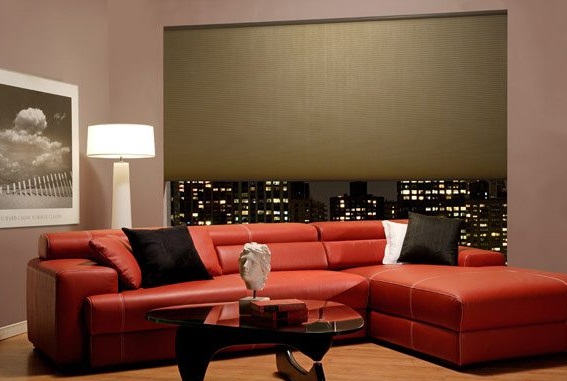 10 Outstanding Blackout Blinds Designs
Window shades and blinds cannot totally block out 100% of the light coming into your windows because there will always be slight light gaps. Hunter Douglas however, offers blinds with a unique de-Light feature which minimizes light gaps and hides cord holes, seams, and rout holes to give you the maximum blackout effect possible. The following 4 blackout blinds designs include the de-Light feature. These 4 designs are available to order through Graham's & Son, your official Hunter Douglas supplier in Cambridge, Ontario.
1. Lighting Level Choices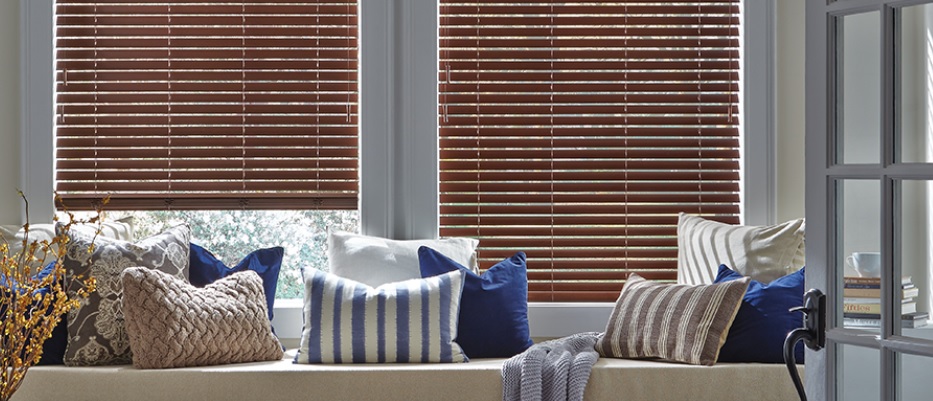 The blackout blinds design above is perfect for a room where you need to have various levels of light. When you want the room to be bright during the day, simply raise the blinds. However, if you want lots of light but still would like the beautiful faux wood colour as a backdrop, just fully open the slats. For maximum room darkening effect, close the slats and lower the blinds.
2. Luxury In Darkening Effects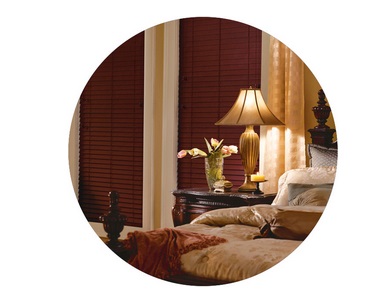 Who said that room darkening needed to look utilitarian? This bedroom blinds design proves them wrong. These gorgeous wood alternative blinds from the EverWood True Grain collection have anunderlying burgundy tone which works beautifully with the golds and creams in this bedroom andgivese a rich and luxurious feel to the space.
3. Good Night, Light

The deep rich wooden tones of these faux wood blinds look great next to the creamy wall colour. When they are fully closed will, they will effectively darken this room so that no annoying light will interrupt your or your child's much needed sleep.
4. Contemporary Grey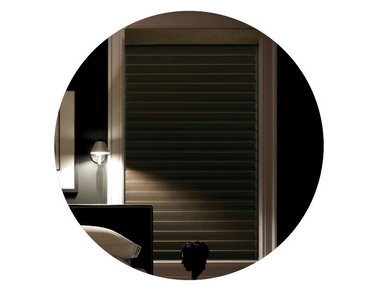 If you prefer a more modern look for your window treatments, why not consider this contemporary charcoal grey blind from the Silouette collection? We love the way it pops as it is beautifully framed in soft white. The coordinating wall colour and headboard beautifully tie this design together. And what's even better, you'll enjoy more daytime naps with the great room darkening effect.
5. DIY Blackout Windows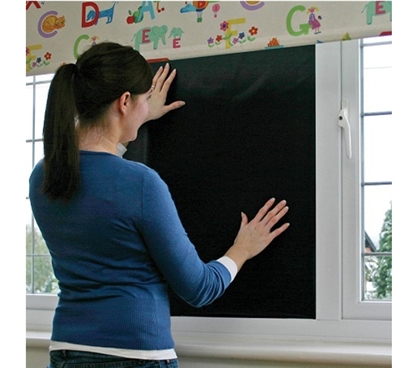 If you are a student and on a tight budget, you might want to consider this economical and temporary DIY blackout window idea. It's a peel and stick blind that will adhere to your dorm room window with static. It can be cut to fit your window and will peel off easily when you want the light to shine through. It is available at dormco.com.
6. Homemade Blackout Blinds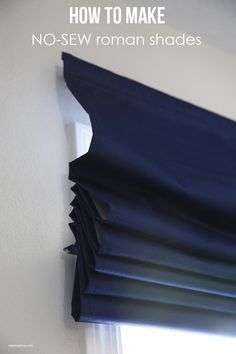 If you are on a tight budget and are crafty, you may want to try your hand at making your own blackout Roman shades. The following tutorial, "How to make inexpensive NO SEW roman shades" will walk you through the process. Make sure you use a totally opaque material to get the best darkening effect.
Blackout Effects With Shades
The final 4 blackout shade designs are custom made by Maxxmar, a Canadian owned and operated company. All of these designs are available to order through Graham's & Son, your official Maxxmar supplier in Cambridge, Ontario. If you are looking to darken a room or help eliminate as much light as possible, you should choose semi-opaque to opaque fabrics. Sheer fabrics can only diffuse or filter light and will not totally block it out.
7. Gorgeous Green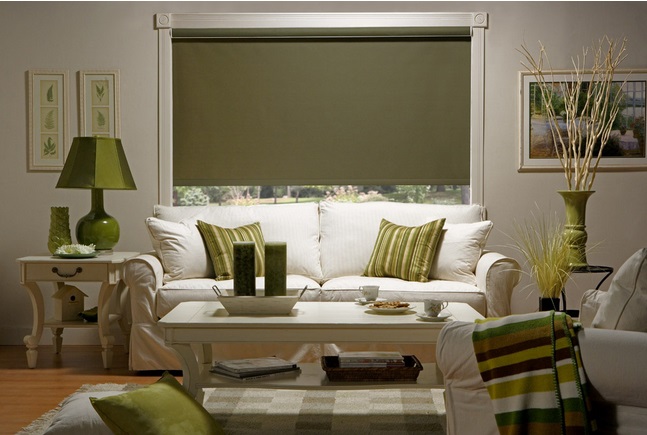 The above design is from Maxxmar's Miravista Collection. The beautiful green tone of the roller shade provides a solid burst of colour to pick up the fresh green accents in the room. In addition, the opaque material in the shade will effectively keep unwanted light out when you want maximum room darkening.
8. Blackout Liner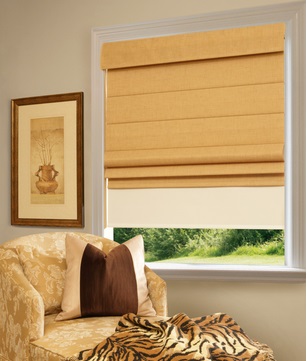 You can also darken your room by installing an optional blackout liner. This beautiful Roman shade from Maxxmar looks lovely in this quiet little corner. The liner can be conveniently pulled down, perfect for when you want to curl up for a midday snooze.
9. Dual Shade Versatility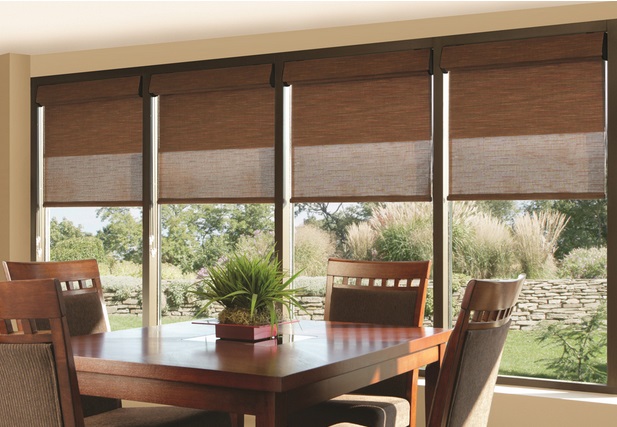 Another way to achieve effective room darkening is to install dual blinds. The beauty of dual blinds is that they give you the option of having a sheer fabric shade in front for a more subtle lighting effect and then when you want a blackout you can pull down the opaque fabric shade behind. The combinations possible with dual blinds are endless. The above design is custom made by Maxxmar and available through Graham's & Son.
10. Blackout For The Bedroom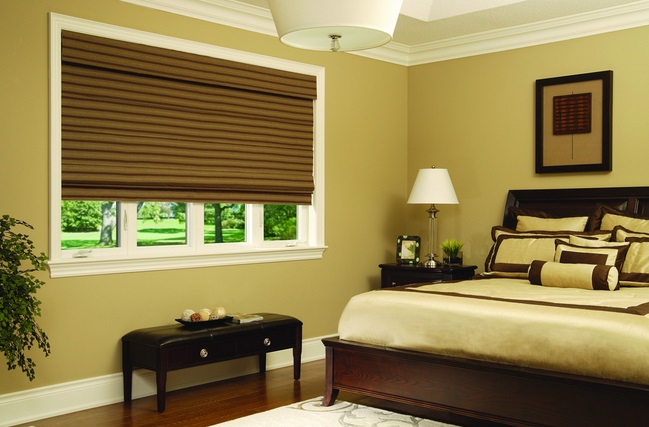 Our final blackout design choice features and large Roman shade from Maxxmar covering a huge picture window in this classic bedroom. The lovely earth tones of the shade nicely complement the rich wood of the bedroom suite and effectively block any unwanted light when it is time for sleep.
Purchase Blackout Blinds From Graham's
Graham's & Son sells high quality, custom blackout blinds. If you are considering updating your current window treatments, or if you are building a new home and need blackout blinds, contact the decoration experts at Graham's & Son. Find out for yourself why our customers highly recommend us to all of their friends and family members. Right now, you can save with our awesome promotion.
Buy any two blinds, shutters, or shades and receive a third absolutely free!
This incredible offer applies to any shutters, blinds, or shades purchased from Graham's & Son.
Have Us Come To You
Why waste your precious time and money on gas when we can come to you instead? It's just like online shopping but better – with a personal touch. You don't need to leave your home, we'll come to you, give you a consultation, and we will do it all for free! What's more, we will give you a quote right on the spot. No need to wait for someone to "get back to you" with how much it is going to cost. We'll let you know right away so you won't need to wait to make your decision. Contact us today to schedule an appointment.