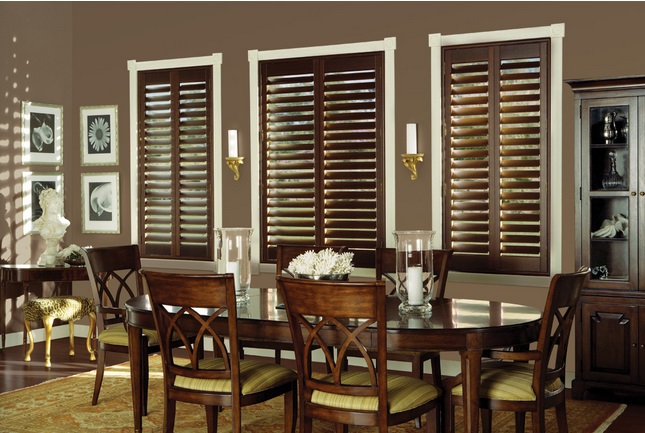 It's hard to beat the natural beauty and elegance of wooden shutters. Read on and we will look at some lovely design ideas which incorporate wooden shutters as well as outlining their features and benefits. We will also take a look at when they are the better choice over vinyl shutters. If you are considering installing wooden shutters on the windows of your new home or if you would like to upgrade your current window dressings, contact the window treatment experts at Graham's & Son today. We know shutters and would be happy to help you choose the best style and option for your home.

"I love my new California shutters that Graham's and Son Interiors recently installed (Jan 2013). Great customer service as well. I would recommend them as they not only do window treatments – they do everything for the interior of a home!"
-Mariana – Cambridge
Read More Testimonials

Wooden Shutter Design Ideas
We have chosen to highlight three amazing wooden shutter design ideas. Take a look and get inspired!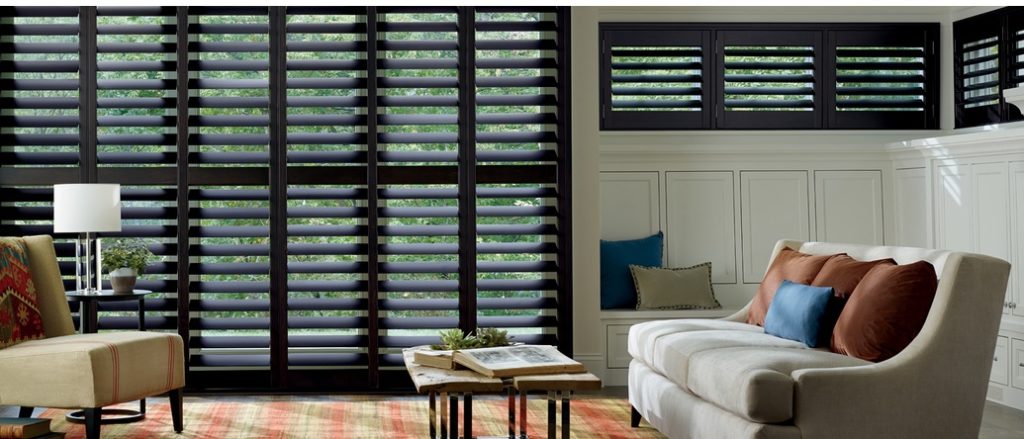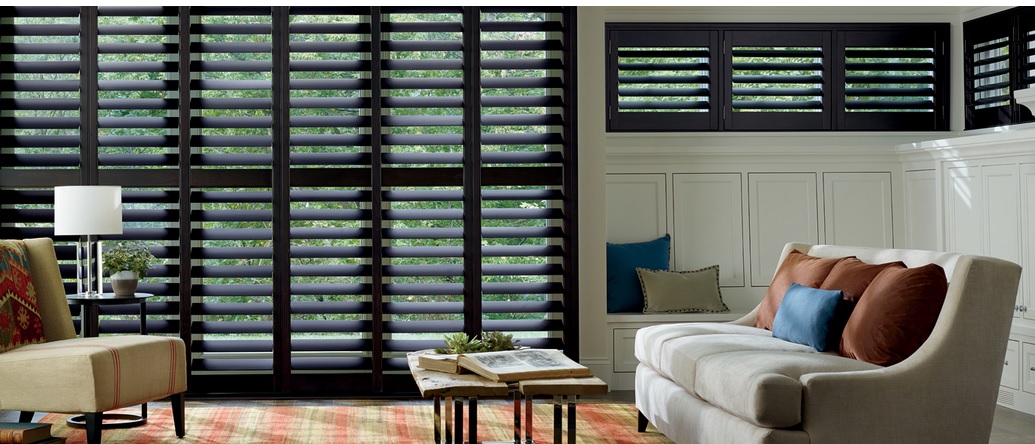 The choice of wooden shutters for this living room is perfect. The rich dark hues of the hardwood splendidly contrast with the creamy tones on the walls and the fabrics in the upholstery. The louvres in the smaller window are precisely aligned to those on the floor length windows to allow for a seamless transition between the two.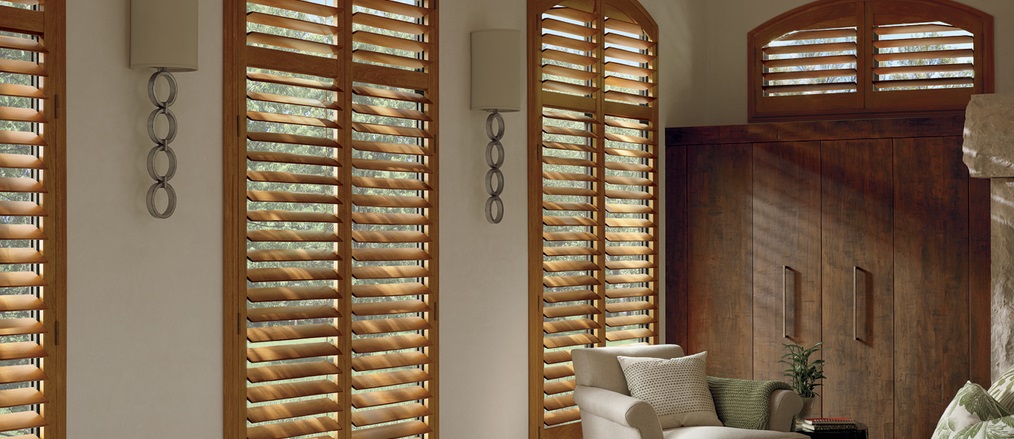 Wooden shutters can solve even those hard to dress unusually shaped windows like the ones pictured above. Not only do they give you a solution, but you also can achieve the "wow" factor that you are looking for. The earthy sand finish on these beautiful window treatments give a light, airy feeling to the room even when they are fully closed.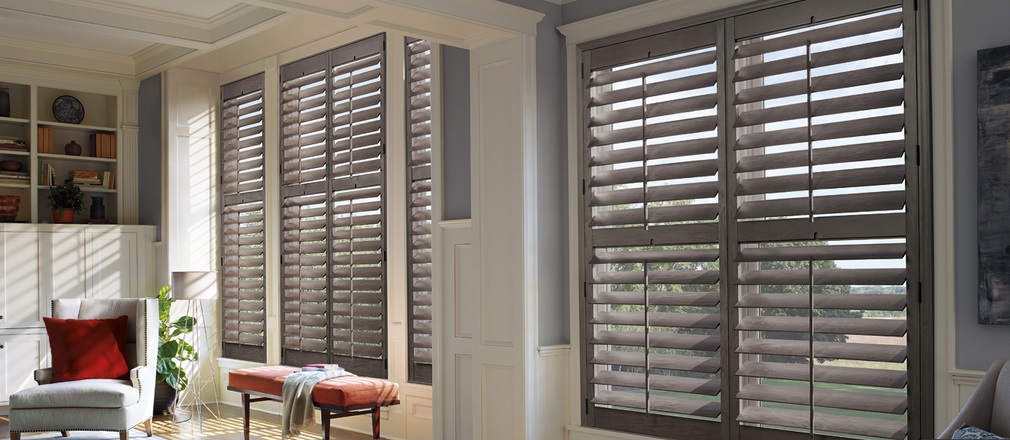 You've heard that grey is the new black for clothing and the same holds true for window dressings. The above hardwood shutters wear it well. The cool grey tones compliment the soft whites in the rest of the room. The cool, understated shades of this space are the perfect canvas for the pop of colour the vibrant red throw pillow offers.
Buy Two and Get One Free
Now is the perfect time to purchase new window treatments. At Graham's & Son we are celebrating 40 years of faithfully serving the design needs of the tri-city area. To mark this momentous occasion, we are offering you a great deal on all of our shutters, blinds, and shades. Right now, if you purchase any two shutters, blinds, or shades you will receive a third one absolutely free of charge. Now that's a great deal!

Types of Wooden Shutters We Sell
Graham's & Son is proud to partner with Maxxmar Window Fashions to bring you the highest quality custom shutters on the market. Maxxmar is a 100% Canadian owned and operated business renowned for their beautifully crafted window treatments. If you are looking for wooden shutters, you can choose from either their Tilia™ or Cashmere Hardwood collections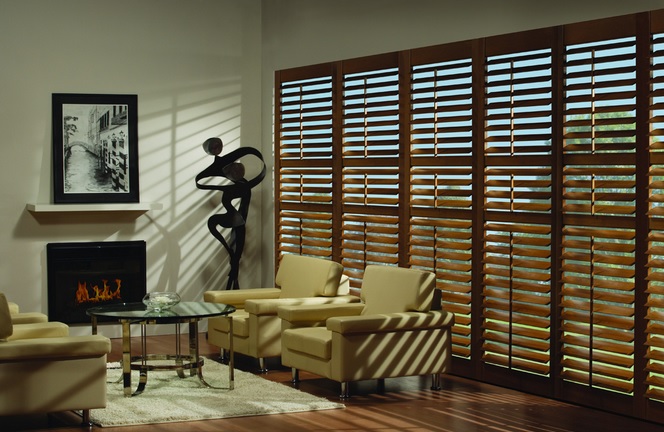 Our Tilia™ Wood Shutters are custom made to fit any window and include the following great design features:
Durable: They are made from kiln dried North American hardwood which is a straight grained wood. This means that stain and paints can easily absorb into the wood, giving it extra protection and a deep rich finish. We select only the highest grade of wood for optimal strength and durability
Rich Finish: Our shutters are custom made with state-of-the-art technology to give them a long lasting, luxurious finish. There is nothing more impressive than the rich natural beauty of wood.
Variety of Colours: Choose from a wide variety of colour options to suit any decor, such as arctic, cherry, ebony, pecan, bordeaux, coffee, golden, and walnut.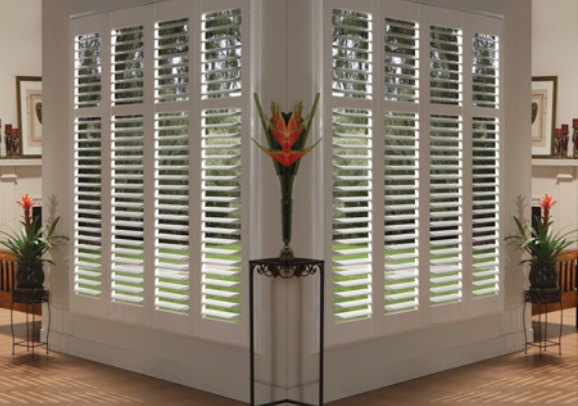 The beautiful shutters in our Cashmere Hardwood collection come with the following design features:
Durable: Cashmere shutters are made from a superior hardwood, which is firmer than most hardwoods. Because of its reduced moisture content, it is extremely durable.
Superior Finish: These shutters are crafted with a durable UV protected finish which will ensure that they will last a long time. They are also finished with high quality paint and lacquer which gives them a superior finish and elegant appearance.
Versatile: This shutter collection is available with standard frames or if you prefer, no frames at all. This flexibility allows them to be easily adapted to fit almost any window shape or size.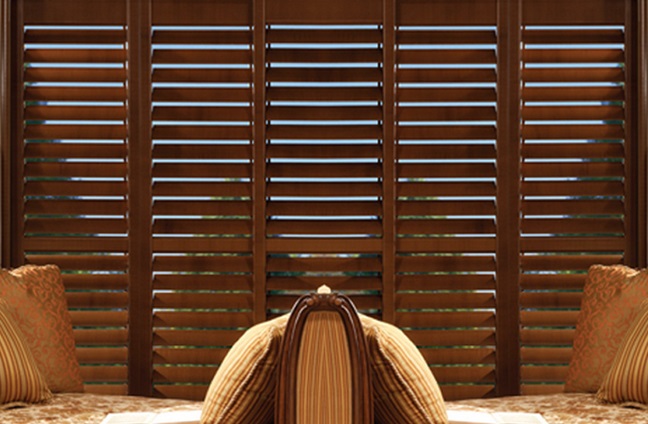 Wooden Shutters vs Vinyl
The decision to purchase wood or vinyl shutters will depend on a number of factors including personal taste, budget and design needs. According to HomeGuides.sfgate.com, natural wood is much stronger than vinyl and is therefore a better choice for windows larger than 20″ wide to avoid sagging. Natural wood also comes in a wide variety of species, finishes, and colors and can be painted and stained to match the changes in your decor whereas vinyl cannot be painted, stained, or refinished.
If, however, you are on a limited budget, vinyl may be the best choice for you as it tends to be more economical than wood. Vinyl is also a better choice for rooms which are prone to high moisture levels.

Free of Charge In-Home Appointments
One of the many things that sets us apart at Graham's & Son is our free of charge, in-home appointments. Not only will we come to your home, help to advise you on the best window treatment choice for your personal requirements, and precisely measure your windows, we will also give you a quote, right on the spot. There's no need to wait. We can do that because of our extensive experience and expertise in the interior design market.

Why Buy Your Wooden Shutters from Graham's & Son
Ask our clientele and they will tell you that Graham's & Son is the number one place to purchase your wooden shutters. We have over 40 years in the window treatment business, so we know what we are doing and you can be assured to receive the highest quality products, at the best price possible. We treat our customers with respect and will do whatever we can to ensure that their experience dealing with us is exemplary. If you are looking to dress the windows in your new home or if you would like to makeover your current window treatments, contact us today.