Whether you want to do a full renovation to the ensuite of your master bedroom or a minor update to your main floor powder room, we've created this article to provide you with some inspiring ideas. Discover these 10 beautiful bathroom ideas from Graham's & Son Interiors, your Cambridge and Kitchener-Waterloo expert.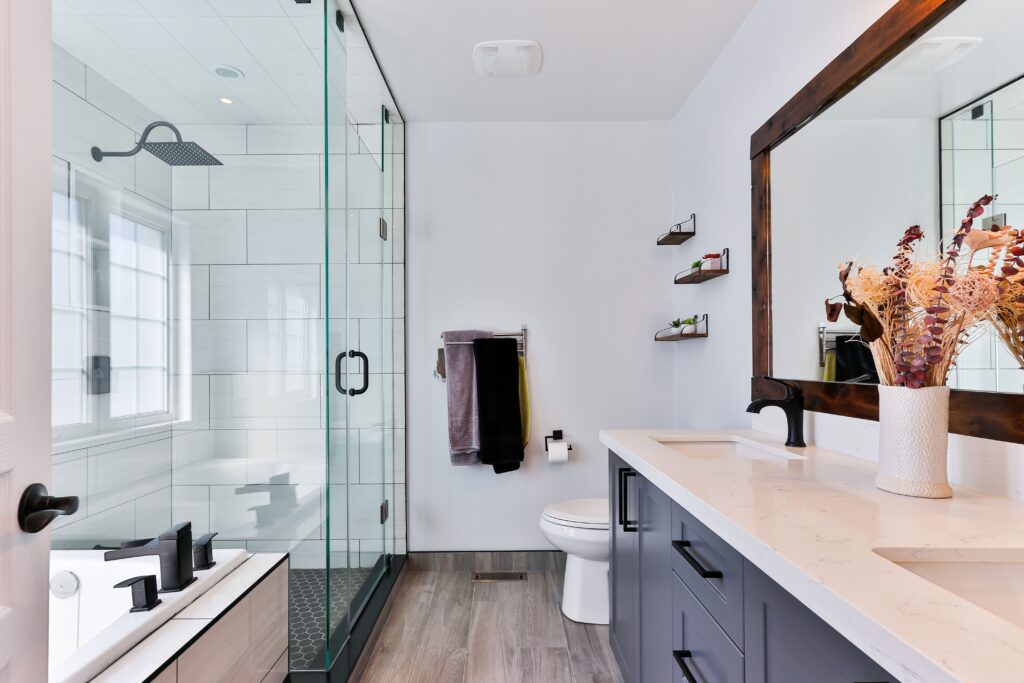 Everyone visits the bathroom, so why not make it beautiful?!
Beautiful Bathroom Ideas from Graham's
1. Minimalist With a Midas Touch 
Many people like a clean, white bathroom. This minimalist-style bathroom gives you that but with a touch of gold and green – some luxe and some nature. The plants add life to this bathroom as well as help to purify the air. This beautiful bathroom could also look good with an accent rug or floor tiling.
2. Earthy Neutrals
If the last bathroom appeared too stark for your taste, try adding earthy tones to the mix by way of your window treatments and other textiles. This beautiful bathroom incorporates natural-looking shades that can offer varying amounts of light and privacy. Ask Graham's about window treatments for your bathroom renovation. These neutral shades also offer a calming atmosphere.
4. Simply Stunning 
This bathroom is beyond beautiful – it is stunning. The marble shower with glass doors, the penny tiling that shimmers on the floor, the chandelier that sparkles above – all of this will make you feel like you are being pampered. This bathroom is also very functional with the extensive counter space, the center vanity, and the seating that doubles as storage space. Plus, the large windows provide natural lighting and the window treatments provide privacy. Get this look with Graham's.
5. Bold & Elegant
So far we have given you bathrooms that are based on more natural designs or lighter colours. Consider making a statement with bold colours in your bathroom, such as this red, white and black bathroom. Notice how the colour of the tub really "pops" out because of the black subway tile backdrop. The white in the tub's interior, the shades above and the floor tiling below all pull the look together neatly. Plus, the artwork gives the overall look a touch of elegance.
Try this bold look in your favourite colour or a trendy colour like bright yellow or Benjamin Moores Wild Flower. Check out Forbes Home for more on colour trends.
6. By the Sea Spa
Create a seascape in your bathroom by adding shades of blue to the design. The design of this tiling incorporates various shades of blue while the whites and light wood tones create a soft and calming environment. The added lounger near the window is a great way to unwind and, of course, the natural atmosphere includes plants. Though it may be winter outside, the warmth inside your bathroom will make you feel like you're actually by the sea.
7. A Southwestern Spa
Warm coloured textiles, terra cotta, cacti and tropical plants create a southwestern style here in this beautiful bathroom. The window treatment of faux wood blinds complements the look but also sustains the life and quality of your blinds since they are in a high-moisture room. Of course, the corner space makes a great location for this jetted tub.
8. Brick Backgrounds
Keeping brickwork or stonework exposed in older homes, or recreating the look in newer homes is a lovely idea for any bathroom. In these images you can see that the brick can cover large or small areas – both look beautiful, particularly as a background for your bathtub or shower. This look would go nicely with the earthy neutral design we mentioned earlier. With a large rainfall shower head in your shower and the brick or stone backdrop, you'll imagine you're in your own outdoor shower.
9. Tile it Green
After 2 long years of the pandemic and isolation, people have been aching for more of the outdoors –  so much so that they are bringing a bit of nature into their homes. So, if you are looking for a nature-inspired look, add touches of green. Here, the shower wall has been covered with pearlescent green tiling – a touch of nature and a touch of glamour!
10. Traditional Spa
No need to leave your house to go to the spa with this bathroom. It has been fitted with everything you need and more  – a large soaker tub, a sink with extensive counter space and drawers, a vanity area, excellent lighting (natural and artificial), plants, hobble shades (a type of roman shade) made from fine cloth, artwork and a sparkly chandelier! Oh my!  
Choose Graham's & Son Interiors
Serving their community faithfully for over 40 years, Graham's wants to help you get your beautiful bathroom, too. Whatever your style preferences, budget and project goals may be, Graham's will bring you quality workmanship and competitive pricing. Contact them today to start your unique and beautiful bathroom project.
Graham's & Son Interiors is proud to serve customers in Cambridge and surrounding areas. Click on the button below to contact a member of the Graham's team or visit them in their showroom at 11 Queen Street East, Cambridge, ON  N3C 2A7. Here they will be pleased to meet with you in person! Also, read the testimonials below to understand the value of having a trusted company like Graham's work on your bathroom. 
"Wonderful people to deal with, and my house looks amazing!! Both Wayne and Matt were fantastic. Consultation and measurements were all done in my home everything arrived as promised and looks perfect. These days customer service means everything and these guys knocked it out of the park. Thank you Grahams I will be back!"
"We had an extensive home renovation completed by Graham's & Son Interiors. The finished product is an amazing transformation which came alive with the help of the design team and especially the very hard work done professionally by their contractor."