If you love to entertain, but you don't want to always throw the same old parties, give your dining room decor a makeover with these elegant dinner party decoration ideas. Your guests will love the effect and you will have the satisfaction of throwing a party that will be well remembered and appreciated. We have searched online and have put together our 12 favourite dinner party decoration ideas to help you get inspired.
The staff here at Graham's & Son Interiors also love throwing elegant dinner parties in our own homes. We love to entertain and we understand how important it is to have an elegant and inviting space in which to host your friends and family. If you would like to make your kitchen, dining room, bathroom, or even your flooring or window treatments more "dinner party" ready, contact the interior design specialists at Graham's & Son today for a free, in-home consultation. We can bring samples to you and also provide on the spot quotes.


"Dear Mr. Wayne Graham, May 2016 be the best year for the Grahams and their company! I must take this opportunity to thank you for the renovation job done on my house, not only the input idea that made my home more modernized, but the skill work that made the job done perfectly. I will not hesitate to refer you to my friends who may need a renovation on their house. Thank you again and have a healthy and prosperous year in 2016. Yours Truly."
– Daniel Yu
Read More Testimonials
12 Elegant Dinner Party Decoration Ideas
Are you planning a dinner party in the near future? Here are 15 elegant dinner party decoration ideas to help you get inspired. Your friends will be so impressed when they see how beautiful you table looks and they will feel that you must really think highly of them to have gone to so much trouble even with the little details.
1. Floating Pearl Candles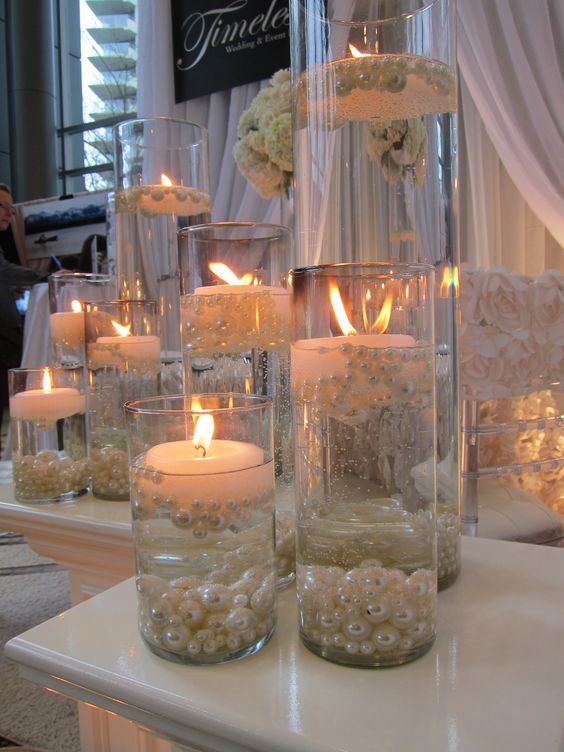 Make your table even more romantic with these gorgeous floating pearl candles. All you need to make these gorgeous centerpieces are hurricane glass candle holders, imitation pearls, and floating candles. A simple yet elegant idea found on Pinterest and originally pinned from Filosophi Events.
2. Triple Pocket Napkins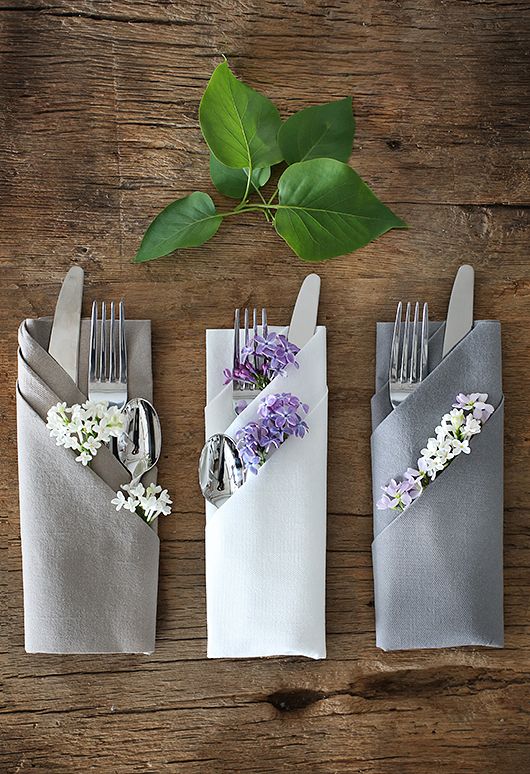 Give your flatware an elegant home with these beautifully folded and decorated napkins. We saw this idea on Pinterest and it came from Bloglovin'. This clever triple pocket fold is easy to master; learn how to fold your own here.
3. Henna Pumpkins
We found this wonderful idea on Pinterest from Baba Souk – henna tattooed pumpkins! These adorable mini pumpkins beautifully stenciled with intricate henna will make any fall-inspired dinner party a delightful experience. Try spray painting your pumpkins silver, yellow, or white to perfectly match the rest of your decor. Why not test out one of these great pumpkin dessert recipes to go along with your awesome centrepieces?
4. Falling Leaves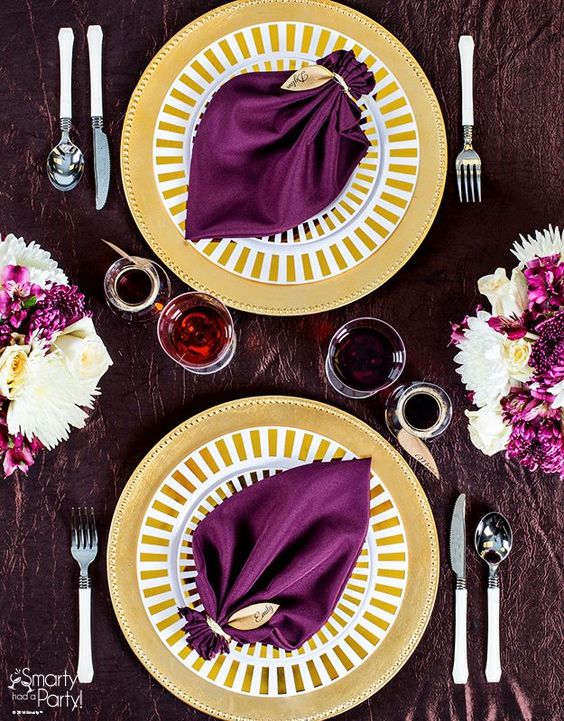 This next idea originally came from Smarty Had a Party and we found it on Pinterest. The beautiful falling leaf napkins in a royal jewel tone make this place setting pop. Learn how to fold your own leaf napkins to accompany your next dinner party in this easy-to-follow napkin folding tutorial. The place card attached to the base of the leaf is a sweet finishing touch.
5. Shimmer and Sparkle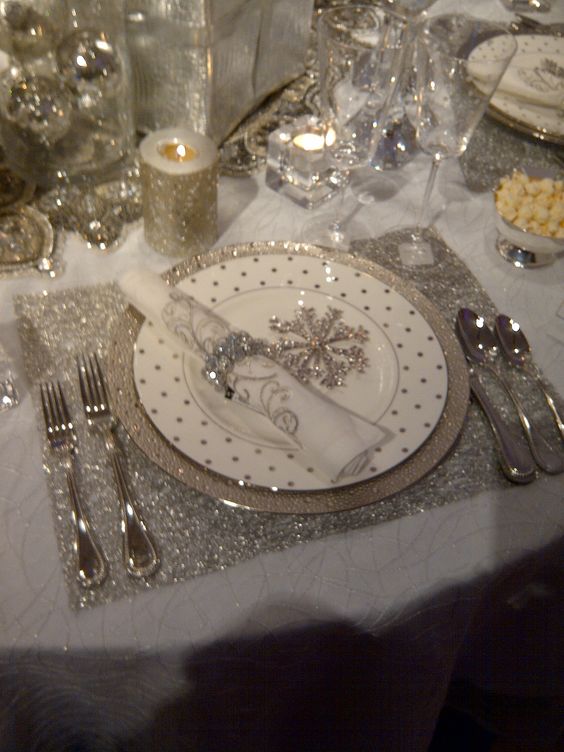 If you are planning a Christmas or New Year's dinner party this year, why not make your evening and your table sparkle? This shimmery table setting idea comes from moongateweddingeventplanner.com and we found it on Pinterest. We particularly like the sparkling placemats and individual shiny snowflake carefully placed on each plate.
6. Wine Bottle Candle Holders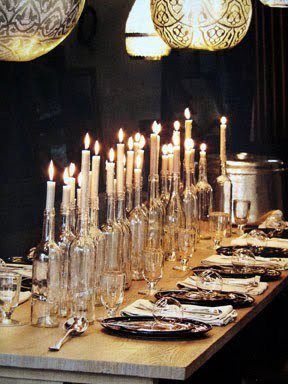 This next idea comes from Pinterest and was originally pinned from happymundane.com. Simply take clear glass wine bottles and use them as candle holders to line the centre of your table. The sheer number of bottles and candles definitely makes a bold yet elegant statement reminiscent of a dining hall in a gothic mansion.
7. Submerged Calla Lilies
Get your guests talking with these eye-catching centerpieces. It's taking the idea of watering your flowers to the limit and what a beautiful effect it gives! Completely submerge your calla lilies and float a candle above for an effect you won't soon forget. This great idea came from diyhomer.com and we found in on Pinterest.
8. Flowers Under Glass
If you'd rather not put your flowers under water, then why not put them under a glass? This is a cute and unconventional use for your wine glasses. Turn them upside down with your choice of flower underneath and top them off with a votive candle. Thank you diyever.com for this simple and effective decoration idea we found on Pinterest.
9. Treat Them To Tea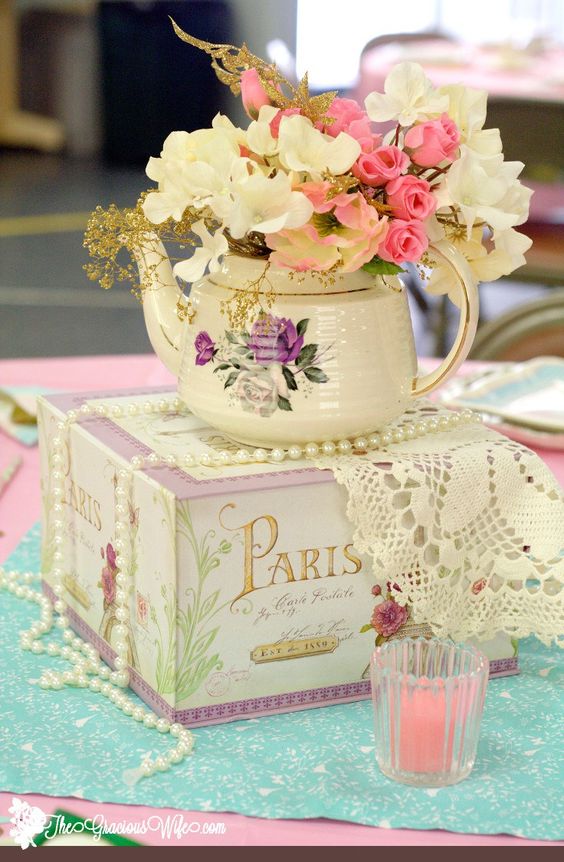 Who said that elegance had to be reserved for only dinner parties? Bring some elegance to an afternoon tea party with this quaint teapot centerpiece. Be sure to choose a teapot that has a delicate design that will complement your floral arrangement and don't forget the extra embellishments of lace doilies and a string of pearls. And to help you out even further, click here for some delicious and traditional afternoon tea recipes. We found this sweet idea on Pinterest and it was pinned from thegraciouswife.com.
10. Celebrate in Style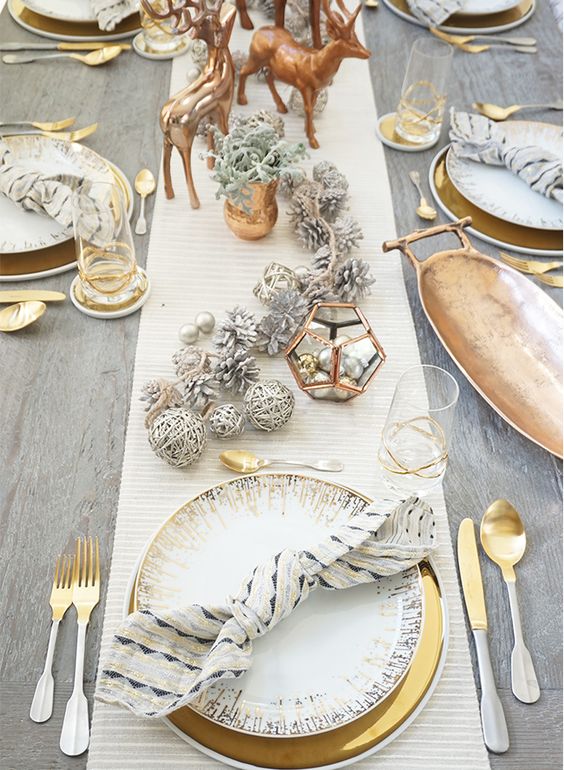 This elegant dinner party decoration idea comes from Pinterest and it came originally from Inspired by This Blog. What a beautiful design for a holiday dinner party! The combination of white, copper, gold, and silver scream simple elegance and taste. For the full details on this table setting, read the blog post here.
11. The Great Gatsby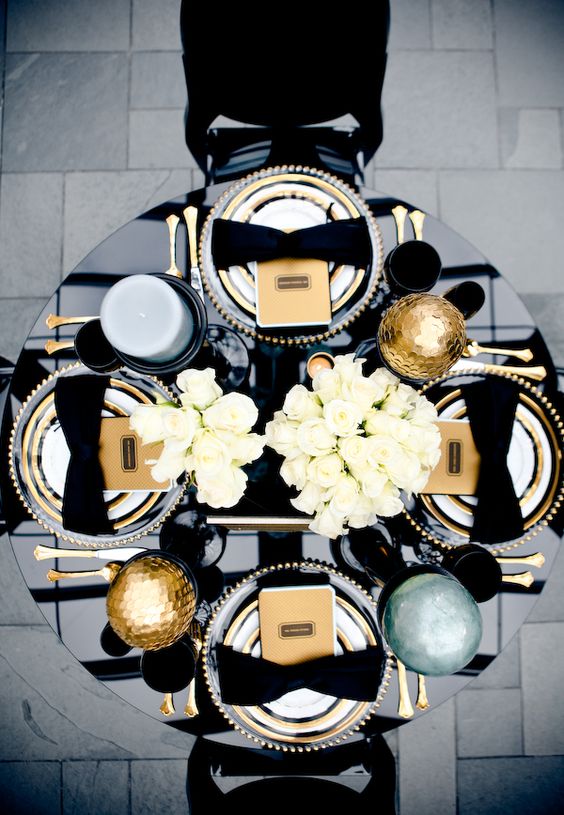 Are you a fan of the movie or better still the book, "The Great Gatsby"? Why not throw a "Great Gatsby" dinner party? Dwell Beautiful shows you how in her blog post Great Gatsby Themed Party. Take your guests back in time to an era of class and formal fun with an evening they are sure to remember.
12. Proud As A Peacock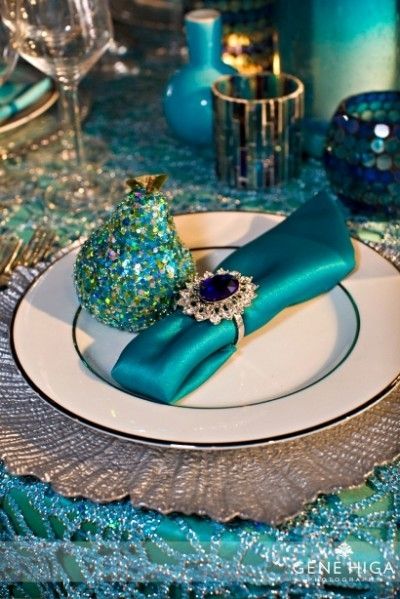 This table design inspired by the majestic peacock will certainly turn some heads. The vibrant and rich jewel tones make this table come alive and the elegant accents such as the sapphire and diamond ring used as a napkin holder give this table an exotic and regal appearance. To take the beautiful blue theme one step further, check out these amazing blue food recipes. We found this idea on Pinterest but it originally came from hepsylone.tumblr.com.
Get Your Home Dinner Party Ready
If you have been inspired by this post to start throwing some awesome dinner parties and would like to do some renovations in preparation, even if they are small improvements such as window treatments, contact the experienced and knowledgeable staff at Graham's & Son to book your free in-home consultation today. We will come to you, and provide you with a free, no obligation quote during our first visit! Whether you are considering a kitchen, dining room, living room, or bathroom renovation, we can help. Click here to view a gallery of our work.