Don't be afraid of colour. That's one of the best takeaways you'll learn from our list of 7 impressive California shutters design ideas. Shutters can add value as well as style to your home, not to mention making your windows and doors more energy efficient. If you have questions about installing shutters, contact the window treatment experts at Graham's & Son Interiors. We'd love to come to your home and discuss your design goals during a free, in-home consultation.

"Let me start by saying, I love my window treatments! Mr. Graham was very professional, easy to talk to; he talked with me, not above me, I was at complete ease. He listened to my thoughts, went through my options, and just like that – decision made. The installation crew was quite professional, friendly and efficient. They were in and out in no time, with cleaning up after themselves, and ensuring that I was satisfied with what was done. I would highly recommend Graham's and Son Interiors to anyone, and I look forward to working with them again!"
-Anne Allen
Read More Testimonials
California Shutter Design Ideas
Here are what we believe are the top 7 California shutter design ideas. If you would like to learn a little more about what California shutters actually are and how they differ from Plantation shutters, check out our post "California Shutters vs Plantation Shutters – Ultimate Guide".
1. Urban Grey For Your Urban Ways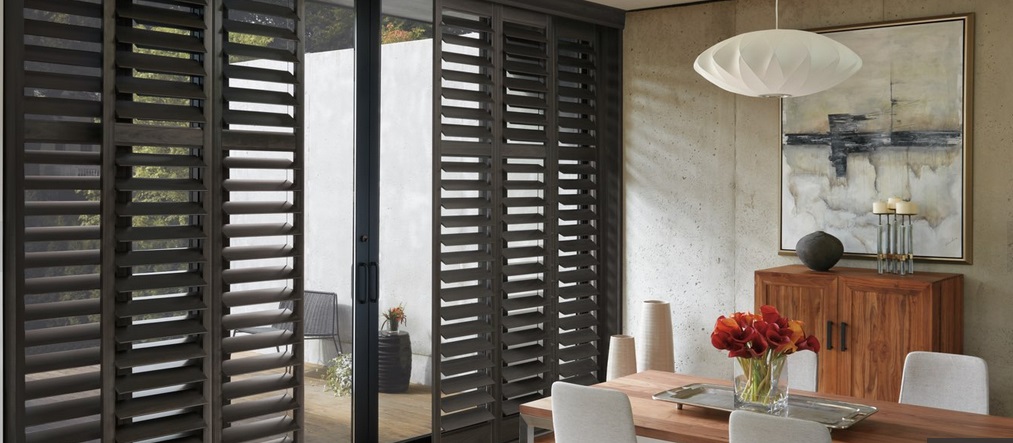 Don't forget your patio doors when it comes to using shutters. Gone are the days when only curtains and vertical blinds were used for them. Installing shutters is considered a definite upgrade. Urban grey is a wonderful choice in the design above. It's stylish, very modern, and beautifully complements this retro-inspired dining room. These stunning and durable window coverings come from the New Style collection from Hunter Douglas. Their hybrid construction of a combination of wood and vinyl make them particularly durable as well as cost-effective.
2. Shutter Your Nook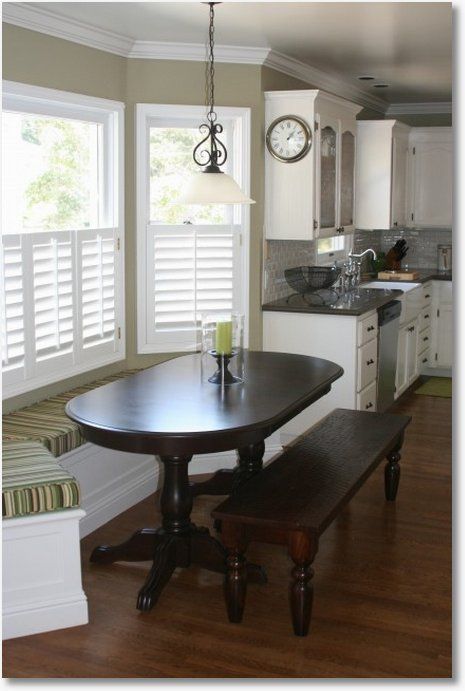 We love this cute, built-in breakfast nook featured in Home Decorating DIY, which we found pinned on Pinterest. These beautifully crisp California shutters are the perfect backdrop to the box-cushioned seating area. The decision to install shutters only on the bottom half of the window is brilliant. It offers for ample privacy while still allowing for maximum sunshine and a totally unobstructed view through the upper half of the window.
3. Awesome Arches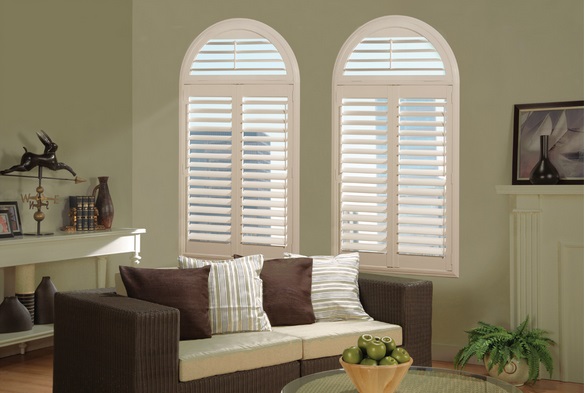 Arched windows are stunning, however, they can be challenging when it comes to finding the right window treatment that both highlights their beauty and shape while giving you the flexibility for privacy and light levels that you need. California shutters can be the perfect solution. The above design by Maxxmar Window Fashions is a great example. The Supreme Performance™ Combi Specialty Shape arches feature easy-to-operate louvres and panels that actually open to give you full light and visibility control. They are called "Combi" because Maxxmar uses an exclusive combination of both wood and vinyl to make their specialty shape shutters to ensure a consistent elegant look for both the shutter below and the arch above. This technique was the winner of the very prestigious award from the Window Covering Manufacturers Association of North America in the category of Specialty Applications for Best Technical Enhancement.
4. Beautiful Bathroom Shutters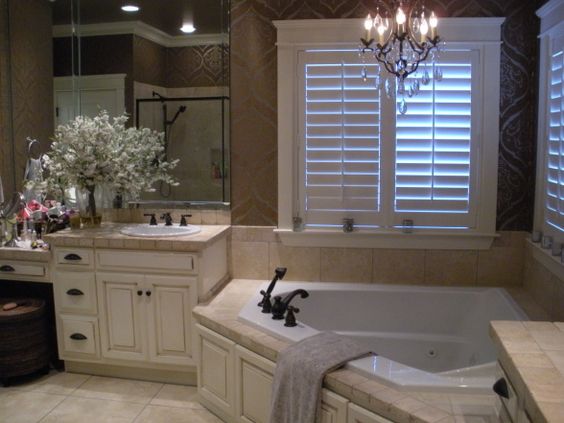 Don't forget your bathroom when you are considering where to install California shutters. We found this lovely shutter design on Pinterest but it originally came from Roomzaar.com. Shutters can give you the total privacy that you require in your bathroom, while also making an elegant style statement. And you no longer have to worry about wooden shutters warping from the high moisture in a bathroom. The high-end vinyl shutters available today can offer you the beautiful look of wood with the worry-free moisture resistance of vinyl.
5. The Best Balcony Solution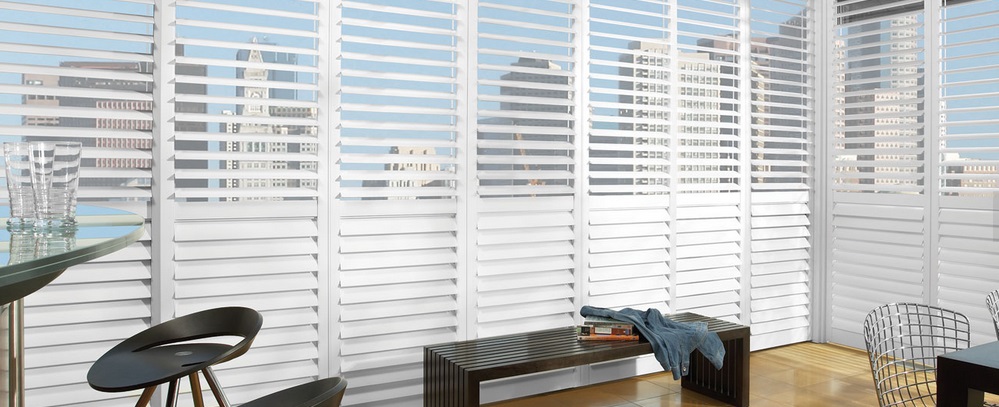 Floor to ceiling windows in an apartment can offer amazing views, but they also can be a challenge in terms of heat loss and light control. You don't want to block that awesome sunlight, especially with the limited amount of sun that we get in our Canadian winters, however, there are times when you will need to tone it down a bit. That is the beauty of shutters, and especially these New Style ones from Hunter Douglas. Not only are the hybrid (vinyl and wood combined) shutters gorgeous and durable, but you can choose to have them fully opened, fully closed or any combination in between, as well as being able to just close the top or bottom. These choices give you exceptional flexibility with lighting variations.
6. Red? Yes!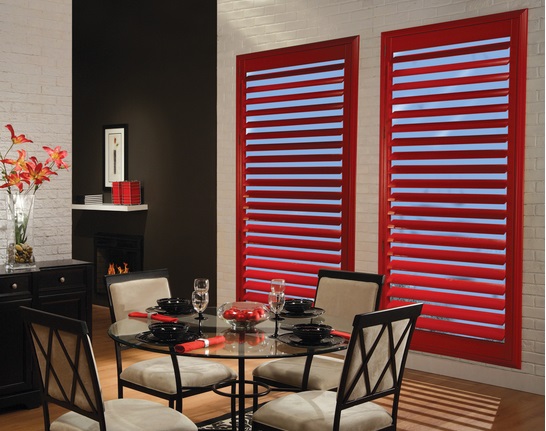 If you are not afraid of a little colour – and who should be – then this next design should catch your attention. We love the rich hue of red used for these shutters, that simply pops on the twin windows. The key to an elegant effect when using such a vibrant colour is to make sure that you choose shade that has earthy undertones. The other contributing factor is the quality of the shutters. They are constructed from state-of-the-art, durable vinyl which has a remarkable similarity to the natural beauty of real wood. They are part of the San Marco Collection from Maxxmar Window Fashions which has been certified by GREENGUARD with the GREENGUARD Indoor Air Quality Certificate and GREENGUARD Certified for Children & Schools.
7. Two-Tiered Treasure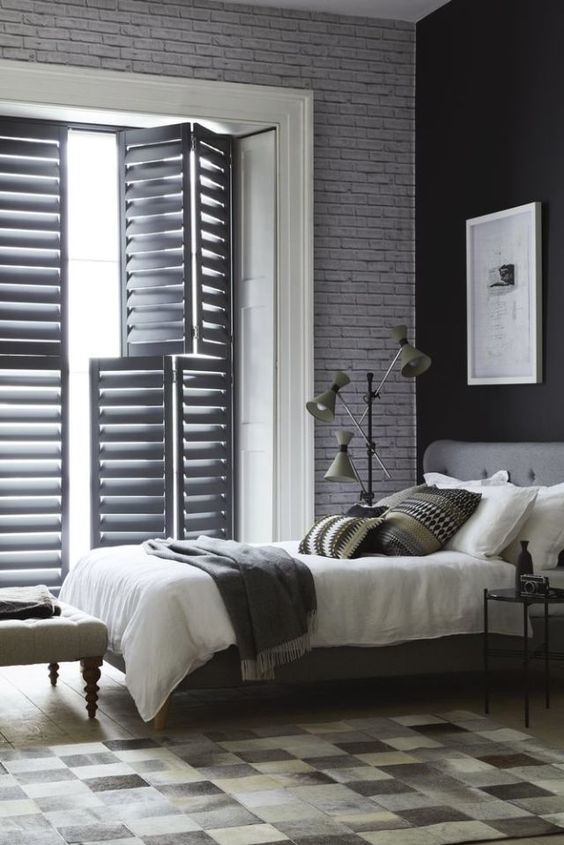 Whites and wooden tones have traditionally been the preferred colour choices for California shutters, however, taupes and greys are becoming more popular and with good reason. The slate grey of the shutters highlighted above, which we found on Pinterest but were featured in a blog post from House Beautiful UK, help to make an impressive impact on this room. We especially like the tier-on-tier panel style of the shutter which allows the bottom and top sections to be opened separately. This is a great feature, especially if you are looking for privacy, but you want as much light as possible. Simply close the bottom tier and fully open the top to get this effect.
Buy 2 Get 1 Free!
If you have been inspired by these impressive California shutter designs, now is definitely the perfect time to purchase them. Graham's & Son has been serving the Cambridge, Kitchener, and Waterloo region for over 40 years. To say thank you to our faithful customers, we are offering a great deal on all of our shutters, blinds, and shades. Right now, if you purchase any two shutters, blinds, or shades you will receive a third one absolutely free of charge. Now that's an amazing deal! Contact the interior design specialists at Graham's & Son to book your free in-home consultation today. We will come to your home, take accurate measurements, and provide you with a quote during our first visit!