California shutters are a fantastic addition to any home. Wood shutters are great for character while vinyl offers extended lifespan and economic value that is tough to beat. Survey your home today with one of our qualified professionals to see how California shutters can be your next best renovation project.
Here are Great Ideas to Decorate Your Home with California Shutters
California shutters, otherwise known as West Coast shutters, are a great way to create a unique home living experience. They are defined as shutters with louvers that are 2 and a half inch thick. They offer your guests a different experience when hosting and offer a view of your neighbourhood or your gorgeous back yard. Here are some great California shutter samples to get you inspired.
Why California Shutters are Great
These staggered and sturdy shutters are a great way to impress guests, while also demonstrating that the small details of hospitality and home decor are important to you. Along those great benefits, California shutters are also great because they:
Provide greater insulation when compared to traditional shutters
Improve the value of your home as high-value home additions
Offer greater lighting and glare control compared to other shutters
Offer the most privacy and aesthetic appeal
Our customers are thrilled with their California shutters and Kirstin is just one of many satisfied homeowners:
I just had shutters fitted on three windows in my home and they look fantastic. I'm particularly pleased with how they look and fit on the awkward shaped bay window in the lounge. I was happy with the ordering and measuring process in home and the installation was very clean and quick. Overall, I'd definitely recommend Graham's and Son Interiors for these shutters, in fact I'm ordering some more after Christmas.
How to Know if California Shutters are Right for You
With so many different types of shutters to choose from, a savvy home decorator will know that California shutters are great when homes exhibit the following qualities or if the owner has a certain affinity for these factors:
A variety of small and large windows in the home
A relaxed appeal and comfort is desired
Need for additional privacy for the home
Environmentally conscious and economical for cooling/heating
Effective mid-range sound insulation
No compromise on privacy and decor
Types of California Shutters, Shutter Materials
The most common types of materials for California shutters are wood and vinyl. Here we explore further the pros and cons of each type of material. The main difference between the types of material are fashion versus function – wood excels as a decor piece but comes at a premium, while vinyl is economic and longer lasting.
Wood California Shutters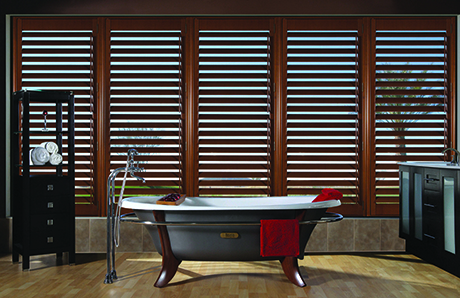 Wood California shutters are the choice when your design intent is geared towards look, feel, and decor. The wood shutters are typically higher in price and generally will have a shorter lifespan when compared to their vinyl counterparts.
Pros: great looking and aromatic materials that can be adapted to any home decor
Cons: more expensive and requires additional maintenance
Vinyl California Shutters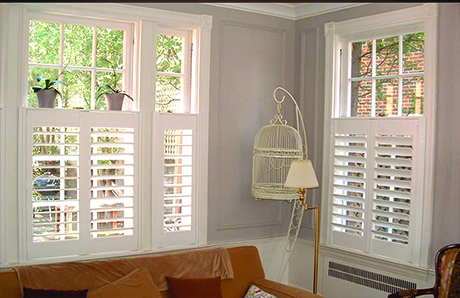 Vinyl California shutters provide an emphasis on function over fashion. Vinyl California shutters are a great and durable medium that allows homeowners less hassle. Their color is also less adaptable as they come coloured in limited styles.
Pros: cheaper to purchase and require less maintenance
Cons: not as visually appealing, whether viewing from indoors or outdoors, when compared to wood
How to Avoid Getting Ripped Off When Buying California Shutters
Having been in the industry for a number of years, the team at Graham's and Son have heard of a number of challenging circumstances. Here are some great ways from Blind Brokers Network to ensure you get what you pay for, along with the quality and service that every homeowner should expect:
Insist that the sales person has the same samples at the time of installation
Save any paperwork you have for warranties and ensure you trust the supplier
Check to ensure the company helping you with the shutters has been in business for at least 5 or more years to reduce your risk
Don't get a bloated quote from overestimation, verify the square footage quotes provided
Be wary of factory direct pricing, always check where the shutters are made
See here for additional tips on how to avoid a sour experience when considering your California shutters.
California Shutter Brands We Carry
Learn about the exciting brands we've carried for California shutters today by scheduling your in-home consultation and visit. We help you find and install the perfect shutters for your home. We bring real samples to your home so you can get the look and feel of quality and workmanship, first hand.
Get a Quote for the Best Brand and Service for California Shutters

Graham's & Son in Cambridge For California Shutters: Let Us Manage Your Cost and Project for You
Graham's & Son Interiors has over 40 years of design experience serving the Cambridge, Kitchener-Waterloo, and surrounding regions. We firmly believe that each client deserves "superior design concepts, top-of-the-line materials, and timely project management." That is why our satisfied customers gladly recommend our team to their friends and family. Find out for yourself why Graham's & Son Interiors are Southwestern Ontario's premier interior decorators. Contact us today to schedule a free in-home consultation.
If you prefer, you can shop at home. Browse through our website, make your choice, and simply give us a call at 519-658-9025 to place your order without ever having to leave the comfort of your own living room.
Did you know that to celebrate 40 years in business, we are offering an amazing buy 2 get one free deal on all of our blinds, shades, or shutters?