Elegant hardwood flooring by top manufacturers; high quality installations; serving Cambridge 40+ years; free,in-home estimates & consultations. If you are in the market for hardwood flooring in Cambridge, come to Graham's and Son where you will find great quality, great prices, and a huge selection. In this post, we will discuss the benefits of hardwood flooring, whether or not hardwood flooring is the right choice for you, and look at the wide selection of hardwood flooring options offered by Graham's and Son. The friendly and knowledgeable professionals at Graham's and Son are hardwood flooring experts. Book a free in-home consultation today and talk to them about your flooring needs. They will answer all of your questions and provide you with fast quotes, on the spot, on the first visit.
"Thank you very much for the service you guys provided us with, it was excellent and I know we didn't spend a lot of money with your company but you treated us as if we did, thank you."
Lisa P
Cambridge

Benefits of Hardwood Flooring
There are many benefits to installing hardwood flooring. Read on as we explain why hardwood is durable, healthy, beautiful, low maintenance and always in style.
Durable
Hardwood floors are much more resistant to spills and stains than other flooring choices. They aren't easily scraped, scratched, scuffed, or dented. If they are damaged, and this may happen especially in a high traffic area, they often can be simply repaired by sanding, smoothing, and refinishing. Our hardwood flooring also come with limited warranties. Read more about the warranties offered by our flooring partners: Armstrong, Bruce, and Goodfellow.
Healthy
Hardwood floors do not have fibers, grout lines, or embossing that can trap allergens like carpet can. Therefore they are the best choice for people who have allergies and for those who would prefer healthier indoor air quality.
Beautiful
The addition of hardwood flooring to your home will add not only elegance but a certain "wow" factor. Wood floors actually make your rooms feel more warm and inviting.
Low Maintenance
Most hardwood floors only require weekly sweeping, dry mopping, or vacuuming to get rid of dust and dirt. Usually a deep cleaning is only necessary once a year.
Always in Style
Your decor may change throughout the years, but thankfully, hardwood goes with almost any decor. There's no need to change your flooring if you decide to re-decorate.
Hardware Flooring Brands We Carry
Graham's and Son proudly partners with Armstrong, Goodfellow, and Bruce Hardwood Flooring to bring you an extensive selection of solid and engineered hardwood options, in a wide range of prices to suit any budget. Come and visit our showroom to view our amazing variety of hardwoods or if you prefer, contact us to book a free in-home consultation and we will bring our flooring samples to you.

Armstrong offers a wide selection of the finest domestic and exotic hardwoods. Each one is expertly crafted and beautifully designed to last. Below is just one of our beautiful collections – TimberBrushed™, featuring hardwood which has been textured by gently removing the soft portion of the wood to enhance and bring out the extenuate the beauty of the grain.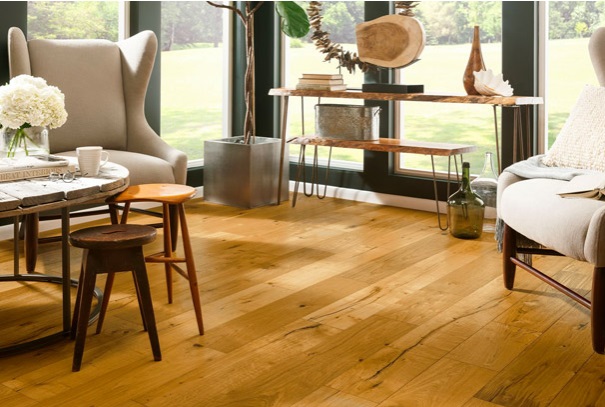 Goodfellow flooring gives you countless choices of species, sizes, colours, and finishes to create just the right atmosphere in any room. One of our many collections, the Bistro Collection (pictured below), gives you a unique look with low gloss and subtle color variation. It is a maple hardwood and comes with a 25-year residential warranty.

One of our many available collections, the Turlington Signature series includes an engineered birch hardwood. Birch ranges in colour from a light yellow to a darker red, usually portraying a combination of soft creamy shades beautifully mixed with darker reds and browns. It is a domestic hardwood whose wide variety of tones can complement a range of decorating designs.

What Is The Difference Between Solid and Engineered Hardwood Flooring?
Graham's and Son offers you the choice of solid or engineered hardwood flooring. Both types of hardwood flooring are warm and luxurious, but they are structurally different. The following chart gives a brief comparison of the two types of hardwood flooring.

Because engineered hardwood is designed with a multi-layer core running in opposite directions in alternating layers, it is structurally more stable than solid hardwood. This makes is a better choice for the extreme seasons in Canada, depending on where you are putting it in your home.
When Is Hardwood Flooring The Right Choice Over Tile Or Carpet?
If anyone in your family struggles with allergies, then hardwood flooring is definitely the better choice over carpet. It also won't stain like carpet will when spills occur, and it is extremely durable and will almost never need replacing. It also adds value to your home. According to LivingDirect.com, a buyer will actually pay more for homes that have hardwood flooring as opposed to other floor treatments.
Hardwood is also a better choice over tile if you find yourself standing on it for long periods of time. Tile flooring can be very hard on your body whereas wood floors are much gentler.
Graham's and Son – A Local Cambridge Company
Since 1975, Graham's and Son has been an integral part of the Tri-City area, creating and implementing beautiful interior designs. We are a family run business with traditional family values; we take pride in every project we are involved in.
At Graham's and Son, we understand the importance of top-notch customer service. Our 8,000 strong (and growing) customer base is proof that our professionalism, attention to detail, timeliness and exceptional customer service has paid off.
We are conveniently located at 11 Queen Street East in historic Cambridge, Ontario. Come visit us in our showroom and view our extensive collections of quality flooring, window coverings, shutters, fabric, upholstery, and drapery. Or if you prefer, book a free in-home consultation and we will come to you.
Graham's & Son Interiors

11 Queen Street East
Cambridge, Ontario
N3C 2A7
Our Values at Graham's & Son
At Graham's & Son we value our customers. That is why we take the time to listen to what your vision is for your home and we work alongside you, guiding and advising, to help make that vision a reality. Our continued success, for over 40 years, has been achieved because we always attempt to exceed the expectations of all of our clients. Contact us today for a free, in-home consultation and find out for yourself why we have earned a solid reputation for excellence in quality and service.
Sources
Graham's & Son – Floor Treatments