1. Average Shower Installation Cost in 2022
Whether you are a young family or a retiree looking to modify your bathroom to keep up with life's changes, it is important to know what to expect for the cost of your shower installation. 
According to HomeStars, the average cost in Canada to install a shower ranges between $956 and $1,310. However, they also note that you could be paying two or three times this amount if you choose to customize your bathroom with special features or expensive materials. This cost will also depend on labour and how much is involved in the removal of old materials and any repairs that need to be made while in the process of renovating.
One other tip we would like to pass on is that if you are 65 or older and need some help living independently in your home as you age, you may qualify for assistance from the government. They have programs in place to help with the cost of installing walk-in showers with grab bars and other necessary bathroom renovations. Read more about this from Elder Caring Inc.
Walk-In Showers are a great addition due to their accessibility.
2. Average Cost of the Actual Shower
The cost of your actual shower is where things can vary greatly. Here are some factors to consider:
If you are buying prefabricated units in acrylic or fiberglass that you can install altogether at once, then you will likely pay less than if you have a shower were there is partial to full ceramic tiling. In another one of our blog posts, we compared the cost of these units with tiled showers and found that tiled showers can be almost double the cost of prefabricated units. You can also read about these 2 types of showers in an article by The Spruce.
Fixtures
Another things to keep in mind when preparing for your bathroom renovation is that the type of fixtures you use in your shower will impact the cost of your shower installation. Fixtures include shower heads, trims and valves. 
You can choose from fixed overhead shower heads to hand held showers or even body spays and jets for your shower, but the prices will vary a lot. For example, you can buy a basic shower head for about $25 whereas a luxury rainfall shower head can cost hundreds. If you're curious about the most expensive shower heads on the market right now, read this article from Money Inc. 
Doors
The type and size of your shower door will also impact the overall cost of your actual shower. Fixr suggests that the cost of shower doors can range from $300 for a framed shower door to $5000 for a glass shower enclosure. If you would like to see their detailed breakdown of shower door costs which vary by size and type, click here. As you begin to read about shower doors, you will discover that there are actually a lot of options out there!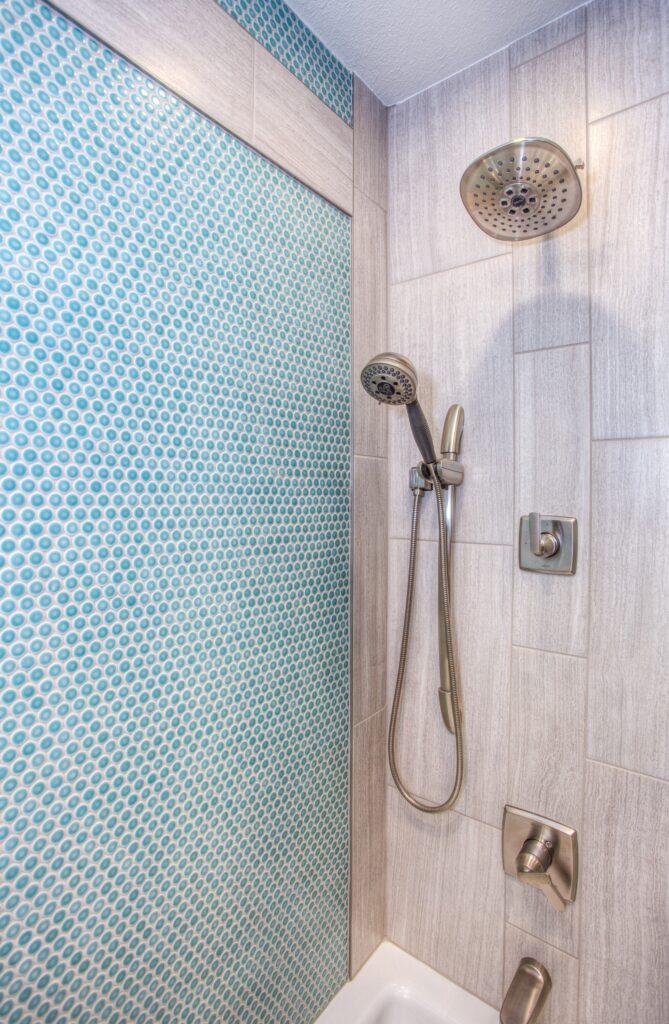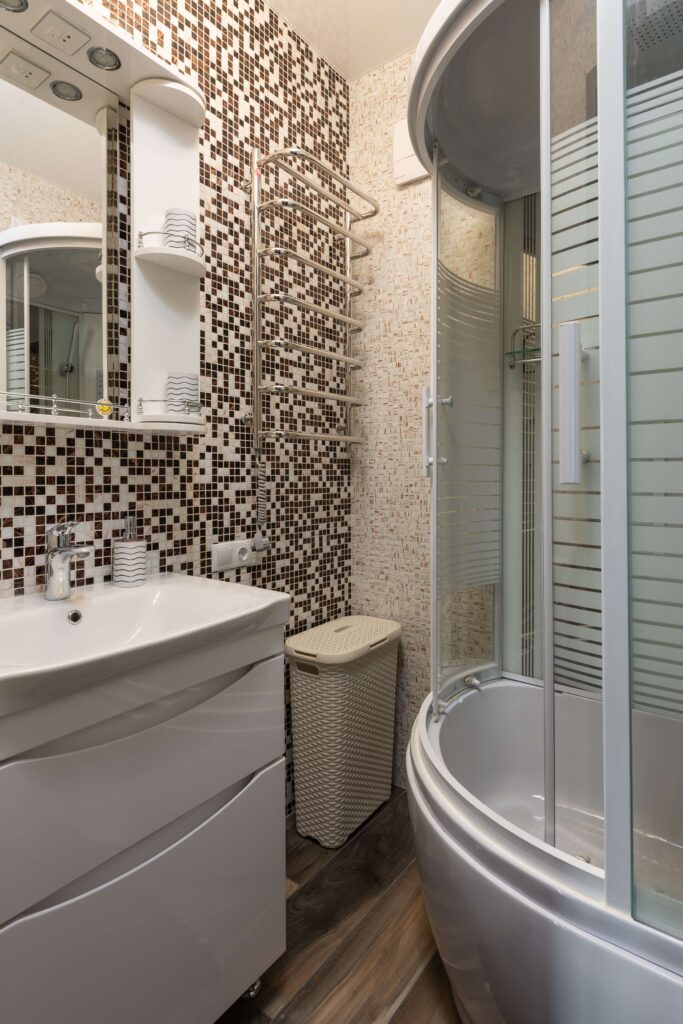 Change to Photo by Max Vakhtbovych
Shower installation costs vary depending on the materials you choose like fixtures, doors and tiles.
3. Average Cost of Labour
If we go back and take a look at the cost breakdown from HomeStars, you will see that they average the cost of labour for shower installation in Canada to be between $458 and $589. The cost of labour will depend on who you hire and how busy they are. People say it is hard to find labourers and contractors right now, so you will want to do your research. 
It is difficult to give an accurate quote with so many factors, so we suggest contacting Graham's for a FREE In-home consultation. They can help you determine what you need, what's available in your budget, what your personal style is and how much everything is going to cost – from the cost of the actual shower to the cost of labour. Contact Graham's to get started on your shower project now.
4. Other Common Bathroom Renovation Costs
Along with your shower installation, you may be interested in other common bathroom reno costs such as new flooring, vanities, and tubs.
Here are the averages we pulled from HomeStars. These costs are the totals which include materials, labour and any removal and disposal involved. Remember, these are just estimates based on Canadian prices and will vary depending on location, labour and materials selected, etc.
Tub: $1,179 – $2,490
Flooring:  $576 – $1,808
Countertops: $203 – $1,546
Sink: $415 – $695
Toilet: $602 – $1,271
Not sure exactly how much all of this will cost? Always consult with someone to get an accurate quote. Contact Graham's for your shower bathroom renovation quote.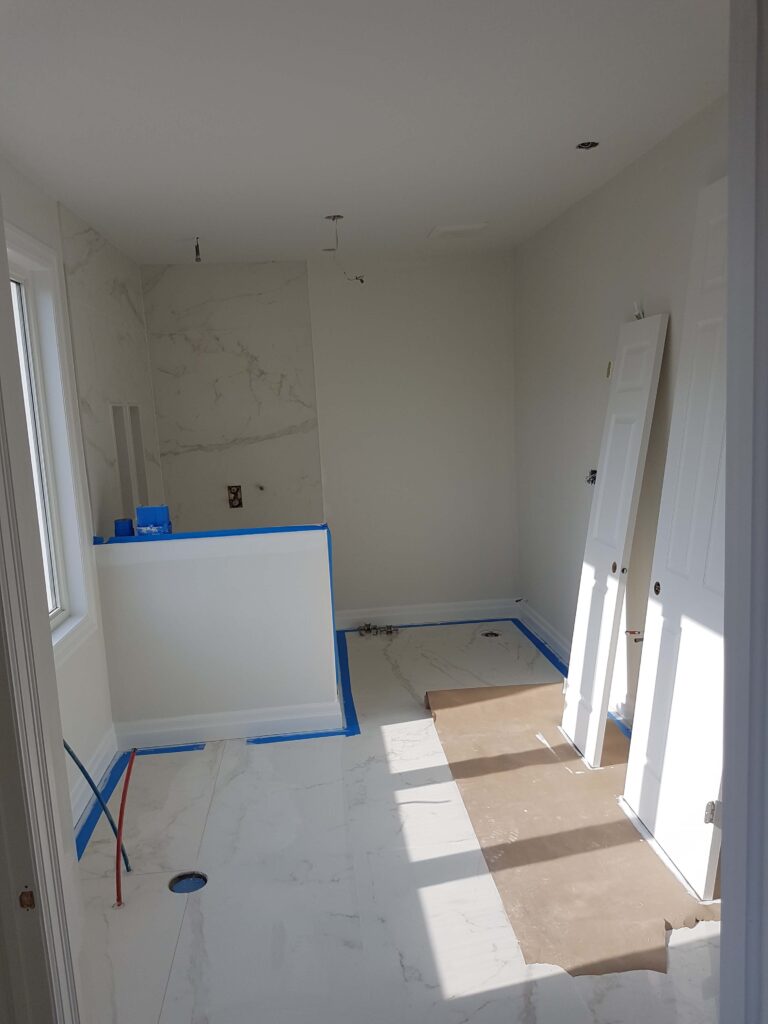 5. Bathroom Renovation Services from Graham's & Son Interiors
Along with shower installation, Graham's & Son Interiors offers full bathroom renovation services.
While you could choose DIY installation, we suggest hiring professionals like the experts at Graham's. They ensure your renovation project is done right the first time and you will be less likely to deal with problems later like:
Damaging Leaks

Hot and Cold Water Mix-Ups

Loose Fixtures
With over 40 years of experience in interior design, window coverings, flooring, kitchen renovations and bathroom renovations, you can trust Graham's in your home. They care about quality all around – from that initial consultation to the finished product and everything in between.
Have a look at our gallery
to see some of our before and after work – you can see the difference a bathroom renovation makes! Keep scrolling to read our testimonials, click on the
contact button
below to contact Grahams, or visit us in-store in Cambridge, Ontario.
"We had an extensive home renovation completed by Graham's & Son Interiors. The finished product is an amazing transformation which came alive with the help of the design team and especially the very hard work done professionally by their contractor." – Jacquelyn W.
"Matt and Meagan have been the best part of our renovating experience! His team came in and got us the most gorgeous counter top! Highly recommend." – Trevor Zister