My blinds won't go up – What should I do? You may not need to call in a professional just yet. Take a look at our do-it-yourself fixes first to see if you can solve the problem quickly and easily. Sometimes, however, fixing your blinds isn't the answer and it's really time to invest in new ones. For a free, in-home consultation on all types of window treatments, contact Graham's & Son today.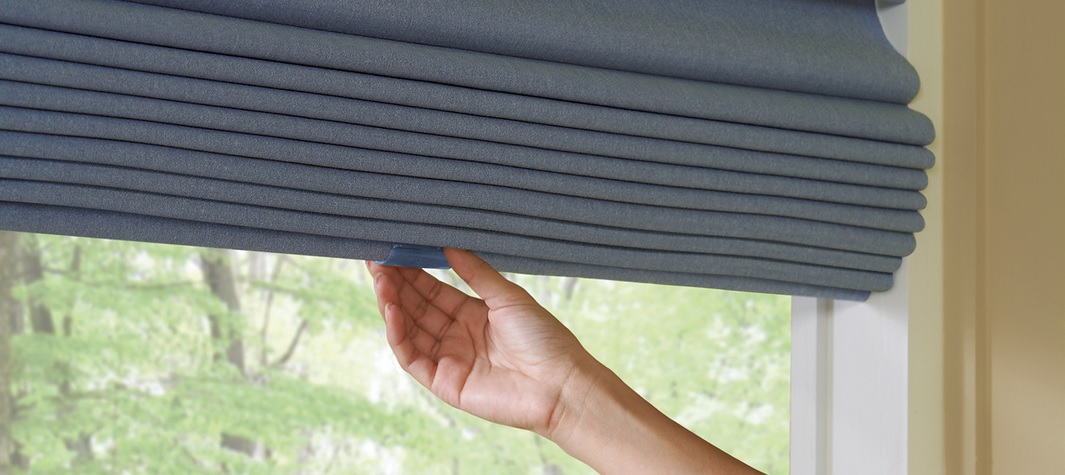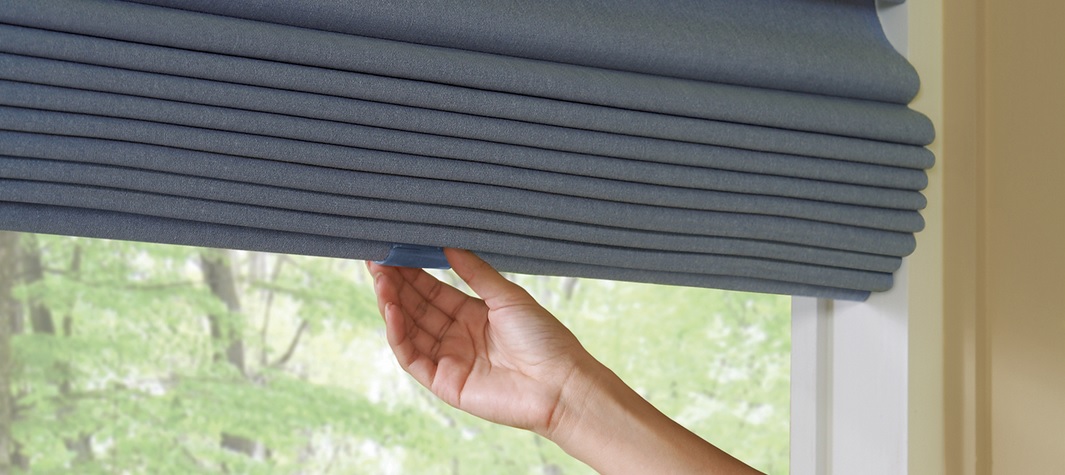 "Hi Christine, Thank you. The blinds look terrific. We were very happy with the quick and expert install. Our experience in dealing with each of you was wonderful. Thanks for taking the stress out of the project by getting us exactly what we wanted and installed perfectly, no clean-up after – it is a real treat to work with such professionals.Take care and hope to do business with you again.Thank you"
-Susan Ashley
Read More Testimonials
My Blinds Won't Go Up – What To Do
Blinds that aren't working properly can be quite frustrating, but thankfully the problem is usually relatively simple to fix. Different types of blinds will require different types of fixes. Read on to find out how to fix a variety of blinds and shades including roller shades, cellular shades, pleated shades, mini and Venetian blinds, and Roman shades.
Roller Shades:
Roller shades are flat shades usually made of fabric, vinyl, or screen material. they roll up on a tube or a dowel.
Problem: My roller shade will not roll up all the way
Step 1: Examine your brackets and make sure that they are not rubbing against the ends of your roller shade. If they are, they carefully adjust them so that they are no longer in contact
Step 2: Make sure that your brackets are not bent. If they are bent, carefully unbend them. If this is not possible, you may need to replace your brackets.
Step 3: If your brackets are fine, pull your shade part-way down.
Step 4: Remove your shade from the brackets.
Step 5: Increase the tension on your shade by rolling it up two revolutions.
Step 6: Put the shade back into the brackets and test.
Step 7: Repeat this process until your roller shade has the correct tension to roll up all the way.
The following video will demonstrate a similar technique for adjusting the tension on your roller shade.
Cordless Cellular Shades:
Cellular shades, also known as honeycomb shades, are pleated shades made of fabric that form a "cell" shape. You can see the cell shape when you look at the shade from the side. The cords on a cellular shade run up the inside of the cells.
Problem #1 – My cordless cellular shade will not lift up
Step 1: Gently pull down on the bottom rail as far as it will go.
Step 2: Hold the shade by the bottom rail out from the window at a 45-degree angle.
Step 3: Give the shade a few swift gentle tugs. Make sure that you don't do this too hard or you may break the cord inside of your shade. This action should reactivate the cordless spring motor.
Step 4: Test to see if it worked. Please note that you may have to repeat this process several times in order to reset the mechanism.
*FYI: If your cordless cellular shade has been left in the closed position for an extended time period, then you may find that the spring motor needs to be reset. In most cases, this should solve your problem.
Step 5: If reactivating the cordless spring motor doesn't solve your problem then you should contact a professional to help you with the repair.
Watch the following video to see how to reactivate the spring motor in your cellular shade.
Problem # 2 – The lift cord that raises my cellular blind is broken
Step 1: Determine the size of cord on your shade. Because the cords are very thin it may be hard to determine the exact size. Here is a trick that may help. Take a portion of an unfrayed part of your cord and wrap it side by side (make sure not to leave any space between the wraps) around a pencil ten times. Measure the width of the ten rotations. If it measures 9mm or 3/8″ you will need to buy a 0.9mm cord. If it measures 12mm or 1/2″ then you will need a 1.2mm cord. The following video will clearly demonstrate this process.
Step 2: Replace the old cord with a new one.
Mini Blinds and Venetian Blinds:
Mini blinds are blinds that have 1/2″, 1″, or 1 1/2″ slats that tilt up or down when lowered. When the blind is raised, the slats stack up at the top of your window. They are usually made of plastic, aluminum, or wood. Venetian blinds are similar to mini blinds except their slats are bigger. The slats can be 2″, 2 1/2″ or 3″ in size.
Problem: My blinds won't stay locked in the "up" position
Step 1: Examine the cord. If it is fraying or pinched then it will need to be replaced. Follow the steps above for determining the correct size of cord to purchase.
Step 2: If the cord looks fine, then the cord lock may need to be replaced. Take a good look at your cord lock and then click here to find the same type of cord lock to purchase.
Alternative Fix: The following video gives you an alternative way to fix blinds that won't stay up properly by applying an interesting and inexpensive substance to the slipping cord – Rosin. Rosin is a sticky substance that is used to tighten up violin strings and can be purchased at a music store.
Pleated Shades:
Pleated shades are made of fabric that has been folded into a zig-zag pattern. Unlike cellular or honeycomb shades, pleated shades only have a single layer. Pleated shades have cords that run vertically through each pleat. Usually, there is a cord positioned every 24 to 36 inches across the width of the shade. When they are fully open, you can still see the pleats of a pleated shade; they are defined, unlike a Roman shade which appears smooth when it is fully open.
Problem: My pleated shade won't stay in the "up" position
Step 1: Inspect the cord. If it looks frayed or pinched, then you may need to replace it. Follow the steps and watch the video under cordless cellular shades to determine the correct size of cord that you will need.
Alternatively, if you purchased your shades from Hunter Douglas, you can order replacement parts directly from them by filling out the contact form provided here.
Step 2: If your pleated shade is cordless, you may need to reset its motor. You can do this by slowly raising and lowering your shade several times until the motor is reset.
The following video will demonstrate how to reset a pleated shade motor.
Roman Shades:
Roman shades are made of fabric and they appear flat or looped when they are in the down position. They fold when they are raised or lowered. Roman shades are similar to pleated shades, however, when roman shades are fully open, you can no longer see the pleats; they appear smooth. The pleats in pleated shades will still be visible when they are fully open.
Problem: My Roman shades won't stay up
Step 1: Take a look at the reverse side of the blind.
Step 2: If any of the strings have come outside of the small loops attached to the back of the shade, they will need to be re-threaded into the loops.
Step 3: Examine all of the loops to make sure that they are all sewn securely to the shade. If not, sew them back in place.
Step 4: Check the pulley system to make sure that the string is threaded around the system. If it has come off, place the string back into the pulley and pull on the string to lift the blinds.
Step 5: Once the blind is fully raised, tie a large knot in the end of the string large enough so that it cannot slip through the plastic circle.
The following video will show you what a Roman blind looks like from the back when it is broken and how to repair it.
Graham's & Son
If you are thinking that it's time for new blinds, contact the window treatment professionals at Graham's & Son. Graham's & Son has been selling and installing blinds, shades, and shutters in Cambridge for more than 40 years. We are locally owned and operated and we can provide you with gorgeous and practical window treatments for any room in your home. We will give you expert advice; quality, custom-made products; and top notch customer service. Our customers have been so pleased with the high standard of our work that selected us for the "Best Business Service – Interior Decorating: Platinum" and "Best Shopping – Kitchen Renovations: Gold" awards in the 2017 Cambridge Times Readers' Choice Competition. Book a free in-home consultation today and find out for yourself why Graham's is the best in the interior design business.
Sources: