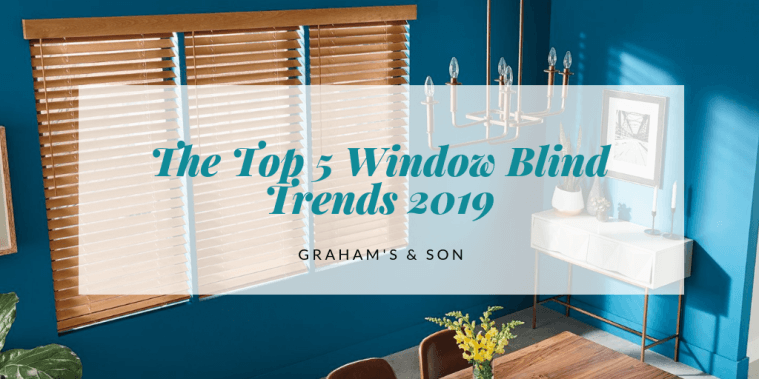 Want to know the top 5 widow blind trends for 2019? Read on to find out what's hot this year in blinds. Contact Graham's & Son today to order! Graham's & Son specializes in custom design and professional installation so that your windows will look amazing! They also clean, repair, and do alterations on any type of window treatment to keep yours looking as beautiful as the day they were installed. Schedule your free in-home consultation today.

Trend #1: Vertical Blinds Will Be Replaced by Sleek, Modern Panel Track Blinds

Panel track blinds work beautifully on both small and larger windows – Image Source: Hunter Douglas
Move over vertical blinds, a newer and sleeker version has come to take your place. Panel track blinds from Hunter Douglas are now your best answer for large and small windows alike. When fully opened the individual panels tightly stack together to give you the most sunlight possible. When you close them, you can enjoy all the rich textures and fabrics that they come in.
Choose either cord, wand, or PowerView operating systems for your gliding window panels
Not only do gliding panels look amazing as window treatments, but they can also be used as a unique and stylish room divider. You can choose either a cord, wand, or PowerView motorization to open and close your panels. They also have the option of a centre as well as side to side opening.
Trend #2: Organic Is "In" and What Could Be More Organic Than Wood?
Natural wood blinds will give your home that stylish organic look – Image Source: Hunter Douglas
Organic is hot this season in every area of your home, from organic upholstery to floor coverings. Your window treatments are no exception. That is why wood is still a popular option for blinds. Wooden blinds will give your room a classic look that will last and be in style for years to come.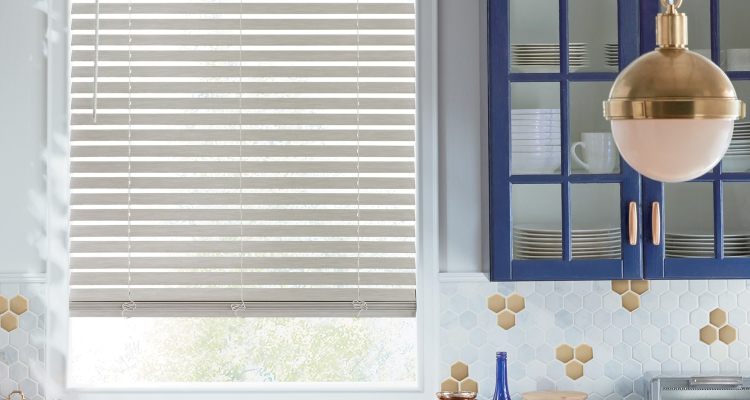 Faux wood gives you the realistic look of wood for the more humid areas in your home – Image Source: Hunter Douglas
If you want the look of natural wood without the worry of fading, yellowing, warping, or bowing in your bathroom, kitchen, or in a room that has full sun, then take a look at the realistic faux wood alternatives available today. Many blinds such as Hunter Douglas' TruGrain have the classic look of wood with the worry-free maintenance of a man-made material.
Trend #3: Move Over White and Beige, the New Neutrals are Charcoal Grey and Slate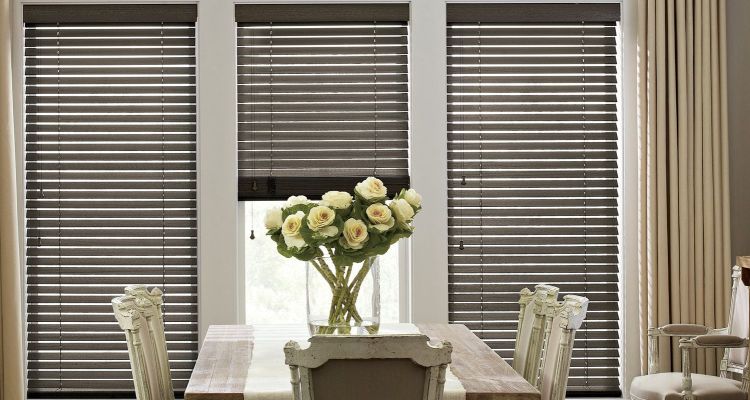 Charcoal grey is a lovely new neutral shade that will add sophistication to any room – Image Source: Hunter Douglas
This season you will be seeing a shift from the traditional neutral shades of white and beige to the deeper neutral shades of charcoal and slate grey. These darker shades still go great with any decor but they give a much more sophisticated look to your room. Greys beautifully define any window and make your window treatments really stand out while complementing any pops of colour you may add to your decor. Greys will also work well with various popular trim colours on your window frames and other mouldings in your room.

Soft grey blinds will beautifully complement any colour scheme – Image Source: Graber Blinds
Trend #4: Layering Your Blinds with Stylish Valences or Curtains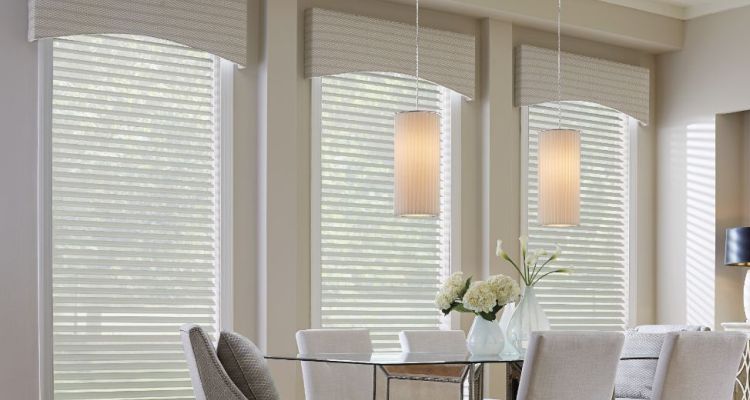 Valances can give the perfect finishing touch to your blinds – Image Source: Graber
Add a perfect finishing touch to your blinds with a sophisticated valance, cornice, swag or cascade. You can either choose a more subtle effect like the understated valence displayed above by Graber or you can go for a more dramatic effect like the cascading scarf swag valance displayed below. The gentle folds of fabric draped along the top and sides of your window treatment will give your blind a soft, waterfall feeling.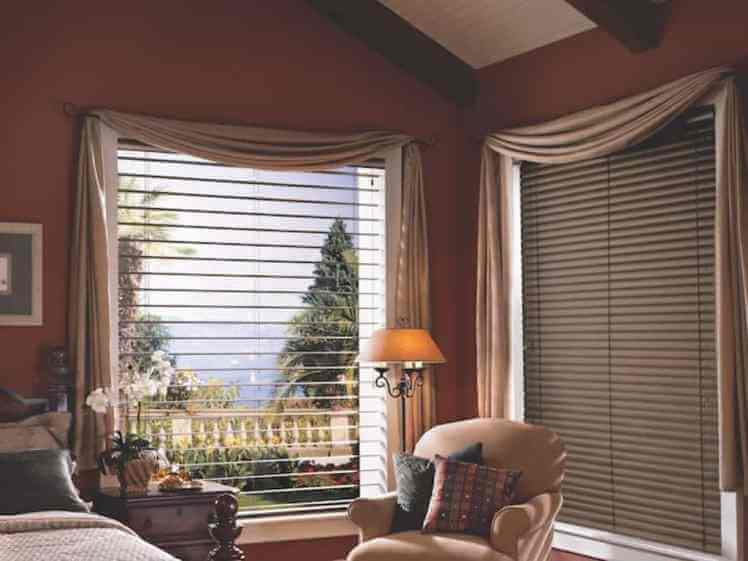 A flowing scarf valance can soften the angular look of a blind – Image Source: Wearefound Home Design
Trend #5: Combine the Latest Trends for an Extra Wow Factor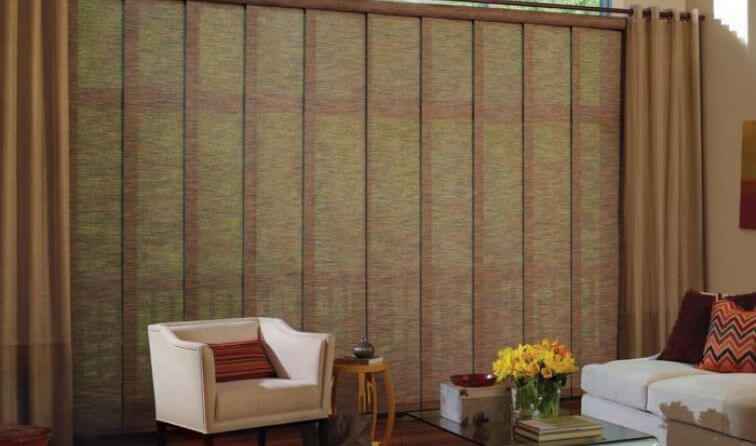 Gliding panels in organic fabrics look amazing paired with natural toned curtains – Image Source: Hunter Douglas
To really make a design statement this year, combine more than one of the latest trends. Choosing modern panel track blinds in an organic material and then layering them with coordinating curtains will give you that extra wow factor that you are looking for.
Graham's & Son – Window Blind Trends 2019
Looking to replace your old window treatments with the latest window blinds trends of 2019? Graham's & Son can not only offer you expert advice on all of the latest trends in window fashion, but they can also help you select the perfect styles and colours that will best suit your rooms and budget.
If you are looking for the most energy efficient and beautiful window treatments possible, contact Graham's & Son today. Graham's & Son knows window coverings; we have been in the window treatment business for over 40 years. Our expertise and professionalism are second to none. In addition, right now we are offering an amazing deal on all our blinds, shutters, and shades – when you purchase any two, you will get a third absolutely free.
If your drapes need a good cleaning and you don't have the time or are afraid of taking on the job, Graham's & Son also offers professional drapery cleaning at reasonable rates.
"Wonderful people to deal with, and my house looks amazing!! Both Wayne and Matt were fantastic. Consultation and measurements were all done in my home everything arrived as promised and looks perfect. These days customer service means everything and these guys knocked it out of the park. Thank you Grahams I will be back!"
– Brandon Wilson

Read more customer testimonials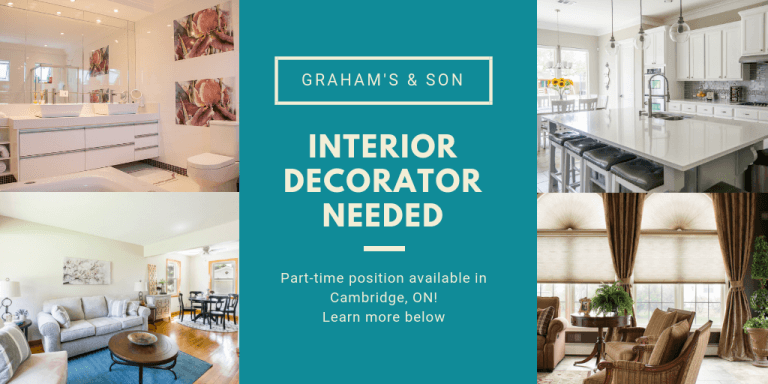 Interior Decorator Needed – Join Our Team!
Graham's & Son is looking for a highly creative person with imagination and artistic flair to join our winning team. The ideal candidate for this position will be someone willing to work a flexible schedule consisting of weekends, evenings, and day shifts. This is a part-time position in Cambridge, where a work week will consist of 5 to 40 hours, depending on how busy we are. If you have a passion for decorating and residential design, this could be a great stepping stone for you to be able to learn sales and interact with customers. We teach all our staff how to sell and equip them with the knowledge required to do so effectively. If you think this may be the perfect job for you, see the job requirements and overview by clicking here.
At Graham's and Son our customers have been so pleased with the high standard of our work that they selected us for the "Best Business Service – Interior Decorating: Platinum" and "Best Shopping – Kitchen Renovations: Gold" awards in the 2017 Cambridge Times Readers' Choice Competition. Book a free in-home consultation today and find out for yourself why Graham's is the best in the interior design business. Contact us today to schedule. If you prefer, you can shop at home. Browse through our website, make your choice, and simply give us a call at 519-658-9025 to place your order without ever having to leave the comfort of your own living room.