Need professionally installed vertical blinds in Cambridge? Graham's & Son are the window treatment experts serving Cambridge, Kitchener & Waterloo for over 40 years. Vertical blinds are a wonderful option for larger windows or exterior doors. They can give you the privacy you need, combined with an easy way to quickly adjust the light levels in any room. In this post, we will discuss whether vertical blinds are the right choice for you, the advantages of vertical blinds, and the wide range of styles and materials they come in. The professional interior designers at Graham's & Son can help you choose from an extensive range of colours, materials, and styles to perfectly match and enhance your decor. And what's best is we can bring our expertise right to your door and allow you to choose and match samples in the comfort of your own home! Contact us today to schedule a free in-home consultation.
We Carry Everything
Schedule A Free In-Home Consultation

"Let me start by saying, I love my window treatments! Mr. Graham was very professional, easy to talk to; he talked with me, not above me, I was at complete ease. He listened to my thoughts, went through my options, and just like that – decision made. The installation crew was quite professional, friendly and efficient. They were in and out in no time, with cleaning up after themselves, and ensuring that I was satisfied with what was done. I would highly recommend Graham's and Son Interiors to anyone, and I look forward to working with them again!"
Anne Allen
Read more customer testimonials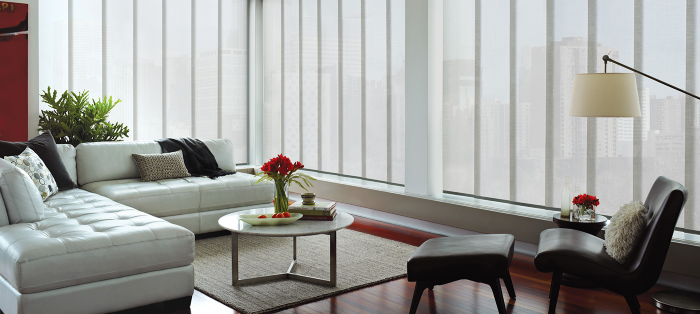 How to Know If Vertical Blinds Are Right For You
Vertical blinds are the perfect choice for wide windows and patio or sliding doors. Our design professionals can help you choose which styles, materials, and colours are perfect for your home. We can even come to your home and provide you with a no-obligation free consultation. We will be happy to advise you on the perfect choice for all of your window treatment needs. It's hard to make the right decision simply by looking at a photograph, therefore we will bring actual samples to you so that you can see what they would look like in your home.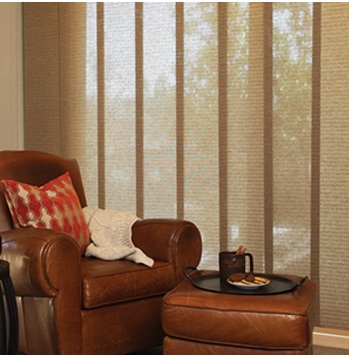 Why Vertical Blinds Are Great Decoration
New vertical blinds can quickly bring new life to a tired or worn-out looking room. Our interior design team can advise you on the perfect vertical blinds to complement your existing decor, or, if you are planning a complete remodel, they will listen to your vision and give you suggestions to help make it a reality.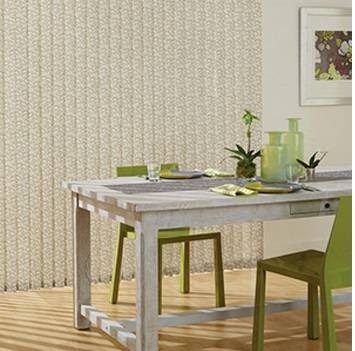 Insulation
Not only are our vertical blinds pleasing to the eye, but they will also help you to save money on your energy bills. Up to 50% of your home's heating and cooling energy can be lost through your windows. Vertical blinds can block the extreme cold air of winter and the stifling hot air in the summer from seeping through your windows into your rooms. You will enjoy more consistent room temperatures as well as lower utility bills.
Easy To Operate
Vertical blinds are also easy to operate. The following video demonstrates the different choices you have for opening, closing, and adjusting your blinds. Choose from the traditional chain and cord, the child and pet-friendly wand control, or, if you prefer, you can have your vertical blinds automated.
Durability
Our vertical blinds are custom crafted from the best materials available so that they will last for years to come. Not only will your blinds last but they can also protect your furnishings from the harmful effects of UV light.
Light Control
Vertical blinds can give you control over the amount of light entering your room. Open them up completely to let the sunshine in or close them to take a nap during the day. You decide. Choose from a wide range of sheer to opaque materials for varying degrees of light options.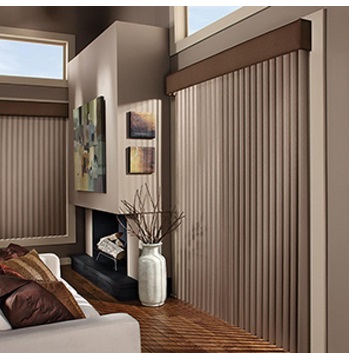 Privacy
If you cherish your privacy, installing vertical blinds can provide you with the extra coverage you require if and when you need it. They will also give you an extra layer of soundproofing, blocking annoying outside noises.
Save even more energy and make your home more comfortable by having your blinds fully automated. It is possible to control all of our custom window treatments by a simple click of a switch or from any mobile device. We partner with Somfy Home Motion to give you the very attractive option of installing motors and controls to power all of the window coverings in your home. Somfy motors will integrate seamlessly into any other home automation system you currently have.
Solar Sensor Presets Help You Save Energy
Our solar sensor presets will also help you save energy by automatically sensing and adjusting according to the amount of sun there is. The handy App will allow you to conveniently operate your blinds, wherever you are, from your mobile device. You can also program your blinds to automatically close at dusk as you are switching on your lights. No need to run all over your home every evening to close all of your blinds.
Somfy's Sonesse motor is specially designed to operate quietly; you will barely notice that it is running.
To learn more about window treatment automation, check our posts "Motorized blinds: The Key Benefits" and "Motorized Blinds: The Definitive Guide To Making The Perfect Purchase (2018 Update)"
Types Of Vertical Blinds
Graham's & Son Interiors proudly partners with Hunter Douglas to bring you the highest quality custom window treatments available. The following is a comparison chart of the elegant collections of vertical blinds available through Hunter Douglas. Read on to find out further details and pictures of each type.

If you are looking for a wide selection, our Somner® Custom Vertical Blinds provide you with our most extensive selection of colours, treatments, and textures, ranging from smooth metal finishes to geometric patterns. They are available in fabric, vinyl, and aluminum.
For the most economical assortment of vertical blinds, consider the Vertical Solutions® collection. These 3 1/2″ vertical blinds come in an assortment of styles, patterns, and colours. They are available in fabric and vinyl.
If you are looking for an elegantly styled vertical blind with a translucent opacity, take a look at the Candence® line. These blinds feature patented curved vanes which cleverly look like the soft folds of drapery moving smoothly and quietly along their track.
| | | |
| --- | --- | --- |
| | | |
| Somner® | Vertical Solutions® | Cadence® |
The Skyline® gliding window panels take a twist on the traditional vertical blinds. Their sleek and very contemporary panel design will dramatically transform any room. They easily cover larger windows, or, if you really want to make a statement, you can use them as a unique sliding room divider. The following video shows you how easy it is to operate the panels.
The Alustra® collection has the same patented design as the original Skyline® window panels but with a choice of rich materials and textures from around the world, making them quite exotic and unique.
| | |
| --- | --- |
| | |
| Skyline® | Alustra® |
Vertical Alternatives
When you think of vertical blinds, the picture that usually comes to mind is the traditional fabric, long narrow panels. However, today that are a few alternatives that still give you the vertical orientation, however with a new twist.
Vertical Panels
Vertical panels are an updated version of vertical blinds, perfect for those who think that the look of a traditional vertical blind is a bit dated and want something more contemporary. The inspiration for vertical panels originally came from the Japanese Shoji screens. Vertical panels are much wider than vertical blinds and they slide smoothly from side to side on tracks. Unlike vertical blinds, the panels cannot be turned opened, however, because they are a screen, you can choose to have them made to be light filtering, light darkening, print or solar fabrics to give you a wide variety of lighting options.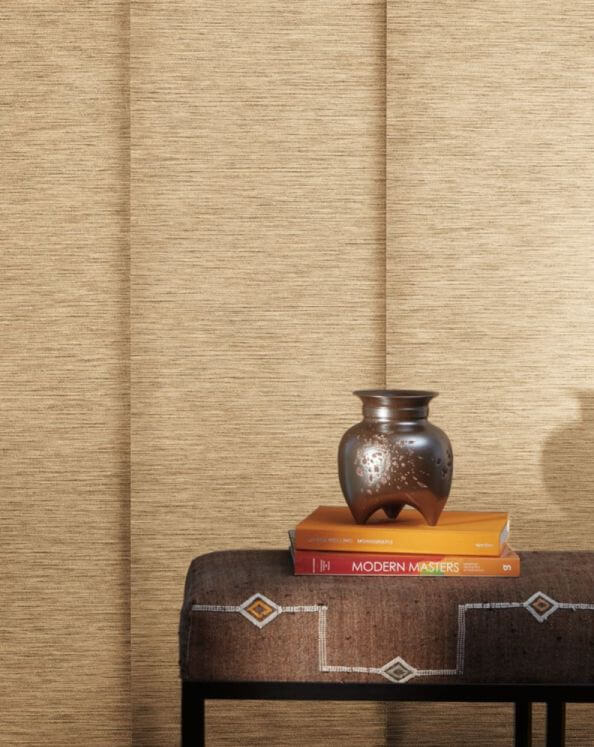 Honeycomb shades
Honeycomb or Cellular shades are a great choice if you want extra insulation to save on your energy costs. Their unique cell shapes hold trapped air and create a barrier between the window surface and the room. Usually honeycomb shades have a horizontal orientation, however now you can also get them vertical which makes a great alternative for your larger windows or patio and French doors.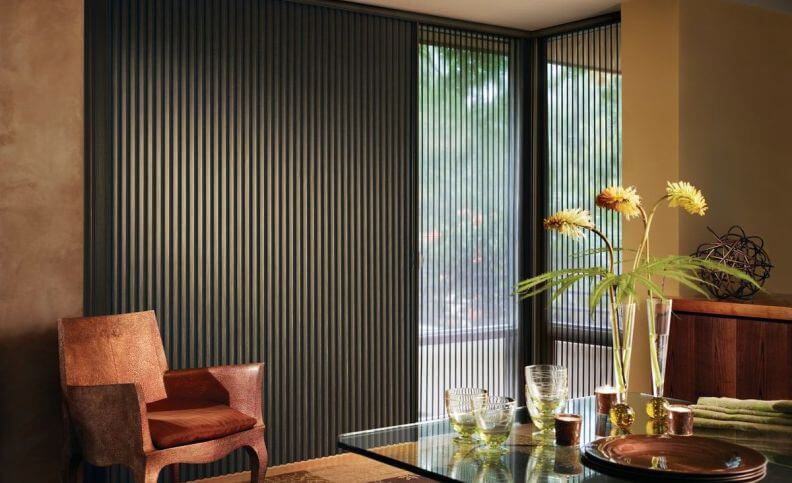 Vertical Blinds Material Options
Fabric
Fabric vertical blinds offer you the elegance of drapery with the convenience and practicality of a vertical blind. They are sleek and very modern looking. They come in a vast array of beautiful colours and textures which will certainly add charm and style to any room.
Vinyl
Vinyl is the most economical choice for a blind. It is easy to clean, unaffected by moisture, and comes in a wide variety of colours. Vinyl blinds may not be as visually appealing as other materials, but they are functional and cost-effective.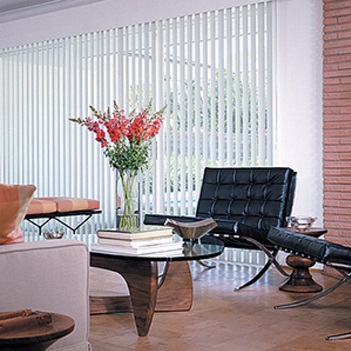 Aluminum
Aluminum blinds are a great choice for a modern look in a high-traffic area. They have a special coating that makes them highly resistant to dust. Their sleek appearance, including built-in valances and concealed mountings, will provide a streamlined aesthetic to any window. They also come in a wide variety of colours, textures, and finishes to match any decor.
Vertical Blinds for Every Room in Your Home
Vertical blinds are great in any room of your home. They work especially well on larger and specialty shaped windows and patio doors. Take a look at the following suggestions for your living room, office, bedroom, dining room and eat-in kitchen.
Living Room
If you have especially large windows or a patio door in your living room, you are blessed with the awesome advantage of having an abundance of light and possibly an amazing view outside. But larger windows can pose a problem when it comes to knowing how to achieve privacy and reduced lighting while still complementing the decor of your room. That's when vertical panels are a great option. The wider panels give a beautifully sleek and smooth look, plus they are incredibly easy to operate as they glide smoothly from side to side.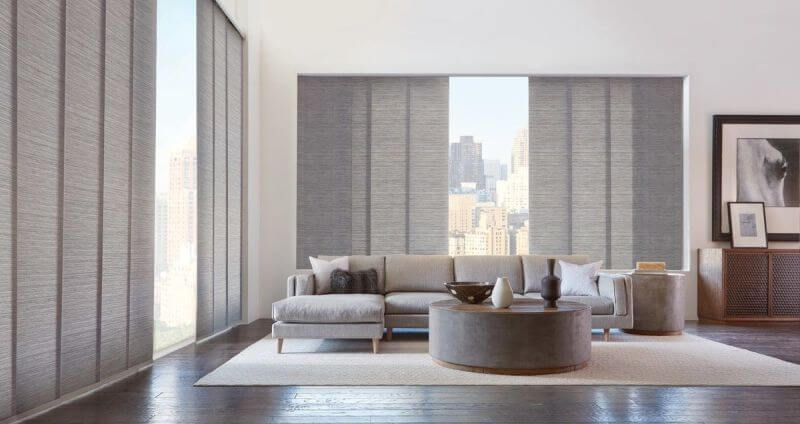 Office
Vertical panels also work well in your office space. Whether you have a home office or you are a business owner with your own office away from home that you need to equip, vertical panels can provide a very clean, professional look while still being extremely functional. Keep them open when you want to take advantage of the times of day when the light is lower and adjust them when the sunlight is making it difficult to see your computer screen properly.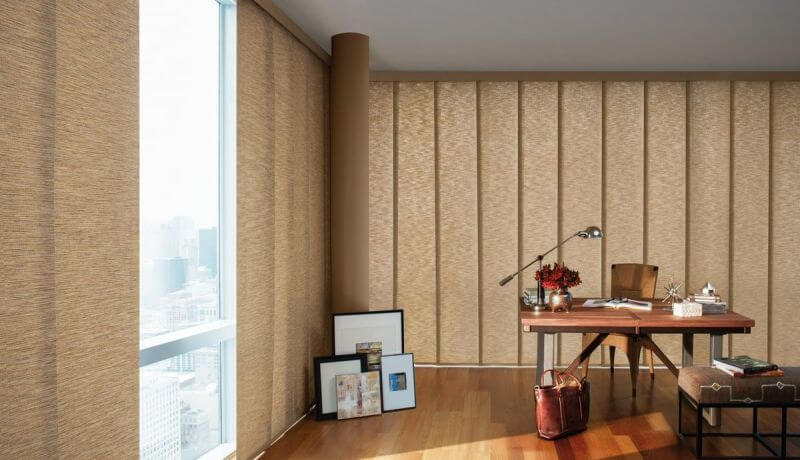 Bedroom
Vertical window treatments offer you the maximum privacy that you want for your bedroom. The verticals displayed in the bedroom picture below are rather unique with their retro feel and very contemporary fabric design. They ingeniously take you back to the faux wood panelling of the seventies yet in a rather modern chic way.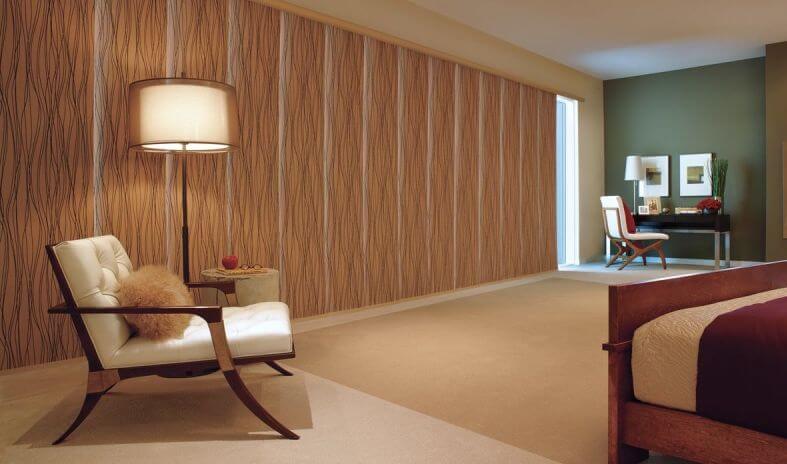 Dining Room
Your dining room is another area of your home that can benefit from vertical window treatments. This modern dining area cleverly uses both the traditional horizontal honeycomb shades with the not so common vertical honeycomb version. The resulting visual effect is rather pleasing to the eye as it provides both uniformity as well as visual interest.
Eat-in Kitchen
Traditional vertical blinds look amazing in the eat-in kitchen below. The soft grey tones of the narrower panels subtly blend with the walls, seamlessly transitioning from wall to door. They are the perfect choice for smaller patio doors.
Vertical Blind Ideas
Here is a selection of some of our exquisite vertical blind ideas. For more ideas to inspire you, visit our Album.
Best Place To Buy Vertical Blinds in Cambridge? Graham's & Son
Graham's & Son Interiors has over 40 years of design experience serving the Cambridge, Kitchener-Waterloo, and surrounding regions. We firmly believe that each of our clients deserves "superior design concepts, top-of-the-line materials, and timely project management." That is why our satisfied customers gladly recommend us to their friends and family. Our customers have been so pleased with the high standard of our work that they selected us for the "Best Business Service – Interior Decorating: Platinum" and "Best Shopping – Kitchen Renovations: Gold" awards in the 2017 Cambridge Times Readers' Choice Competition. Book a free in-home consultation today and find out for yourself why Graham's is the best in the interior design business.

| | |
| --- | --- |
| | |
Find out for yourself why Graham's & Son Interiors are Southwestern Ontario's premier interior decorators. Contact us today to schedule a free in-home consultation. If you prefer, you can shop at home. Browse through our website, make your choice and simply give us a call at 519-658-9025 to place your order without ever having to leave the comfort of your own living room.
Buy 2 Get 1 Free
Right now is the perfect time to invest in vertical blinds as we are offering an amazing buy 2 get one free deal on all of our blinds, shades, and shutters.
Buy Two Blinds, Shades, Or Shutters & Get One Free!

Gallery Image Sources:
Vertical Blinds 1 – Eclipse Blinds
Vertical Blinds 2 – indoorlife.com
Vertical Blinds 3 – mrwoon.nl
Vertical Blinds 4 – dreamhouseguide360.com
Vertical Blinds 5 – Luxaflex UK
Vertical Blinds 6 – Starlight Blinds Ltd
Vertical Blinds 7 – Starlight Blinds Ltd
Vertical Blinds 8 – Starlight Blinds Ltd
Vertical Blinds 9 – Bouclair
Vertical Blinds 10 – Starlight Blinds Ltd
Vertical Blinds 11 – Starlight Blinds Ltd
Vertical Blinds 12 – Inspired Window Coverings