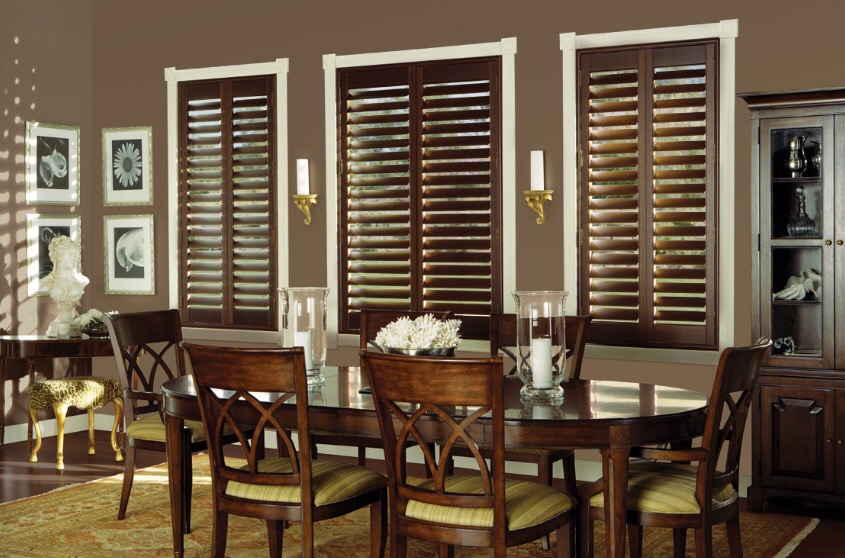 Determining the cost of shutters for your home is easy with Graham's!
1. What is the average cost of shutters right now?
When considering different window treatments, it will probably come as no surprise that with their slatted design and solid materials which require careful installation, shutters will cost more than vinyl blinds or even cellular shades that you can install yourself. 
When you begin researching the cost of shutters, you are going to see a wide range of prices. In fact, if you look online at Home Advisor you will see that the low-end price for shutters is $100 while the high-end price is $11,000. That is quite a range!
In the second section of this blog, we will talk about the factors that affect the cost of shutters; however, on average, people will spend somewhere between $1000 and $5000 for their window shutters. Read more about these calculations from Home Advisor.
If you have not yet considered how shutters compare to other window treatments in terms of their cost and their materials, etc., have a look at the chart below to learn more. And read more about shutters here.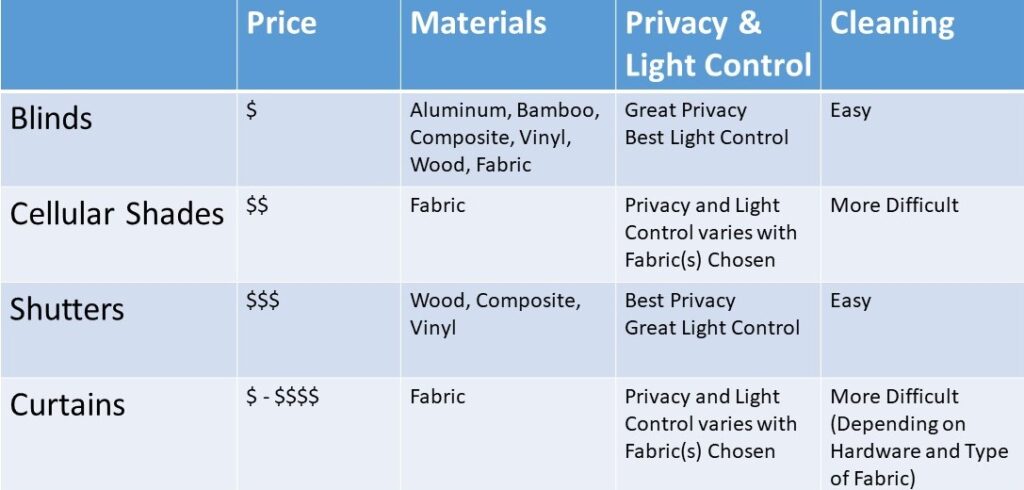 2. What factors affect the cost of shutters?
Below we will review the different factors that will affect the cost of your shutters. Remember that these are just averages. For a more accurate estimate, consult Graham's & Son Interiors.
Size of Window
The larger the window or door, the more material you will need for your shutter. This will generally mean that you pay more to cover large windows and doors with shutters. As you will read below, you will generally also pay more for windows that are irregularly shaped. 
Type of Shutter
There are 2 main types of shutters: California Shutters and Plantation Shutters. Plantation Shutters have wider louvers (3.5 inches-4.5 inches) and are commonly used for larger windows and rooms while California Shutters have smaller louvers (2.5 inches) and are ideal for smaller windows and rooms like bathrooms or bedrooms. You can learn more about Traditional Vs. Plantation Shutters here. This difference isn't likely to increase the cost though. The type of shutter that will likely cost more will be one that is irregularly shaped and more challenging to install. These types of shutters may include:
Angled
Arched
Café-style
Circular
Cut-outs (for door handles)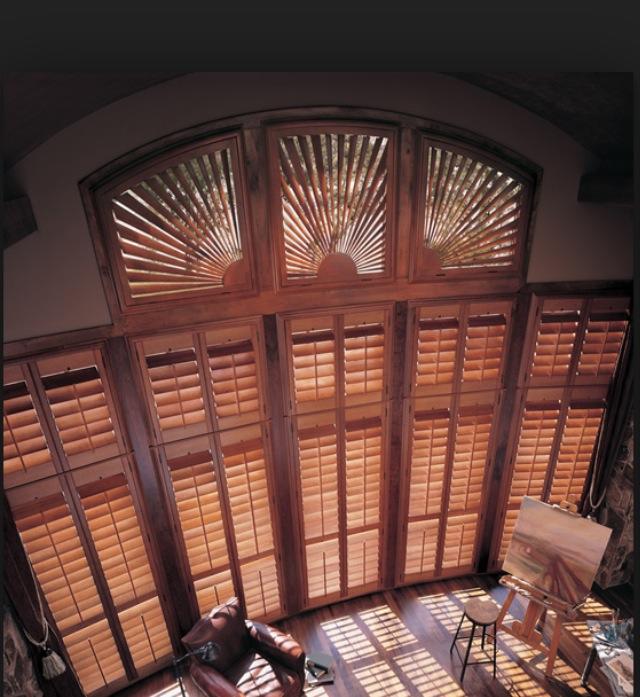 Above is an example of an irregularly shaped window with shutters.
Material of Shutter
When it comes to the material of your shutters, you will generally pay more for real wood shutters as compared to composite wood shutters or vinyl shutters. Have a look at Home Advisor's section on Window Shutter Costs by Material and see what the average person is paying.
Cost of Installation
This is another cost that can't be quoted specifically because this cost depends on where you live, the company you choose to work with, and how much it costs them to do the work. Home Guide suggests that the cost to install plantation shutters is $20 to $45 per square foot.  
Extras
Something else to consider right now is the cost of supplies. With prices going up and supply chain woes, the cost of your shutters may actually be higher than the averages we are finding for you. 
Another factor to consider in the cost is whether you want automation. If you desire to have automated options, you can expect to pay more – but you'll also get the ease of operation. Check out Hunter Douglas's  PALM BEACH™ Polysatin™ Shutters with POWERVIEW® AUTOMATION.
While the overall cost of shutters depends on many factors, you can get the most accurate estimate by contacting a consultant at Graham's & Son Interiors. Below are some pictures to help you see the different shutters available from Graham's through their different suppliers.
3. How can Graham's & Son Interiors help me?
Throughout this blog, we have had to emphasize that getting an exact quote is difficult because there are so many factors affecting the cost of shutters these days. Graham's & Son Interiors can help by finding out what type of shutters you need for your home and matching it with what is available in your budget. They will also consult you on other factors when purchasing such as window treatments and will help you answer questions like:
What type of shutter and louver size fits this window and room?
Which shutters will be the most energy efficient?
Which shutters will require the least care? 
Which shutters will be most durable or come with warranties?
Which shutters come with automated operating options?
By offering you a FREE In-home consultation, you are getting Graham's expert advice for Your unique home. They will meet with you, complete measurements, order your supplies and do the installation – complete and thorough services! They are your local family-owned business serving the Cambridge community for over 40 years.
"We needed something (shutters) custom and unusual for our window, we called a few places with no luck, found Graham's and Son Interiors. They worked with us and we got exactly what we hoped for. Great customer service. We would definitely go back and recommend to our friends and family."
– Debbie Wurm
"Wonderful people to deal with, and my house looks amazing!! Both Wayne and Matt were fantastic. Consultation and measurements were all done in my home everything arrived as promised and looks perfect. These days customer service means everything and these guys knocked it out of the park. Thank you Grahams I will be back!"
– Brandon Wilson