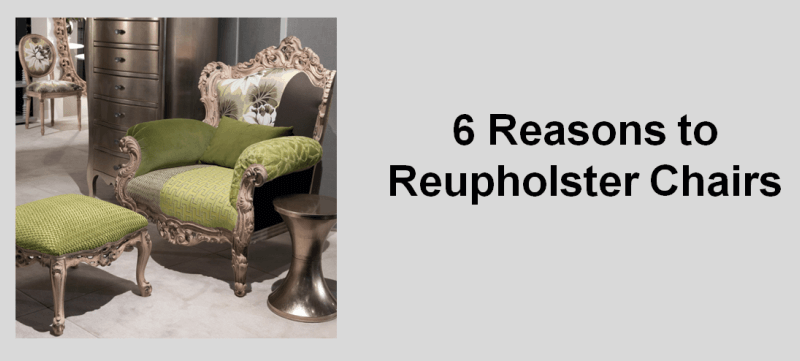 Before heading to the furniture store why not consider an alternative? There are many good reasons to reupholster chairs instead of throwing them out and buying new. Here are six that we hope will make you think twice. If you are looking for an expert reupholsterer to beautifully transform your treasured pieces of furniture, contact the professionals at Graham's & Son today to book a free in-home consultation.
"The service at Graham's was wonderful. They were cheerful and friendly and helpful. Our new chairs are even more beautiful than I had hoped for, with great attention to detail! Thanks Grahams. "
– Christy Hipel
Read More Testimonials
Click here to see a gallery of our work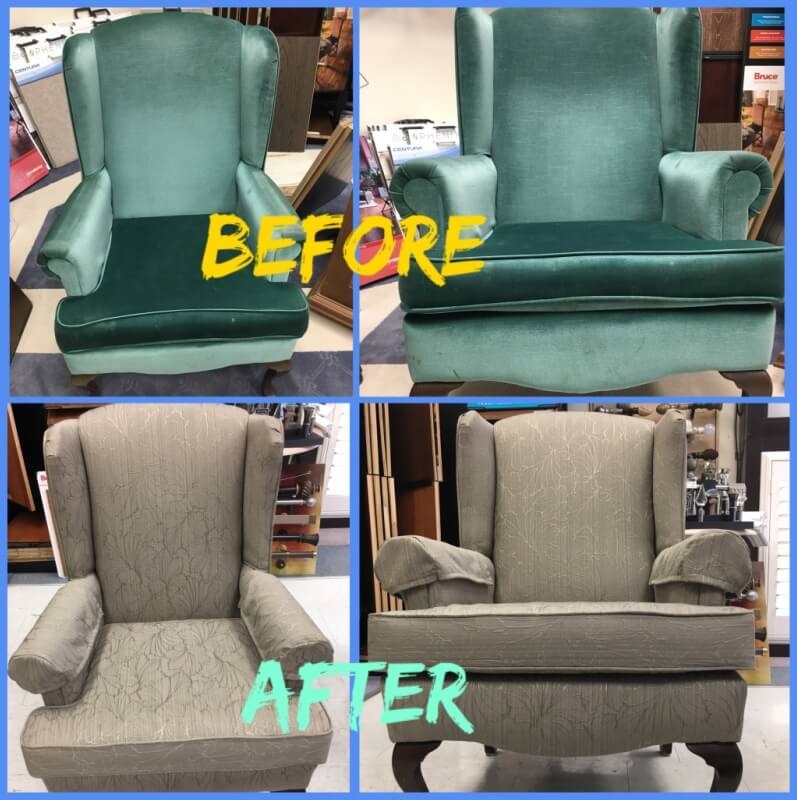 Instead of buying new, why not transform your old chairs?
6 Reasons to Reupholster Chairs
1. You Can Save Money Over Time
Statistics Canada estimates that the average Canadian household spends about $935 per year on household furnishings. That means that if you live in your home for more than 10 years, you may have spent nearly $10,000 dollars to furnish it and over $20,000 after 20 years. That is a lot of money. You could probably save quite a lot of that money if you choose to purchase high-quality pieces of furniture that will last many years and that you can reupholster from time to time. The amount of savings will depend on the types of materials that you choose for the reupholstering and the frequency that you do it; but if you select high-quality, neutral-coloured materials that will last, then you won't need to have it done quite so often. You can change up the look of your furniture with accent pieces such as decorative pillows or throws.
Choosing to reupholster chairs of quality can save you money in the long run
2. It's Cheaper to Buy Outdated Pieces and Refurbish Them Than to Invest in Brand New Furniture
If you are thinking about buying new chairs, you could save money by buying outdated older ones and having them refurbished instead. In the past, furniture was made with coil springs whereas today's mass-produced pieces are made with rubber straps or zigzag coils that don't last as well. Also, in the past, furniture had hardwood frames that were doweled and glued, yet today they are often put together with just staples. These better made older pieces can often be purchased from thrift stores or second-hand shops and then reupholstered at a fraction of the cost to purchase a custom piece of furniture of the same quality.
Outdated pieces can come alive with new upholstery
3. Because You Love It
A comfortable old chair can be like an old friend. You may have many pleasant memories about good times spent in that chair. Perhaps it was the chair that your child loved to climb up in to read their favourite bedtime story each evening. Or maybe it was the preferred seat in your home of your grandmother when she would come to visit. Or perhaps it is just the perfect size and shape for you to relax in as you wind down from your busy day. Whatever the reason, you may not be ready to part with that treasured chair and actually, you don't have to. If the structure is sound but the material is starting to wear or has become stained over the years, then you can have it reupholstered instead of trading it in for a new model that doesn't hold the same sentimental value
Give the furniture you love an updated look

There are countless colours, styles, and materials to choose from
4. You Want a Style Change or You Want a "One-of-a-Kind" Chair
If you have a great chair that you love, but you want a change of style, an expert upholsterer can take that chair and transform it. You can either keep the unique individuality of the piece and simply change up the colour of the material or you can transform it to give it a totally new look and feel. The biggest advantage when you reupholster chairs is that you can have a one-of-a-kind look that no one else will have. Your chairs can be as unique as you are and they can also become the focal point of your room.

Check out how this older style chair was beautifully made modern at MegansMoments – Image Source: Megansmoments.com
Your old chairs can have a "one-of-a-kind" look
5. Because It's a Family Heirloom
Many of us have been given furniture that belonged to our parents, grandparents, great grandparents or even distant aunts and uncles. They are treasures from your past that deserve to remain in your family. Most furniture that was made years ago was crafted with a higher degree of quality than the pieces that we can purchase today. This is mainly because our society is always looking for change and the best price possible. As a result, manufacturers have learned that they must cut corners on quality in order to compete in today's market. It is a wonderful thing to be able to reupholster chairs or other pieces of furniture to preserve a bit of your history and then be able to hand them down to your children and then to their children.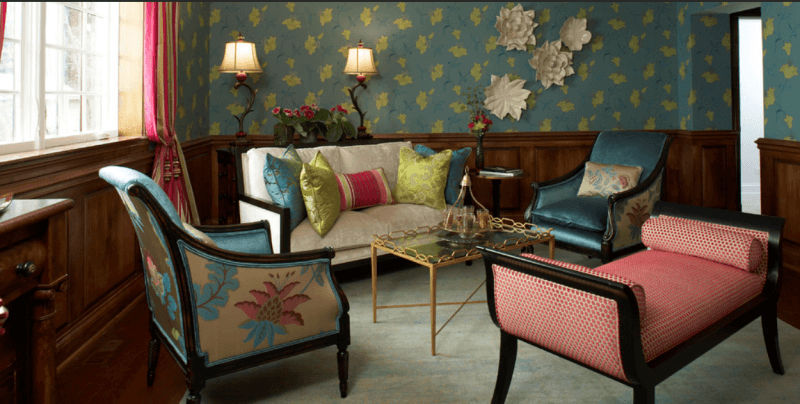 Preserve your family heirlooms by having them reupholstered
6. It's Better for the Environment – It Reduces Waste.
A huge advantage to reupholstering is the fact that it is so much more environmentally friendly than throwing out old furniture and buying new. This will cut down on the waste that ends up in our landfills and will cut down on the natural resources used to continually produce new furniture. Fewer trees will need to be cut down in order to make new frames and less steel will need to be made for the springs. If you are concerned about environmental issues, then choosing to reupholster instead of buying new is a responsible choice and will help you to play your part in helping our planet.
Be environmentally friendly and choose to reupholster your furniture
How a chair is reupholstered
Reupholstering a chair takes more than just replacing the outer fabric. There are several steps involved including:
removing all of the fasteners that hold the old material
removing the old fabric
examining the old stuffing and deciding whether it needs replacing
repairing any damage to weak spots in the frame
refinishing any wood that needs it
choosing and attaching any new stuffing or fabric
adding additional embellishments
Watch how this plain chair is beautifully transformed
To learn more about reupholstery, check out these articles:
Reupholtery? Reupolstery? Reupholstery? We Speak Your Language
2018 Furniture Upholstery Trends
Graham's & Son: For Expert Reupholstery Results
Choosing to reupholster chairs or any other piece of your existing furniture makes sense both from an economical standpoint and an ecological one. It can save you the cost of purchasing new furniture and it will keep your old furniture out of our landfill sites. If you would like to update your treasured pieces of furniture, contact the upholstery experts at Graham's & Son. Graham's & Son has been re-upholstering furniture in Cambridge for more than 40 years. We are locally owned and operated and we can provide you with gorgeous and practical upholstery for any room in your home. We will give you expert advice, quality finished products, and top-notch customer service. Not only do we specialize in upholstery, but also any type of interior design, all types of window treatments (including blinds, shades, and shutters), flooring, and kitchen and bath renovations.

Our customers have been so pleased with the high standard of our work that they selected us for the "Best Business Service – Interior Decorating: Platinum" and "Best Shopping – Kitchen Renovations: Gold" awards in the 2017 Cambridge Times Readers' Choice Competition. Book a free in-home consultation today and find out for yourself why Graham's is the best in the interior design business. Contact us today to schedule a free in-home consultation. If you prefer, you can shop at home. Browse through our website, make your choice and simply give us a call at 519-658-9025 to place your order without ever having to leave the comfort of your own living room.